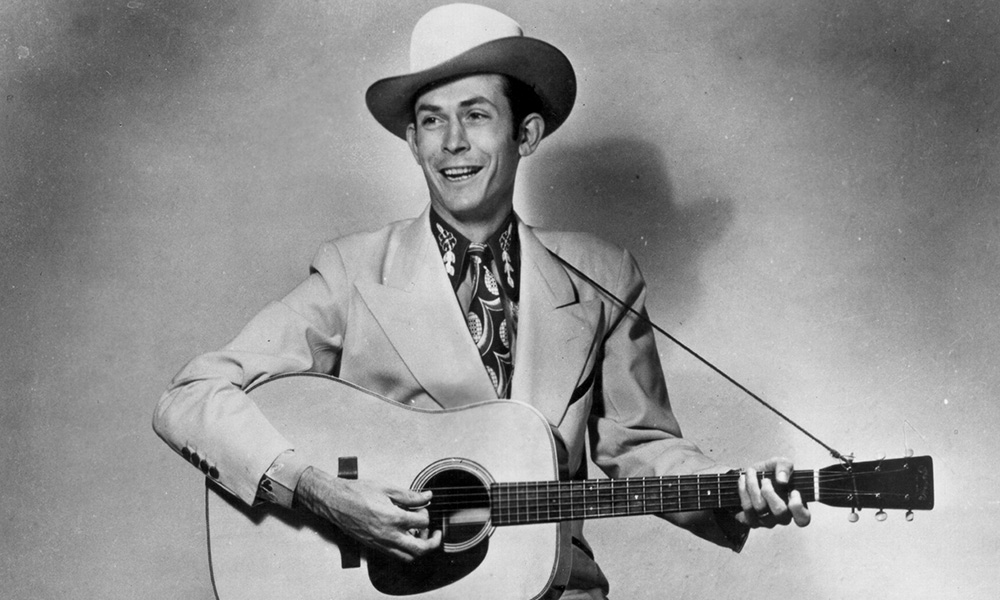 Hank Williams' legend has long overtaken the rather frail and painfully introverted man who spawned it. Almost singlehandedly, Williams set the agenda for contemporary country songcraft, but his appeal rests as much in the myth that even now surrounds his short life. His is the standard by which success is measured in country music on every level, even self-destruction.
Hiram Williams (his name was misspelled "Hiriam" on his birth certificate) who was born on September 17, 1923, came from a rural background. His parents were probably strawberry farmers when he was born, although his father, Lon, later worked for logging companies around Georgiana in south Alabama. Hank was born with a spinal deformity, spina bifida occulta, that would later have a deleterious impact upon his life. Lon entered a Veterans Administration hospital in 1930 when Hank was six, and Hank rarely saw him until the early 1940s. Hank's mother, Lillie, moved the family to Greenville, and then to Montgomery, Alabama, in 1937. Hank's musical career was already underway by the mid-1930s, and he formed the first of his Drifting Cowboys bands around 1938, (which was managed by his mother, and Hank dropped out of school to devote his time to his career).
Hank spent the war years shuttling between Montgomery, where he still tried to play music, and Mobile, where he worked in the shipyards. In December 1944 he married Audrey Mae Sheppard, and, after the war, he reformed the Drifting Cowboys and became the biggest hillbilly music star in Montgomery. His progress was impeded by his drinking, which was already problematical, and by the fact that his music was considered anachronistic.
Nashville music publisher Fred Rose invited Hank to supply songs for Molly O'Day, and that contact led to Rose offering Hank the chance to record for Sterling Records in December 1946. On the basis of the public response to those records, Rose was able to place Hank with MGM Records, and his first MGM release, "Move It on Over," was a hit in the fall of 1947. Rose tried hard to get Hank out of Montgomery, but the best he could get was an opening on a relatively new radio jamboree, the Louisiana Hayride, in Shreveport. Hank moved there in August 1948.
In Shreveport, Hank began performing "Lovesick Blues", a show tune dating back to 1922. The response it got encouraged him to record it after the 1948 recording ban ended. It reached #1 in May 1949 and stayed there for sixteen weeks. The success of "Lovesick Blues" and its follow-up, another nonoriginal called "Wedding Bells", convinced the Grand Ole Opry that Hank should be hired, despite misgivings about his reliability.
Hank moved to Nashville in June 1949 and swiftly became one of the biggest stars in country music. Increasingly, he decided to stand or fall with his own songs, and, after the success of his own "Long Gone Lonesome Blues" in the spring of 1950, virtually all of his hits were his own compositions.
At the session that produced "Long Gone Lonesome Blues", Hank began to record a series of narrations and talking blues to be issued under the pseudonym Luke the Drifter. Most of them had a strong moral undertone, making them unsuitable for the jukebox trade, which accounted for more than half of his record sales. There were never any serious attempts to hide the identity of Luke the Drifter; it was simply a ploy to avoid jukebox distributors ordering unsuitable records.
The peak years of Hank Williams's career were 1950 and 1951. He was one of the most successful touring acts in country music. Every one of his records charted, except for those issued as Luke the Drifter and his religious duets with Audrey. Starting with "Honky Tonkin'" in 1949, his songs had been covered for the pop market, but it was not until Tony Bennett covered "Cold, Cold Heart" in 1951 that he began to be recognized as an important popular songwriter. From that point, there was a rush to reinterpret his songs for the pop market. Guy Mitchell, for instance, had a hit with "I Can't Help It (If I'm Still in Love with You)", and the duo of Frankie Laine and Jo Stafford took "Hey, Good Lookin'" into the pop Top Ten.
Hank had tried to wrestle down his drinking problem, but career pressures, marital problems, and crippling spinal pain all contributed to make the binges more frequent during 1951. In December he agreed to be operated on, although the operation was not a success. He disbanded his group in December, and, when he started work again in March and April 1952, it was with pickup bands. Audrey had ordered him out of the family home immediately after he came home from the hospital, and he moved into a house with Ray Price.
As 1952 wore on, Hank appeared to care less and less about his career. His appearances were few, and by June he had stopped work altogether. In August, he was fired by the Grand Ole Opry and moved out of Nashville, back to Montgomery. Fred Rose negotiated his return to the Louisiana Hayride as of September, and Hank moved back to Shreveport that month. In October, he married Billie Jean Jones Eshliman. She was from Bossier City, near Shreveport, but he had met her in Nashville when she came there with Faron Young. By this point, another girlfriend, Bobbie Jett, was pregnant with his child.
Hank worked in Shreveport from September to December 1952. Most of his bookings were in beer halls, and his drunkenness was now a serious problem compounded by medication prescribed by a bogus doctor, Toby Marshall. Through it all, though, Hank never seemed to strike out in the studio. Even as he played small halls in East Texas, his record of "Jambalaya" was #1. If anything, his hits increased in magnitude as his bookings diminished.
Just before Christmas 1952 Hank took a leave of absence from the Hayride and returned to Montgomery to rest. On December 30 Hank loaded up his '52 Cadillac with his guitar, stage suits and other things he would need for this short tour that would take him up through West Virginia and Ohio. At around 11:30am Charles Carr, a 19-year-old college freshman Hank had hired to drive him, left his mothers boarding house on N. McDonough St. in Montgomery, Alabama. Hank was wearing dark blue pants, a white button-up shirt, a tie and a navy blue overcoat. It was unseasonably cold over the south that day as a snowstorm covered the entire southeastern united states.
He may have died on December 31, 1952, in the back seat of his chauffeured Cadillac, and was pronounced dead early on January 1, 1953, in Oak Hill, West Virginia. The funeral of Hank Williams took place at the Montgomery Auditorium on 4th Jan 1953. An estimated 20,000 to 25,000 people passed by the silver coffin, and the auditorium was filled with 2,750 mourners. His funeral was said to have been far larger than any ever held for any other citizen of Alabama.
Williams had 11 #1 hits in his career ("Lovesick Blues", "Long Gone Lonesome Blues", "Why Don't You Love Me", "Moanin' the Blues", "Cold, Cold Heart", "Hey, Good Lookin'", "Jambalaya (On the Bayou)", "I'll Never Get Out of This World Alive", "Kaw-Liga", "Your Cheatin' Heart" and "Take These Chains from My Heart") as well as many other top ten hits.
On February 8, 1960, Williams' star was placed at 6400 Hollywood Boulevard on the Hollywood Walk of Fame. He was inducted into the Country Music Hall of Fame in 1961 and into the Alabama Music Hall of Fame in 1985. When Downbeat magazine took a poll the year after Hank's death, he was voted the most popular country and Western performer of all time – ahead of such giants as Jimmie Rodgers, Roy Acuff, Red Foley, and Ernest Tubb.
Important Dates In The Life Of Hank Williams:
27 Jun 2020
American guitarist Pete Carr died age 70. He was lead guitarist for the famed Muscle Shoals Rhythm Section and recorded extensively at FAME Recording Studio in Muscle Shoals, Alabama and Muscle Shoals Sound Studio in Sheffield, Alabama. He recorded with Joan Baez, Bob Seger, Joe Cocker, Boz Scaggs,
Paul Simon
, The Staple Singers,
Rod Stewart
, Barbra Streisand, Wilson Pickett, Hank Williams, Jr., among many others.
11 Aug 2008
Don Helms a steel guitarist best known as the steel guitar player of Hank Williams' Drifting Cowboys died aged 81. Helms was a featured musician on over 100 Hank Williams recordings and went on to play on many classic country hits, including Patsy Cline's 'Walking After Midnight,' Stonewall Jackson's 'Waterloo,' the Louvin Brothers' 'Cash on the Barrelhead,' Lefty Frizzell's 'Long Black Veil' and Loretta Lynn's 'Blue Kentucky Girl.'
11 Apr 1953
Hank Williams' 'Your Cheatin' Heart was at No.1 on the Billboard country chart. The story goes that Williams was prompted to write the song when thinking about his first wife, Audrey Williams, while driving around with his second, Billie Jean Jones who she is supposed to have written down the lyrics for him whilst sat in the passenger seat. The song was record during his last ever recording sessions, on September 23, 1952 and had been released the following year, shortly after he died.
1 Jan 1953
American singer-songwriter and musician singer
Hank Williams
died of a heart attack brought on by a lethal cocktail of pills and alcohol aged 29. Williams is regarded as one of the most important country music artists of all time. 35 of his singles (five released posthumously) were placed in the Top 10 of the Billboard Country & Western Best Sellers chart, 11 of which ranked at No.1, including 'Cold, Cold Heart,' 'Hey, Good Lookin', 'I'll Never Get Out of This World Alive,' and 'Your Cheatin' Heart.' During his last years Williams's consumption of alcohol, morphine and painkillers severely compromised his professional life.
30 Aug 1949
Hank Williams
went into Herzog Studio in Cincinnati to record 'I'm So Lonesome I Could Cry'. Williams wrote the song originally intending that the words be spoken, rather than sung. The song about loneliness was largely inspired by his troubled relationship with wife Audrey Sheppard.
15 Dec 1944
Hank Williams
married Audrey Sheppard, with the ceremony taking place at a filling station. Their son, Randall Hank Williams would achieve fame in his own right as Hank Williams Jr., who was born on May 26, 1949. The marriage ended in divorce on May 29, 1952.