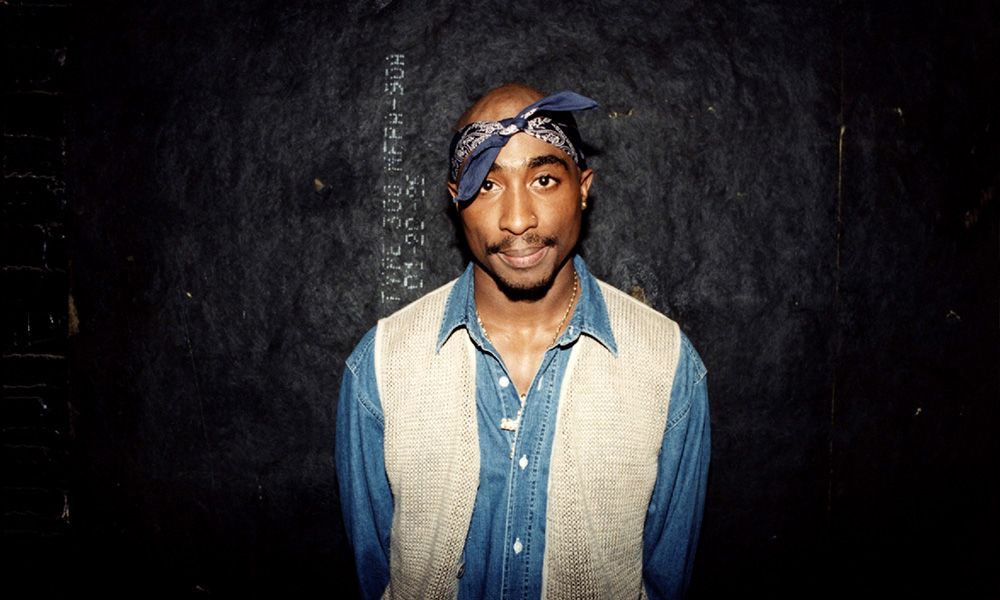 On 13th Sept 1996, American rapper Tupac Amaru Shakur died after being shot six days earlier when he was driving through Las Vegas. 13 bullets were fired into his BMW. The incident was blamed on East and West Coast Gang wars.
Known by his stage names 2Pac (or simply Pac) his career earned him 6 Grammy nominations and three MTV Video Music Award nominations. In 1997, Shakur was honored by the American Music Awards as the Favourite Hip Hop Artist – he has sold over 75 million albums.
2Pac's unapologetic lyrics were relevant, important, and reflective of the hard lives led by many. His music earned attention and respect through a poetic style that embraced street vocabulary while being innovative. Today, 2Pac is still considered by many to be one of the biggest influences on modern hip-hop.
Born on June 16 1971 in New York City, Shakur's parents were both members of the Black Panther Party whose militant style and provocative ideologies for civil rights would come to influence 2Pac's music. At an early age, Tupac's love for performance and the arts began to show, as he began acting at age 13 and later enrolled in the Baltimore School of the Arts before dropping out at 17.
Shakur broke into the music business with rap group Digital Underground as a backup dancer and roadie. Eventually, Shakur released his first solo album in '91,
Shakur's legal battles began after he established his rap career. In the early nineties, Shakur faced a wrongful death suit which settled out of court, accusations of assaulting police officers where charges were ultimately dropped, and even an incident where Shakur sustained 5 gunshot wounds from unknown assailants. In 1995 2Pac was sentenced one-and-a-half to four-and-a-half years in prison for sexual abuse. However, not even prison could slow the success of Shakur's career.
Shakur became the first artist to reach number one in the pop charts while serving a prison sentence. While incarcerated, 2Pac's album, Me Against the World, was number one in the pop charts and would later go double platinum.
Making the most of his time in jail, 2Pac became a passionate reader. Among his favourites were the works of Shakespeare and Niccolò Machiavelli, an Italian Renaissance writer whose works were in part the foundation for western political science. Shakur's appreciation of his work inspired the nickname: Makaveli.
On the night of September 7, 1996, Shakur attended the Mike Tyson–Bruce Seldon boxing match at the MGM Grand in Las Vegas. At 10:55 pm, while paused at a red light, Shakur rolled down his window and a photographer took his photograph. That still became the last known picture of Shakur, looking directly into the camera from the seat of his car.
At around 11:00–11:05 pm, they were pulled over on Las Vegas Blvd. by Metro bicycle police for playing the car stereo too loud and not having license plates. The plates were then found in the trunk of Suge's car; they were released without being fined a few minutes later.
At approximately 11:15 pm, a white, four-door, late-model Cadillac with an unknown number of occupants pulled up to the sedan's right side, rolled down one of the windows, and rapidly fired a volley of gunshots at Shakur; bullets hit him in the chest, pelvis, and his right hand and thigh. Despite surviving a multitude of surgeries, 2Pac died in hospital six days later.
Even today, 2Pac's influence is wide-spread. From the Library of Congress where his song Dear Mama was added in 2010 to the National Registry, to artists like 11 time Grammy winner Eminem who in an interview with MTV said:
"He made you feel like you knew him. I think that , honestly, Tupac was the greatest songwriter that ever lived. He made it seem so easy. The emotion was there, and feeling, and everything he was trying to describe. You saw a picture that he was trying to paint."
Important Dates In The Life Of Tupac Shakur:
19 Jul 2017
A US judge halted an auction of personal items of
Madonna
, after she said her privacy was violated.
Madonna
's underwear, a chequebook, a hairbrush, photos and a break-up letter from the late rapper
Tupac Shakur
had been among the scheduled lots. The singer said her possessions had been stolen by a former friend.
8 Apr 2017
The late rapper
Tupac Shakur
, singer, songwriter Joan Baez and
Pearl Jam
were all entered into the Rock and Roll Hall of Fame.They were inducted alongside the Electric Light Orchestra (ELO), Journey and Yes during a concert in New York City.
3 Oct 2008
Singer, producer and songwriter Johnny J (Johnny Jackson) died after jumping from a tier in a Los Angeles jail while serving a sentence for driving under the influence. He produced
Tupac Shakur
's albums All Eyez on Me and Me Against the World, as well as many of Shakur's subsequent posthumous albums and Candyman.
26 Mar 2008
The Los Angeles Times apologised for claiming rap mogul Sean 'Diddy' Combs was involved in a 1994 shooting of hip-hop star
Tupac Shakur
. The LA Times, which published the original story on its website, initially said its claims were based on FBI records, witness accounts and other unnamed sources. The apology followed a claim that the newspaper was conned by a prisoner who doctored the documents used.
31 Mar 2005
Rap record company boss Marion "Suge" Knight was ordered to pay $107m (£57m) to a woman who claimed she helped found Death Row label in 1989, one of hip-hop's top labels with artists including
Tupac Shakur
, Dr Dre and Snoop Dogg. Lydia Harris said she invested in Death Row but was pushed out by Mr Knight.
11 Oct 1995
Tupac Shakur
was released from Clinton Correctional Prison on $1.4 Million bail which was posted by Suge Knight. In return 2Pac signed a three album deal with Knight's Death Row Records.
14 Mar 1995
With the release of 'Me Against the World'
Tupac Shakur
became the first male solo artist to have a No.1 album on the Billboard chart while in prison. During the early 90's, Shakur had a series of incidents and charges of breaking the law. In 1993 he was charged with shooting two off-duty police officers in Atlanta, (though the charges were later dropped), he was charged for assaulting director Allen Hughes while filming Menace II Society and was sentenced to 1.5 to 4.5 years jail when found guilty of sexual assault.
30 Nov 1994
Tupac Shakur
was shot five times during a robbery outside a New York City recording studio.
13 Dec 1986
Bruce Hornsby & The Range went to No.1 on the US singles chart, with 'The Way It Is', a No.15 hit in the UK. Written by Bruce Hornsby and his brother John Hornsby, it made explicit reference to the American Civil Rights Movement. The song was heavily sampled by
Tupac Shakur
in his song, 'Changes' from 1998.