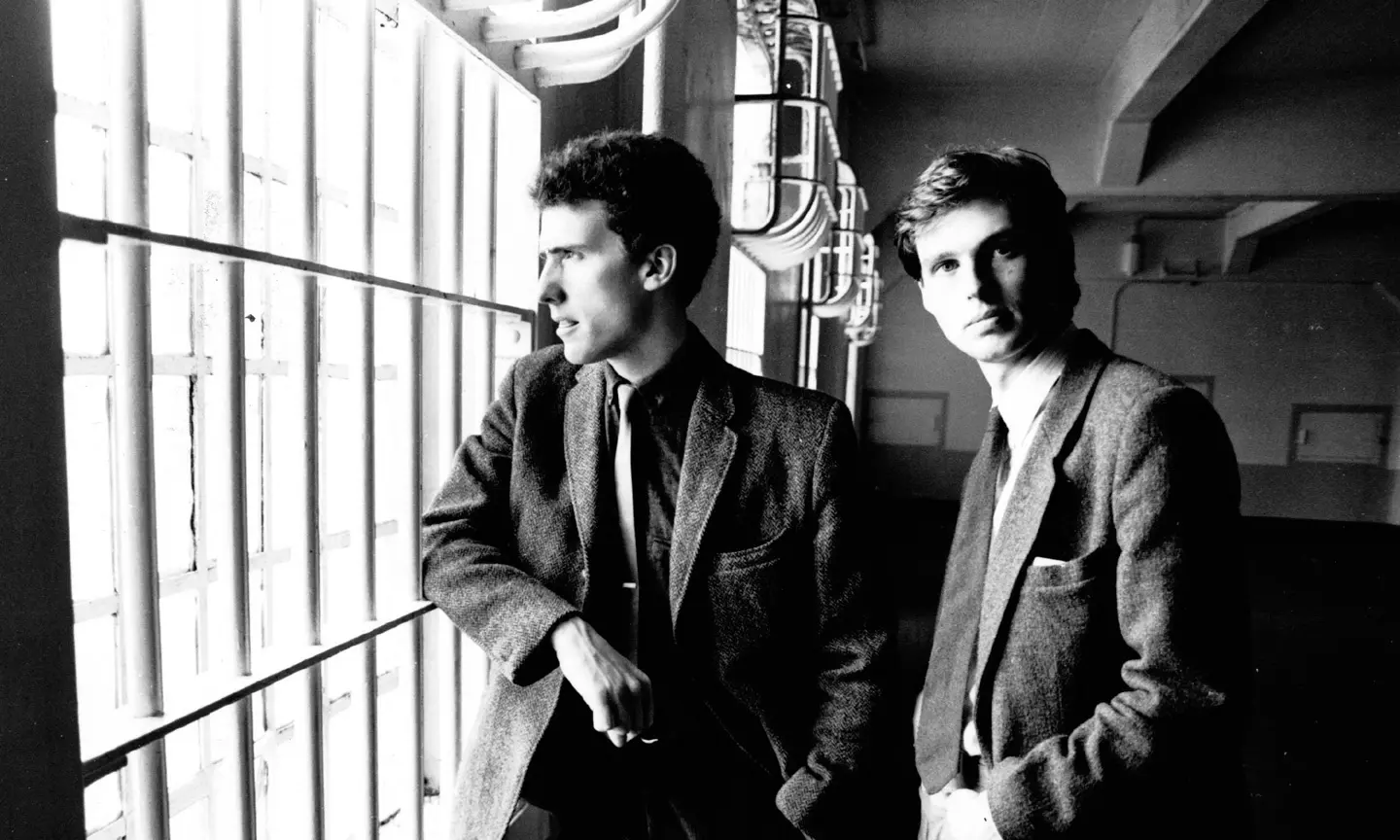 English electronic band Orchestral Manoeuvres in the Dark formed in Wirral, Merseyside in 1978 by co-founders Andy McCluskey (vocals, bass guitar) and Paul Humphreys (keyboards, vocals), along with Martin Cooper (various instruments) and Stuart Kershaw (drums). In the late eighties creative differences rendered McCluskey the only remaining member of the group as Humphreys formed spin-off band The Listening Pool.
McCluskey's first album from the new OMD was the dance-pop Sugar Tax LP in May 1991, which spawned the hit single, 'Sailing On The Seven Seas'. Both peaked at number 3 on the UK chart.
In 2006, the outfit reformed with Humphreys back in the fold, and began to work on material more akin to their early output. The band re-established themselves as a chart act, and have since kept on touring extensively around the world.
25 OMD Facts:
1. When Paul first heard "Autobahn" by Kraftwerk on the radio he thought, 'That is the future of music and I want to do that!'
2. Andy McCluskey met Paul Humphreys at Great Meols Primary School, in Elwyn Road, and were in several bands pre Orchestral Manoeuvres in the Dark. Equinox was the first, (which Paul was the roadie for), and that migrated into an eight-piece band called The Id, then Hitlerz Underpantz, and briefly a group named VCL 11.
3. When Paul was still the roadie Andy's bass-head blew the fuse. Paul removed the fuse, wrapped it in foil from a cigarette box and put it back in and hid behind the bass speaker, pressing this fuse, in serious danger of being electrocuted. That was the first time Paul was on stage with Andy musically.
4. Andy is right-handed, but originally learned to play bass guitar on a left-handed model. As a result, he plays with the strings "upside down".
5. Paul built a contraption called the Noise Machine out of circuits he got from a diagram book, which made a horrible noise. They would play it through fuzz-boxes and echo machines (all borrowed) and one speaker.
6. Their second single Red Frame/White Light is about a red telephone box in Meols, on the Wirral peninsula in Cheshire that was used by the band to make calls to organise their gigs in the late 1970s. The phone box was honoured with a blue plaque as part of the group's 40th anniversary celebrations in 2019.
7. Andy went to see Kraftwerk play on September 11th, 1975 at the Liverpool Empire. He remembers he sat in seat Q36.
8. Paul had a massive Subbuteo collection and sold it to help pay for his first keyboard.
9. With a gig booked at Eric's in Liverpool and no name for the group the pair went to Andy's house where they kept all their song titles written on his wall. One title was 'Margaret Thatcher's Afterbirth', fortunately, they chose 'Orchestral Manoeuvres in the Dark'.
10. They bought their first synthesiser from Andy's mum's Kay's mail order catalogue, a Korg Synth for £7.76 a month – over 36 weeks which they paid out of their dole money.
11. Andy joined the Civil Service in the summer of 1979 and went to work in the Cunard Building in Liverpool, processing cargo entries for Her Majesty's Customs.
12. After just two gigs, they were offered a record contract with Factory Records.
13. OMD released their debut single, "Electricity", in 1979. John Peel played it on his BBC Radio 1 show and it sold all the 5,000 copies that had been pressed in a week.
14. On the track "Souvenir" (1981) Humphreys used recordings of a choir tuning up to create the ethereal and fluttery choral effects which gave the song its original sound.
15. McCluskey developed a popular and distinctive onstage dance routine, dubbed by the BBC's Stuart Maconie as the "Trainee Teacher Dance".
16. In the autumn of 1979 they were supporting Gary Numan on his UK tour. OMD returned the favour in the nineties by inviting Gary on their arena tour.
17. "Enola Gay" (named after the plane that dropped an atomic bomb on Hiroshima) was an international success when released in 1980, selling more than 5 million copies and topping the charts in Italy and in Spain.
18. BBC Radio's Steve Lamacq has named "Electricity" as the track that made him want to become a DJ.
19. Recorded for the soundtrack to the film Pretty in Pink (1986) "If You Leave" is the group's highest-charting single in the United States, where it reached number 4 on the Billboard Hot 100 chart in May 1986.
Andy McCluskey and Paul Humphreys from OMD talk to Virgin Radio's Pete Mitchell about their new book Pretending To See The Future and their 40-year career during a Q&A at The Cavern Club in Liverpool December 2018.
20. During the late nineties McCluskey focused on song writing and founded pop girl group Atomic Kitten. Their song "Whole Again", co-written by McCluskey, was his first UK No.1.
21. In 2005 an unexpected request to perform from a German Television show led the group reforming.
22. During a 2011 concert in Austin, Texas a 400lb camera boom fell into the crowd, hitting Patrick Faberberg directly on the head causing a traumatic brain injury. Faberberg was a practicing lawyer at the time and one year into his recovery, a newfound artistic talent emerged. He suddenly had the ability to paint (he'd never painted before). OMD have kept in touch with Patrick.
23. In 2013 during at gig at the Danforth Music Hall, Toronto Canada, OMD drummer Malcolm Holmes had a cardiac arrest and his heart stopped for over 3 minutes. The rest of the group thought he had died. Luckily a paramedic restarted his heart with a defibrillator.
24. McCluskey co-wrote the song "Thrill Me" for the soundtrack of the film Eddie the Eagle (2016) with Gary Barlow from Take That.
25. Andy McCluskey is an Ivor Novello Award-nominated songwriter whose work has topped charts in the UK and internationally.
The expanded edition of the OMD Biography 'Pretending To See The Future' is out now. The book contains commentary from OMD founders Andy McCluskey and Paul Humphreys, plus band members Martin Cooper, Malcolm Holmes and Stuart Kershaw, and is packed full of memorabilia and hundreds of photos.
Buy it here. 516 pages, available in print and all digital formats.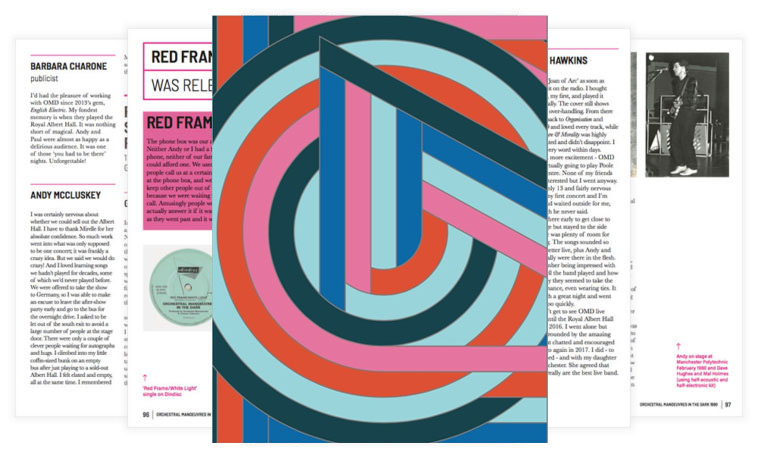 Important Dates In The Life Of OMD: