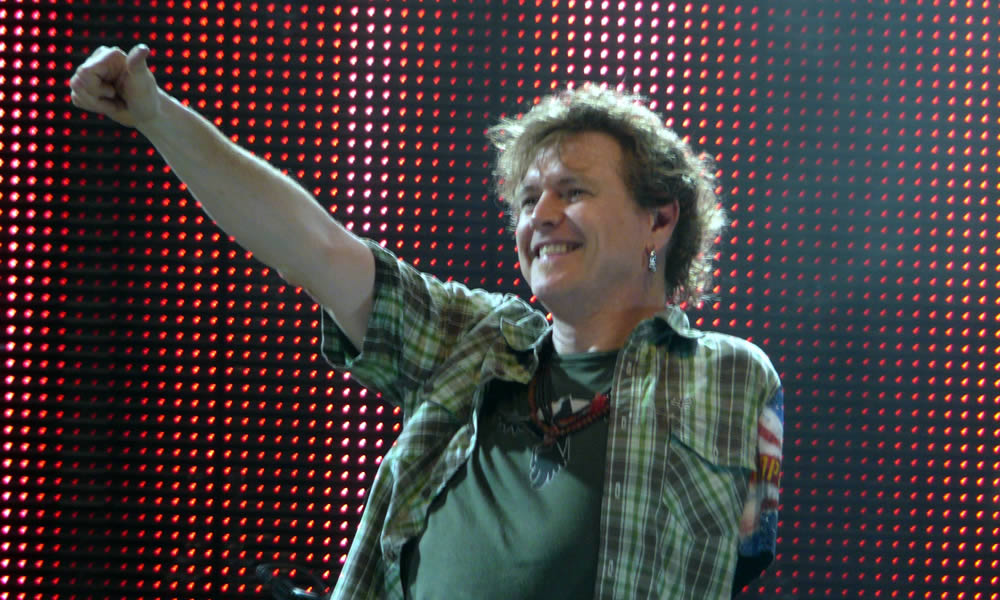 Rick Allen, was born on 1st Nov 1963. The drummer with Def Leppard who had the 1987 worldwide No.1 album Hysteria, and the 1988 US No.1 single "Love Bites," lost his left arm in an accident after crashing his Corvette Stingray on the A57 outside Sheffield in England in 1984.
The day that changed Allen's life forever happened on 31 December 1984 when the drummer was involved in a tragic accident. Formed in Sheffield in 1977, Def Leppard had enjoyed their best year ever. The group's latest album Pyromania had turned Def Leppard into a household name. They were all over MTV, both UK and US audiences loved them, they were at the forefront of a new wave of heavy metal/rock groups — Def Leppard were now living the dream — they were rock stars. Def Leppard, the definitive hard rock band of the '80s.
Rick's idols were Led Zeppelin's John Bonham, Thin Lizzy's Brian Downey, and Queen's Roger Taylor. Shortly after turning 15, Allen's mother spotted an ad in a local newspaper for a group that was looking for a drummer. Allen had already been a member of three other groups (Smokey Blue, Rampant and the Jonny Kalendar band). The group turned out to be Def Leppard and despite all of its members being several years older than Allen, he got the gig anyway. Since he was still underage, the group would often have to lie about his age to get him into the clubs they were playing, and when they inked contracts, Allen's father had to sign for him.
The 21-year-old was driving in his Chevrolet Corvette on the A57 (which has been named as one of most dangerous roads in the UK) on his way to a New Year's Eve party at his family's home in Sheffield, England, when an Alfa Romeo passed him. Allen claims that the driver had been egging him on and that he would not allow him to pass. In his rage to pass this driver, he became reckless, did not see a turn up ahead, and lost control of his car at high speed. The car sailed over a stone wall and into a field.
Rick was thrown from the car, his left arm severed because the seatbelt was not properly fastened. The car ended up upside down, with his girlfriend Miriam Barendsen secure in her seat. Luckily she was not seriously injured and found Allen in the field. They were helped by a passerby who was a nurse, and Allen was taken to a hospital. Doctors initially reattached Allen's arm, but because of infection it was removed again.
Allen obviously thought that his drumming days were over, and became very depressed. Apparently the members of Def Leppard had other ideas and still thought that with their support Rick would remain in the group. Lead singer Joe Elliott and Allen set about working with some engineers and hatched a plan to design a drum set to assist Allen's drumming. After all of this, he could still play some drum rhythms with one hand, using his left foot (typically for hi-hat pedals in common drum sets) to play the snare drum.
Former Status Quo drummer Jeff Rich was a source of help and encouragement during Allen's convalescence, and they designed an electronic kit Allen could play using only one arm. Electronic drum manufacturer Simmons created a kit to their specifications, and Allen made his post-accident debut in 1986 with a well-received set at the Monsters of Rock festival at Castle Donington. In August 1987, the band released their fourth album, Hysteria, which, after a relatively slow start in the U.S., ultimately became another huge success, selling over 20 million copies worldwide.
Understandably, Allen's accident changed his outlook on life forever. To see the drummer come back from this terrible accident is amazing; to still be the drummer in one of the most successful bands ever is also amazing.
Allen and his wife Lauren Monroe are the co-founders of The Raven Drum Foundation, a charity located in Malibu, California, with a mission to serve, educate, and empower veterans and people in crisis. The Raven Drum Foundation commonly works to help individuals and communities in crisis through healing arts programs, drum circle events, and collaborative partnerships. Recently, they have had a special focus on veterans of war through their "Veteran Resiliency Project" including support for the Wounded Warrior Project. Rick and Lauren also host "Resiliency Radio", an interactive radio show intended to help empower, educate, and inspire during difficult times.
Rick is also the founder of The One Hand Drum Company to assist in providing awareness and funding for his Raven Drum Foundation. Currently, the primary focus of the One Hand Drum Company is promoting StikRick, a drawing by Rick of a one-armed drummer that he sometimes uses with his autograph. The StikRick site sells t-shirts, hats, and other items with the StikRick drawing along with a "Life Is Great!! Be A Rockstar!!" slogan. Proceeds from the One Hand Drum Company go to support the Raven Drum Foundation charity.
Important Dates In The Life Of Def Leppard:
23 Jan 2016
Scottish musician Jimmy Bain died aged 68 while in his cabin on
Def Leppard
's "Hysteria on the High Seas" cruise. The cause of death was determined to be lung cancer. Bain was best known for playing bass guitar in the bands Rainbow and Dio, he also worked with
Thin Lizzy
frontman Phil Lynott, co-writing on his solo albums as well as Ian Hunter, Gary Moore and John Cale.
23 Oct 1995
Def Leppard
gave themselves a place in the Guinness book Of World Records, by playing three gigs in three continents in 24 hours. Tangier, London and Vancouver.
22 Sep 1992
Def Leppard
were forced to cancel two US shows after their sound-equipment truck was found abandoned, after one of the bands driver's had attempted to rob a store. The driver was later charged of possessing drugs and criminal damage.
10 Aug 1992
Def Leppard
kicked off the North American leg on their 248-date Seven Day Weekend world Tour at Madison Square Garden in New York City.
18 Apr 1992
Def Leppard
started a five-week run at No.1 on the US album chart with their fifth studio album 'Adrenalize.' The album was the first by the band following the death of guitarist Steve Clark in 1991.
31 Mar 1992
Def Leppard
released their fifth studio album Adrenalize, the first by the band following the 1991 death of guitarist Steve Clark. Former Dio and Whitesnake guitarist Vivian Campbell, was brought in as the newest member in April 1992. He appears in all promotional videos for the album's singles (except 'Let's Get Rocked'), despite not playing on the album.
8 Jan 1991
Steve Clark guitarist with
Def Leppard
, was found dead at his Chelsea flat by his girlfriend, after a night of heavy alcohol consumption combined with prescription drugs. The autopsy revealed he had died from an overdose of codeine and had Valium, morphine and a blood alcohol level of .30, three times the British legal driving limit. In 2007 Clark was ranked No.11 on Classic Rock Magazine's "100 Wildest Guitar Heroes".
14 Oct 1988
Def Leppard
became first act in chart history to sell seven million copies of two consecutive LPs, with Pyromania (their third studio album released in 1983) and Hysteria, (which became the band's best-selling album to date, selling over 20 million copies worldwide, and spawning six hit singles).
27 May 1988
Def Leppard
kicked off the third leg of their North American Hysteria world tour at George M. Sullivan Arena, Anchorage, Alaska.
15 Feb 1988
After singer Jo Elliot had referred to El Paso as 'the place with all those greasy Mexicans',
Def Leppard
were forced to cancel a concert in El Paso, after they received threats that the gig would be disrupted.
29 Aug 1987
Def Leppard
scored their first UK No.1 album with Hysteria which also became No.1 on the US chart in July the following year after spending forty-nine weeks working its way to the top.
3 Aug 1987
Def Leppard
released their fourth studio album Hysteria which became their best selling album to date, selling over 20 million copies worldwide. The title of the album was thought up by drummer
Rick Allen
relating to his experiences during the time of his car accident, and the worldwide media coverage that followed.
16 Aug 1986
Rick Allen
, drummer with
Def Leppard
made his first live appearance with the band after losing an arm in a car accident, when they appeared at the Monsters Of Rock Festival, Castle Donington, England.
31 Dec 1984
Def Leppard
drummer
Rick Allen
crashed his Corvette Stingray, on the A57 outside Sheffield, Allen lost his left arm in the accident. Allen was on his way to a New Year's Eve party at his family's home when a Jaguar passed him. The driver had been egging Allen on and would not allow him to pass. In his rage to pass this driver, he did not see a turn up ahead and lost control of his car. He was thrown from the car, with his left arm severed due to the seatbelt not being properly fastened.
5 Feb 1983
Def Leppard
's album 'Pyromania', started a 92 week run on the US charts, it never reached No.1 but sold over 6 million copies in the US alone.
28 Jan 1983
The first Narara Music Festival was held near Somersby, NSW over the Australia Day weekend, the line-up included Men At Work, The Church, The Choirboys, Cold Chisel and
INXS
. The following year saw
Simple Minds
, Talking Heads,
Def Leppard
, Eurythmics and The Pretenders all appearing.
20 Jan 1983
Def Leppard
released their third studio album 'Pyromania' which featured new guitarist Phil Collen and was produced by Robert John "Mutt" Lange. The album has now sold over 10 million copies in the US.
11 Jul 1982
Phil Collen, former guitarist with the glam rock band Girl, replaced Pete Willis in
Def Leppard
who was fired due to excessive alcohol consumption on the job.
1 Aug 1980
Def Leppard
made their US live debut when they appeared at the New York City concert opening for
AC/DC
. It was also
Def Leppard
singer Joe Elliott's 21st birthday.
2 Nov 1979
AC/DC
played the second of three sold out nights at the Hammersmith Odeon, London, England, with
Def Leppard
supporting.
26 Oct 1979
AC/DC
appeared at The Mayfair, Newcastle upon Tyne, England, supported by
Def Leppard
. The bands were booked to appear the night before but after a fire at the venue in the afternoon, the show was cancelled.
22 Sep 1979
Def Leppard
had their first major live review when UK music weekly Melody Maker reviewed a gig the band had played in Wolverhampton. With a 15 year-old drummer the band had just released their debut 3-track single.
5 Aug 1979
Def Leppard
signed to Phonogram records with an advance of £120,000 pounds ($180,000) giving them a 10% royalty on 100% of sales for the first two years.
6 Jun 1979
Def Leppard
played at Crookes Workingman's Club in Sheffield. The gig was reviewed in UK music paper 'Sounds' and led to a recording contract with Phonogram Records.
18 Jul 1978
Def Leppard
made their live debut at Westfield School, Sheffield, England in front of 150 students.
4 Oct 1968
On the first night of a UK club tour
Led Zeppelin
(billed as The Yardbirds featuring
Jimmy Page
) appeared at the Mayfair Ballroom, Newcastle upon Tyne, England, supported by Terry Reid's Fantasia, tickets cost 10/6. The Mayfair was a regular venue for up and coming acts,
Pink Floyd
Mott the Hoople,
Def Leppard
and
AC/DC
had all appeared at the club which was demolished in 2000.