April 17th: The Biggest Music Headlines
Scroll down the page to see all the music headlines, stories and events for April 17 throughout music history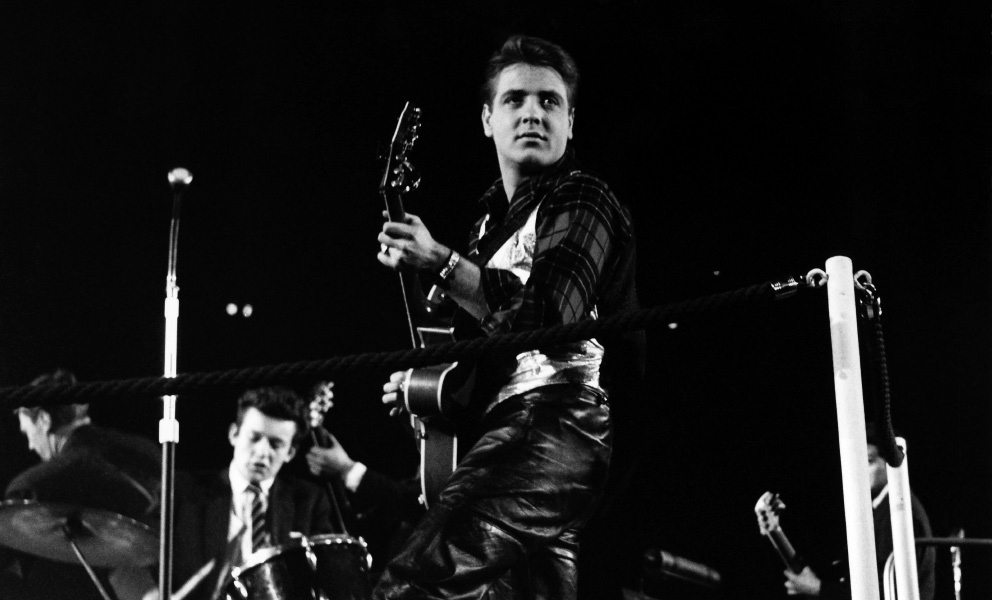 Rock And Roll Icon Eddie Cochran Perishes In Car Crash
On this day in music, April 17, 1960, American singer-songwriter Eddie Cochran died at the age of 21 in a car crash while on tour in England. Born Ray Edward Cochran in Minnesota, the teen heartthrob began his music career in 1954 as part of a duo called the Cochran Brothers before launching his solo career. He co-wrote most of his biggest hits, including "Summertime Blues" (a Top 10 US smash in 1958) and "Three Steps To Heaven" (a 1960 UK chart-topper).
In 1991, Nirvana performed "Smells Like Teen Spirit" live for the first time at a Seattle club called the OK Hotel. The iconic song, which became an era-defining international hit, appeared on the grunge band's second album Nevermind.
In 1982, the Greek composer Vangelis (born Evangelos Odysseas Papathanassiou) scored his first and only No.1 on the US album chart with Chariots Of Fire, the soundtrack to director Hugh Hudson's film about two British athletes competing in the 1924 Olympic Games. The album later won the Academy Award for Best Original Score.
In 1965, Bob Dylan's second studio album, The Freewheelin' Bob Dylan, rose to No.1 in the UK. It was the first of six chart-topping LPs the Minnesota-born singer/songwriter scored in Britain between 1964 and 1970.
In 1998, Linda McCartney died at the age of 56 following a battle with breast cancer. Born Linda Eastman, she was a noted rock photographer before marrying Beatle Paul McCartney in 1969 and joining her husband's new band, Wings, in 1971 on vocals and keyboards. She was also renowned for her work as an animal rights activist and was a passionate advocate for vegetarianism.
In 1971, all four ex-Beatles were in the UK singles chart at the same time. George Harrison's "My Sweet Lord" went to No.1 while Paul McCartney's "Another Day," Ringo Starr's "It Don't Come Easy" and John Lennon's "Power To The People" all made the Top 10.
In 1995, Texas governor George W. Bush declared April 16 "Selena Day" to commemorate the birthday and life of singer Selena Quintanilla Pérez, dubbed the "Madonna of Tejano music." The announcement came two weeks after Selena's tragic murder at the age of 23 by her fan club president.
In 1973, country-rock pioneers Eagles released Desperado, their second studio album. Containing the iconic title song as well as the hit singles "Tequila Sunrise" and "Outlaw Man," the LP stalled at No. 41 in the US album charts but was eventually certified double platinum.
Looking for more things that happened on this day in music?
Keep scrolling for all of the headlines for April 17.
BORN ON APRIL 17:
1930: Chris Barber
1934: Don Kirshner (Songwriter, Manager, Music Publisher)
1940: Billy Fury
1948: Jan Hammer (Mahavishnu Orchestra)
1955: Pete Shelley (Buzzcocks)
1964: James Keenan (Tool)
1967: Liz Phair
1970: Redman
1974: Victoria Beckham (The Spice Girls)
1989: Avi Kaplan (Pentatonix)
Looking for more artists born on this day?
Keep scrolling for all of our April 17 birthdays.
---
What to find another day?
---
April 17th
17 Apr 2020
English bass guitarist Matthew Seligman, best known as a member of The Soft Boys, died aged 64 due to complications of the coronavirus. Seligman was also a member of the Thompson Twins, and was a sideman for Thomas Dolby and backed
David Bowie
at his performance at
Live Aid
in 1985.
17 Apr 2016
Singer Joss Stone postponed shows in the Caribbean to be with her sick dog, which she said was "the closest thing I have to a child". She said her pet had "made it through the night" but she had to "go back and make sure she was ok".
17 Apr 2009
Morrissey walked off stage during his set at the Coachella festival in California after declaring he could 'smell burning flesh'. The committed vegetarian took offence to the smell coming from nearby barbecues. Sir
Paul McCartney
, The Killers and
The Cure
also appeared at the event.
17 Apr 2008
Danny Federici, the longtime keyboard player for
Bruce Springsteen
and a member of The E Street Band, died of cancer at the age of 58. Federici had worked with Springsteen for over 40 years, starting with Steel Mill and Child with Springsteen.
17 Apr 2007
Bryan Ferry was forced to make an apology after praising Nazi iconography in a German magazine. Talking to Welt am Sonntag, he said the Nazis 'knew how to put themselves in the limelight and present themselves...I'm talking about the films of Leni Riefenstahl and the buildings of Albert Speer and the mass marches and the flags. Just amazing - really beautiful.' British MPs asked shoppers to think twice about shopping in Marks and Spencer asking for Ferry to be dropped as the face of the M&S Autograph menswear collection. Ferry said he was 'deeply upset' by the publicity surrounding the interview.
17 Apr 2004
Kurt Cobain
's Mark IV-style Mosrite Gospel guitar sold for $100,000 at the Icons of 20th Century Music auction held in Dallas, Texas. Other items sold included
Elton John
and Bernie Taupin's song writing piano which sold for $140,000 and a 1966 Rickenbacker guitar owned by The Byrds Roger McGuinn's sold for $99,000.
17 Apr 2003
Earl King the New Orleans Blues guitarist died aged 69. King wrote the classic song Come On, (Let The Good Times Roll), covered by
Jimi Hendrix
.
17 Apr 1998
Linda McCartney died after a long battle against cancer. Married
Paul McCartney
in 1969 when she was working as a photographer. As well as a being a member of Wings, she became an animal rights campaigner and launched her own brand of vegetarian food.
17 Apr 1994
Pink Floyd
started a four-week run at No.1 on the UK album chart with The Division Bell, their fourth No.1 album.
17 Apr 1993
David Bowie
went to No.1 on the UK album chart with his eighteenth studio album Black Tie White Noise. It was his first solo release in the 1990s after spending time with his hard rock band Tin Machine.
17 Apr 1991
Nirvana
appeared at the OK Hotel in Seattle, where they played a new song, '
Smells Like Teen Spirit
', live for the first time. Other local bands such as Mudhoney, Tad, Mother Love Bone, and Soundgarden all appeared at the club, which has now been turned into a residential property.
17 Apr 1987
Reggae drummer and percussion player Carlton Barrett of The Wailers was shot dead outside his house in Kingston, Jamaica. Joined
Bob Marley
and The Wailers in 1970, wrote the Marley song 'War'. Barrett was the originator of the one-drop rhythm, a percussive drumming style.
17 Apr 1983
Felix Pappalardi, producer and bass player with American rock band Mountain was shot dead by his wife Gail Collins during a jealous rage. Collins was convicted of criminally negligent homicide and sentenced to four years in prison. Pappalardi who was 43 had produced the
Cream
albums '
Disraeli Gears
' and 'Wheels of Fire.'
17 Apr 1982
Vangelis was at No.1 on the US album chart with Chariots Of Fire, he later also won an Oscar for the album for best original score.
17 Apr 1975
Elvis Presley
bought a Convair 880 Jet formally owned by Delta Airlines for $250,000, which he re-christened Lisa Marie. Presley spent a further $600,000 refurbishing the Jet to include personal quarters, a meeting area and a dance floor.
17 Apr 1974
Vinnie Taylor guitarist with US rock 'n roll revival band Sha Na Na was found dead in a Holiday Inn hotel room in Charlottesville, Virginia from a drug overdose. Sha Na Na played at the
Woodstock
Festival, their 90-second appearance in the
Woodstock
film brought the group national attention. The group appeared in the movie Grease as Johnny Casino & The Gamblers.
17 Apr 1973
The Eagles
released their second studio album Desperado. Recorded at Island Studios in London, UK, two singles were released from the album 'Tequila Sunrise' and 'Outlaw Man'.
17 Apr 1973
Pink Floyd
's album
The Dark Side Of The Moon
went gold in the US. The LP went on to stay in the US chart for more than ten years and became the longest charting rock record of all time.
17 Apr 1971
17 Apr 1971
Three Dog Night started a six week run at No.1 on the US singles chart with 'Joy To The World'. The group's second US No.1; a No.24 hit in the UK.
17 Apr 1970
Santana
began sessions for what would be their breakthrough album Abraxas at Wally Heider Recording Studio, San Francisco, California. When released in September of this year, Abraxas peaked at No.1 on the US chart.
17 Apr 1970
While performing at the White House at the invitation of President Richard Nixon,
Johnny Cash
was asked to perform 'Okie From Muskogee'. Cash declined because it was not his song, but had been a hit for Merle Haggard. Instead, Cash sang his No.1 hit, 'A Boy Named Sue'.
17 Apr 1965
Bob Dylan
's second studio album 'The Freewheelin'
Bob Dylan
was at No.1 on the UK chart. The album opens with 'Blowin' in the Wind', which became an anthem of the 1960s, and an international hit for folk trio Peter, Paul & Mary.
17 Apr 1960
Touring in the UK, 21-year-old US singer Eddie Cochran was killed when the taxi he was travelling in crashed into a lamppost on Rowden Hill, Chippenham, Wiltshire, (where a plaque now commemorates the event). Songwriter Sharon Sheeley and singer Gene Vincent survived the crash, Cochran's current hit at the time was 'Three Steps to Heaven'. The taxi driver, George Martin, was convicted of dangerous driving, fined £50, disqualified from driving for 15 years, and sent to prison for six months.
Born on this day in music
17 Apr 1989
American singer and songwriter Avi Kaplan a member of the a cappella group Pentatonix. Together with Pentatonix, Kaplan has released seven studio albums, won three Grammy Awards, and sold over six million albums. They scored the 2017 US No.1 album 'A Pentatonix Christmas'.
17 Apr 1988
British singer-songwriter, Eliza Doolittle, (born Eliza Sophie Caird). Her debut self-titled album released in 2010, (where it debuted at No.3 on the UK Albums Chart), produced two UK top forty hits: 'Skinny Genes' and 'Pack Up'.
17 Apr 1974
businesswoman, fashion designer, model and singer, Victoria Beckham, (Posh Spice), The
Spice Girls
who scored the 1996 UK No.1 & 1997 US No.1 single 'Wannabe', plus eight other UK No.1 singles). She had the solo 2000 UK No. 2 single 'Out Of Your Mind' and married footballer David Beckham at Luttrellstown Castle, Ireland in June 1999. Beckham has become an internationally recognised style icon and fashion designer.
17 Apr 1970
Redman, US rapper who had the 2001 US No.4 album Malpractice and the 2002 UK No.1 single with Christina Aguilera 'Dirrty'.
17 Apr 1967
Matt Chamberlain one of the world's most widely-heard session drummers. Worked with, Edie Brickell & New Bohemians,
Pearl Jam
, Tori Amos, Morrissey, Fiona Apple, Christina Aguilera, Dido,
David Bowie
,
Elton John
, Peter Gabriel, The Wallflowers, Natalie Merchant, Robbie Williams, Garbage, John Mayer and William Shatner.
17 Apr 1967
American singer-songwriter and guitarist Liz Phair. Her 1993 debut studio album Exile in Guyville was ranked by Rolling Stone as one of the 500 Greatest Albums of All Time.
17 Apr 1964
James Keenan from American rock band Tool who had the 2001 US No.1 album Lateralus. Keenan is also a member of A Perfect Circle and Puscifer.
17 Apr 1955
English singer, songwriter and guitarist Pete Shelley from punk rock band
Buzzcocks
, who had the 1978 UK No.12 single 'Ever Fallen In Love, With Someone You Shouldn't've'. They made their first appearance in 1976 in Manchester, opening for the
Sex Pistols
. Shelley also had a solo career: his song 'Homosapien' charted in the US in 1981. He died of a suspected heart attack on 6 December 2018.
17 Apr 1954
American Grammy-award winning and Oscar nominated singer, musician, songwriter, Michael Sembello, who had the 1983 US No.1 single 'Maniac', which featured in the film Flashdance.
17 Apr 1948
Jan Hammer, keyboard player, Mahavishnu Orchestra and
Jeff Beck
. He scored the solo, 1985 US No.1 & UK No.5 single 'Miami Vice Theme' and the 1987 UK No.2 single 'Crockett's Theme'.
17 Apr 1943
Roy Estrada, bassist with
Frank Zappa
and a founder member of Little Feat, playing on their first two albums. Estrada was convicted of sexual assault on a child in 1977 for which he served six years in prison. In January 2012, he pleaded guilty to a charge of continuous sexual abuse of a child which happened in 2008 and he was sentenced to 25 years in prison and is not eligible for parole.
17 Apr 1940
English singer Billy Fury, who had the 1961 UK No.3 single 'Halfway To Paradise', plus 25 other Top 40 UK singles. He played rock 'n' roller "Stormy Tempest" in the film That'll Be The Day along side David Essex and
Ringo Starr
. An early British rock and roll (and film) star, he equalled the Beatles' record of 24 hits in the 1960s, and spent 332 weeks on the UK chart. Fury died of a heart attack on 28th January 1983.
17 Apr 1934
American music publisher, talent manager, and songwriter Don Kirshner who helped launch the careers of
Neil Diamond
, Bobby Darin,
Carole King
, Neil Sedaka and The Archies. Kirshner was hired by the producers of The
Monkees
to provide hit-worthy songs to accompany the television program and also served as a music consultant for almost two dozen TV series between 1966 and 1977. He died on January 17, 2011.
17 Apr 1930
English jazz musician, Chris Barber. He sponsored African-American blues musicians to visit Britain, making Barber a significant figure in launching the British rhythm and blues and "beat boom" of the 1960s. This, with the encouragement of local enthusiasts such as Alexis Korner and John Mayall, sparked young musicians such as
Peter Green
,
Eric Clapton
and the
Rolling Stones
. He died on 2 March 2021 age 90.