April 21st: The Biggest Music Headlines
Scroll down the page to see all the music headlines, stories and events for April 21 throughout music history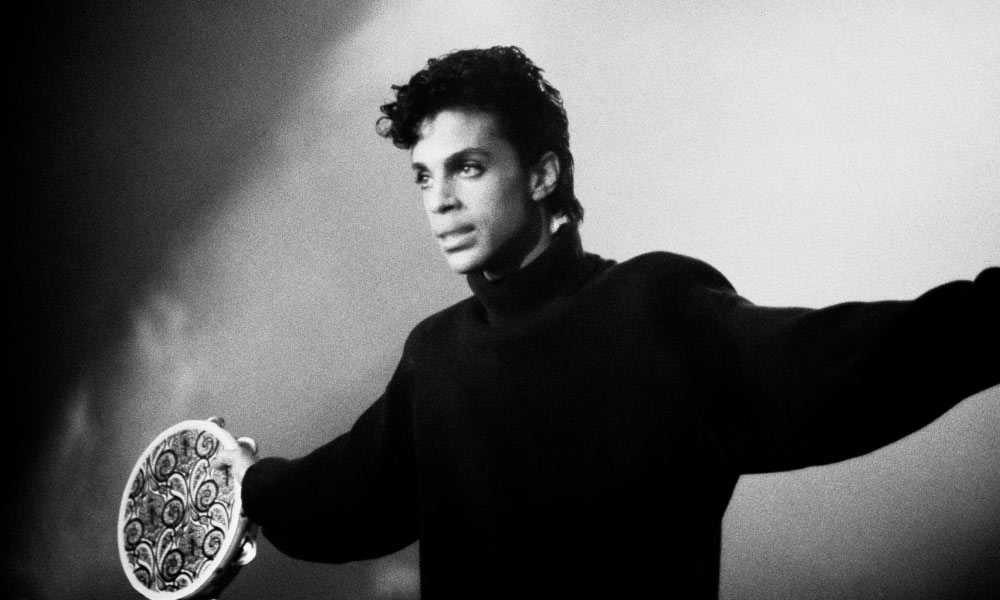 Prince's Death Marks The End Of The Purple Reign
On this day in music, April 21, 2016, the flamboyant, influential, and sometimes controversial Minneapolis musician, Prince, died aged 57. Born Prince Rogers Nelson, he began his career in the late 1970s, finding acclaim with albums like Controversy and 1999. In 1984, he achieved even broader success with the hit movie Purple Rain and its multi-platinum soundtrack album. A musical shapeshifter, whose unique style embraced R&B, funk, pop, rock, jazz, and hip-hop, Prince was also famed for his spectacular live shows. In the 90s, during a dispute with his label Warner Bros, he changed his name to an unpronounceable symbol, becoming known for a time as The Artist Formerly Known As Prince.
In 2013, DJ/producer Calvin Harris entered the history books when he became the first recording artist to score eight UK Top 10 hits all from a single album (2012's 18 Months). Born Adam Wiles in Scotland, Harris surpassed Michael Jackson's previous record-breaking tally of seven Top 10 smashes each from the albums Bad and Dangerous.
In 1990, Sinead O'Connor topped the Billboard Hot 100 with her haunting interpretation of the Prince-written "Nothing Compares 2 U," a song which the latter artist first recorded with his side project, The Family, in 1985. The single spent a month at the summit of the US pop charts and also went to No.1 in 18 other countries.
In 1978, 31-year-old singer-songwriter Sandy Denny passed away. The London-born artist rose to fame in 1968 as part of the folk group Fairport Convention, then left to form her own band, Fotheringay, the following year, before launching her solo career in 1971. She is best remembered for her classic song "Who Knows Where the Time Goes," which was covered by Judy Collins in 1968.
In 1984, ex-Genesis drummer and singer Phil Collins chalked up his first of seven US chart-topping singles with "Against All Odds (Take A Look At Me Now)," taken from the soundtrack to the romantic thriller movie of the same name. It stalled at No.2 in the UK.
In 1990, Paul McCartney set a new world record when his concert at the Maracana Stadium in Rio de Janeiro drew an audience of 184,000. At the time, it was the largest crowd to attend a rock concert.
Looking for more things that happened on this day in music?
Keep scrolling for all of the headlines for April 21.
BORN ON APRIL 21:
1919: Don Cornell (Singer)
1947: Iggy Pop
1951: Nicole Barclay (Fanny)
1958: Mike Barson (Madness)
1959: Robert Smith (The Cure)
1959: Michael Timmins (Cowboy Junkies)
1960: John Maher (Buzzcocks)
1963: Johnny McElhone (Altered Images, Texas)
Looking for more artists born on this day?
Keep scrolling for all of our April 21 birthdays.
---
What to find another day?
---
April 21st
21 Apr 2021
American musician Joe Long died from complications of COVID-19 age 88. He is best known as the bass guitarist for the Four Seasons that became internationally successful in the 1960s and 1970s. They are one of the best-selling musical groups of all time, having sold an estimated 100 million records worldwide.
21 Apr 2016
Prince
was found dead at his home in Minnesota at the age of 57, after Police were summoned to his Paisley Park estate and found his body in a lift. The acclaimed and influential musician became a global superstar in the 1980s, with albums such as 1999, Purple Rain and Sign O' the Times and recorded more than 30 albums.
21 Apr 2016
Adele
was named as Britain's richest ever female musician, in the latest Sunday Times Rich List. A list of the top 50 music millionaires in the UK and Ireland placed the singer's £85m fortune in 30th place - an increase of £35m compared to last year.
21 Apr 2016
American rock, blues and country singer-guitarist Lonnie Mack died of natural causes in hospital near his log-cabin home, seventy miles east of Nashville, Tennessee. In the early 1960s, he was a "pioneer" in virtuoso rock guitar soloing whose recordings were pivotal to the emergence of the electric guitar as a lead voice in rock music. For this, it has been said that he launched the era of "modern rock guitar". He scored the hit single instrumentals, 'Memphis' and 'Wham!'
21 Apr 2015
Phil Rudd, drummer of
AC/DC
, changed his plea to guilty on a charge of a threat to kill, in a court in Tauranga, New Zealand. The court heard Rudd was unhappy about his album's launch party and asked for a former employee to be "taken out". He had previously denied the charge. He also pleaded guilty to cannabis and methamphetamine possession. The court heard that he had fired a number of employees last August after the launch of his solo album, Head Job.
21 Apr 2014
Robin Thicke's controversial hit single 'Blurred Lines' was named the UK's most-downloaded song of all time. The song had sold 1.54 million copies since it was released in May 2013, despite criticisms of its explicit lyrics. About 20 university student unions banned the track, saying it promoted "date rape culture", an accusation Thicke consistently denied.
21 Apr 2013
Calvin Harris made chart history by becoming the first artist to have eight top 10 hits from one studio album. His track 'I Need Your Love', featuring singer Ellie Goulding, climbed to No.7 on the Official UK Chart. The DJ and producer from Dumfries, Scotland had overtaken
Michael Jackson
, who previously held the record with seven top 10 hits from both his 1987 album Bad and his 1991 record Dangerous.
21 Apr 2008
American soul singer and songwriter Al Wilson died of kidney failure at the age of 68. Wilson had a number of US hits, including The 'Snake' in 1968 and 'Show and Tell' in 1974.
21 Apr 2007
Doris Richards died of cancer. The 91-year-old mother of
Rolling Stones
guitarist
Keith Richards
bought her son his first guitar for his 15th birthday. He learned some chords from her father, Gus Dupree, a musician who instilled him with an early passion for music.
21 Apr 2004
Former Pogues frontman Shane MacGowan was attacked in a London pub. The singer was assaulted at the Joiner's Arms pub in central London and suffered a fractured cheekbone after being kicked, punched and hit with a metal bar. Two men, aged 20 and 21, were arrested and later released on bail.
21 Apr 2002
Oasis
went to No.1 on the UK singles chart with 'Hindu Times', the bands sixth UK No.1 and the first single to be released from their fifth album Heathen Chemistry.
21 Apr 2001
R.E.M.
guitarist Peter Buck was charged by police at Heathrow airport with being drunk on an aircraft and assaulting British Airways crew. Buck was taken into custody after landing on a flight from Seattle and questioned by police for 12 hours.
21 Apr 2000
Neal Matthews of The Jordanaires died of a heart attack. Sang on Presley's 'Don't Be Cruel' and 'Hound Dog.' Also worked with Ricky Nelson,
Patsy Cline
, Red Foley, Johnny Horton, Jim Reeves, George Jones, Marie Osmond, Tom Jones and Merle Haggard.
21 Apr 1990
Paul McCartney
played in front of 184,000 fans at the Maracana Stadium in Rio de Jnaeiro, creating a new world record for the largest crowd attending a rock concert.
21 Apr 1990
Sinead O'Connor
started a four week run at No.1 on the US singles chart with her version of the
Prince
song 'Nothing Compares To You'. The track was also a No.1 hit in 18 other countries. The video was shot in Paris, and consists almost solely of a close-up on O'Connor's face as she sings the lyrics. Towards the end of the video, two tears roll down her face. The clip won Best Video at the 1990
MTV
Video Music Awards - the first video by a female artist to win in this category.
21 Apr 1984
Phil Collins
started a three week run at No.1 in the US singles chart with the theme from 'Against All Odds'. It was Phil's first US No.1, a No. 2 in the UK.
21 Apr 1982
Clash frontman
Joe Strummer
disappeared for three weeks, which resulted in the group cancelling a tour. The singer was found living rough in Paris, France.
21 Apr 1978
UK folk singer Sandy Denny died aged 31. While on holiday with her parents in Cornwall, England, Denny was injured in a fall down a staircase. A month after the fall she collapsed at a friend's home; four days later she died in Hospital, her death was ruled to be the result of a traumatic mid-brain hemorrhage. She was a member of Fairport Convention and a solo artist. Her 1967 song 'Who Knows Where the Time Goes', was covered by Judy Collins. Denny sang on the
Led Zeppelin
track 'Battle Of Evermore' on the bands fourth album, (the only guest vocalist on a Led Zeppelin album).
21 Apr 1976
Women Against Violence Against Women called for a boycott of all Warner Communications albums because of the promotional campaign for The
Rolling Stones
' new album Black and Blue. The album was being promoted with a controversial advertising campaign that depicted the model Anita Russell, bruised and bound, under the phrase 'I'm Black and Blue from the
Rolling Stones
- and I love it!'
21 Apr 1973
Tony Orlando & Dawn started a four week run at No.1 on the US singles chart with 'Tie A Yellow Ribbon Round The Old Oak Tree', (it became the biggest seller of 1973, selling over 6 million copies). The song was based on a true story of a prisoner who wrote to his wife asking her to tie a yellow ribbon around an oak tree in the town square in White Oak, Georgia, if she still loved him.
21 Apr 1970
Tyrannosaurus Rex, Spooky Tooth, Jackie Lomax,
Elton John
(making his solo concert debut) and Heavy Jelly all appeared at The Roundhouse, London, tickets cost 25 shillings.
21 Apr 1969
Janis Joplin
appeared at The Royal Albert Hall, London, (her first London appearance). The opening act was Yes.
21 Apr 1967
Working at Abbey Road studios in London,
The Beatles
completed the sessions for
Sgt. Pepper's Lonely Hearts Club Band
. The final recordings were a short section of gibberish and noise which would follow 'A Day in the Life', in the run-out groove. They recorded assorted noises and voices, which engineer Geoff Emerick then cut-up and randomly re-assembled and edits backwards. At
John Lennon
's suggestion, they also added a high-pitch 15 kilocycle whistle audible only by dogs. These were omitted from the American version of the album.
21 Apr 1962
Elvis Presley
started a two week run at No.1 on the US singles chart with 'Good Luck Charm', his fifth US No.1 of the 60s. Also an UK No.1 hit.
21 Apr 1958
US country music singer Marvin Rainwater was at No.1 on the UK singles chart with 'Whole Lotta Woman'. Rainwater was a full-blooded Cherokee Indian, known for wearing Native American-themed outfits on stage.
Born on this day in music
21 Apr 1963
Scottish guitarist and songwriter Johnny McElhone who with Altered Images had the 1981 UK No.2 single 'Happy Birthday'. He joined Texas who had the 1997 UK No.3 single 'Say What You Want', and the 1997 UK No.1 album White On Blonde.
21 Apr 1960
John Maher, drummer with English punk rock group
Buzzcocks
who had the 1978 UK No.12 single 'Ever Fallen In Love, With Someone You Shouldn't've'.
21 Apr 1959
Michael Timmins, guitarist with Canadian alternative country/blues/folk rock band, Cowboy Junkies.
21 Apr 1959
Singer, songwriter and musician Robert Smith with English rock band
The Cure
who had the 1989 US No.2 single 'Love Song', the 1992 UK No.6 single 'Friday I'm In Love', plus over 20 other UK Top 40 singles. He was also the lead guitarist for the band Siouxsie and the Banshees from 1982 to 1984.
21 Apr 1958
Mike Barson, keyboardist from English ska band Madness. They have had 15 singles reach the UK top ten, hits include 'One Step Beyond', 'Baggy Trousers', 'Our House' and 'It Must Be Love'.
21 Apr 1951
Nicole Barclay, from American all-female band Fanny who were active in the early 1970s. They were one of the first notable rock groups to be made up entirely of women.
21 Apr 1948
Paul Davis, American singer and songwriter, best known for his radio hits and solo career which started worldwide in 1970. He had the 1977 US No. 7 hit 'I Go Crazy', which once held the record for the longest chart run on the Billboard Hot 100 with 40 weeks on the chart. He also had two No. 1 country hits as a guest vocalist on songs by Marie Osmond and Tanya Tucker. He died on 22 April 2008.
21 Apr 1947
Alan Warner, from British soul band The Foundations who scored the 1967 UK No.1 single 'Baby Now That I've Found You' and the 1969 US No.3 single 'Build Me Up A Buttercup'. The group was the first multi-racial group to have a No.1 hit in the UK in the 1960s.
21 Apr 1947
American singer-songwriter, musician and actor James Osterberg, (Iggy Pop). Member of The Stooges and solo artist, Pop is sometimes credited with the invention of stage diving. Hits include: 'Lust for Life', 'The Passenger', 'Real Wild Child', and 'I Wanna Be Your Dog'.
21 Apr 1947
John Weider, English rock musician who plays guitar, bass, and violin. He is best known as the guitarist for Eric Burdon & The Animals from 1966 to 1968. He was also the bass player for Family from 1969 to 1971.
21 Apr 1919
American singer Don Cornell. His 1952 hit 'I' was the only single-character pop chart entry until
Prince
's 1992 top 10 Billboard hit '7'. His 1954 single 'Hold My Hand' sold over one million copies and topped the UK Singles Chart. He died on 23 February 2004 age 84.