April 5th: The Biggest Music Headlines
Scroll down the page to see all the music headlines, stories and events for April 5 throughout music history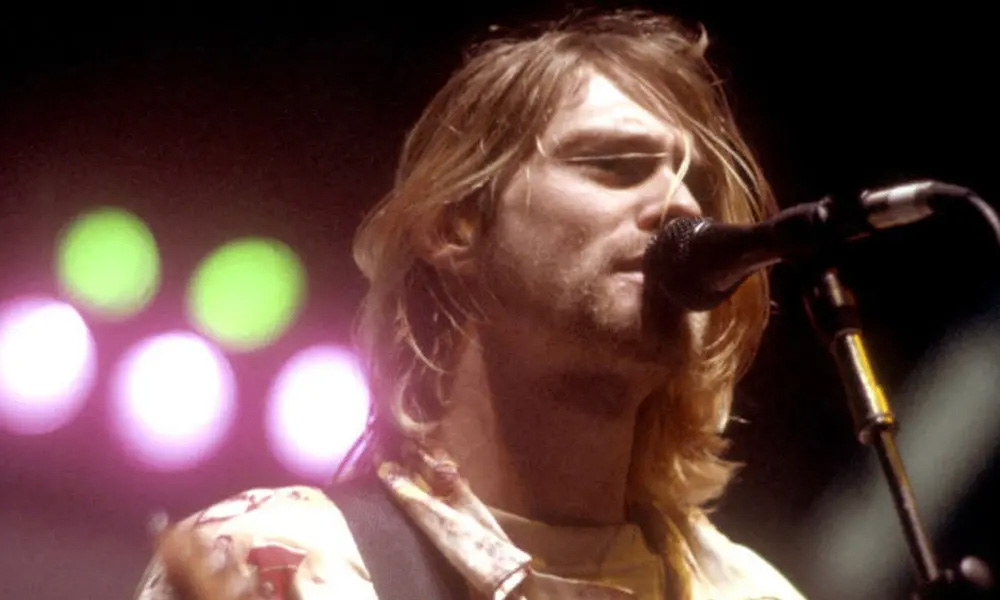 Nirvana Frontman Kurt Cobain Takes His Own Life
On this day in music, April 5, 1994, 27-year-old Kurt Cobain took his own life at his Seattle home. Together with bassist Krist Novoselic and drummer Dave Grohl, he formed Nirvana in Aberdeen, Washington, in 1987, a band that patented a uniquely gritty fusion of punk and heavy metal that became known as grunge. The hugely influential trio recorded three albums, the most famous of which was 1991's Nevermind, which included their anthemic Top 10 US and UK hit single, "Smells Like Teen Spirit."
In 1985, the charity single "We Are the World" was broadcast simultaneously on more than 5000 radio stations worldwide. Performed by USA for Africa (a superstar collective led by Lionel Richie and Michael Jackson), the song hit No.1 in the US and UK and became the fastest-selling single in America. Proceeds from the song, as well as merchandise sales and private donations, raised more than $50 million for humanitarian aid in Africa.
In 2016, the single "One Dance" by rapper and singer Drake spent 15 weeks at the summit of the UK singles chart, equalling the record set by Wet Wet Wet's 1994 smash "Love Is All Around." The track also topped the charts in nine other countries and amassed over 950 million streams on Spotify, making it the most in-demand track that year on the streaming platform.
In 1975, Chicago soul singer Minnie Riperton scored her only US No.1 with the Stevie Wonder-produced single, "Loving You," taken from her album, Perfect Angel. Riperton died of cancer four years later.
In 2006, 65-year-old singer Gene Pitney – whose hits included "Twenty Four Hours From Tulsa" and "Only Love Can Break a Heart" – died while on tour in the UK. Although he scored 31 US chart entries between 1961 and 1975, he enjoyed bigger success in the UK, where he scored 11 Top 10 smashes including "Something's Gotten Hold Of My Heart," his 1989 collaboration with ex-Soft Cell singer Marc Almond, which went to No.1.
In 2008, supermarket chain Wal-Mart was overtaken by Apple's iTunes as America's largest music retailer, according to market research company The NPD Group, which counted every 12 digital downloads sold as equal to one album. The download platform had risen from No.2 the previous year and since its launch in 2003 had sold in excess of four billion songs.
In 1980, R.E.M. made their live debut at a friend's birthday party in St Mary's Episcopal Church, an abandoned house of prayer in Athens, GA.
Looking for more things that happened on this day in music?
Keep scrolling for all of the headlines for April 5.
BORN ON APRIL 5:
1929: Joe Meek (Record producer, sound engineer, and songwriter)
1941: Dave Swarbrick (Fairport Convention)
1942: Allan Clarke (The Hollies)
1944: Nicholas Caldwell (The Whispers)
1950: Agnetha Fältskog (ABBA)
1954: Stan Ridgeway (Wall of Voodoo)
1961: Jacob Slichter (Semisonic)
1965: Mike McCready (Pearl Jam)
1973: Pharrell Williams
Looking for more artists born on this day?
Keep scrolling for all of our April 5 birthdays.
---
What to find another day?
---
April 5th
5 Apr 2019
Shawn Smith a long-time singer-songwriter on the Seattle music scene died age 53 due to complications from diabetes. He performed with the bands Brad, Pigeonhead and Satchel, among others. In a strange coincidence, fellow Seattle luminaries
Kurt Cobain
and Layne Staley (Alice in Chains) died on the same date in 1994 and 2002, respectively.
5 Apr 2016
Canadian hip hop artist
Drake
released the single 'One Dance'. The track reached No.1 in ten countries including the US and topped the UK Singles Chart for 15 consecutive weeks, making it the joint-second longest consecutive No.1 in the country with Scottish band Wet Wet Wet's cover of 'Love Is All Around'. The track also became the most played song on streaming media service Spotify, with over 950 million individual streams.
5 Apr 2013
Mark Knopfler cancelled two shows in Russia in protest over what he called the country's "crackdown" on human rights groups. The former
Dire Straits
frontman pulled out of the gigs in June after Russian authorities searched the offices of organisations including Human Rights Watch and Amnesty International. Critics said the raids were an attempt to crush government dissent.
5 Apr 2012
Jim Marshall, who made rock 'n' roll rawer and noisier by inventing the Marshall amplifier died at a hospice in London, aged 88. His amplifiers and speakers known as 'Marshall stacks' were used by
Jimi Hendrix
,
Eric Clapton
,
Jimmy Page
and almost every other major rock guitarist in the '60s and '70s and by the next generation of guitarists as well, including
Kurt Cobain
,
Eddie Van Halen
and
Slash
.
5 Apr 2011
A statue in tribute to
Nirvana
singer
Kurt Cobain
was unveiled in his hometown of Aberdeen, Washington, The unveiling marked the 17th anniversary of Cobain's death, which occurred on April 5, 1994. The statue designed by local artists Kim and Lora Malakoff was of his signature Fender Jag-Stang guitar. The concrete guitar was eight and a half feet tall and also featured a ribbon with lyrics written on it from
Nirvana
's 'On a Plain'. It reads: "One more special message to go and then I'm done and I can go home."
5 Apr 2008
Apple's iTunes overtook supermarket group Wal-Mart to become the largest music retailer in the US. Market research firm NPD said iTunes surpassed Wal-Mart in January and February if 12 downloads are considered equal to the sale of one CD album. iTunes had sold more than four billion songs since its launch in 2003.
5 Apr 2007
Former
Kiss
guitarist Mark St. John died from an apparent brain haemorrhage at the age of 51. St. John was Kiss' third official guitarist, having replaced Vinnie Vincent in 1984 and appeared on the album 'Animalize'.
5 Apr 2006
Marion 'Suge' Knight staved off receivership by seeking bankruptcy protection for himself and his music label, Death Row Records. The record producer had been ordered to pay more than $100m (£57m) to a former associate who said she had helped start the record label in 1989. Lawyers for Mr Knight said he did not have the money to pay the judgement, and was forced to seek federal protection. The label helped launch the careers of rappers such as Snoop Doggy Dogg.
5 Apr 2006
Gene Pitney was found dead aged 65 in his bed in a Cardiff hotel. The American singer was on a UK tour and had shown no signs of illness. Pitney helped The
Rolling Stones
break the American market with his endorsement of the band. Jagger and Richards wrote his hit 'That Girl Belongs to Yesterday' which became the Stones duo's first composition to reach the American charts. He scored the 1962 US No.4 single 'Only Love Can Break A Heart'. and 1967 solo UK No.5 & 1989 UK No.1 single with Marc Almond 'Something's Gotten Hold Of My Heart', plus over 15 other US & UK Top 40 hits.
5 Apr 2002
American singer Layne Staley of Alice in Chains was found dead from a mixture of heroin and cocaine in his home. It was reported that the 6-foot (1.8 m) Staley weighed only 86 pounds (39 kg) when his body was discovered. His body was partially decomposed when he was found. Medical examiners had to identify it by dental records.
5 Apr 1998
British drummer Cozy Powell (Colin Flooks) was killed when his car smashed into crash barriers on the M4 motorway near Bristol, England. Powell had worked with the
Jeff Beck
Group, Whitesnake,
Black Sabbath
, Rainbow, Brian May, Peter Green and the ELP spin-off Emerson, Lake, and Powell. Powell, known as one of the most driving drummers in rock, had also had hits as a solo artist, including Dance WithThe Devil and The Man In Black, and had fronted his own band, Cozy Powell's Hammer.
5 Apr 1998
The
Spice Girls
performed their first ever-live UK concert when they appeared in front of a 9,000 strong audience in Glasgow, Scotland.
5 Apr 1995
Monika Dannerman, the one time girlfriend of
Jimi Hendrix
committed suicide, two days after losing a court battle with another of the guitarist's ex-lovers.
5 Apr 1994
Kurt Cobain
the 27-year-old frontman and co-founder of Nirvana, committed suicide at his home in Seattle. Cobain, who helped to define grunge music, formed Nirvana in 1987. The hugely influential trio recorded three albums, the most famous of which was 1993's Nevermind, which included their anthemic Top 10 US and UK hit single "Smells Like Teen Spirit."
5 Apr 1985
At 3:50pm GMT, over 5,000 radio stations worldwide aired the charity single by USA for Africa 'We Are The World'. The single went on to be a No.1 in the US & UK, and most Western territories.
5 Apr 1984
5 Apr 1983
Danny Rapp, leader of 50s group Danny and the Juniors, took his own life in an Arizona hotel. With Danny and the Juniors he had the 1958 US No.1 & UK No.3 single 'At The Hop'.
5 Apr 1981
Canned Heat singer Bob "The Bear" Hite died of a heart attack aged 36. (1970 UK No.2 & US No.26 single 'Let's Work Together'). Played at both the 1967
Monterey Pop Festival
and the 1969
Woodstock
Festival.
5 Apr 1980
R.E.M.
played their first ever gig when they appeared at St Mary's Episcopal Church, Athens, Georgia. The show at this abandoned church was for a friend's birthday party.
5 Apr 1979
Duran Duran
made their live debut at The Lecture Theatre, Birmingham Polytechnic. The band have since then achieved 14 singles in the top 10 of the UK Singles Chart and 21 in the Billboard Hot 100, and have sold over 100 million records worldwide.
5 Apr 1975
Minnie Riperton went to No.1 on the US singles chart with the
Stevie Wonder
produced song 'Loving You' (a No.2 hit in the UK). It was the singers only US chart hit. Riperton died of cancer on 12th July 1979.
5 Apr 1967
Monkees
fans walked from London's Marble Arch to the US Embassy in Grosvenor Square to protest Davy Jones' planned call-up. Jones was exempted because he was deemed responsible for supporting his father.
5 Apr 1962
The Beatles
performed at The
Cavern Club
in Liverpool as part of a special night presented by the Beatles' fan club.
The Beatles
wear their black leather outfits for the first half of the performance, for old time's sake, then change into their new suits for the second half of the show.
Born on this day in music
5 Apr 1995
Canadian singer and songwriter Daniel Caesar. He was featured alongside Giveon on Justin Bieber's 2021 single, 'Peaches', which serves as his No.1 song on the US Billboard Hot 100.
5 Apr 1981
Filipino American musician and singer-songwriter Mariqueen Maandig, vocalist for How to Destroy Angels, (with her husband Trent Reznor).
5 Apr 1975
American rapper, songwriter and record producer, Juicy J, (Jordan Michael Houston), founding member of the Southern hip hop group Three 6 Mafia. He featured on the 2014 US Katy Perry No.1 hit 'Dark Horse'.
5 Apr 1973
Pharrell Williams, one half of the writing duo, The Neptunes (with Chad Hugo). Williams has produced numerous No.1 hits for Mystikal, Jay-Z, NSYNC,
Britney Spears
,
Ed Sheeran
, and Nelly. He had the 2003 US No.1 album 'The Neptunes Present Clones'. Williams featured on the 2013 worldwide hit 'Blurred Lines' with Robin Thicke and his own 2013 single 'Happy' from the Despicable Me 2 soundtrack album was the most successful song of 2014, reaching No.1 on over 20 countries.
5 Apr 1968
American singer-songwriter Paula Cole, who scored the 1997 UK No.15 single, 'Where Have All The Cowboys Gone'. Her song 'I Don't Want to Wait' was used as the theme song of the television show Dawson's Creek.
5 Apr 1965
Mike McCready, guitarist, and one of the founding members of
Pearl Jam
who had the 1992 UK No.15 single Jeremy, the 1993 US No.1 and UK No.2 album Vs and the 1994 US No.1 and UK No.4 album Vitalogy. McCready also has the side project bands Temple of the Dog, Mad Season and The Rockfords.
5 Apr 1961
Jacob Slichter, drummer, with Semisonic who had hits with 'Secret Smile', 'Closing Time' and 'Chemistry'.
5 Apr 1954
American multi-instrumentalist singer-songwriter Stan Ridgeway who scored the 1986 UK No.4 single 'Camouflage' and was a founding member of the band Wall of Voodoo.
5 Apr 1951
Everett Morton, from British group The Beat who had a string of UK hit singles in the 80s, including 'Mirror in the Bathroom,' 'Can't Get Used to Losing You' and 'Hands Off, She's Mine'. He died age 71 on 8 October 2021.
5 Apr 1950
Swedish musician, singer, songwriter Agnetha Faltskog from
ABBA
. Their first UK hit was the 1974 No.1 'Waterloo', followed by eight other UK No.1 singles and 9 UK No.1 albums and they scored the 1977 US No.1 single 'Dancing Queen'. Her self-penned debut single 'Jag var så kär' was released in 1967, and topped the Swedish Chart in 1968 which led to a successful solo career before joining ABBA.
5 Apr 1948
English rock drummer Dave Holland best remembered for his stints with Trapeze from 1969 to 1979 and Judas Priest from 1979 to 1989. He died in a hospital in Spain 16 January 2018 aged 69.
5 Apr 1944
Nicholas Caldwell, singer with American group The Whispers who had the 1980 UK No.2 & US No.19 single 'And The Beat Goes On'. He died on January 5 2016.
5 Apr 1942
Alan Clarke, singer with British pop/rock group The Hollies who have scored over 30 top 40 hits, including 'Just One Look', 'Bus Stop', 'Carrie Anne', and later 'He Ain't Heavy, He's My Brother' and 'The Air That I Breathe'. Clarke retired from performing in 1999.
5 Apr 1941
Dave Swarbrick, English folk musician and singer-songwriter. His work for the group Fairport Convention from 1969 has been credited with leading them to produce their seminal album Liege & Lief (1969) which initiated the electric folk movement. Swarbrick died on 3rd June 2016.
5 Apr 1939
American musician Ronald White, singer with The Miracles, who had the 1970 UK & US No.1 single with
Smokey Robinson
, 'The Tears Of A Clown'. White was also known for bringing
Stevie Wonder
to the attention of a Motown Records and writing several hit singles for the Miracles and other artists including The Temptations,
Marvin Gaye
, and Mary Wells. White died on 26 August 1995 age 56.
5 Apr 1935
Peter Grant, manager of
Led Zeppelin
. Died from a heart attack on 21st Nov 1995 aged 60. Known as being one of the shrewdest and most ruthless managers in rock history, Grant secured 90% of concert gate money and intimidated record store owners who dealt in bootlegs. The former wrestler also worked as a film extra and bodyguard. During the early 60s Grant worked as a tour manager for
Bo Diddley
, The Everly Brothers,
Little Richard
,
Chuck Berry
, Eddie Cochran, Gene Vincent and The Animals.
5 Apr 1929
Joe Meek, English record producer, sound engineer and songwriter who pioneered space age and experimental pop music. He produced 'Telstar' the 1962 UK and US No.1 single by The Tornadoes, the first British act to have a No.1 in the US. Meek also produced 'Johnny Remember Me (John Leyton, 1961), 'Just Like Eddie' (Heinz, 1963) and 'Have I the Right?' (the Honeycombs, 1964). On 3 February 1967 Meek killed his landlady Violet Shenton and then shot himself dead with a single-barrelled shotgun.
5 Apr 1928
Tony Williams, from American vocal group The Platters who had the 1959 UK & US No.1 single 'Smoke Gets In Your Eyes'. Williams died on 14th August 1992. The group had 40 charting singles on the Billboard Hot 100 chart between 1955 and 1967.