April 7th: The Biggest Music Headlines
Scroll down the page to see all the music headlines, stories and events for April 7 throughout music history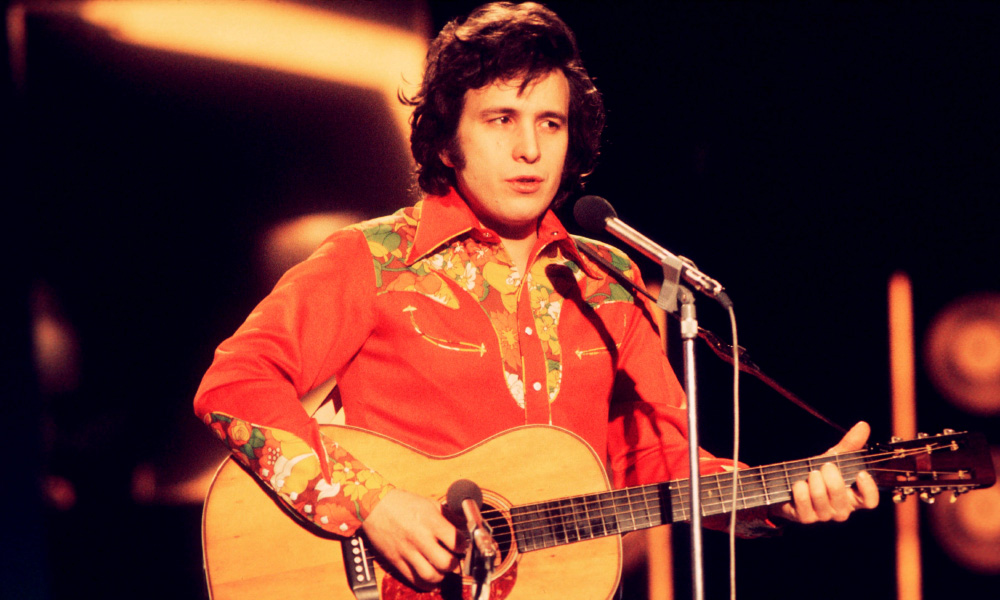 Don McLean's 'American Pie' Manuscript Sells At Auction For Over $1 Million
On this day in music, April 7, 2015, singer-songwriter Don McLean's original manuscript for his iconic 1971 hit,"American Pie," was auctioned at Christie's in New York and fetched $1.2 million. Consisting of a 16-page draft containing hand-written lyrics and notes, the manuscript, said the singer, would "divulge everything there is to divulge" about a song whose words had intrigued listeners for years and referenced Buddy Holly's death in a 1959 plane crash.
In 2020, 73-year-old singer-songwriter John Prine died from Covid-19 complications. The Illinois-born "Angel From Montgomery" songwriter initially worked as a mailman and was then drafted into the US Army during the Vietnam War before starting a music career. He went on to release 23 albums between 1971 and 2018, winning five Grammy awards along the way. The artist had many fans among his peers, including Bob Dylan, Bonnie Raitt, and Kris Kristofferson, who all admired Prine's gift as an eloquent storyteller.
In 1985, Wham! performed in Beijing, a groundbreaking moment that made them the first major Western band to appear in communist China. They sang before an audience of 12,000 in the city's Peoples' Gymnasium.
In 1978, The Police released "Roxanne," the first single plucked from their debut album, Outlandos d'Amour. A song about a man who falls for a sex worker, it initially missed the UK charts but when reissued a year later – after their song "Can't Stand Losing You" was a hit – it rose to No. 12.
In 1962, Mick Jagger and Keith Richards met Brian Jones for the first time at Ealing Jazz Club in West London. Jones, who went under the name Elmo Lewis, was playing slide guitar with Alexis Korner's band, Blues Incorporated. Shortly afterward, they formed the Rolling Stones.
In 1977, The Damned became the first British punk group to perform live in America when they played the first of a four-night residency at New York's iconic CBGBs.
Looking for more things that happened on this day in music?
Keep scrolling for all of the headlines for April 7.
BORN ON APRIL 7:
1915: Billie Holiday
1942: Joel Dorn (Producer)
1947: Patricia Bennett (The Chiffons)
1947: Florian Schneider (Kraftwerk)
1949: John Oates (Hall and Oates)
1951: Janis Ian
1952: Bruce Gary (The Knack)
1991: Anne-Marie
Looking for more artists born on this day?
Keep scrolling for all of our April 7 birthdays.
---
What to find another day?
---
April 7th
7 Apr 2022
The Kidd Creole, a founding member of the US rap group Grandmaster Flash and the Furious Five, was found guilty of manslaughter over the fatal stabbing of a homeless man on a New York street. John Jolly was stabbed twice in the chest with a steak knife in 2017. Prosecutors accused the rapper, whose real name is Nathaniel Glover, of stabbing Mr Jolly, 55, after becoming enraged because he thought he was hitting on him.
7 Apr 2022
British rapper Dizzee Rascal was given a restraining order, curfew and ordered to wear an electronic tag for attacking his ex-fiancee during a row over child contact and finances. The grime artist had been found guilty of assaulting Cassandra Jones by pressing his forehead against hers and pushing her to the ground during a "chaotic" row at a residential property in Streatham, south London, on June 8 2021.
7 Apr 2020
US folk and country singer John Prine died aged 73 due to complications from Covid-19. He released his debut album in 1971, and put out 19 studio albums in all. While wider mainstream success eluded him for years, he earned a sizeable following, including some of the 20th century's greatest songwriters.
Bob Dylan
said in 2009: "Prine's stuff is pure Proustian existentialism. Midwestern mind trips to the nth degree. And he writes beautiful songs."
7 Apr 2020
American guitarist, composer and lyricist Steve Farmer died aged 71. He is best known for his composition with Ted Nugent in 1968, 'Journey to the Center of the Mind', performed by their group The Amboy Dukes.
7 Apr 2016
American singer, songwriter, and guitarist Jimmie Van Zant died in a hospice in Florida after several years of treatment for liver cancer. He began playing guitar and piano as a child, mentored by his cousin Ronnie Van Zant, but largely gave up music until the 1977 plane crash in which Ronnie, the founder and lead singer of Lynyrd Skynyrd, was killed. He then then took up a career playing Southern rock music.
7 Apr 2016
Bruce Springsteen
cancelled a concert in North Carolina, joining business groups in condemning a state law that rolled back protection for gay and transgender people. In a statement Springsteen said, "Some things are more important than a rock show and this fight against prejudice and bigotry which is happening as I write is one of them."
7 Apr 2015
The original manuscript of Don McLean's 'American Pie' sold for $1.2m (£806,000) at a New York auction. The 16-page draft had been expected to fetch as much as $1.5m (£1m) at the Christie's sale. McLean said writing the song was 'a mystical trip into his past'. The repeatedly mentioned phrase 'the day the music died' refers to the plane crash in 1959 which killed early rock and roll performers
Buddy Holly
, The Big Bopper, and Ritchie Valens.
7 Apr 2013
Andy Johns, the veteran producer and engineer died at the age of 61. He worked on many classic albums including The
Rolling Stones
,
Exile on Main Street
(1972), Television's Marquee Moon (1977), and a series of albums by
Led Zeppelin
during the 1970s. His sound is exemplified by
Free
's album Highway, which he engineered and produced.
7 Apr 2008
Feist won five prizes, including album of the year at the Junos, Canada's top music awards. The Canadian singer-songwriter won single of the year for '1234', album and pop album for The Reminder, as well as artist and songwriter of the year.
7 Apr 2003
Avril Lavigne dominated Canada's national music awards the Junos, winning four prizes including best single, album and new artist. Shania Twain who hosted the show won three awards. Best group went to Sum 41.
7 Apr 2002
UK Pop Idol runner-up Gareth Gates was at No.1 on the UK singles chart with his version of 'Unchained Melody.' Making Gates the seventh act to have a Top 40 hit with the song. Jennifer Lopez was at No.1 on the US singles chart with 'Ain't It Funny.' And
Celine Dion
had the UK & US No.1 album 'A New Day Has Come.'
7 Apr 2001
Paul McCartney
bought the four-bedroom Beverly Hills home of Courtney Love for $3.995m. The gated 1930s house had its own swimming pool and 1.5 acres of land.
7 Apr 2000
Heinz, bass player and singer with The Tornadoes died aged 57. The group had the Joe Meek produced 1962 UK & US No.1 single 'Telstar', making them the first UK group to score a US No.1 single. Heinz had the 1963 solo hit 'Just Like Eddie', a tribute to Eddie Cochran, (which featured future
Deep Purple
guitarist Ritchie Blackmore).
7 Apr 1998
George Michael
was arrested at The Will Rogers Memorial Park for committing a sex act in a public toilet. He was arrested by undercover Beverly Hills police officer Marcelo Rodriguez. Michael later said; 'I was followed into the restroom and this cop - well, I didn't know he was a cop at the time obviously started playing this game. I think it's called - I'll show you mine, you show me yours, and then when you show me yours, I'm gonna nick you!' The singer was later fined $810 (£500) after being convicted of a lewd act.
7 Apr 1994
Lee Brilleaux singer, harmonica player and founding member of Dr Feelgood died of throat cancer aged 41. They had the 1979 UK No.9 single 'Milk And Alcohol' and the 1976 UK No.1 live album, Stupidity. In 1976, Brilleaux helped fund
Stiff Records
one of the driving forces of the 'New Wave' of the mid- to late-1970s, with a loan of £400.
7 Apr 1994
Courtney Love was arrested on drugs and theft charges after a reported overdose. At this time, Love was unaware that her husband
Kurt Cobain
was dead at their home, (his body wasn't discovered until April 8, by an electrician who had arrived to install a security system at their house).
7 Apr 1994
US soul singer Percy Sledge pleaded guilty to tax evasion after he failed to report $260,000 in income earned between 1987 and 1989. He was sentenced to serve six months in a halfway house.
7 Apr 1990
Motley Crue's
Tommy Lee
was injured when performing a stunt during a concert, falling 20 feet from a lighting rig.
7 Apr 1988
During a European tour, Alice Cooper accidentally hung himself in a rehearsal when a safety rope snapped; he dangled for several seconds before a roadie saved him.
7 Apr 1985
Wham! became the first western pop group to perform live in China, when they played at the workers gymnasium in Beijing.
7 Apr 1981
Bruce Springsteen
and the E Street Band kicked off their first full-scale tour in Hamburg, Germany. This was Springsteen's first tour outside North America, which would take in 10 countries.
7 Apr 1981
Producer and manager, Kit Lambert died of a cerebral hemorrhage after falling down a flight of stairs at his mother's home in London, England. Lambert managed
The Who
from 1964-1967 and produced the 'Tommy' album. Also produced Arthur Brown's 1968 hit 'Fire'.
7 Apr 1979
Siouxsie And The Banshees played a charity gig for MENCAP, but after crowd trouble were latter faced with a £2,000 bill for seat damage.
7 Apr 1978
The Police
released 'Roxanne' as the first single from their debut album Outlandos d'Amour. The song was written from the point of view of a man who falls in love with a prostitute. The title came from the name of the character in the play Cyrano de Bergerac, which Sting saw on an old poster which was hanging in a hotel foyer in Paris, France where the group had been staying. The song failed to chart but when re-released in 1979, peaked at No.12 on the UK Singles Chart.
7 Apr 1970
On this week's US Top 5 singles chart; No.5,
'Bridge Over Trouble Water'
by Simon and Garfunkel, No.4, 'Spirit In The Sky', Norman Greenbaum', No.3, '
Instant Karma
!' by
John Lennon
, No.2, 'ABC'
The Jackson 5
and at No.1, 'Let It Be',
The Beatles
.
7 Apr 1966
7 Apr 1962
The Beatles
played at the Casbah Coffee Club, Liverpool without
George Harrison
who was ill. This was the group's last performance before leaving for their third extended engagement in Hamburg, West Germany.
7 Apr 1962
While at Ealing Jazz Club, in Ealing, West London,
Mick Jagger
and
Keith Richards
met
Brian Jones
for the first time. Jones was calling himself Elmo Lewis and was playing guitar with singer Paul Jones, who was performing under his real name of P. P. Pond.
Born on this day in music
7 Apr 1991
British singer and songwriter Anne-Marie. She scored the 2016 UK No.1 single 'Rockabye', with Clean Bandit featuring Sean Paul.
7 Apr 1979
Duncan James, singer with English boyband, Blue who had the 2002 UK No.1 single 'If You Come Back'. The group also worked alongside artists such as
Stevie Wonder
,
Elton John
and Lil' Kim.
7 Apr 1960
English songwriter, producer Simon Climie, the former lead singer of the UK duo Climie Fisher who had the 1988 UK No.2 single, 'Love Changes Everything'. Climie has since had his songs recorded by
George Michael
and
Aretha Franklin
, Pat Benatar,
Smokey Robinson
and
Jeff Beck
and has worked with
Eric Clapton
on many of his albums.
7 Apr 1952
American musician Bruce Gary who was best known as the drummer for The Knack. Their first single, 'My Sharona' was an international No.1 hit in 1979. Their album Get the Knack became one of the most successful debuts in history, selling over one million copies in less than two months and spending five weeks at No.1 on the Billboard album chart.
7 Apr 1951
American singer-songwriter Janis Ian who had the 1975 US No.3 single 'At Seventeen' and the 1975 US No.1 album Between The Lines.
7 Apr 1950
English rock and pop singer Steve Ellis from Love Affair who had the 1968 UK No.1 single 'Everlasting Love'. He was later a member of the rock band Widowmaker.
7 Apr 1949
American rock, R&B and soul guitarist, singer, songwriter John Oates who with
Hall and Oates
had the 1982 US No.1 & UK No.6 single 'Maneater', plus five other US No.1 hit singles. Hall and Oates have sold an estimated 40 million records, making them the third-bestselling music duo of all time.
7 Apr 1949
Ron Kersey known as Ron "Have Mercy" Kersey, American keyboardist, songwriter, producer and arranger most known for writing the music to the 70's hit 'Disco Inferno' by The Trammps. 'Disco Inferno' gained much greater recognition when the nearly 11 minute album version was included on the soundtrack to the 1977 film Saturday Night Fever. He died on 25 January 2005.
7 Apr 1948
Carol Douglas from African-American girl group The Chantels, who had the 1958 top 20 hit 'Maybe' and the 1961 hit 'Look In My Eyes'.
7 Apr 1948
American session drummer Dallas Taylor. He is best known as the drummer with Crosby, Stills & Nash as well as appearing on Stephen Stills' eponymous first solo album in 1970.Taylor was the drummer for Stills' group Manassas in 1972 and 1973. In 1970, Dallas sat in with
The Doors
accompanying John Densmore on drums.
Jim Morrison
acknowledges him on
The Doors
Live in New York album. He died of complications from viral pneumonia and kidney disease on 18 January 2015 aged 66.
7 Apr 1947
German musician Florian Schneider, best known as one of the founding members and leaders of the electronic band Kraftwerk that had successful albums such as Autobahn (1974), Trans-Europe Express (1977), The Man-Machine (1978), and Computer World (1981).
David Bowie
titled his 'Heroes' instrumental track 'V-2 Schneider' after Schneider and was heavily influenced by Kraftwerk's sound during his 'Berlin period' in the late 70s. Schneider died on 6 May 2020 age 73.
7 Apr 1947
Patricia Bennett, from American all-girl group The Chiffons who had the 1963 US No.1 single 'He's So Fine', and the 1972 UK No.4 single 'Sweet Talking Guy', (first released in 1966).
7 Apr 1943
Alan Buck, from English 1960s pop group The Four Pennies who had the 1964 UK No.1 single 'Juliet'.
7 Apr 1943
English musician Mick Abrahams, guitarist with Blodwyn Pig and the original guitarist for Jethro Tull and the Mick Abrahams Band.
7 Apr 1942
Joel Dorn, American music producer and record label entrepreneur. He worked at Atlantic Records and won two Grammy Awards for 'The First Time Ever I Saw Your Face', 1972 Record of the Year and 'Killing Me Softly with His Song' 1973 Record of the Year, both by Roberta Flack. He died on 17 December 2007.
7 Apr 1938
Spencer Dryden, American musician best known as drummer for Jefferson Airplane and New Riders of the Purple Sage. With Jefferson Airplane he had the 1967 US No.18 single 'White Rabbit'. Dryden died of cancer on 10th January 2005.
7 Apr 1937
Charlie Thomas, from American doo-wop and R&B vocal group The Drifters who had the 1960 US No.1 & UK No.2 single 'Save The Last Dance For Me' and over 12 other chart hits.
7 Apr 1915
American jazz musician and singer-songwriter Billie Holiday, (Elinore Harris), the greatest female jazz singer of all time. Holiday released over 100 records and worked with Count Basie and Duke Ellington. During her troubled life she was arrested numerous times for drug possession. Lady Sings the Blues, a film about her life, starring Diana Ross, was released in 1972. Holiday died on 17th July 1959 from liver failure, aged 44.