April 9th: The Biggest Music Headlines
Scroll down the page to see all the music headlines, stories and events for April 9 throughout music history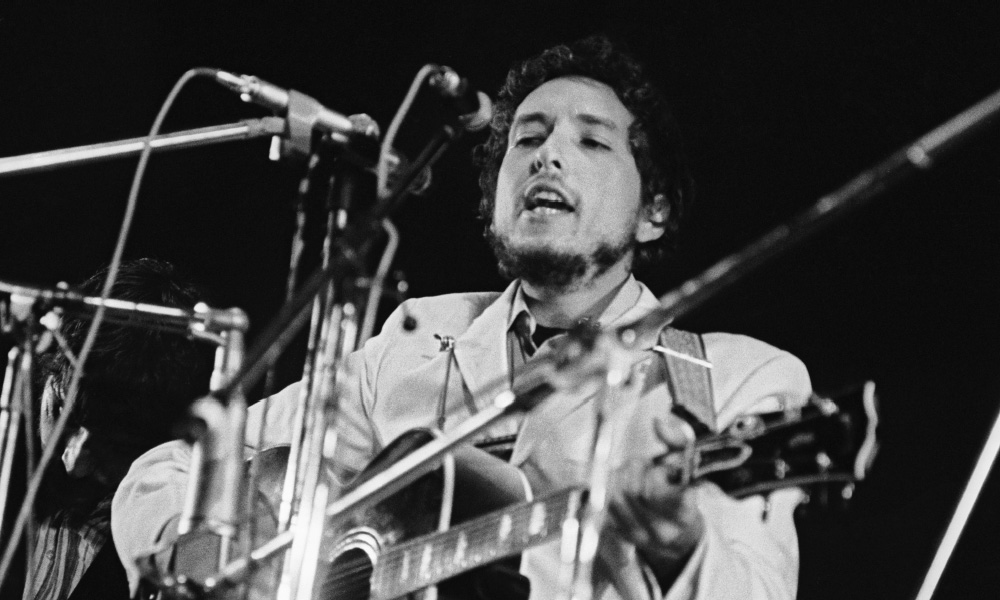 Bob Dylan Reinvents Himself with 'Nashville Skyline'
On this day in music, April 9, 1969, folk star Bob Dylan reinvented himself with the release of his ninth studio album, Nashville Skyline. The album was a sonic and stylistic pivot from his earlier work and found Dylan immersing himself in country music. Even his singing voice was unrecognizable, as the artist delivered songs like "Lay Lady Lay" and "Tonight I'll Be Staying Here with You" in a deeper, softer croon. The album, which hit No.3 on the Billboard chart (and became Dylan's fourth chart-topper in the UK), also featured a duet with one of country's biggest names – Johnny Cash.
In 2021, 50-year-old rapper DMX died following a cardiac arrest. Born Earl Simmons, he became a hip-hop MC in 1984 and signed with Def Jam Records in 1996. His 1998 debut, It's Dark And Hot Is Hell, marked the first of a record-breaking five multi-platinum albums that debuted at No.1 on the Billboard 200. He took his stage name from a DMX drum machine he used to practice his rhymes to, but later said it was an acronym for "Dark Man X."
In 1983, David Bowie's "Let's Dance" became the shapeshifting artist's first single to top the charts on both sides of the Atlantic. The funky track, which was produced by Chic's Nile Rogers and featured guitarist Stevie Ray Vaughan, rebooted Bowie's career with a new generation of fans.
In 2018, Lindsey Buckingham's sudden departure from Fleetwood Mac was announced by the band, who also stated that his place would be taken on an upcoming tour by Crowded House's Neil Finn and former Tom Petty & The Heartbreakers' guitarist Mike Campbell. According to Buckingham, he was told by the band's manager that "Stevie (Nicks) never wants to be on a stage with you again."
In 2000, with "Fill Me In," British R&B star Craig David – who was a month shy of his 19th birthday – became the youngest UK male solo artist to write and perform a No.1 hit on the UK singles chart. Four months later, he scored another chart-topper with "7 Days."
In 1988, 50-year-old singer Dave Prater (of the famous soul duo Sam & Dave) was killed in a car accident. Nicknamed the "Dynamic Duo," the pair had a volatile relationship and split up several times. Their biggest hits, which they recorded for Stax Records in the 1960s, included "Soul Man" and "Hold On, I'm Coming."
In 1977, ABBA topped the Billboard Hot 100 for the first time with "Dancing Queen." The song, which marked the Swedish quartet's seventh Top 40 single in the US, hit No.1 in the UK and a dozen other countries.
Looking for more things that happened on this day in music?
Keep scrolling for all of the headlines for April 9.
BORN ON APRIL 9:
1932: Carl Perkins
1946: Les Gray (Mud)
1961: Mark Kelly (Marillion)
1977: Gerard Way (My Chemical Romance)
1978: Rachel Stevens (S Club 7)
1980: Albert Hammond Jr. (The Strokes)
1987: Jazmine Sullivan
1987: Jesse McCartney
1999: Lil Nas X
Looking for more artists born on this day?
Keep scrolling for all of our April 9 birthdays.
---
What to find another day?
---
April 9th
9 Apr 2021
American rapper, songwriter DMX (Earl Simmons) died age 50. The official cause of death was a cocaine-induced heart attack. He began rapping in the early 1990s and released his debut album It's Dark and Hell Is Hot in 1998, to both critical acclaim and commercial success. He was the first artist to debut an album at No. 1 five times in a row on the Billboard 200 charts. Overall, DMX has sold over 74 million records worldwide.
9 Apr 2017
American guitarist Bob Wootton died age 75. He joined
Johnny Cash
's backing band, the Tennessee Three, after original lead guitarist Luther Perkins, died in a house fire. He was Cash's guitarist for nearly thirty years.
9 Apr 2016
Fleetwood Mac
announced that Lindsey Buckingham had been fired from the band and would be replaced by Crowded House's Neil Finn and Mike Campbell, former lead guitarist of Tom Petty & The Heartbreakers on their upcoming tour. Describing Lindsey's departure as bittersweet, Stevie Nicks stated: "Our relationship has always been volatile."
9 Apr 2013
According to the Official Charts Company one billion songs had now been downloaded in the UK.
Adele
's 'Someone Like You' was the most downloaded single of all time in the UK, followed by tracks by Maroon 5 and Gotye. The Official Charts Company said on average more than three million tracks were now sold every week.
9 Apr 2009
Randy Cain, a founding member of US soul group The Delfonics died at his home in Maple Shade, New Jersey at the age of 63. The Philadelphia group, whose hits include 'La-La (Means I Love You)', won an R&B Grammy in 1970 for their song 'Didn't I Blow Your Mind This Time'. The chorus of 'Ready or Not' by The Fugees sampled The Delfonics' 1969 hit 'Ready Or Not Here I Come (Can't Hide From Love)'.
9 Apr 2009
Bay City Rollers manager Tam Paton died in the bath at his Edinburgh home of a suspected heart attack. The 70-year-old, who had suffered two previous heart attacks and a stroke in recent years, was found dead in his luxury mansion. Paton had made millions through the success of the band in the 1970s, but was a far more controversial figure in recent years. He was convicted of sex offences against two boys aged 16 and 17 in 1982, and was convicted of drug dealing in 2004 after £26,000 worth of cannabis was found at his home, but was cleared on appeal.
9 Apr 2007
Country and western singer Tanya Tucker was sued by her manicurist for $300,000 (£150,000) over claims the star's dog attacked and injured her. Danielle Hobbs stated in court papers that she was bitten by Bella at the singer's Nashville home and also claimed that the alleged attack, had left her with painful and disfiguring scars on her leg. She stated that Tucker's assistant told her the dogs were 'just babies' and said 'they will not hurt you'.
9 Apr 2004
A man was arrested for allegedly stalking Avril Lavigne. James Speedy, 30, from Seattle, Washington, was arrested after police searched his home, he was later released on $5,000 bail. Mr Speedy had been under investigation since last summer for allegedly sending harassing letters and e-mails to the 19-year-old singer. He was later charged with stalking the singer.
9 Apr 2004
Motley Crue singer Vince Neil pleaded no contest to battery charges after accusations that he assaulted a sex worker at the Moonlight BunnyRanch (a legal, licensed brothel in Mound House, Nevada), by grabbing the woman around the throat and throwing her against a wall. Neil was sentenced to a 30-day jail suspension, 60 days anger management, and was fined $1,000.
9 Apr 2000
Craig David went to No.1 on the UK singles chart with 'Fill Me In'. At 18 years 11 months he became the youngest UK male solo artist to write and sing a UK No.1.
9 Apr 2000
Moby started a five-week run at No.1 on the UK album chart with 'Play'. The album went on to spend 81 weeks on the chart.
9 Apr 1997
Songwriter Mae Boren Axton died aged 82 after drowning in her bath at her home in Hendersonville, Tennessee after an apparent heart attack. Known as the 'Queen Mother of Nashville' she wrote over 200 songs including a co-writing credit on the
Elvis Presley
hit '
Heartbreak Hotel
'. She was the mother of country singer, songwriter Hoyt Axton.
9 Apr 1994
Take That
scored their fourth UK No.1 single with the Gary Barlow penned single 'Everything Changes' the fifth single from the band's second album Everything Changes.
9 Apr 1989
Rolling Stone Bill Wyman announced his forthcoming marriage to 19-year old Mandy Smith. He revealed the couple had been dating for six years.
9 Apr 1988
Billy Ocean started a two week run at No.1 on the US singles chart with 'Get Outta My Dreams, Get Into My Car', a No.3 hit in the UK.
9 Apr 1988
Dave Prater of soul duo Sam & Dave was killed when his car left the road and hit a tree in Syracuse, Georgia, on his way to his mother's house in Ocilla. He was 50. Recorded for Stax Records from 1965 - 1968, hits included 'Soul Man' and 'Hold On, I'm Coming.'
9 Apr 1988
American singer and songwriter Brook Benton died aged 56. He scored over 20 US top 40 singles, in the late 1950s and early 1960s, he scored hits such as 'It's Just A Matter Of Time' and 'Endlessly', and made a comeback in 1970 when he had the No.4 hit 'Rainy Night In Georgia', (written by Tony Jo White in 1967).
9 Apr 1983
David Bowie
was at No.1 on the UK singles chart with the title track from his latest album 'Let's Dance', his fourth UK No.1 and featuring blues guitarist
Stevie Ray Vaughan
. The song introduced Bowie to a new, younger audience oblivious to his former career in the 1970s and was a US No.1 hit, Bowie's first single to reach number one on both sides of the Atlantic.
9 Apr 1977
ABBA
went to No.1 on the US singles chart with 'Dancing Queen', the group's 7th US Top 40 hit and first No.1. The song was also a No.1 in the UK in 1976 and 12 other countries.
9 Apr 1976
American folk singer-songwriter Phil Ochs took his own life at his sister's home in Queen's, New York. He wrote 'There But A Fortune', a hit for Joan Baez.
9 Apr 1974
Terry Jacks was at No.1 on the UK singles chart with 'Seasons In The Sun.' Jacks became the first Canadian to score a No.1 since Paul Anka in 1957. The song (written in French by Belgian, Jacques Brel), had English lyrics by poet Rod McKuen.
9 Apr 1973
Newly signed to EMI Records,
Queen
played a showcase gig for their new record label at the The Marquee London. They released their debut single 'Keep Yourself Alive' three months later on 6 July 1973.
9 Apr 1969
Bob Dylan
released his ninth studio album Nashville Skyline, which embraced country music. With liner notes by
Johnny Cash
, (who also appeared on the record), at the time of release it was dismissed by some critics as lightweight, but included 'Lay, Lady, Lay', a major hit single for Dylan. The album also gave Dylan his fourth UK No.1 album.
9 Apr 1967
The Doors
and The Jefferson Airplane appeared at Cheetah, Santa Monica Pier, Venice, California. This was the largest show
The Doors
had played to date with a crowd of over 3,000
9 Apr 1963
The Beatles
appeared live on the ITV show Tuesday Rendezvous, miming 'From Me to You' and 'Please Please Me' (during the closing credits). In the evening
The Beatles
played live at the Gaumont State Cinema, Kilburn, London.
Born on this day in music
9 Apr 1999
American rapper, singer and songwriter Lil Nas X, (born Montero Lamar Hill). He came to international attention for his 2019 country rap single 'Old Town Road', which reached No.1 on the US Billboard chart and remained there for nineteen weeks, the only song to do so since the chart started in 1958. In June 2019, Nas X came out as gay, the only artist ever to have done so while having a No.1 record.
9 Apr 1987
Jesse McCartney, American singer, actor. Member of the boy band Dream Street, (2005 Australian No.1 & US & UK Top 20 hit single 'Beautiful Soul'). Co-wrote 'Bleeding Love' a hit for Leona Lewis.
9 Apr 1987
American singer-songwriter Jazmine Sullivan. Her debut single 'Need U Bad', produced by Missy Elliott, reached No.1 on Billboard's Hot R&B/Hip-Hop Songs. At thirteen, she sang with
Stevie Wonder
at his grandson's birthday.
9 Apr 1980
Albert Hammond Jr, guitarist from American rock band The Strokes who had the 2001 UK No.14 single 'Last Nite' and the 2001 UK No.2 album Is This It.
9 Apr 1978
Rachel Stevens, from English pop group S Club 7 who had the 1999 UK No.1 single 'Bring It All Back'. Their 2000 UK No.1 album 7 spent over a year on the UK chart. The group was formed in 1998 and quickly rose to fame by starring in their own BBC television series, Miami 7. As a solo artist she had the 2003 UK No.2 single 'Sweet Dreams My LA Ex'.
9 Apr 1977
Gerard Way, singer, songwriter with American rock band My Chemical Romance who had the 2006 UK No.1 single 'Welcome to the Black Parade', and the 2006 US No.2 album The Black Parade.
9 Apr 1961
Mark Kelly, keyboardist from British rock band Marillion who had the 1985 UK No.2 single 'Kayleigh'. The band achieved eight Top Ten UK albums between 1983 and 1994, including a No.1 album in 1985 with Misplaced Childhood.
9 Apr 1948
Phillip Wright, from Paper Lace who scored the 1974 UK No.1 single 'Billy Don't Be A Hero', and the 1974 US No.1 single 'The Night Chicago Died'.
9 Apr 1946
Les Gray, singer with English glam rock band Mud who had the 1974 UK No.1 single 'Tiger Feet' which was the UK's best-selling single of 1974 plus 14 other UK Top 40 singles. Gray died from throat cancer on 21 Feb 2004 aged 57.
9 Apr 1932
American singer-songwriter Carl Perkins who had the 1956 US No.2 & UK No.10 single 'Blue Suede Shoes.' Perkins' songs were recorded by
Elvis Presley
,
The Beatles
and
Johnny Cash
.
Paul McCartney
claimed that "if there were no Carl Perkins, there would be no Beatles." Perkins died on 19th Jan 1998 aged 65.