August 14th: The Biggest Music Headlines
Scroll down the page to see all the music headlines, stories and events for August 14 throughout music history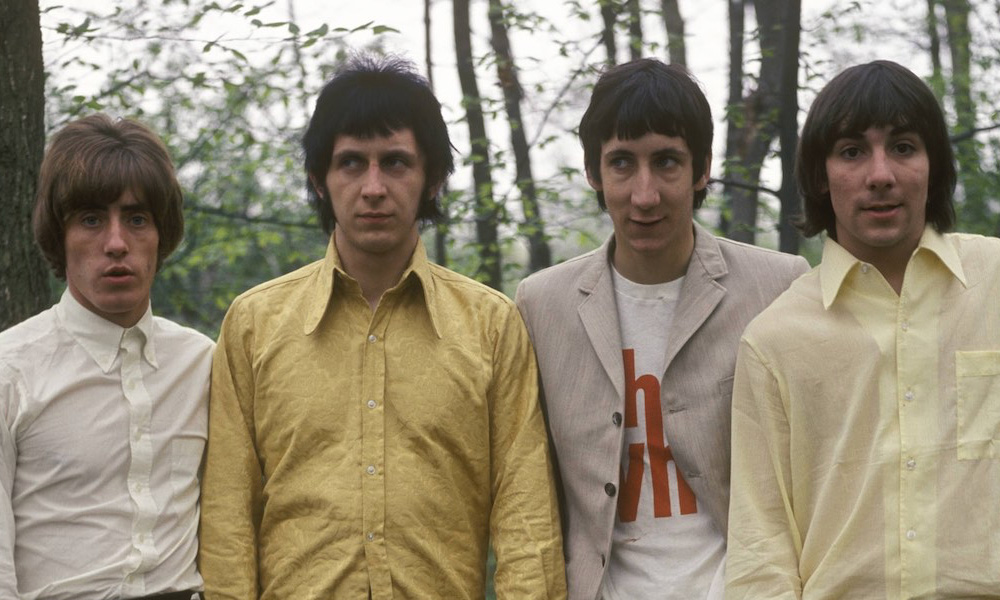 The Who Ask, 'Who's Next'?
On August 14, 1971, The Who released their fifth studio album, Who's Next, considered by many critics to be their best record and one of the greatest rock albums of all time. Featuring songs that were initially intended for Lifehouse, an unreleased rock opera and follow-up to the band's 1969 album, Tommy, the LP included such hits as "Behind Blue Eyes," and "Won't Get Fooled Again." In addition to appearing on countless "Best Of" lists over the decades, the album was inducted into the Grammy Hall of Fame in 2007.
In 1962, The Beatles and their manager, Brian Epstein, made the decision to let go of drummer Pete Best. One day later, John Lennon and Paul McCartney would visit drummer Ringo Starr, who was finishing a three-month stint with Rory Storm & the Hurricanes, asking him to officially join the band.
In 1965, Sonny & Cher's "I Got You Babe" began its three-week run at the top of the Billboard Hot 100. Rumor has it that Sonny Bono was inspired by the popularity of the term "babe," following the release of Bob Dylan's "It Ain't Me Babe."
In 1993, less than two years after his death, Freddie Mercury scored his first solo No.1 hit with a remix of his 1985 single, "Living on My Own."
In 1985, Michael Jackson won a bid over Paul McCartney and Yoko Ono to own ATV Music's publishing catalog, which boasted the rights to more than 4000 songs – roughly 250 of which were Beatles compositions, penned by Lennon and McCartney.
And in 1976, UK indie label Stiff Records, which would be at the forefront of the punk and new wave scenes, dropped their very first release: a 7-inch single of Nick Lowe's "So It Goes."
Looking for more things that happened on this day in music?
Keep scrolling for all of the headlines for August 14.
BORN ON AUGUST 14:
1941: David Crosby
1951: Slim Dunlap (The Replacements)
1961: Sarah Brightman (singer, actress)
1964: Keith Howland (Chicago)
1966: Tanya Donelly (Throwing Muses, Breeders, Belly)
1974: Ana Matronic (Scissor Sisters)
1977: Ed Harcourt (singer-songwriter)
Looking for more artists born on this day?
Keep scrolling for all of our August 14 birthdays.
---
What to find another day?
---
August 14th
14 Aug 2020
English hard rock and heavy metal bass player Pete Way died age 69 following life-threatening injuries he had sustained in an accident two months earlier. He was bassist for UFO and was also a founding member of Waysted and Fastway and notably played with Michael Schenker Group and
Ozzy Osbourne
.
14 Aug 2018
Jill Janus died by suicide age 42. She was the lead singer of American heavy metal bands Huntress, The Starbreakers and Chelsea Girls.
14 Aug 2016
American keyboard and synthesizer player James Woolley died at the age of 49. Woolley was known for his playing with industrial metal group Nine Inch Nails as well as Rob Halford's one-time band 2wo, which also included John 5 of Marilyn Manson.
14 Aug 2015
American record producer Bob Johnston died aged 83. Johnson produced a string of notable and highly influential albums including;
Bob Dylan
: Highway 61 Revisited, Blonde on Blonde, John Wesley Harding, Nashville Skyline, Self Portrait, New Morning, as well as
Simon And Garfunkel
: Sounds of Silence, Leonard Cohen: Songs from a Room and many others.
14 Aug 2015
Jazz Summers, manager of bands such as Wham!, Snow Patrol, Scissor Sisters and The Verve, died from lung cancer. He co-managed Wham! and is credited with the duo breaking into the United States market in 1985 and to go onto to become the first western pop group to tour China.
14 Aug 2009
George Michael
was arrested and held on suspicion of driving under the influence of drink or drugs after his Land Rover was in collision with a lorry on the A34 in Berkshire. The singer was later released without charge.
14 Aug 2008
Lita Roza died in Liverpool, England. She had the 1953 No.1 hit with her version on the of Patti Page hit 'How Much Is That Doggie In The Window'' Roza was the first British female singer to top the UK singles charts.
14 Aug 2006
Boy George was seen sweeping streets in New York as part of a five-day community service sentence. The former Culture Club frontman was moved into a fenced-off area after only 30 minutes after he was mobbed by the media. The 45-year-old singer was found guilty of wasting police time earlier this year and was threatened with jail if he failed to complete the court-imposed sentence.
14 Aug 2005
Babyshambles frontman Pete Doherty was forced to endure an all-body strip search at Gardermoen Airport in Norway after being held by customs officers for three hours while they ensured he was carrying no drugs.
14 Aug 2005
James Blunt topped both the UK singles chart (with 'You're Beautiful'), and album charts ('Back to Bedlam'), for a fifth week in a row, a feat last achieved by
Celine Dion
. Her single 'Think Twice' and album 'Colour Of My Love' topped both charts simultaneously for five weeks in 1995.
14 Aug 2005
Faith Hill was at No.1 on the US chart with 'Fireflies', Hill's third consecutive album to debut at number 1 on both the country and Billboard album charts.
14 Aug 2003
One True Voice the boyband formed from the ITV1 pop talent show Popstars: The Rivals split up. The group were formed alongside Girls Aloud after winning their places in the Popstars: the Rivals series. One True Voice were later voted Britain's worst group in a poll just a day after their tour was cancelled due to poor ticket sales.
14 Aug 2002
Dave Williams lead singer of US heavy rock band Drowning Pool was found dead on the band's tour bus during
Ozzy Osbourne
's Ozzfest tour in Manassas, Virginia. The autopsy concluded that he suffered from a form of heart disease. The bands debut album, Sinner, had sold over 1 million copies in the US since its release in June 2001.
14 Aug 2001
A pizza-stained piece of paper signed by three of the four Beatles sold for $48,000 (£17,441) to an anonymous collector at an auction in Melbourne.
John Lennon
,
Paul McCartney
and
George Harrison
all signed the paper during their 1964 tour of Australia. Drummer
Ringo Starr
had laryngitis and was not on the tour. A fan managed to get the autographs while the band was staying in a hotel in Adelaide.
14 Aug 1999
Ronan Keating had the UK No.1 single with 'When You Say Nothing At All'. The debut solo single from the Boyzone lead singer. The song was from the film Notting Hill.
14 Aug 1995
Foo Fighters
made their network television debut on The Late Show with David Letterman when they performed their new single 'This Is A Call'.
14 Aug 1993
Freddie Mercury
had his first solo UK No.1 single with 'Living On My Own'. The song had been a minor hit in 1985 when released from his solo album Mr. Bad Guy, this remixed version was reissued.
14 Aug 1992
Tony Williams lead singer with The Platters died in his sleep of emphysema aged 64. He sang most of the group's hits up until 1961 when he was replaced by Sonny Turner. Had the 1959 UK & US No.1 single 'Smoke Gets In Your Eyes'.
14 Aug 1988
Lead singer, poet and frontman of Hawkwind Robert Calvert died of a heart attack. He was a member of Hawkwind from 1972-1979 during which time he co-wrote their hit single 'Silver Machine' and directed their Space Ritual Tour.
14 Aug 1988
Guitarist Roy Buchanan died after hanging himself with his own shirt in Fairfax County Adult Detention Center having been arrested for drunkenness. Buchanan released over 15 solo albums;
Jeff Beck
dedicated the song 'Cause We've Ended As Lovers' to Buchanan in 1975 on his Blow by Blow album.
14 Aug 1985
Michael Jackson
won a bid over Yoko Ono and
Paul McCartney
to secure the ATV Music Publishing catalogue. At $47.5m he gained the rights to more than 250 songs written by Lennon and McCartney. McCartney had been negotiating with Yoko Ono, who had decided to withdraw her side of the deal because of 'astrological' reasons.
14 Aug 1978
The Police
released their third single 'Can't Stand Losing You' as the follow-up single to 'Roxanne' which when released the following year peaked at No.2 on the UK chart. Written by singer and bassist Sting as a song about suicide, the song gained minor controversy for its single cover art, featuring Stewart Copeland hanging himself.
14 Aug 1976
Funded by a £400 loan, 'So It Goes' by Nick Lowe became the first record released on
Stiff Records
. The label's marketing and advertising was often provocative and witty billing itself as "The World's Most Flexible Record Label". Other slogans were "We came. We saw. We left", and "If It Ain't Stiff, It Ain't Worth a Fuck".
14 Aug 1971
The Who
released their fifth studio album
Who's Next
which featured the classic song 'Won't Get Fooled Again' and has since been viewed by critics as the Who's best record and one of the greatest rock albums of all time. The cover artwork shows a photo of the band apparently having just urinated on a large concrete piling, but according to photographer Ethan Russell, most of the band members were unable to urinate, so rainwater was tipped from an empty film canister to achieve the desired effect.
14 Aug 1970
Stephen Stills was arrested on suspected drugs charges while staying at a San Diego Hotel after being found crawling along a corridor in an incoherent state. Still's was later freed on bail.
14 Aug 1970
The first day of the three day UK Yorkshire Folk, Blues & Jazz Festival at Krumlin, Yorkshire took place featuring Atomic Rooster,
Pink Floyd
, (who didn't appear after being fog bound at Paris Airport),
The Kinks
,
Elton John
, Mungo Jerry, Yes, Alan Price, Georgie Fame, Juicy Lucy, Pretty Things and The Groundhogs. Weekend tickets, £3.
14 Aug 1968
'Fire' by The Crazy World of Arthur Brown was at No.1 on the UK singles chart. As part of his act Brown would perform the song on stage with his hat set alight!
14 Aug 1967
All UK offshore pirate radio stations were closed down when the marine broadcasting act came into force. Radio Caroline continued to broadcast until March 68.
14 Aug 1966
Little Anthony & The Imperials, The Shadows and The Castiles (with
Bruce Springsteen
on vocals) all appeared at the Surf 'n See Club in Seabright New Jersey.
14 Aug 1965
Sonny & Cher started a three week run at No.1 on the US singles chart with 'I Got You Babe'. Sonny Bono is said to have been inspired to write the song to capitalize on the popularity of the term "babe," as heard in
Bob Dylan
's 'It Ain't Me Babe'.
14 Aug 1965
The Beatles
taped an appearance for CBS-TV's The Ed Sullivan Show at Studio 50, New York City. They performed 'I Feel Fine', 'I'm Down', 'Act Naturally', 'Ticket to Ride', '
Yesterday
' and 'Help!' Also today,
The Beatles
fifth album
Help!
started a nine-week run at No.1 on the UK charts.
14 Aug 1964
US singer Johnny Burnette was killed in a boating accident on Clear Lake California, aged 30. His unlit boat was struck by an unaware cabin cruiser, the impact threw him off the boat and he drowned. Burnette scored the 1961 US No.8 & UK No.3 single 'You're Sixteen'.
14 Aug 1962
Unhappy with drummer Pete Best's role in
The Beatles
Brian Epstein and the other three members decided to sack him. Best played his last gig the following night at The Cavern, Liverpool.
Ringo Starr
who was nearing the end of a three-month engagement with Rory Storm & the Hurricanes at a Butlin's holiday camp received a telephone call from
John Lennon
, asking him to join
The Beatles
. Ringo gave Rory Storm three days notice and on August 18, appeared as a member of
The Beatles
for the first time.
14 Aug 1958
Elvis Presley
's mother Gladys died. At her funeral two days later Presley was so overcome with grief he was unable to stand and had to be supported. Over 500 police were at the service to keep the gigantic crowd at bay.
Born on this day in music
14 Aug 1994
Myles Kellock, English Multi-instrumentalist of the indie pop band Blossoms. Their the self-titled debut studio album peaked at No.1 on the UK chart in Aug 2016.
14 Aug 1977
Ed Harcourt, UK singer, songwriter, (2003 UK No.39 album 'From Every Sphere').
14 Aug 1974
Ana Matronic, (Ana Lynch), vocals, Scissor Sisters, (2004 UK No.1 self-titled album, 2004 UK No. 12 single 'Laura').
14 Aug 1970
Kevin Cadogan, Third Eye Blind, (1997 US No.4 & UK No. 33 single 'Semi-Charmed Life').
14 Aug 1966
American Grammy Award-nominated singer-songwriter and guitarist Tanya Donelly from alternative rock bands Throwing Muses, (co-founded with her stepsister Kristin Hersh), Breeders, and Belly.
14 Aug 1965
Mark Collins guitarist with English indie rock band The Charlatans who had the 1990 UK No.9 single 'The Only One I Know'. In the UK, all of the band's thirteen studio albums have charted in the Top 40 of the UK Albums Chart, three of them being No.1s.
14 Aug 1964
American guitarist and singer Keith Howland.Since 1995, he has been the lead guitarist for the veteran rock-pop band, Chicago.
14 Aug 1963
Jez Willis, Utah Saints, (1992 UK No. 4 single 'Something Good').
14 Aug 1961
Sarah Brightman, singer, actress, (1978 UK No. 6 single with Hot Gossip, 'I Lost My Heart To A Starship Trooper', 1986 UK No.3 single with Cliff Richard, 'All I Ask Of You').
14 Aug 1956
Sharon Bryant from American band Atlantic Starr who had the 1987 US No.1 & UK No.3 single 'Always'.
14 Aug 1951
Slim Dunlap, from American rock band The Replacements, who released the 1984 album Let It Be. Initially a punk rock band, they are considered pioneers of alternative rock.
14 Aug 1948
Bruce Thomas, bassist for Elvis Costello and the Attractions. Thomas was a member of Quiver, The Sutherland Brothers, Moonrider and Al Stewart in the early 1970s.
14 Aug 1947
George Newsome from British blues rock group Climax Blues Band, who had the 1977 US No.3 & 1976 UK No.10 single 'Couldn't Get It Right'.
14 Aug 1947
Maddy Prior, singer with English folk rock band Steeleye Span who formed in 1969. They had the 1975 UK No.5 single 'All Around My Hat' and a hit with 'Gaudete'.
14 Aug 1946
Larry Graham, bass guitar, Sly and The Family Stone, who had the 1968 US No.1 singles 'Everyday People', the 1971 US No.1 'Family Affair' and the 1971 US No.1 album There's a Riot Goin' On. He later formed Graham Central Station.
14 Aug 1943
Ben Sidran, American jazz and rock keyboardist, producer, label owner, and music writer. Early in his career he was a member of the Steve Miller Band that had the 1974 US No.1 single 'The Joker'.
14 Aug 1942
Lionel Morton, singer, guitarist from English 1960s pop group The Four Pennies who had the 1964 UK No.1 single 'Juliet'.
14 Aug 1941
American singer-songwriter and guitarist David Crosby, a founding member of both the Byrds and Crosby, Stills & Nash. With CS&N he had the 1969 UK No.17 single 'Marrakesh Express', 1970 US No.11 single with
Crosby, Stills Nash & Young
plus the 1970 US No.1 album 'Deja Vu' and the 1975 US No. 6 solo album 'Wind On The Water'. Crosby died on 18 January 2023 age 81.