August 9th: The Biggest Music Headlines
Scroll down the page to see all the music headlines, stories and events for August 9 throughout music history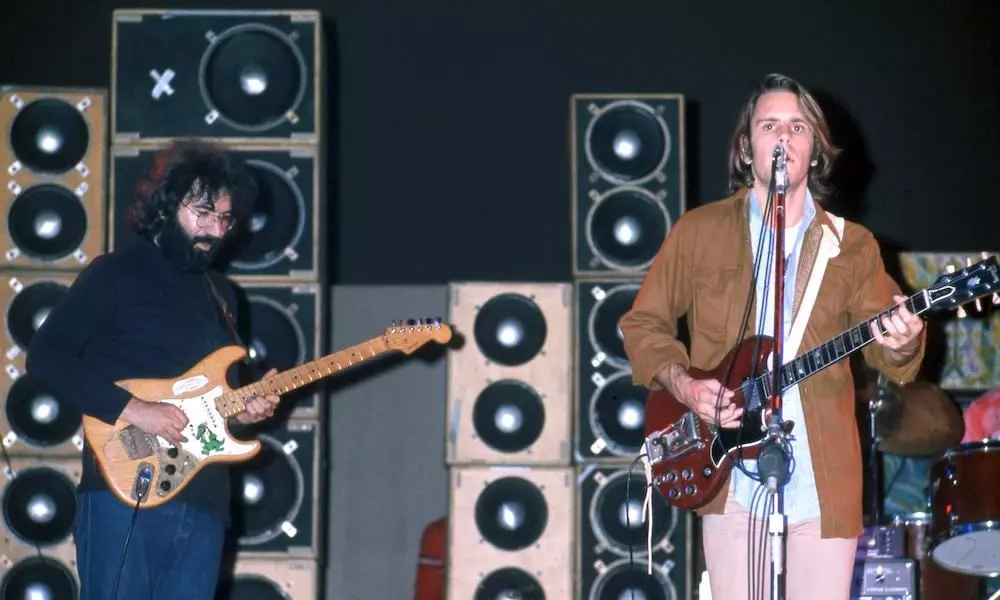 The World Bids Goodbye To Jerry Garcia
On August 9, 1995, Grateful Dead singer, guitarist, and co-founder Jerry Garcia died at the age of 53. Garcia, who was inducted into the Rock and Roll Hall of Fame one year earlier alongside his bandmates, was a revered guitarist, known for his distinctive technique and improvisational skills. In addition to fronting the Dead for three decades, Garcia also found success with a variety of solo and side projects throughout his career. Four days after his death, more than 25,000 fans attended a public memorial service for the beloved artist at San Francisco's Golden Gate Park.
In 1986, Queen played their final live performance with Freddie Mercury at England's Knebworth Park. While no one (including the band) knew this would be their last show together, more than 120,000 fans attended the concert, which wrapped up their European "Magic" Tour. Belouis Some, Big Country, and Status Quo served as support acts.
In 1980, AC/DC earned their first UK No.1 album with Back In Black. Their sixth studio album marked the Australian band's first release with lead singer Brian Johnson, following the tragic death of Bon Scott. Despite the loss of their longtime bandmate, AC/DC found enormous commercial success and critical acclaim with the record. In addition to reaching the Top Five in multiple countries, including the US, Canada, and Australia (hitting No.1 in the latter two), Black in Black would go on to become the second-highest selling album of all time and a hugely influential title in hard rock.
In 1963, the popular music-based show Ready Steady Go! premiered on televisions across the UK and featured Pat Boone, Billy Fury, Brian Poole and The Tremeloes, The Searchers, and Jet Harris. While the series would only air until 1966, it would host some of the biggest names in music, including The Beatles, The Lovin' Spoonful, The Rolling Stones, The Four Tops, and The Kinks.
In 1958, Britain's answer to Elvis, Cliff Richard, signed to EMI Records. He celebrated with a four-week residency at Butlins Holiday Camp in Essex.
And in 2007, Baltimore mayor Sheila Dixon declared August 9th to be "Frank Zappa Day" in the late artist's home city.
Looking for more things that happened on this day in music?
Keep scrolling for all of the headlines for August 9.
BORN ON AUGUST 9:
1943: Wanda Young (the Marvelettes)
1954: Pete Thomas (Elvis Costello & The Attractions)
1963: Whitney Houston
1972: Arion Salazar (Third Eye Blind)
1987: Noonie Bao (songwriter for Katy Perry, Avicii, David Guetta, and Carly Rae Jepsen)
Looking for more artists born on this day?
Keep scrolling for all of our August 9 birthdays.
---
What to find another day?
---
August 9th
9 Aug 2021
American hip-hop and R&B record producer Chucky Thompson died of complications from COVID-19. He was a member of Bad Boy Entertainment's 'Hitmen' team of in-house producers during the 1990s, and worked with Bad Boy mogul Sean Combs on material for artists such as The Notorious B.I.G. and Faith Evans.
9 Aug 2015
Little Mix were at No.1 on the UK singles chart with 'Black Magic'. It was released as the lead single from their third studio album, Get Weird.
9 Aug 2007
Amy Winehouse
cancelled a series of European shows after being admitted to hospital suffering from "severe exhaustion". The 23-year-old singer was taken to University College London Hospital and later discharged. In the past few weeks she had pulled out of the T in the Park festival - also citing "exhaustion", Liverpool's Summer Pops event and concerts in Norway and Denmark.
9 Aug 2007
Baltimore's mayor Sheila Dixon proclaimed today as the city's official
Frank Zappa
Day, citing Zappa's musical accomplishments as well as his defence of the First Amendment to the United States Constitution.
9 Aug 2007
Jennifer Lopez won $545,000 (£267,257) in a case against her first husband, who planned to publish a book claiming she had several affairs. Lopez claimed Ojani Noa had violated a previous legal settlement preventing him from revealing private details about their relationship. The star claimed Mr Noa offered not to publish the book in return for $5 million (£2.4m).
9 Aug 2005
The Magic Numbers walked out of an appearance on UK music show
Top Of The Pops
after presenter Richard Bacon said the band had been put in a "fat melting pot of talent." The band left the studio in protest at the "derogatory, unfunny remarks".
9 Aug 2005
Marc Cohn survived being shot in the head during an attempted car jacking as he left a concert in Denver, Colorado. Cohn was struck in the temple by the bullet but it did not penetrate his skull. Police said a man tried to commandeer Cohn's tour van as it left after a show, the attacker was fleeing police after trying to pay a hotel bill with a stolen credit card.
9 Aug 1999
Spice Girls
manager Bob Herbert was killed in a car crash in Windsor, England. Herbert was behind the formation of The
Spice Girls
and Five and had managed Bros during the 80s.
9 Aug 1995
Jerry Garcia
guitarist and singer from the
Grateful Dead
died from a heart attack at the Serenity Knolls rehabilitation clinic in San Francisco aged 53. Garcia co-founded the New Riders of the Purple Sage and also released several solo albums. He was well known for his distinctive guitar playing and was ranked 13th in Rolling Stone's "100 Greatest Guitarist's of All Time"
9 Aug 1994
During an
Oasis
gig at The Riverside in Newcastle upon Tyne, England, guitarist Noel Gallagher was hit in the face by a man who had jumped on the stage. Noel refused to carry on playing and after leaving the stage a mob of over 300 people attacked the bands bus as they were leaving.
9 Aug 1986
250 Gary Numan fans picketed BBC
Radio 1
in London, demanding more airtime for their favourite pop star.
9 Aug 1986
Queen
ended their Magic European tour at Knebworth Park, Stevenage, England, with over 120,000 fans witnessing what would be Queen's last ever live performance. On this, their final tour, Queen played to legions of established fans, plus many new ones gained as a result of their show-stealing performance at
Live Aid
the previous year. The support acts were Belouis Some, Big Country and Status Quo.
9 Aug 1980
ABBA
scored their eighth UK No.1 single with 'The Winner Takes It All'. Taken from their 'Super Trouper' album. By this time, both couples were divorced.
9 Aug 1980
AC/DC
scored their first UK No.1 album with Back In Black. It was the first
AC/DC
album recorded without former lead singer
Bon Scott
(who died on 19 February 1980 at the age of 33), and was dedicated to him. The album has sold an estimated 49 million copies worldwide to date, making it the second highest selling album of all time, and the best selling hard rock or heavy metal album, as well as the best selling album ever released by a band.
9 Aug 1980
Ten original Gerald Scarfe drawings for
Pink Floyd
's album
The Wall
were stolen from the foyer of Earls Court, London, England where they were being exhibited.
9 Aug 1975
The
Bee Gees
started a two week run at No.1 on the US singles chart with 'Jive Talkin', the group's second US No.1 it made No.5 in the UK.
9 Aug 1975
Typically Tropical were at No.1 on the UK singles chart with 'Barbados', the acts only hit making them
One Hit Wonders
.
9 Aug 1969
During a North American tour
Led Zeppelin
appeared at the Anaheim Convention Center in Anaheim, California. Jethro Tull who opened for the band were at No.1 on the UK album chart with their second release 'Stand Up'.
9 Aug 1968
After the other Beatles had gone home for the evening (2.00 am),
Paul McCartney
stayed behind and recorded 'Mother Nature's Son', taping 25 takes at Abbey Road studios. The song was included on The
White Album
.
9 Aug 1968
Deep Purple
,
Tyrannosaurus Rex
, Ten Years After, The Nice,
Ginger Baker
, Traffic, John Mayall, Spencer Davis, Taste, Jerry Lee Lewis and Arthur Brown all appeared at the three day National Jazz & Blues Festival, Kempton Park Racecourse, Sunbury On Thames, England.
9 Aug 1967
Scott McKenzie was at No.1 on the UK singles chart with 'San Francisco (Be Sure To Wear Some Flowers In Your Hair).' The singers only UK Top 40 hit was written by John Philips of Mamas & Papas.
9 Aug 1967
The
Small Faces
entered the singles chart with 'Itchycoo Park', the single peaked at No.3 in the UK chart. The song was one of the first pop singles to use flanging, an effect that can be heard in the bridge section after each chorus. Most sources credit the use of the effect to Olympic Studios engineer George Chkiantz who showed it to the Small Faces regular engineer Glyn Johns.
9 Aug 1964
The
Rolling Stones
appeared at the New Elizabeth Ballroom in Belle Vue, Manchester. Two policemen fainted and another was taken to hospital with broken ribs after trying to control over 3,000 screaming teenagers.
9 Aug 1963
The first ever edition of 'Ready Steady Go! was shown on UK TV. Introduced by Keith Fordyce and 19 year-old Cathy McGowan. The first show featured The Searchers, Jet Harris, Pat Boone, Billy Fury and Brian Poole and The Tremeloes. The final show was in Dec 1966 after 175 episodes. Originally 30 minutes long, it expanded to 50 minutes the following year, and soon attracted the most popular artists, including
The Beatles
, The Lovin' Spoonful, The
Rolling Stones
, The
Four Tops
,
The Kinks
and many others.
9 Aug 1958
Britain's answer to Elvis, 17 year old Cliff Richard, signed a record deal with EMI records. Also on this day Cliff Richard started a four-week residency at Butlins Holiday Camp in Clacton-On-Sea, Essex as Cliff Richard and the Drifters.
9 Aug 1953
Mantovani and his Orchestra were at No.1 on the UK singles chart with 'Song From The Moulin Rouge', (from the film of the same name). The first ever instrumental No.1 on the UK chart.
Born on this day in music
9 Aug 1987
Swedish singer, songwriter Jonnali Parmenius, better known by the stage name Noonie Bao. She has written songs for artists such as Katy Perry, Avicii, David Guetta, Clean Bandit, Rita Ora and Carly Rae Jepsen.
9 Aug 1978
Luke Concannon, guitar and vocals, Nizlopi, (2005 UK No.1 single 'JCB Song').
9 Aug 1972
Arion Salazar, Third Eye Blind, (1997 US No.4 & UK No. 33 single 'Semi-Charmed Life').
9 Aug 1963
Whitney Houston
singer, who had the 1985 UK & US No.1 single 'Saving All My Love For You', the 1992 UK & US No.1 single 'I Will Always Love You', plus nine other US No.1's. In 2009, the Guinness World Records cited her as the most-awarded female act of all time. Houston died on February 11th 2012.
9 Aug 1955
9 Aug 1954
Pete Thomas, drummer, who with Elvis Costello and The Attractions, had the 1979 UK No.2 single 'Olivers Army'. As a session drummer Thomas has also worked with Suzanne Vega, Neil Finn, Vonda Shepard, Sheryl Crow and others.
9 Aug 1946
Marinus Gerritsen, Golden Earring, (1974 UK No.7 & US No.13 single 'Radar Love').
9 Aug 1944
Vic Prince, drummer, with Pretty Things who had the 1964 UK No.10 single 'Don't Bring Me Down'. He later joined The
Jeff Beck
Group and The Denny Laine String Band and deputised on drums during concerts for The Honeycombs and
The Who
.
9 Aug 1943
American singer Wanda Young. She was a member and after 1965, the lead singer of the
Motown
all-female singing group the Marvelettes. They gave Motown their first No.1 Pop single in late 1961 with 'Please Mr. Postman'.
The Beatles
later recorded 'Please Mr. Postman' on their second studio album With the Beatles and in 1975, the
Carpenters
' remake of 'Please Mr. Postman' was a No.1 hit around the world. She died on 15 December 2021 age 78.
9 Aug 1939
Billy Henderson singer, from American rhythm and blues vocal group the Detroit Spinners who had the 1980 UK No.1 & US No.2 single 'Working My Way Back To You'. Henderson died aged 67 from complications from diabetes on 2nd Feb 2007.