December 1st: The Biggest Music Headlines
Scroll down the page to see all the music headlines, stories and events for December 1 throughout music history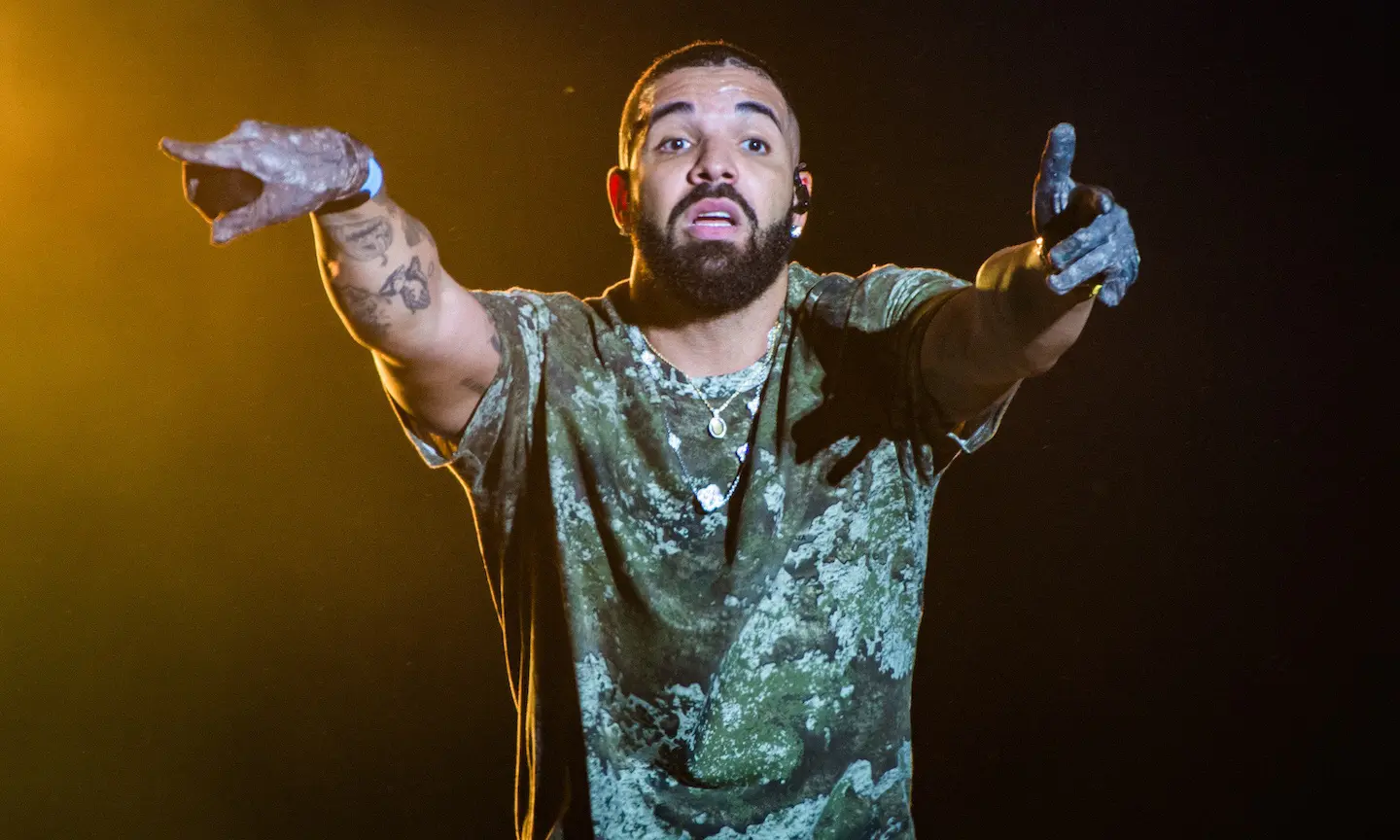 Drake Is Crowned Spotify's Top Artist of 2016
On this day in music, December 1, 2016, Drake was named Spotify's most-streamed artist of the year, and his monumental hit single, "One Dance," took home the crown as the platform's biggest song of the year. It makes sense that the Canadian rapper was such a singular force on the streaming service in 2016. His massive collaborative LP with Future, What a Time to Be Alive, dropped in the summer of 2015, while his groundbreaking 2016 album, Views, earned 1.04 million album-equivalent units in its first week of release and dominated the airwaves throughout the year.
In 1964, The Who played their first of 22 consecutive Tuesday night gigs at The Marquee Club in London. The venue was famous for hosting residencies from acts that would go on to change the course of rock music, including The Rolling Stones, the Yardbirds, Led Zeppelin, King Crimson, Yes, Jethro Tull, The Jimi Hendrix Experience, Pink Floyd, and more.
In 1966, Tom Jones topped the UK singles chart with his version of "Green, Green Grass Of Home." The country song sold more than one million copies – setting a new UK record for Jones' label, Decca Records.
In 1957, Buddy Holly and the Crickets made their debut on The Ed Sullivan Show, performing "That'll Be The Day" and "Peggy Sue." The evening also featured an appearance from another music star, Sam Cooke, who performed "You Send Me."
In 1967, The Jimi Hendrix Experience released their second studio album, Axis: Bold as Love. The album reached the Top Ten on both sides of the Atlantic.
In 1997, Kenny G set a new world record when he held a note on his saxophone for an astonishing 45 minutes and 47 seconds. The horn player used the circular breathing technique to sustain an E-flat for the duration of his performance.
Looking for more things that happened on this day in music?
Keep scrolling for all of the headlines for December 1.
BORN ON DECEMBER 1:
1936: Lou Rawls
1944: John Densmore (The Doors)
1944: Bette Midler
1946: Gilbert O'Sullivan
1951: Jaco Pastorius
1959: Stephen Jansen (Japan)
1977: Brad Delson (Linkin Park)
1988: Tyler Joseph (Twenty One Pilots)
Looking for more artists born on this day?
Keep scrolling for all of our December 1 birthdays.
---
What to find another day?
---
December 1st
1 Dec 2016
Drake
was named Spotify's most-streamed artist of 2016, with his single 'One Dance' the site's biggest song of the year. The Canadian had 4.7 billion streams in this year, more than half of which were for his album Views. 'One Dance' alone was streamed 960 million times. Played consecutively, that would take more than 5,200 years.
1 Dec 2014
Phil Rudd the drummer of rock band
AC/DC
pleaded not guilty to charges of threatening to kill and possession of drugs. Phil Rudd was excused from appearing in New Zealand's Tauranga District Court, with his lawyer entering his plea. The 60-year-old Australian-born musician was originally charged with attempting to procure the murder of two men.
1 Dec 2013
Bob Dylan
was placed under judicial investigation in France for allegedly provoking ethnic hatred of Croats. It followed a legal complaint lodged by a Croat association in France over a 2012 interview Dylan gave to Rolling Stone magazine. In the interview Dylan allegedly compared the relationship between Jews and Nazis to that of Serbs and Croats.
1 Dec 2013
Australian artist, cartoonist, songwriter and film-maker Martin Sharp died from emphysema aged 71. Sharp was called Australia's foremost pop artist.His psychedelic posters of
Bob Dylan
, Donovan and others, rank as classics of the genre. Martin co-wrote one of
Cream
's best known songs, 'Tales of Brave Ulysses', created the cover art for
Cream
's
Disraeli Gears
and Wheels of Fire albums, and in the 1970s became a champion of singer Tiny Tim.
1 Dec 2013
English drummer and percussionist Richard Coughlan died age 66. He was one of the founding members of Caravan in 1968 and remained with the band until his death. Caravan who were signed to Decca Records, blended psychedelic rock, jazz and classical influences to create a distinctive progressive rock sound.
1 Dec 2012
Shakira was being sued for $100m (£62.4m) by a former boyfriend who acted as her business manager for six years. Antonio de la Rua claimed he was the "principal architect" of a business plan that turned the singer into a global superstar. He was seeking to "recover his share of past and future partnership profits," according to papers filed in New York.
1 Dec 2008
Wham's Last Christmas was the most played festive track of the last five years. The Performing Right Society put the 1984 hit at the top of their chart of seasonal songs, just ahead of Band Aid's Do They Know It's Christmas? The Pogues came third with Fairytale of New York, recorded with the late Kirsty MacColl and first released in 1987. Other featured artists include Slade,
Mariah Carey
and
Bruce Springsteen
.
1 Dec 2006
An
Oasis
fan enjoyed "the best day of his life" when Noel Gallagher popped round to his house in Poynton, Cheshire to play an intimate gig. Ben Hayes had won a BBC
Radio 1
competition to have the star play in his front room as part of a week of gigs compered by DJ Jo Whiley. 15 people packed into his lounge for the tiny gig - with his mother on hand making cups of tea for the crew.
1 Dec 1997
Kenny G set a new world record when he held a note on his saxophone for 45 minutes and 47 seconds. (The record has since been broken by Geovanny Escalante, who held a note for 1 hour, 30 minutes and 45 seconds, using a technique that allows him to blow and breathe at the same time).
1 Dec 1993
American rock singer-songwriter Ray Gillen died age 34 from an AIDS related disease in a New York Hospital. He was best known for his work with Badlands, in addition to his stint with
Black Sabbath
in the mid-1980s and recording most of the vocals on Phenomena's Dream Runner album.
1 Dec 1990
Vanilla Ice started a four-week run at No.1 in the UK with the single 'Ice Ice Baby'. The track sampled the bass intro to the
Queen
and
David Bowie
No.1 '
Under Pressure
'. 'Ice Ice Baby' was initially released as the B-side to the rapper's cover of 'Play That Funky Music', and became the A-side after US DJ's started playing it.
1 Dec 1989
Sly Stone was sentenced to 55 days after pleading guilty to a charge of driving under the influence of cocaine, (two weeks later he also pleaded guilty to possession of cocaine and was sentenced to spend 9-14 months in rehab).
1 Dec 1987
A Kentucky teacher lost her appeal in the US Supreme Court over her sacking after showing
Pink Floyd
's film
The Wall
to her class. The court decided that the film was not suitable for minors with its bad language and sexual content.
1 Dec 1984
Jim Diamond was at No.1 in the UK singles chart with 'I Should Have Known Better.' The song was displaced after one week by Band Aid's charity single 'Do They Know It's Christmas''. Diamond publicly requested that people not buy his single, but instead buy Do They Know It's Christmas?
1 Dec 1983
Neil Young
was sued by Geffen Records because his new music for the label was 'not commercial in nature and musically uncharacteristic of his previous albums'. His latest album Everybody's Rockin' featured a selection of rockabilly songs (both covers and original material) which ran for just 25 minutes, Young's shortest album.
1 Dec 1976
The
Sex Pistols
appeared on ITV's live early evening 'Today' show (in place of
Queen
who had pulled out following a trip to the dentists by
Freddie Mercury
). Taunted by interviewer Bill Grundy who asked the band to say something outrageous, guitarist Steve Jones says: 'You dirty bastard...you dirty fucker...what a fucking rotter!' Grundy died of a heart attack aged 69 on 9th Feb 1993.
1 Dec 1973
The
Carpenters
went to No.1 on the US singles chart with 'Top Of The World', becoming the duo's second of three No.1 singles, following '(They Long to Be) Close to You' and preceding 'Please Mr. Postman.' Country singer Lynn Anderson covered the song and her version became her first hit when it reached No.2 on the US country singles charts in mid-1973.
1 Dec 1967
The
Jimi Hendrix Experience
released their second studio album Axis: Bold as Love. Hendrix expressed dismay regarding the album cover art, which depicts him and the Experience as various forms of Vishnu, incorporating a painting of them by Roger Law, from a photo-portrait by Karl Ferris. Hendrix stated that the cover would have been more appropriate had it highlighted his American Indian heritage.
1 Dec 1967
Jimi Hendrix
,
Pink Floyd
, The Move, Nice, Outer Limits and Amen Corner played at the Central Hall, Chatham. The Chatham Standard later reported: 'Hendrix opened his act with the Beatles' number
Sgt. Pepper's Lonely Hearts Club Band
, and the three-piece group made as much of an impression as a studio full of musicians. He did several of his own numbers, including unfaultable versions of 'Hey Joe' and 'Purple Haze' and The
Troggs
'Wild Thing'.
1 Dec 1966
Tom Jones was at No.1 on the UK singles chart with his version of 'Green Green Grass Of Home.' It stayed at No.1 for seven weeks giving Decca records its first million selling single by a British artist. Also a No.11 hit in the US.
1 Dec 1964
The Who
played the first of 22 consecutive Tuesday night gigs at The
Marquee Club
in London, the band were paid £50 for each gig. The
Marquee Club
saw the rise of some of the most important British artists in the 60s such as
Jimi Hendrix
,
David Bowie
,
Cream
, Manfred Mann, The Nice, Yes,
Pink Floyd
, Jethro Tull, King Crimson and many others who all appeared at the club.
1 Dec 1961
The Beatles
performed a lunchtime show at the The Cavern in Liverpool. That night they headlined a six-group Big Beat Session at the Tower Ballroom, New Brighton in Wallasey. Between 1961 -1963,
The Beatles
played at The Tower Ballroom on 27 occasions.
1 Dec 1958
The Teddy Bears were at No.1 on the US singles chart with 'To Know Him is to Love Him.' The title of the Phil Spector song came from words on his father's tombstone.
1 Dec 1957
Buddy Holly
and the Crickets appeared on 'The Ed Sullivan Show', performing 'That'll Be The Day' and 'Peggy Sue'.
Sam Cooke
was also a guest on the same show performing 'You Send Me'.
Born on this day in music
1 Dec 1988
Tyler Joseph American singer, songwriter, multi-instrumentalist, record producer, and rapper and lead vocalist for the musical duo Twenty One Pilots. Their second album the 2015 Blurryface peaked at No.1 on the US chart.
1 Dec 1977
Brad Delson, guitarist with
Linkin Park
who had the 2002 US No.2 & UK No.4 single 'In The End', and the 2002 US No.2 & 2001 UK No.4 album Hybrid Theory.
1 Dec 1974
Isaiah "Ikey" Owens, American keyboardist known for his work with The Mars Volta, Jack White and an array of bands from the Long Beach music scene. Owens died on 14th October 2014 aged 39 due to a heart attack in his hotel room in Puebla, Mexico.
1 Dec 1971
Greg Upchurch, drummer with American rock band 3 Doors Down who had the 2003 US No.4 single When I'm Gone', and the 2005 US No.1 album Seventeen Days.
1 Dec 1963
Sam Reid, founding keyboardist with the Canadian rock band, Glass Tiger. They had the 1986 UK No.29 single 'Don't Forget Me, When I'm Gone'.
1 Dec 1959
English musician Stephen Jansen, from Japan. The band achieved success in the late 1970s and early 1980s, releasing nine UK Top 40 hits, including the 1982 Top 5 hit single 'Ghosts', and scoring a UK Top 5 with the live album Oil on Canvas (1983).
1 Dec 1956
American singer, songwriter, actress Julee Cruise. She scored the 1990 UK No. 7 single 'Falling' the theme song for the television series Twin Peaks.
1 Dec 1953
American born British singer Gwen Dickey, best known as the front-woman of the R&B band Rose Royce, where she performed under the name Rose Norwalt. Rose Royce had the late 70's hits 'Car Wash' and 'Wishing on a Star'.
1 Dec 1951
Jaco Pastorius, jazz bass player, who had the 1976 hit with Weather Report, 'Birdland'. Also worked with
Joni Mitchell
and Pat Metheny. Died on 21st September 1987 aged 35. He suffered irreversible brain damage after being beaten into a coma after an altercation with a bouncer at the Midnight Club in Fort Lauderdale.
1 Dec 1946
Gilbert O'Sullivan, Irish singer-songwritersinger, who scored the 1972 UK No.1 single 'Clair', the 1972 US No.1 single 'Alone Again Naturally', plus 13 other UK Top 40 singles. He has received three Ivor Novello Awards, including Songwriter of the Year in 1973.
1 Dec 1946
Oliver Brown, American percussionist and one of the original members of KC & The Sunshine Band who scored the late 70's hits 'That's the Way (I Like It)', and '(Shake, Shake, Shake) Shake Your Booty'.
1 Dec 1944
Bette Midler, singer, actress, (1989 US No.1 & UK No.5 single 'Wind Beneath my Wings'). Worked with Barry Manilow, starred in the film 'The Rose' based on the life of
Janis Joplin
.
1 Dec 1944
Charlie Grima, English drummner with Wizzard, who had the 1973 UK No.1 single 'See My Baby Jive' and the 1973 Christmas single 'I Wish It Could Be Christmas Everyday'.
1 Dec 1944
Eric Bloom, guitar, vocals from American hard rock band Blue Oyster Cult who scored the 1976 US No.12 & 1978 UK No.16 single '(Don't Fear) The Reaper'. Blue Oyster Cult have sold over 24 million records worldwide.
1 Dec 1944
John Densmore, drums,
The Doors
, who had the 1967 US No.1 & UK No.49 single 'Light My Fire' & 1971 single 'Riders On The Storm'. Densmore allowed 'Riders on the Storm' to be used to sell Pirelli Tyres, in the UK only and later stated that he "heard Jim's voice" in his ears and ended up donating the money earned to charity. In 2002, Densmore vetoed an offer by Cadillac for $15 million for 'Break on Through (To the Other Side)' because of Morrison's vehement opposition to licensing the Doors' music for commercial use.
1 Dec 1938
Sandy Nelson, US drummer, (1962 UK No.3 & US No.7 single 'Let There Be Drums'). Worked with The Teddy Bears, Gene Vincent. At end of 1963, Nelson was in a motorcycle accident. The injuries necessitated amputation of his right foot and part of that leg, nonetheless, Nelson continued to record and play drums.
1 Dec 1936
Lou Rawls, US singer. Rawls who released more than 60 albums, sold more than 40 million records, had the 1976 US No.2 and UK No.10 single 'You'll Never Find Another Love Like Mine'. Rawls died from lung cancer on 6th January 2006 aged 72.
1 Dec 1934
Billy Paul, (1972 US No.1 & 1973 UK No.12 single 'Me and Mrs Jones'). Paul died on 24th April 2016 aged 81.
1 Dec 1930
English singer Matt Monro. Known as "The Man with the Golden Voice", he scored the 1964 UK No.4 & US No.23 single 'Walk Away' plus 10 other UK Top 40 hits including the 1965 hit with his version of
The Beatles
' '
Yesterday
'. He died on7 February 1985 from liver cancer at the Cromwell Hospital, Ealing, London.