December 13th: The Biggest Music Headlines
Scroll down the page to see all the music headlines, stories and events for December 13 throughout music history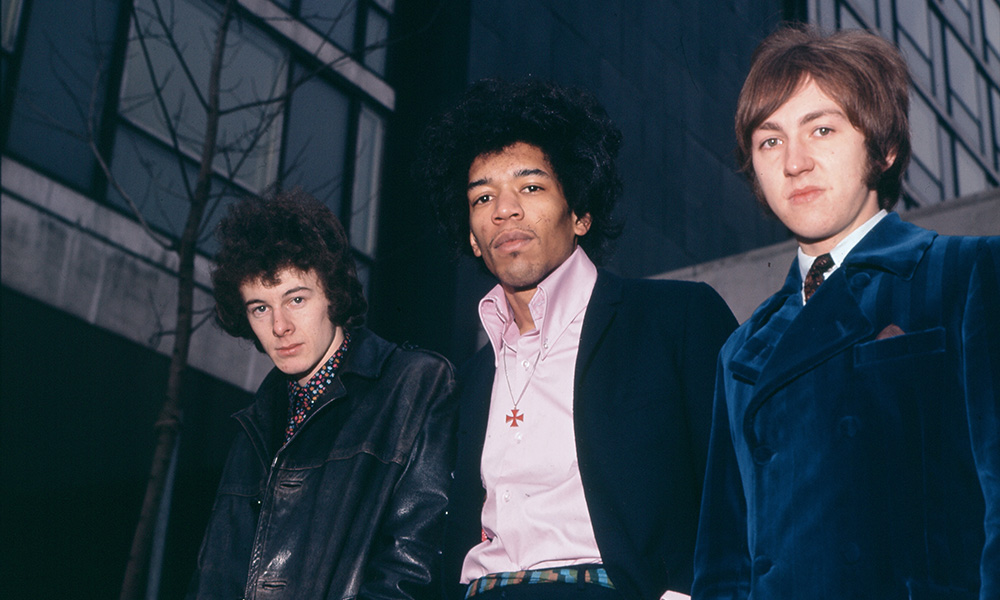 Jimi Hendrix Makes His Television Debut
On this day in music, December 13, 1966, The Jimi Hendrix Experience – Jimi Hendrix, Noel Redding, and Mitch Mitchell – made their TV debut on the UK's Ready Steady Go!, where they performed their soon-to-be iconic hit, "Hey Joe." Two weeks after the appearance, "Hey Joe" entered the UK charts, where it eventually peaked at No.6. This was only the beginning for Hendrix and his band. More success came in March 1967 with the No.3 hit, "Purple Haze," and in May with "The Wind Cries Mary," which remained on the UK charts for eleven weeks, peaking at No.6.
In 1955, Dickie Valentine landed at No.1 on the UK singles chart with "Christmas Alphabet," the first Christmas song to reach the top spot. The British pop icon also topped the charts a year earlier with "The Finger Of Suspicion."
In 1962, Elvis Presley scored his 13th No.1 in the UK with "Return To Sender." While just as popular in the US, "Return to Sender" only reached No.2 on the Billboard singles chart, due to the massive success of The Four Seasons' "Big Girls Don't Cry."
In 1961, Mike Smith, a Decca Records A&R assistant, attended a Beatles concert at Liverpool's Cavern Club, in hopes of eventually offering the young band a recording contract. The following month, after an official audition, Decca rejected the group, citing that guitar-based acts were "on their way out."
In 1997, characters from the TV show The Teletubbies went to No.1 in the UK with "Say Eh-Oh!" Tinky Winky, Laa-Laa, Dipsy, and Po sold 547,000 copies of the single in its first two weeks, while the song eventually sold over a million copies and spent a total of 41 weeks on the chart.
In 2000, Melody Maker ceased publication after 74 years. The British magazine was one of the world's earliest music weeklies.
Looking for more things that happened on this day in music?
Keep scrolling for all of the headlines for December 13.
BORN ON DECEMBER 13:
1928: Joe Messina
1948: Ted Nugent
1949: Randy Owen (Alabama)
1949: Tom Verlaine (Television)
1952: Berton Averre (The Knack)
1974: Nick McCarthy (Franz Ferdinand)
1975: Tom Delonge (Blink 182)
1981: Amy Lee (Evanescence)
1989: Taylor Swift
Looking for more artists born on this day?
Keep scrolling for all of our December 13 birthdays.
---
What to find another day?
---
December 13th
13 Dec 2021
American soul and R&B musician Joe Simon died age 85. He charted 51 U.S. Pop and R&B chart hits between 1964 and 1981. His biggest hits included three number one entries on the US Billboard R&B chart: 'The Chokin' Kind' (1969), 'Power of Love' (1972), and 'Get Down, Get Down (Get on the Floor)' (1975).
13 Dec 2019
Roy Loney, the founding lead singer of the influential San Francisco power pop band the Flamin' Groovies, died age 73. The Flamin' Groovies came together in San Francisco in 1965 when guitarists Loney and childhood friend Tim Lynch began working with guitarist Cyril Jordan, bassist George Alexander and drummer Danny Mihm. Three years later, they released the self-financed Sneakers EP, which helped them get signed to Epic.
13 Dec 2019
A settlement was reached in the Tom Petty estate battle between the rock legend's widow and his two daughters from a previous marriage. Petty's daughters Adria Petty and Annakim Violette sued Dana York Petty for $5 million after claiming that the widow superseded the daughters' rights to "equal participation" over decisions involving the singer's estate and catalog.
13 Dec 2013
American singer
Beyoncé
released her fifth studio album, the self-titled Beyoncé. Developed as a visual album, every song was accompanied by a non-linear short film that illustrated the musical concepts conceived during production. Beyoncé and its release are frequently credited with inventing the modern definition of the visual album, popularising the surprise album release strategy, and provoking the International Federation of the Phonographic Industry to change the day of the week when music is released worldwide from Tuesday to Friday. The album has sold over 5 million copies worldwide.
13 Dec 2012
A collection of love letters written by
Mick Jagger
to American singer Marsha Hunt sold at auction for £187,250. The letters were penned in the summer of 1969 while The
Rolling Stones
frontman was in Australia. They are believed to be the inspiration for the band's hit single 'Brown Sugar'.
13 Dec 2008
Dizzee Rascal was arrested in south-east London following an incident involving a baseball bat. The rapper allegedly approached another motorist with a baseball bat after a road rage incident. Rascal whose real name is Dylan Mills, was held on suspicion of possessing an offensive weapon in Sevenoaks Way, Orpington.
13 Dec 2005
A cheque signed by
John Lennon
made out to the Inland Revenue sold for £2,000 at a UK auction. It was sold by former madam Lindi St Clair, (formerly known as Miss Whiplash), after she decided she had no use for it. Clair who now runs a duck farm in Herefordshire had bought the cheque for £4,000 in 1988. It was signed by Lennon on 23rd January 1968 on a District Bank Limited form and made out for £6,946.
13 Dec 2003
Lauryn Hill launched a blistering attack on the Catholic church, urging religious figures to "repent" whilst speaking on a stage regularly used by the Pope. The former Fugees singer was playing at a Christmas show in Vatican City and took the opportunity to speak her mind about allegations of sexual abuse in America, before an audience that included top Vatican cardinals, bishops and the cream of Italian society.
13 Dec 2002
Canadian guitarist and singer Zal Yanovsky of The Lovin Spoonful died of a heart attack. Was a member of The Mugwumps with Denny Doherty and Cass Elliot. Formed Lovin Spoonful with John Sebastian in 1964, they scored the 1966 US No.1 & UK No.8 single 'Summer In The City'.
13 Dec 2002
UK music channel Music Choice analysed all the Christmas No.1 singles from the past 30 years and identified criteria for their success. These included the use of sleigh bells, children singing, church bells harmony and references to love. They concluded that Sir Cliff Richards 1988 hit 'Mistletoe and Wine' was the perfect Christmas hit.
13 Dec 2001
American singer, songwriter, and guitarist Chuck Schuldiner died of brain cancer. He founded the pioneering band Death in 1983. Schuldiner is often referred to as "The Godfather of death metal". Death's best-selling album is the 1991 release Human.
13 Dec 2000
It was announced that after 74 years the UK rock weekly Melody Maker was to close down. The Christmas edition would be the last one then it would merge with the NME creating a more sizeable broad-based magazine.
13 Dec 2000
Sir
Paul McCartney
held his first-ever London book signing at Waterstone's in Piccadilly. Sir Paul was in the store to sign copies of his new book,
Paul McCartney
Paintings.
13 Dec 1999
Winners in the Smash Hits readers poll included, Backstreet Boys who won Best band, best album & best single,
Britney Spears
won best female singer, Robbie Williams best male singer, S Club 7 won best new band and worst group went to the
Spice Girls
.
13 Dec 1999
Happy Mondays singer Shaun Ryder was ordered to pay £160,000 to his ex management team over a dispute in his contract. Ryder said he was so high after a 'joint' he didn't bother to read the small print; the court was told the contract had 'done his nut in'.
13 Dec 1997
Children's TV characters The Teletubbies went to No.1 on the UK singles chart with 'Teletubbies Say-eh-oh'. The single spent a total of 32 weeks on the chart.
13 Dec 1986
Bruce Hornsby & The Range went to No.1 on the US singles chart, with 'The Way It Is', a No.15 hit in the UK. Written by Bruce Hornsby and his brother John Hornsby, it made explicit reference to the American Civil Rights Movement. The song was heavily sampled by
Tupac Shakur
in his song, 'Changes' from 1998.
13 Dec 1970
Dave Edmunds was at No.1 on the UK singles chart with his version of the 1955 Smiley Lewis hit 'I Hear You Knocking.' The Welsh singer, songwriter and producers only No.1 hit.
13 Dec 1969
Diana Ross took the Latino Casino in Philadelphia to court for $27,500 after her two pet dogs died after eating cyanide tablets left by an exterminator in her dressing room.
13 Dec 1966
Jimi Hendrix
made his TV debut on ITV's 'Ready Steady Go!' (
Marc Bolan
was also on the show). The
Jimi Hendrix Experience
also recorded 'Foxy Lady' on this day. The United States version of
Are You Experienced
listed the song with a spelling mistake as 'Foxey Lady' and this is how it is still known among many North American fans.
13 Dec 1962
Elvis Presley
was at No.1 on the UK singles chart with 'Return To Sender', his 13th UK No.1. Elvis performed 'Return To Sender' in the film Girls! Girls! Girls!. The opening bars and backing on baritone saxophone was performed by Bobby Keys who later went on to work with The
Rolling Stones
,
The Who
, Harry Nilsson,
George Harrison
and
Eric Clapton
.
13 Dec 1961
The Beatles
performed at the The
Cavern Club
Liverpool playing two shows at lunchtime and then again at night. Decca Records' Mike Smith attended the night performance with a view to offering
The Beatles
a recording contract.
13 Dec 1955
Dickie Valentine was at No.1 on the UK singles chart with 'Christmas Alphabet', the first Christmas song to reach the No.1 position. It was the first Christmas No.1 that was actually about Christmas, a trend that would continue off and on over the next several decades.
Born on this day in music
13 Dec 1989
American singer-songwriter,
Taylor Swift
. Her third single, 'Our Song', made her the youngest person to single-handedly write and perform a No.1 song on the US country chart. She has sold over 40 million albums and 130 million digital single downloads worldwide. She is also the recipient of ten Grammy Awards, five Guinness World Records, one Emmy Award, 23 Billboard Music Awards, 11 Country Music Association Awards, eight Academy of Country Music Awards, and one Brit Award.
13 Dec 1981
Amy Lynn Lee, singer with American rock band Evanescence who had the 2003 UK No.1 & US No.5 single 'Bring Me To Life', and the 2003 UK No.1 & US No.3 album Fallen.
13 Dec 1975
Tom Delonge, Blink 182, (2000 UK No.2 single 'All The Small Things' 2001 US No.1 album 'Take Off Your...').
13 Dec 1974
Nick McCarthy, guitarist, with Scottish indie rock band Franz Ferdinand, who were the winners of the 2004 Mercury Music Prize for their self-titled debut album.
13 Dec 1970
Daniel Patrick, bass guitar, guitar and keyboards. Worked Nine Inch Nails, Tapeworm, Killing Joke, Methods of Mayhem.
13 Dec 1967
Jamie Foxx, (born Eric Marlon Bishop). US actor, R&B singer and pianist, (2005 US No.1 and UK No.2 single 'Gold Digger', 2006 US No.1 & UK No.9 album 'Unpredictable'). Academy Award winner in 2005 for his performance of musician Ray Charles in Ray.
13 Dec 1953
Pat Torpey drummer with American hard rock supergroup Mr. Big, who had the 1992 US No.1 & UK No.3 single 'To Be With You'. He also played for John Parr, Belinda Carlisle, Robert Plant, Montrose and The Knack. Torpey died from complications of Parkinson's Disease at the age of 64 on February 7, 2018.
13 Dec 1952
Berton Averre, lead guitarist with the Los Angeles rock band The Knack who scored the 1979 US No.1 single 'My Sharona'. Their album Get the Knack became one of the most successful debuts in history, selling over one million copies in less than two months and spending five weeks at No.1 on the Billboard album chart.
13 Dec 1950
English rock guitarist Davy O'List, from English progressive rock band The Nice, who had the 1968 UK hit single an instrumental rearrangement of Leonard Bernstein's 'America'. He has also worked with Roxy Music, Jethro Tull and
Pink Floyd
.
13 Dec 1949
American singer, songwriter and guitarist Tom Verlaine from Television. The group's debut album, Marquee Moon, is often considered one of the defining releases of the punk era. Verlaine was in discussion with Jeff Buckley to produce his second album before Buckley's death by drowning in 1997. Verlaine died in New York City on 28 January 2023 at the age of 73.
13 Dec 1949
Randy Owen, American guitarist and singer, songwriter best known as the lead singer with Alabama. They became the most successful band in country music, releasing over 20 gold and platinum records, dozens of No. 1 singles, and selling over 75 million records during their career.
13 Dec 1948
Jeff 'Skunk' Baxter, American guitarist with psychedelic rock band Ultimate Spinach, The Doobie Brothers, Steely Dan (their first three albums, Can't Buy a Thrill in 1972, Countdown to Ecstasy in 1973, and Pretzel Logic in 1974), and Spirit in the 1980s. Baxter has also worked with many other artists including Willy DeVille,
Bryan Adams
,
Eric Clapton
, Sheryl Crow,
Joni Mitchell
,
Dolly Parton
, Carly Simon,
Ringo Starr
, Gene Simmons and Rod Stewart.
13 Dec 1948
Ted Nugent, guitarist, The Amboy Dukes, (1968 single, 'Journey To The Centre Of The Mind'). Solo, (1977 single 'Cat Scratch Fever'). Damn Yankees, (1990 album 'Damn Yankies').
13 Dec 1947
American session musician. Chuck Findley, (widely known as a trumpet player). Findley has worked with many artists including: B. B. King, Steely Dan, Nancy Sinatra, Miles Davis, Jackson Browne, George Benson,
George Harrison
,
Elton John
,
Carole King
, Rickie Lee Jones,
Joni Mitchell
, Jose Feliciano, The
Rolling Stones
.
13 Dec 1945
Robert Martinez, ? & The Mysterians, (1966 US No. 1 & UK No.37 single '96 Tears'). '96 Tears' was a UK No.17 hit for The Stranglers in 1990.
13 Dec 1940
Tony Gomez, from British soul band The Foundations who scored the 1967 UK No.1 single 'Baby Now That I've Found You' and the 1969 US No.3 single 'Build Me Up A Buttercup'. The group was the first multi-racial group to have a No.1 hit in the UK in the 1960s.
13 Dec 1938
American record producer, composer and music manager Ron Haffkine most recognized for his work as a producer and manager of Dr. Hook & the Medicine Show. He produced the soundtrack of the 1970 film Ned Kelly a movie about an Australian outlaw, featuring
Mick Jagger
.
13 Dec 1928
American guitarist Joe Messina. Dubbed the "white brother with soul", Messina was one of the most prolific guitarists in
Motown
Records' in-house studio band, the
Funk Brothers
. During this time, Messina worked with Diana Ross & the
Supremes
, the Temptations,
Marvin Gaye
, the Four Tops,
Stevie Wonder
, and Smokey Robinson & the Miracles.