December 15th: The Biggest Music Headlines
Scroll down the page to see all the music headlines, stories and events for December 15 throughout music history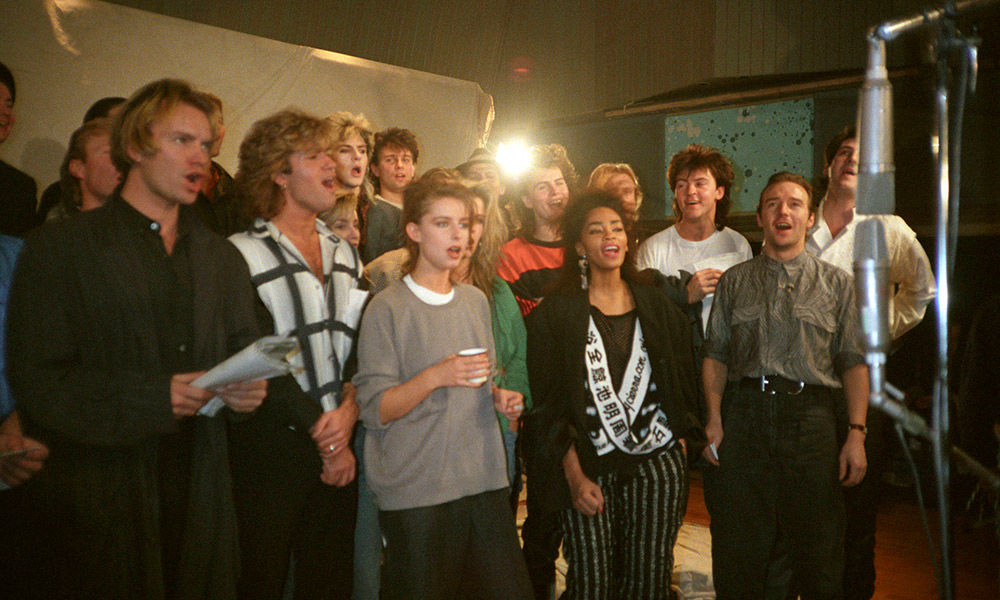 Band Aid's 'Do They Know It's Christmas?' Raises Funds and Sets Records
On this day in music, December 15, 1984, "Do They Know It's Christmas?" entered the UK chart at No.1 and was well on its way to becoming the biggest-selling UK single of all time. The yuletide song was written by Bob Geldof and Midge Ure to raise awareness and funds for the famine in Ethiopia. Geldof and Ure assembled an all-star collective (known as "Band Aid") to record the song, including George Michael, Sting, Phil Collins, and Bono, plus members of Status Quo, Duran Duran, and Spandau Ballet.
In 1979, Pink Floyd started a five-week run at No.1 on the UK singles chart with "Another Brick In The Wall (Part 2)." The song, which marks the band's only UK chart-topper, was the middle section of the three-part composition from the 1979 rock opera, The Wall.
In 1956, Elvis Presley made his 50th and final appearance on the live radio show, Louisiana Hayride. At the end of the set (which was captured in front of an audience), promoter Horace Logan used the now-famous phrase, "Elvis has left the building," in an attempt to quiet rowdy fans.
In 1969, John Lennon played his final UK gig when he appeared at The Lyceum Ballroom with The Plastic Ono Band for UNICEF's "Peace For Christmas" benefit concert. Other performers included George Harrison, Eric Clapton, Billy Preston, and Keith Moon.
In 1943, the innovative jazz musician, singer, and songwriter, Fats Waller, died at the age of 39. In addition to being the first Black composer to write a hit Broadway musical (1943's Early to Bed), Waller was also known for such celebrated songs as "Ain't Misbehavin'" and "Honeysuckle Rose," both of which were inducted into the Grammy Hall of Fame.
In 1944, the celebrated bandleader, trombonist, and composer, Glenn Miller, was killed in a plane crash, while en route to entertain US troops in France. Miller, who was just 40 years old when he died, was an integral player in the swing era and the best-selling recording artist in America between 1939 and 1942.
In 1997, the film Spice World premiered in the UK, where it broke box office records for the highest opening gross.
Looking for more things that happened on this day in music?
Keep scrolling for all of the headlines for December 15.
BORN ON DECEMBER 15:
1921: Alan Freed (DJ)
1939: Cindy Birdsong (The Supremes)
1942: Dave Clark (Dave Clark Five)
1946: Carmine Appice (Vanilla Fudge)
1955: Paul Simonon (The Clash)
1957: Tim Reynolds (Dave Matthews Band)
1980: Sergio Pizzorno (Kasabian)
1991: Alana Haim (HAIM)
Looking for more artists born on this day?
Keep scrolling for all of our December 15 birthdays.
---
What to find another day?
---
December 15th
15 Dec 2022
Bertha Barbee-McNeal, a co-founder of Motown hitmakers the Velvelettes, died in Kalamazoo, Michigan at the age of 82. In 1963, the group released the non-charting 'There He Goes' before making a mark with 'Needle in a Haystack' and 'He Was Really Sayin' Somethin', Both became trademarks for the group, who were also especially noted for 1966's 'These Things Will Keep Me Loving You.'
15 Dec 2022
American drummer Dino Danelli died age 78. He was best known as an original member and the drummer in the rock group The Young Rascals and performed on three No.1 hits including 'Good Lovin'' (1966), and 'Groovin'' (1967).
15 Dec 2021
American singer Wanda Young died at the age of 78. She was a member and after 1965, the lead singer of the
Motown
all-female singing group the Marvelettes. They gave Motown their first No.1 Pop single in late 1961 with 'Please Mr. Postman'.
The Beatles
later recorded 'Please Mr. Postman' on their second studio album With the Beatles and in 1975, the
Carpenters
' remake of 'Please Mr. Postman' was a No.1 hit around the world.
15 Dec 2010
Various
Pink Floyd
items were sold at an Entertainment Memorabilia auction by Bonhams in Knightsbridge London. A demo pressing of the single 'Point Me To The Sky/Careful With That Axe Eugene' sold for £720. Pink Floyd signatures, in various blue marker pens on four separate pieces of paper mounted and framed together with a copy of
The Dark Side Of The Moon
sold for £624.00 and a demo pressing of the single by
Syd Barrett
'Octopus' / 'Golden Hair' from 1969, misspelt 'Barratt' corrected in ink on A-side, sold for £300.
15 Dec 2008
Madonna
paid former husband Guy Ritchie around £50m as part of their divorce settlement. The singers US spokeswoman Liz Rosenberg told The Associated Press the figure included the value of the couple's Ashcombe home in England, and the financial part of the settlement had been worked out but custody of the couple's children had yet to be finalised.
15 Dec 2003
Courtney Love was sentenced to 18 months in drug rehabilitation after she admitted being under the influence of cocaine and opiates. She was banned from taking non-prescription drugs, drinking alcohol or being in places that serve alcohol.
15 Dec 2002
Blue featuring
Elton John
went to No.1 on the UK singles chart with 'Sorry Seems To Be The Hardest Word.' Previously a No.11 hit for Elton in 1976. It gave Elton only his 5th No 1 after over 30 years of hits.
15 Dec 2001
Eagles
guitarist Joe Walsh was given an honorary Doctorate of Music from Kent State University in Ohio.
15 Dec 2001
American funk and soul singer Rufus Thomas died of heart failure aged 84. He began his career as a tap dancer, vaudeville performer, and master of ceremonies in the 1930s. He later worked as a disc jockey on radio station WDIA in Memphis. He recorded on Sun Records in the 1950s and on Stax Records in the 1960s and 1970s. Thomas scored the 1963 US No.10 single 'Walking The Dog' and the 1970 UK No.18 & US No.28 single 'Do The Funky Chicken' and the 1970 hit '(Do the) Push and Pull (1970). A street is named in his honour, just off Beale Street in Memphis.
15 Dec 1999
Boy George was knocked unconscious when a mirror ball fell on his head during a show in Dorset, England.
15 Dec 1999
Former
Sex Pistols
manager Malcolm McLaren announced that he was running for the Mayor of London. He said he would be campaigning for brothels, pot shops and boozing in libraries. "I changed London with the
Sex Pistols
, I can change London as Mayor."
15 Dec 1998
Backstreet Boys roadie Michael Barrett filed a $3 million lawsuit against the group claiming damages after a 50-pound cannon fell on his head during a show.
15 Dec 1997
'Spice World The Movie', featuring The
Spice Girls
premiered at The Empire, Leicester Sq, London. The following year it was nominated for the 'worst film' at the Golden Raspberry Awards.
15 Dec 1990
Rod Stewart
married New Zealand model Rachel Hunter in Beverly Hills. Stewart was quoted as saying 'I Found the Girl that I Want, I won't be putting my banana in anybody's fruit bowl from now on'. They split in 1999.
15 Dec 1988
Soul singer
James Brown
was sentenced to six years in prison for various offences including possession of weapons and resisting arrest.
15 Dec 1984
Do They Know It's Christmas? by Band Aid entered the UK chart at No.1 and stayed at the top for five weeks. It became the biggest selling UK single of all time with sales over 3 and a half million. Band Aid was masterminded by former Boomtown Rats singer
Bob Geldof
, who had been moved by a TV news story of famine in Ethiopia. Geldof had the idea of raising funds with a one-off charity single featuring the cream of the current pop world.
Duran Duran
, Spandau Ballet, Paul Young, Culture Club,
George Michael
, Sting,
Bono
,
Phil Collins
, Paul Weller, Francis Rossi and Rick Parfitt of Status Quo and Bananarama all appeared on the recording.
15 Dec 1979
U2
appeared at the Windsor Castle Pub, Harrow Road, London, admission was free.
15 Dec 1979
Pink Floyd
started a five week run at No.1 on the UK singles chart with 'Another Brick In
The Wall
(Part 2)' their only UK chart topper. The song, which was also the final No.1 single of the 1970s, received a Grammy nomination for Best Performance by a Rock Duo or Group, but Floyd lost to Bob Seger's Against the Wind.
15 Dec 1977
The
Sex Pistols
were refused entry into the USA two days before a scheduled NBC TV appearance. Johnny Rotten because of a drugs conviction, Paul Cook & Sid Vicious because of 'moral turpitude' and Steve Jones because of his criminal record.
15 Dec 1973
Charlie Rich started a two week run at No.1 on the US singles chart with the country & western ballad 'The Most Beautiful Girl', the singers only No.1 single, was also a No.2 hit in the UK.
15 Dec 1969
John Lennon
played what would be his final ever gig in the UK when he appeared at The Lyceum Ballroom, London, with the Plastic Ono Band in a UNICEF 'Peace For Christmas' benefit.
George Harrison
,
Eric Clapton
, Delaney and Bonnie, Billy Preston and
The Who
's drummer,
Keith Moon
also took part.
15 Dec 1962
The Beatles
played two separate shows at the same venue, the Majestic Ballroom in Birkenhead, Merseyside. First they played a standard Majestic booking then at midnight, the first-ever "Mersey Beat" poll awards show took place. As poll winners,
The Beatles
closed the show (at 4:00 am).
15 Dec 1956
Elvis Presley
gave his final performance on Louisiana Hayride, a live radio program that was broadcast on KWKH in Shreveport, Louisiana. Presley made 50 appearances on the show. At the end of the show, Horace Logan first made the now legendary phrase 'Elvis has left the building'.
15 Dec 1944
Hank Williams
married Audrey Sheppard, with the ceremony taking place at a filling station. Their son, Randall Hank Williams would achieve fame in his own right as Hank Williams Jr., who was born on May 26, 1949. The marriage ended in divorce on May 29, 1952.
15 Dec 1944
American big-band musician, arranger, composer, and bandleader Glenn Miller was killed when his aircraft disappeared in bad weather over the English Channel while traveling to entertain US troops in France during World War II. Miller was the best-selling recording artist from 1939 to 1943, leading one of the best-known big bands. In just four years Glenn Miller scored 23 No.1 hits. Miller's recordings include 'In the Mood', 'Moonlight Serenade', 'Pennsylvania 6-5000', and 'Chattanooga Choo Choo'.
15 Dec 1943
American jazz pianist, organist, composer, singer, and comedic entertainer Fats Waller died of pneumonia on a train trip near Kansas City, Missouri. Waller wrote many songs including 'Ain't Misbehavin', 'Your Feet's Too Big' and 'The Reefer Song'. In 1926 Waller was kidnapped at gunpoint in Chicago and driven to a club owned by gangster Al Capone. Inside the club he was ordered to perform at what turned out to be a surprise birthday party for the gangster. He enjoyed success touring the United Kingdom and Ireland in the 1930s, appearing on one of the first BBC television broadcasts on September 30, 1938.
Born on this day in music
15 Dec 1991
American musician Alana Haim with pop rock band Haim, which also consists of her two sisters, Este Haim and Danielle Haim.
15 Dec 1980
Sergio Pizzorno, guitar, vocals, Kasabian, (2005 UK No.8 single 'Cutt Off', 2006 UK No.1 album 'Empire'). Kasabian won a Brit Award in 2010 for Best British Group.
15 Dec 1979
Edele Lynch and Keavy Lynch, singers, B*Witched, (1998 UK No.1 single 'C'est La Vie').
15 Dec 1961
Nick Beggs, bass, Kajagoogoo, (1983 UK No.1 single 'Too Shy'), also a member of the Howard Jones band.
15 Dec 1957
Tim Reynolds, American multi-instrumentalist with the Dave Matthews Band. Dave Matthews Band are the first group to have six consecutive studio albums debut at the top of the US charts.
15 Dec 1956
Kit Hain, English musician and songwriter. She formed the British pop-rock duo Marshall Hain well known for their 1978 hit 'Dancing In The City'.
15 Dec 1955
Paul Simonon, bassist with
The Clash
, who had the 1979 UK No. 11 single 'London Calling' and the 1982 US No. 8 single 'Rock The Casbah. Their 1991 UK No.1 single 'Should I Stay Or Should I Go', was first released 1982.
15 Dec 1954
Grammy-winning American musician Royce Jones best known for his work as a touring vocalist with the bands Steely Dan (in 1973 and 1974) and Ambrosia (joined 1978).
15 Dec 1949
Don Johnson, actor, singer, (Miami Vice), (1986 US No.5 & UK No.46 single, 'Heartbeat').
15 Dec 1947
American guitarist Bob Berryhill from The Surfaris who had the 1963 US No.2 & UK No.3 single 'Wipe Out.'
15 Dec 1946
Harry Ray, Moments, (1970 US No.3 single 'Love On A Two-Way Street', 1975 UK No.3 single 'Girls').
15 Dec 1946
Carmine Appice, drummer, Vanilla Fudge, (1968 US No.6 single 'You Keep Me Hangin' On'). Also a member of Beck, Bogart and Appice and the Rod Stewart band.
15 Dec 1942
English musician, songwriter, record producer and entrepreneur Dave Clark, from English pop rock band, Dave Clark Five, who scored the 1964 UK No.1 single 'Glad All Over', and the 1965 US No.1 single 'Over And Over' , plus over 15 other UK top 40 singles.
15 Dec 1939
Cindy Birdsong, American singer The
Supremes
joined in 1968, when she replaced co-founding member Florence Ballard. Birdsong had previouly been a member of Patti LaBelle & the Bluebelles.
15 Dec 1938
Jerry Wallace, US singer, (1959 US No.8 single 'Primrose Lane').
15 Dec 1921
Alan Freed, American DJ. The man who gave 'Rock 'n' Roll' its name. Died 20th January 1965.
15 Dec 1919
Max Yasgur, owner of the
Woodstock
farm where the 1969 festival was held. Yasgur died of a heart attack on 8th February 1973 aged 53.
15 Dec 1910