December 17th: The Biggest Music Headlines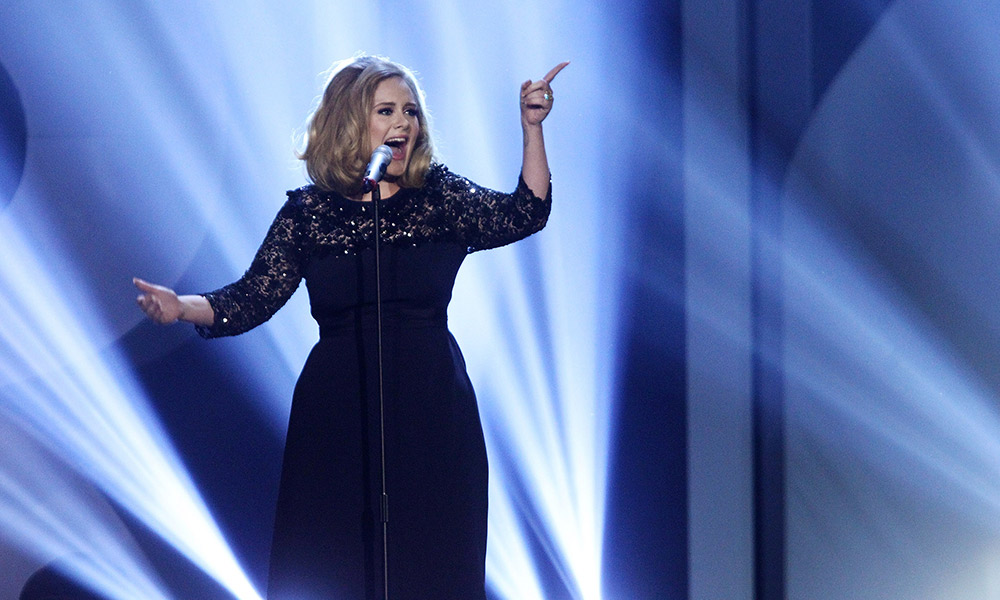 Adele Named Billboard's Top Artist Of 2012
On this day in music, December 17, 2012, Billboard named Adele as its top artist of 2012, while her record-breaking sophomore LP, 21, was named album of the year by the publication. Featuring hits like "Rolling in the Deep" and "Someone Like You," 21 topped the charts in more than 30 countries and became the best-selling album of the year, worldwide, for both 2011 and 2012. Many observers credited the British artist's monumental album with helping to revitalize the global music industry.
In 1971, David Bowie released his fourth studio album, Hunky Dory. In contrast to the harder, guitar-driven songs of his previous albums, Hunky Dory found the shapeshifting artist opting for more pop-forward, piano-driven melodies, as heard in the hits "Changes" and "Life on Mars." The album also featured a new backing band, consisting of guitarist Mick Ronson, bassist Trevor Bolder, and drummer Mick Woodmansey (soon to be known as The Spiders from Mars).
In 1963, James Carroll at Washington, DC's WWDC became the first DJ to broadcast a Beatles single on American radio, with "I Want to Hold Your Hand." According to the New York Times, "When he played the song, the tremendous response helped persuade Capitol Records to release the disk in the United States earlier than it had planned."
In 1982, Karen Carpenter made her final live appearance with The Carpenters, performing at the Buckley School in Los Angeles. The intimate set found the brother-sister duo performing for approximately 50 children, including Karen's twin godchildren. Sadly, Carpenter passed away several weeks later.
In 1973, Slade scored their sixth No.1 hit in the UK with "Merry Xmas Everybody." The single sold more than one million copies upon its release and has since become a holiday staple in Britain.
In 1962, Bob Dylan arrived in England for the first time, following an invitation from TV director, Philip Saville. While in New York, Saville caught a performance by the future folk legend and asked him to take part in a BBC television drama entitled Madhouse on Castle Street. The trip marked Dylan's first foray outside of America.
In 2010, Captain Beefheart died at the age of 69. The American avant-garde artist led a frequently-changing ensemble known as The Magic Band, with whom he recorded 13 studio albums between 1967 and 1982.
Looking for more things that happened on this day in music?
Keep scrolling for all of the headlines for December 17.
BORN ON DECEMBER 17:
1939: Eddie Kendricks (The Temptations)
1942: Paul Butterfield
1949: Paul Rodgers (Free)
1950: Carlton Barrett (The Wailers)
1958: Mike Mills (R.E.M.)
1959: Bob Stinson (The Replacements)
1962: Sarah Dallin (Bananarama)
1973: Eddie Fisher (OneRepublic)
1989: Taylor York (Paramore)
Looking for more artists born on this day?
Keep scrolling for all of our December 17 birthdays.
---
What to find another day?
---
December 17th
17 Dec 2015
A London judge said he was concerned at how much
Liam Gallagher
and his ex-wife Nicole Appleton were spending in a legal dispute over how their assets should be split after it was revealed that the pair had spent over £800,000 on legal fees. Judge O'Dwyer decided their money and property should be divided equally, with each receiving £5.4m.
17 Dec 2012
Adele
was named Billboard's top artist of 2012, while her hit record 21 was named top album of the year in the music magazine's annual review.The 24-year-old was the first to receive both accolades two years in a row and the honours for
Adele
came in a year which saw her win six Grammy awards and dominate the US charts.Her second album 21 went straight to No.1 when it was released in March 2011 and did not leave the top 10 until the beginning of September 2012, during that time, it spent 24 weeks at the top spot.
17 Dec 2012
Adele
was named Billboard's top artist of 2012, while her hit record 21 was named top album of the year in the music magazine's annual review. The 24-year-old became the first to receive both accolades two years in a row. The year's top three songs were 'Gotye's Somebody That I Used to Know', Carly Rae Jepsen's 'Call Me Maybe' and Fun's 'We Are Young'. respectively.
17 Dec 2010
Captain Beefheart died aged 69 from complications from multiple sclerosis. The American musician, singer-songwriter, artist and poet born Don Glen Vliet in Glendale, California recorded 13 studio albums.
17 Dec 2010
Sir
Paul McCartney
performed an intimate lunchtime gig at the 100 Club on London's Oxford Street, the historic music venue threatened with closure. Around 300 fans were treated to a set lasting almost two hours, in what was McCartney's smallest gig in the UK for nearly 10 years. A campaign to keep the 100 Club open had attracted support from Primal Scream's Bobby Gillespie and Sir
Mick Jagger
.
17 Dec 2006
English saxophonist Denis Payton died. Member of Dave Clark Five who had the 1964 UK No.1 single 'Glad All Over', 1965 US No.1 single 'Over And Over', plus over 15 other UK top 40 singles.
17 Dec 2005
U2
had the top-grossing tour of 2005, according to Billboard. More than three million people watched the band's sell-out 90-date Vertigo tour which grossed $260m (£146.6m). The
Eagles
, took $117m (£66m) from 77 shows and
Neil Diamond
grossed more than $71m (£40m). Kenny Chesney was fourth with $63m (£35.5m),
Paul McCartney
$60m (£33.8m),
Rod Stewart
with $49m (£27m),
Elton John
with $45.5m (£25.6m), Dave Matthews Band with $45m (£25.3m), Jimmy Buffett with $41m (£23m) and
Green Day
with $36.5m (£20.5m).
17 Dec 2004
Elvis Presley
's daughter Lisa Marie Presley agreed to sell 85% of his estate to businessman Robert Sillerman in a deal worth $100m. Sillerman would run Presley's Memphis home Graceland, and own Elvis' name and the rights to all revenue from his music and films. In the deal Lisa Marie would retain possession of Graceland and many of her father's 'personal effects.'
17 Dec 1999
American jazz-funk, soul-jazz saxophonist Grover Washington Jr died of a heart attack aged 56. He collapsed in the green room after taping four songs for The Early Show, at CBS Studios in New York City, He released over 20 solo albums and featured on the 1981 Bill Withers hit 'Just The Two of Us.'
17 Dec 1995
A statue of the late
Frank Zappa
was unveiled in Vilnius, the capital of the Republic Of Lithuania. It had been organised by Zappa fan club President Saulius Pauksty.
17 Dec 1994
A remixed version of The Four Seasons' "December, 1963 (Oh, What A Night)" re-entered the US Hot 100, where it stayed for another 27 weeks, just as it did when it first charted in 1976. The combined run will establish a record for the longest total chart appearance in US chart history.
17 Dec 1983
17 Dec 1982
American Delta blues musician and songwriter Big Joe Williams died in Macon, Mississippi aged 79. Wrote 'Baby Please Don't Go', a 1965 UK Top 10 for Them, (featuring Van Morrison).
17 Dec 1982
Karen Carpenter
made her last live appearance with The
Carpenters
when she delivered an intimate performance at The Buckley School in Sherman Oaks, California. Carpenter suffered from anorexia nervosa, the eating disorder which was a little-known illness at the time. She died at the age of 32 from heart failure, on February 4, 1983 caused by complications related to her illness.
17 Dec 1977
George Harrison
played an unannounced live set for the regulars at his local pub in Henley-On-Thames near his home in the UK.
17 Dec 1973
Slade were at No.1 on the UK singles chart with 'Merry Xmas Everybody' their sixth chart topper. It has been released during every decade since 1973, and has been covered by numerous artists. In a 2007 poll, 'Merry Xmas Everybody' was voted the UK's most popular Christmas song.
17 Dec 1971
David Bowie
released his fourth album Hunky Dory, which was the first to feature all the members of the band that would become known the following year as
Ziggy Stardust
's Spiders From Mars. Two singles were released from the album: 'Changes' / 'Andy Warhol' in January 1972 and 'Life on Mars' which was released late June 1973. Bowie himself considered the album to be one of the most important in his career.
17 Dec 1968
The Who
played their Xmas party at the The
Marquee Club
London. Also on the bill was a new group called Yes. Members 15 shillings, ($1.80) or £1 ($2.40) on the night. Other acts appearing at the club this month included Joe Cocker, Free and
Led Zeppelin
.
17 Dec 1963
James Carroll at WWDC in Washington, DC, became the first disc jockey to broadcast a
Beatles
record on American radio. Carroll played 'I Want To Hold Your Hand', which he had obtained from his stewardess girlfriend, who brought the single back from the UK. Due to listener demand, the song was played daily, every hour. Since it hadn't been released yet in the States, Capitol Records initially considered court action, but instead released the single earlier than planned.
17 Dec 1962
Bob Dylan
arrived in England for the first time; he played his first UK date the following night at the Troubadour Club in London.
17 Dec 1960
Returning from Hamburg,
The Beatles
appeared at the Casbah Coffee Club in Liverpool. Chas Newby joined
The Beatles
on bass guitar (to replace Stuart Sutcliffe, who had remained in Hamburg), a position he would hold for only two weeks and four performances. When Newby bowed out to return to college,
Paul McCartney
became
The Beatles
' bass player.
Born on this day in music
17 Dec 1989
Taylor York, guitarist, from American rock band Paramore, who had the 2009 UK No.1 album Brand New Eyes and their 2013 self-titled fourth studio album hit No.1 on the US chart.
17 Dec 1978
Neil Christopher, drummer, from Canadian rock band Three Days Grace. The band has a string of No.1 songs on the Billboard Alternative Songs Chart.
17 Dec 1973
Eddie Fisher, drummer and percussionist in OneRepublic who had the 2013 UK No.1 hit 'Counting Stars'.
17 Dec 1970
DJ Homicide, from American rock band Sugar Ray who had the 1999 UK No. 10 single 'Every Morning'.
17 Dec 1969
Micky Quinn, bassist from English rock band Supergrass who had the 1995 UK No.2 single 'Alright'. Their 1995 UK No.1 album I Should Coco spent 35 weeks on the UK chart.
17 Dec 1964
English rock guitarist, singer, and songwriter, Ginger Wildheart. He began his professional career as a guitarist in The Quireboys, but is best known as the founder and leader of The Wildhearts.
17 Dec 1962
Sarah Dallin, singer with British female pop group Bananarama who had the 1984 UK No.3 single 'Robert De Niro's Waiting', plus over 20 other UK Top 40 singles, and the 1986 US No.1 single 'Venus' a cover of the Dutch rock band Shocking Blue 1970 hit.
17 Dec 1959
Bob Stinson, guitarist, from American rock band The Replacements, who released the 1984 album Let It Be. Initially a punk rock band, they are considered pioneers of alternative rock. Stinson, a long-term alcoholic and drug addict, died on February 18, 1995
17 Dec 1958
Mike Mills, bass,
R.E.M.
(1991 UK No.6 & US No.10 single 'Shiny Happy People', plus over 20 Top 40 UK singles, 1992 UK No.1 & US No.2 album 'Automatic For The People').
17 Dec 1951
Wanda Hutchinson, The Emotions, (1977 US No.1 & UK No.4 single 'Best Of My Love').
17 Dec 1950
Carlton Barrett, The Wailers, (1983 UK No.4 single with
Bob Marley
, Buffalo Soldier', plus 10 other UK Top 40 singles). Barrett was shot dead outside his home on 17th April 1987.
17 Dec 1949
Paul Rodgers, singer, guitarist,
Free
, (1970 UK No.2 & US No.4 single '
All Right Now
'). Bad Company, (1974 UK No.15 single 'Can't Get Enough'). Also a member of The Firm, with
Jimmy Page
.
17 Dec 1947
American drummer Jim Hodder, Steely Dan, (1973 US No.11 single 'Reeling In The Years'). He also played drums on Linda Ronstadt's 1974 single 'You're No Good'. Hodder drowned at his home swimming pool on 5th June 1990 aged 42.
17 Dec 1943
David Dee, Dave Dee, Dozy, Beaky, Mick and Tich, (1968 UK No.1 single 'Legend Of Xanadu'). Dee died on 9th Jan 2009 at the age of 65, following a three-year battle with cancer. The singer, whose real name was David Harman, was originally a police officer and as a police cadet was called to the scene of the car crash that killed Eddie Cochrane during a UK tour in 1960.
17 Dec 1942
Paul Butterfield, blues singer, harmonica player, (1965 album 'Paul Butterfield Blues Band'). Appeared at The Bands, 'Last Waltz'. Died on 4th May 1987.
17 Dec 1939
American singer Eddie Kendricks who with The
Temptations
had the 1971 US No.1 & UK No.8 single 'Just My Imagination' and the re-issued 'My Girl' which was a UK No.2 hit in 1992. Died on 5th October 1992.
17 Dec 1937
Art Neville, vocals, piano, The Neville Brothers, who had the 1989 UK hit 'With God On Our Side'. Art was a founding member of The Meters, whose musical style represents New Orleans funk. He also played on recordings by many notable artists including Labelle (on "Lady Marmalade"),
Paul McCartney
, Lee Dorsey, Robert Palmer, Dr. John and Professor Longhair. He died on 22 July 2019 aged 81.
17 Dec 1936
English entertainer Tommy Steele. He is regarded as Britain's first teen idol and rock and roll star and had the 1957 UK No.1 single 'Singing The Blues', plus over 20 other UK Top 40 singles. The 1957 Tommy Steele Story was the first album by a UK act to reach No.1 in his native country.