December 22nd: The Biggest Music Headlines
Scroll down the page to see all the music headlines, stories and events for December 22 throughout music history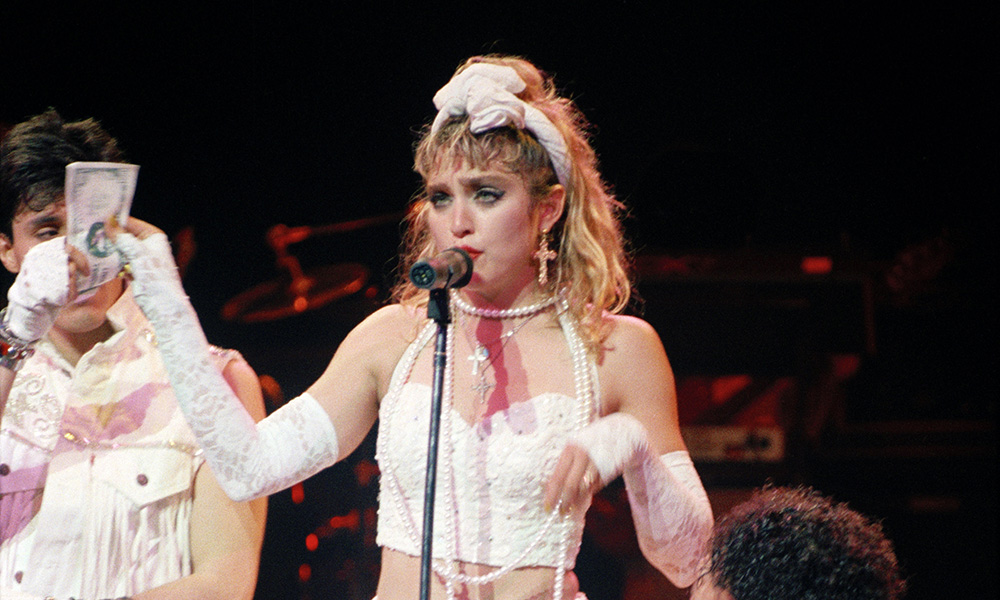 Madonna Scores Her First No.1 with 'Like a Virgin'
On this day in music, December 22, 1984, Madonna scored her first No.1 hit in the US with "Like A Virgin." Produced by Nile Rogers (co-founder of the disco group, Chic), the song held the top spot for six weeks and became a global phenomenon, landing at No.1 in Canada and Australia and peaking in the Top Five across Europe. "Like a Virgin" also served as the title track and first single from Madonna's sophomore album, though Rodgers (who produced nearly every song on the LP) pushed for "Material Girl" to lead the record. The song would become a signature hit for Madge and a cultural touchstone of the 80s.
In 1973, Elton John began a two-week run at the top of the UK album chart with Goodbye Yellow Brick Road. The LP became a sensation, thanks to such enduring hits as "Candle In The Wind," "Bennie and the Jets," and the title track.
In 2002, singer, songwriter, guitarist, and co-founder of The Clash, Joe Strummer, died at the age of 50. With the innovative political punk-rock band, Strummer released a variety of highly-influential titles, including 1979's London Calling and 1982's Combat Rock.
In 2014, Joe Cocker died at the age of 70. Ranked as one of the greatest singers of all time by the likes of MOJO and Rolling Stone, the British artist was beloved for his gritty vocals and expressive performances.
In 1967, Pink Floyd played their last major show with Syd Barrett at The Olympia in London. The star-studded event, dubbed Christmas on Earth Continued, also featured performances by The Jimi Hendrix Experience, The Who, Eric Burdon and The Animals, and Soft Machine, among others.
In 1972, nine-year-old Little Jimmy Osmond became the youngest person to have a No.1 hit in the UK with his single, "Long Haired Lover From Liverpool."
In 2010, North London's Abbey Road zebra crossing (made famous by its appearance on the Beatles' Abbey Road LP cover) was officially recognized for its "cultural and historical importance" and given Grade II status by the UK government.
Looking for more things that happened on this day in music?
Keep scrolling for all of the headlines for December 22.
BORN ON DECEMBER 22:
1944: Barry Jenkins (The Animals)
1948: Rick Nielsen (Cheap Trick)
1949: Robin and Maurice Gibb (The Bee Gees)
1968: Richard James Edwards (Manic Street Preachers)
1972: Vanessa Paradis
1989: Jordin Sparks
1993: Meghan Trainor
Looking for more artists born on this day?
Keep scrolling for all of our December 22 birthdays.
---
What to find another day?
---
December 22nd
22 Dec 2022
American singer, songwriter, record producer, and composer Thom Bell died aged 79. He was known as one of the creators of Philadelphia soul in the 1970s. He found success as a producer and songwriter for the Delfonics, Stylistics, and Spinners.
22 Dec 2021
British guitarist Robin Le Mesurier died at the age of 68. He was known for his long collaborations with
Rod Stewart
and Johnny Hallyday, as well as for the wide-ranging nature of his musical performance, including membership of such bands as The Wombles. In September 2015, Le Mesurier joined Rod Stewart and
Rolling Stone
Ron Wood
for the
Faces
reunion.
22 Dec 2020
American guitarist, vocalist, and songwriter Leslie West died age 75 after suffering a heart attack in his home near Daytona, Florida. He was a founding member and co-lead vocalist of the hard rock band Mountain that formed on Long Island, New York in 1969 and are best known for their cowbell-tinged song "Mississippi Queen", as well as the heavily sampled song "Long Red" and their performance at the
Woodstock
Festival in 1969. Mountain is one of many bands to be commonly credited as having influenced the development of heavy metal music in the 1970s. In 2011, due to complications from diabetes, West's right leg had to be amputated.
22 Dec 2016
Beyoncé
's politically charged visual album Lemonade was the music critics' favourite album of the year. The record, which tackles themes of black empowerment and female identity, topped a "poll of polls" compiled by the BBC. It beat
David Bowie
elegiac swansong Blackstar, which was released two days before his death in January.
22 Dec 2014
Joe Cocker died of lung cancer in Crawford, Colorado aged 70. The Sheffield-born singer was known for his gritty voice, spasmodic body movement in performance and definitive versions of popular songs of varying genre. Cocker had a career lasting more than 40 years, with hits including his cover of
The Beatles
' 'With A Little Help From My Friends', 'You Are So Beautiful' and 'Up Where We Belong'. He was made an OBE in 2011. In the early Sixties Cocker was performing as Vance Arnold. The name was a combination of Vince Everett,
Elvis Presley
's character in Jailhouse Rock (which Cocker misheard as Vance); and country singer Eddy Arnold.
22 Dec 2012
Marva Whitney, nicknamed by collaborator
James Brown
"Soul Sister Number 1", died from complications from pneumonia. Whitney began her music career as a child, joining her family gospel group, the Manning Gospel Singers. She toured with
James Brown
in the late Sixties.
22 Dec 2010
The Abbey Road zebra crossing in north London, made famous after appearing on a Beatles album cover was given Grade II listed status. The crossing, the first of its kind to be listed, was being recognised for its "cultural and historical importance" following advice from English Heritage.
The Beatles
were photographed on Abbey Road in Ian Macmillan's iconic cover shot for the 1969 album
Abbey Road
.
22 Dec 2009
The FBI released 333 pages of documents compiled about
Michael Jackson
between 1992 to 2005. The files revealed that they made several investigations into death threats against him made by obsessed fans, alleged inappropriate involvement between Jackson and an underage male, as well as fears that he may have become the target for terrorists.
22 Dec 2008
A cassette tape of a "drunk"
John Lennon
recording a cover version of a rock 'n' roll song sold at auction in Los Angeles for $30,000 (£20,200). The six-minute recording, made in autumn 1973, is of Lennon performing Lloyd Price's Just Because. "Debauched lyrics" improvised by "a drunk Lennon" include "just a little cocaine will set me right", and, "I wanna take all them new singers, Carol and the other one with the nipples, I wanna take 'em and hold 'em tight."
22 Dec 2006
American songwriter Dennis Linde died aged 63 from a rare lung disease. Linde wrote one of
Elvis Presley
's last major hits, 'Burning Love' and also wrote 'Goodbye Earl' for the Dixie Chicks, and 'Callin' Baton Rouge' for Garth Brooks.
22 Dec 2005
Janet Jackson
was the most-searched name during 2005 according to Google, the singer topped a list of searches with people looking for pictures from her infamous 'wardrobe malfunction' at the 2004 Super Bowl when she exposed her right breast. Wardrobe Malfunction
22 Dec 2003
The annual list of all-time music greats by the Guinness book of hit singles was again topped by Elvis Presley. The list based on the number of weeks spent on the UK singles chart looked like this; 1.
Elvis Presley
(1193), 2. Cliff Richard (1152), 3. The Shadows (771), 4.
Elton John
(623), 5.
Madonna
(606), 6. Diana Ross (560), 7.
Michael Jackson
(509), 8.
Rod Stewart
(477), 9.
The Beatles
(456) and 10.
David Bowie
(452).
22 Dec 2002
Former Clash singer and guitarist
Joe Strummer
(John Graham Mellor) died of a suspected heart attack aged 50. Scored the 1979 UK No. 11 single 'London Calling', 1982 US No. 8 single 'Rock The Casbah, 1991 UK No.1 single 'Should I Stay Or Should I Go', first released 1982, plus 15 other UK Top 40 singles.
The Clash
's London Calling album was voted best album of the 1980s by Rolling Stone magazine. Strummer was also a member of the The Mescaleros.
22 Dec 2000
Madonna
married film director Guy Ritchie at Skibo Castle, Scotland. Celebrities attending the wedding included Jon
Bon Jovi
,
Bryan Adams
, Sting and fashion designers Donatella Versace, Jean Paul Gaultier and Stellla McCartney. The couple divorced in Nov 2008.
22 Dec 1991
James Brown
launched an unsuccessful lawsuit against the producers of the movie The Commitments, claiming one of the characters too closely resembled him.
22 Dec 1987
Nikki Sixx from Motley Crue was pronounced 'dead on arrival' in an ambulance when his heart stopped beating for two minutes. Sixx was given two shots of adrenaline in his chest to revive him. Fellow band members were prematurely informed of his death.
22 Dec 1984
Madonna
started a six-week run at No.1 in the US charts with 'Like A Virgin', her first US No.1. Produced by Nile Rodgers, family groups sought to ban the song as they believed that the song promoted sex without marriage.
22 Dec 1981
At a rock & roll memorabilia auction in London, a stage suit worn by
John Lennon
sold for £2,300, a letter from
Paul McCartney
to a fan sold for £2,200 and a Perspex sculpture of John & Yoko was bought by singer
Kate Bush
for £4,200.
22 Dec 1980
Stiff Records
released an album in the UK called 'The Wit and Wisdom of Ronald Reagan.' The entire disc contained 40 minutes of silence.
22 Dec 1979
Rupert Holmes started a two week run at No.1 on the US singles chart with 'Escape, (The Pina Colada Song). His only US No.1 solo hit, a No.23 hit in the UK.
22 Dec 1973
Elton John
started a two-week run at No.1 on the UK album chart with 'Goodbye Yellow Brick Road', it also had a eight week run at No.1 on the US chart. The album contains the Marilyn Monroe tribute, 'Candle in the Wind', as well as three successful singles: 'Bennie and the Jets', 'Goodbye Yellow Brick Road', and 'Saturday Night's Alright for Fighting'.
22 Dec 1972
Little Jimmy Osmond was at No.1 on the UK singles chart with 'Long Haired Lover From Liverpool.' At nine years eight months of age it made him the youngest person to have a No.1 record, also the biggest seller of 1972.
22 Dec 1967
The
Jimi Hendrix Experience
,
Pink Floyd
,
The Who
, Keith West and Tomorrow, Eric Burdon & The Animals, 1984 (featuring future
Queen
guitarist Brian May) and Soft Machine all appeared at The Olympia, London at an all night festival 'Christmas On Earth Continued'. The DJ was
John Peel
plus the venue featured a paddling pool, light shows and a movie theatre, tickets £1.
22 Dec 1963
The Beatles
appeared at the Empire Theatre in Liverpool. This appearance was the second concert-only preview of their '
The Beatles
' Christmas Show', which would open in London in two days.
22 Dec 1962
Acker Bilk's 'Stranger On The Shore' finally dropped off the UK charts after 55 weeks. That record would stand until 1968 when Engelbert Humperdinck's 'Release Me' stayed for 56. The current record is held by
Frank Sinatra
's 'My Way', which charted for 75 non-consecutive weeks.
22 Dec 1962
The Tornadoes started a three week run at No.1 on the US singles chart with 'Telstar'. Produced and written by Joe Meek it was the first major hit from a UK act on the American chart. The record was named after the AT&T communications satellite Telstar, which went into orbit in July 1962.
22 Dec 1962
During his first visit to the UK
Bob Dylan
performed at the Singers Club in London, the singer songwriter's second UK gig.
22 Dec 1957
The Crickets
released the single 'Oh, Boy!' backed with 'Not Fade Away' in the UK which became their third Top 10 hit. 'Oh, Boy!' was originally recorded by Sonny West in the late 1950s but did not achieve commercial success. In 1964, the
The Rolling Stones
cover of 'Not Fade Away, with a strong
Bo Diddley
beat, was a major hit in Britain and was the A-side of the band's first US single.
Born on this day in music
22 Dec 1993
Meghan Trainor, American singer-songwriter who scored the 2014 world wide hit hit 'All About That Bass'. The song topped the national charts of 58 countries.
22 Dec 1991
DaBaby (Jonathan Lyndale Kirk), American rapper, singer, and songwriter. His debut studio album Baby on Baby (2019) peaked at No.7 on the Billboard Chart.
22 Dec 1989
Jordin Brianna Sparks, American pop/R&B singer, songwriter. Winner of the sixth season of American Idol, at the age of 17, making her the youngest winner of American Idol. 2008 Australian No.1 single with Chris Brown 'No Air.'
22 Dec 1984
Jonas Erik Altberg, (Basshunter), Swedish musician and DJ. (2008 UK No.1 'Now You're Gone').
22 Dec 1972
Vanessa Paradis, French singer, actress, (1988 UK No.3 single with 'Joe Le Taxi').
22 Dec 1968
Richard James Edwards, guitar, vocals with Welsh group Manic Street Preachers who had the 1992 UK No.17 single 'Theme From Mash'. Edwards disappeared on 1st February 1995, after leaving his car at a service station by The Severn Bridge, near Bristol, England.
22 Dec 1966
Danny Saber, Black Grape, (1995 UK No.8 single 'In The Name Of The Father').
22 Dec 1957
Scottish musician Ricky Ross, lead singer, songwriter, guitar, piano, with Deacon Blue who had the 1988 UK No.8 single 'Real Gone Kid', plus over 15 other UK Top 40 singles. Ross married fellow Deacon Blue singer Lorraine McIntosh on 12 May 1990. He currently presents Another Country with Ricky Ross on BBC Radio Scotland.
22 Dec 1950
Alan Williams, from English pop band The Rubettes who had the 1974 UK No.1 single 'Sugar Baby Love'.
22 Dec 1949
Robin and
Maurice Gibb
, The
Bee Gees
singers, songwriters, producers, Robin was the eldest by 1 hour. (1967 UK No.1 single 'Massachusetts', 1978 UK & US No.1 single 'Night Fever', over 30 UK Top 40 hits and 9 US No.1's over 4 decades). Maurice died on 12th January 2003 of a heart attack. Robin died of cancer aged 62 on 20 May 2012.
22 Dec 1948
Rick Nielsen, singer, guitarist from American rock band, Cheap Trick, who had the 1979 hit single 'I Want You To Want Me', and the 1988 US No.1 single 'The Flame'.
22 Dec 1944
Barry Jenkins, drummer in The Animals who had the 1964 UK & US No.1 single 'House Of The Rising Sun'. He was also a member of The Nashville Teens who scored the 1964 UK No.6 single and US Top 20 hit 'Tobacco Road'.
22 Dec 1939
James Gurley, guitarist with Big Brother and the Holding Company who with
Janis Joplin
had the 1971 US No.1 single 'Me And Bobby McGee', and the 1971 US No.1 album Pearl. Gurley died on December 20, 2009, from a heart attack two days before his 70th birthday.
22 Dec 1938
Brian Locking the bassist with The Wildcats in 1956 and The Shadows, between 1962 and 1963. During his time with the Shadows he appeared with Cliff Richard in the musical film Summer Holiday. Locking also toured as a session player with artist's including Gene Vincent, Eddie Cochran and Joe Brown, as well as Conway Twitty and Brenda Lee. He died on 8 October 2020.