February 1st: The Biggest Music Headlines
Scroll down the page to see all the music headlines, stories, and events for February 1 throughout music history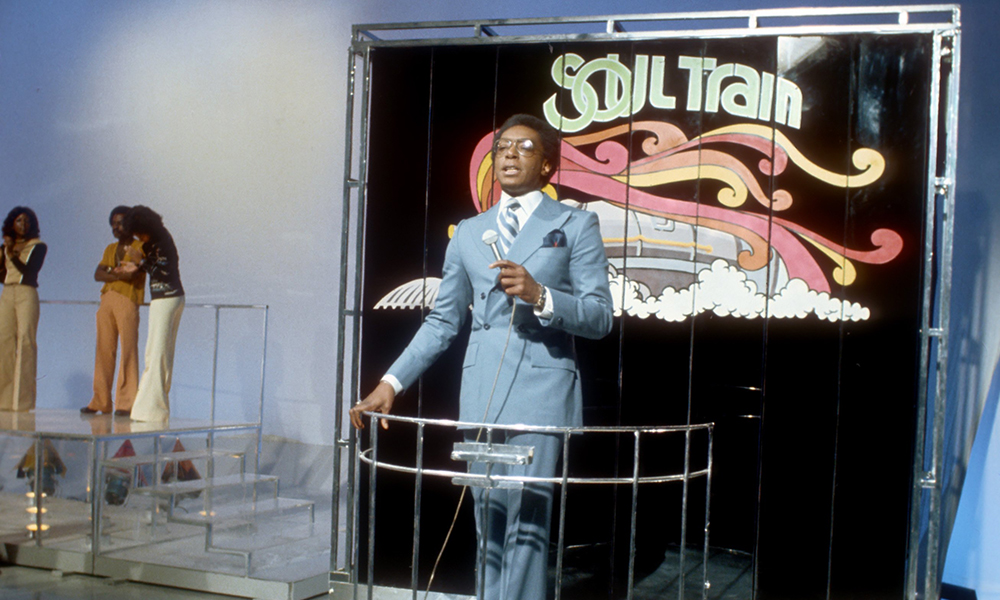 'Soul Train' Creator Don Cornelius Dies
On this day in music, February 1, 2012, Don Cornelius, the creator and host of the long-running US series, Soul Train, died at age 75. Cornelius launched the show in 1970, paving the way for more African-American representation on television and giving many Black musicians valuable exposure to larger audiences. During its 35 years in syndication, Soul Train featured countless artists and celebrities: from Eddie Kendricks, Little Richard, and The Jackson 5 to Village People, The O'Jays, and New Edition.
In 1967, The Beatles began working on Sgt. Pepper's Lonely Hearts Club Band in London's Abbey Road Studios. After recording the song, which introduces a variety of fictional alter-egos, Paul McCartney decided that it should become the title track of their eighth studio album, which was released in May 1967.
In 1986, music publisher Dick James died of a heart attack. The British publisher and singer founded the Dick James Music (DJM) record label and established Northern Songs Ltd. with Brian Epstein to publish John Lennon and Paul McCartney's songs. In 1967, he took a chance and signed two young unknown songwriters: Elton John and Bernie Taupin.
In 1995, Manic Street Preachers guitarist Richey Edwards disappeared. After leaving London's Embassy Hotel around 7 am, Edwards left behind no clues of his whereabouts, aside from a packed suitcase in his hotel room. While his car was found outside Bristol sixteen days later, Edwards has never been found. He was officially declared dead in November 2008.
In 1980, Blondie released "Call Me," which served as the theme to the 1980 film, American Gigolo. Written and produced by disco pioneer Giorgio Moroder, the song was first intended to be performed by Stevie Nicks, who turned down the opportunity due to contractual obligations. Blondie frontwoman Debbie Harry certainly did not disappoint, however. The song held the top spot on Billboard's Hot 100 chart for six consecutive weeks, becoming the band's biggest single and earning them a gold record later that year.
In 1964, The Beatles kicked off a seven-week run at the top of the Billboard Hot 100 with "I Want To Hold Your Hand." The Lennon-McCartney composition not only marked the first Beatles song to be recorded using four-track equipment, but also marked the band's first No.1 single in the US.
Looking for more things that happened on this day in music?
Keep scrolling for all of the headlines for February 1.
BORN ON FEBRUARY 1:
1937: Don Everly (Everly Brothers)
1948: Rick James
1968: Lisa Marie Presley
1969: Patrick Wilson (Weezer)
1975: Big Boi (Outkast)
1994: Harry Styles
Looking for more artists born on this day?
Keep scrolling for all of our February 1 birthdays.
---
What to find another day?
---
February 1st
1 Feb 2020
Andy Gill, the founding member and guitarist of British post-punk band Gang Of Four, died aged 64. The musician's scratchy, staccato riffs provided the band with their signature sound, and influenced the likes of
Nirvana
, Fugazi and Franz Ferdinand. He also produced albums for artists such as the Red Hot Chili Peppers, The Stranglers,
Michael Hutchence
and Killing Joke.
1 Feb 2015
The University of Oklahoma's newspaper OU Daily ran a story regarding Jack White's tour rider. The rider which included a very strict recipe for guacamole and White's ban of bananas backstage, received nationwide media coverage. White later released an open letter addressed to "journalists and other people looking for drama or a diva" in which he referred to the guacamole recipe as his tour manager's "inside joke with local promoters" and "just something to break up the boredom" and the ban of bananas being alluded to food allergies of an unnamed tour member.
1 Feb 2014
A new report found that about two-thirds of people were left with ringing in their ears after a night out at a club, gig or pub. Campaign group Action on Hearing Loss said the poll of 1,000 adults also showed a third would ignore the "safe level" on their music players.
1 Feb 2013
American singer, songwriter and record producer Cecil Womack died of unknown causes in Johannesburg, South Africa aged 65. He had success both as a songwriter and recording artist, notably with his wife Linda as Womack & Womack. In 1988, their single 'Teardrops', taken from their fourth album Conscience, became a major international hit selling over 10 million copies worldwide. His best-known song 'Love T.K.O.' has been recorded by many artists, including Teddy Pendergrass, Boz Scaggs, Bette Midler and Michael McDonald.
1 Feb 2013
Coldplay
's 'Clocks' topped a list by BBC Radio 6 Music's top 100 tracks of the past 10 years. More than 100,000 votes were cast in the poll which looked back over the 10 years since the station began in 2002. Arctic Monkeys' 'I Bet You Look Good On The Dancefloor' was voted into second place, and Elbow's 'One Day Like This' in third.
1 Feb 2012
Don Cornelius, the host of US TV's Soul Train, (from 1971 until 1993), who helped break down racial barriers and broaden the reach of Black culture, died. Police officers responded to a report of a shooting at 12685 Mulholland Drive and found Cornelius with an apparent self-inflicted gunshot wound to the head. He was 75.
1 Feb 2009
Bruce Springsteen
started a two week run at No.1 on the UK album chart with 'Working on a Dream' his 16th studio album.
1 Feb 2008
US space agency Nasa announced that 'Across the Universe' by
The Beatles
was to become the first song ever to be beamed directly into space. The track would be transmitted through the Deep Space Network - a network of antennas - on the 40th anniversary of the song being recorded, being aimed at the North Star, Polaris, 431 light-years from Earth. In a message to NASA,
Paul McCartney
said the project was an "amazing" feat."Well done, Nasa," he added. "Send my love to the aliens. All the best, Paul."
1 Feb 2001
A collection of Sir
Elton John
's private photos on display at a museum in Atlanta were withdrawn. The exhibition, which included snaps of nude men, was said to be too explicit, some school trips to the museum had been cancelled.
1 Feb 1999
American musician and composer Julius Wechter died. He composed the song 'Spanish Flea' for Herb Alpert and was leader of The Baja Marimba Band. As a session musician he worked for the likes of
The Beach Boys
, Sonny and Cher and various Phil Spector productions. His vibraphone solo work is featured on the Beach Boys' acclaimed album,
Pet Sounds
('Let's Go Away for Awhile'). He died of lung cancer a day after his song 'Spanish Flea' was used in the Simpsons episode Sunday, Cruddy Sunday.
1 Feb 1999
Four hundred people were injured at an Australian concert by Marilyn Manson when he stormed off stage after being bombarded with missiles and abuse at the show in Perth. One of Manson's guitar technicians needed treatment for cuts to his head.
1 Feb 1995
Richey Edwards
guitarist with the Manic Street Preachers vanished leaving no clues to his whereabouts. He left The Embassy Hotel in London at 7am, leaving behind his packed suitcase. His car was found on the Severn Bridge outside Bristol, England sixteen days later. Edwards has never been found, despite constant searching, and in November 2008 he was declared officially dead.
1 Feb 1992
George Michael
and
Elton John
went to No.1 on the US singles chart with 'Don't Let The Sun Go Down On Me', also a No.1 in the UK. All proceeds from the single went to Aids charities.
1 Feb 1989
Paul Robi from The Platters died of cancer. UK & US No.1 single 'Smoke Gets In Your Eyes'. Robi left The Platters in the early 60s being replaced by Nate Nelson from the Flamingos.
1 Feb 1986
Music publisher Dick James died of a heart attack aged 65. Worked with many UK 60s acts including
The Beatles
. James signed
Elton John
and his lyricist Bernie Taupin as unknown artists in 1967 and was the founder of the DJM record label.
1 Feb 1980
Blondie
released 'Call Me', the main theme song of the 1980 film American Gigolo. It peaked at No. 1 for six consecutive weeks, and became the top-selling single of the year in the United States in 1980.
1 Feb 1979
Sex Pistols
bassist Sid Vicious was released on bail after attacking Todd Smith, singer Patti Smith's brother, at a Skafish concert. John Lydon has since stated that
Mick Jagger
stepped in and paid for the lawyers for Vicious.
1 Feb 1975
Neil Sedaka had his second US No.1 single with 'Laughter In The Rain', over 12 years after his last chart topper 'Breaking Up Is Hard To Do'.
1 Feb 1972
Chuck Berry
had his first UK No.1 single with a live recording of a song he'd been playing live for over 20 years 'My Ding-a-Ling'. UK public morality campaigner Mary Whitehouse attempted to have the song banned due to its innuendo-laden lyrics. The Average White Band members guitarist Onnie McIntyre and drummer Robbie McIntosh played on the single.
1 Feb 1969
Tommy James and the Shondells started a two week run at No.1 on the US singles chart with 'Crimson And Clover', the group's second and last No.1. Billy Idol had a 1987 US No.1 with 'Mony Mony' a No.3 hit for Tommy James in 1968.
1 Feb 1967
1 Feb 1967
Pink Floyd
spent the day recording parts for the
Syd Barrett
songs 'Arnold Layne' and 'Candy And A Current Bun' at Sound Techniques Studios, Chelsea, London. Floyd also turned professional on this day after signing a deal with EMI Records.
1 Feb 1965
At the Arthur Smith Studios in Charlotte, North Carolina,
James Brown
recorded 'Papa's Got A Brand New Bag', which will reach No.8 on the Billboard Pop chart and No.1 on the R&B chart the following August and later win a Grammy Award for Best Rhythm and Blues Recording.
1 Feb 1964
The Beatles
started a seven week run at No.1 on the US singles chart with 'I Want To Hold Your Hand', the first US No.1 by a UK act since The Tornadoes 'Telstar' in 1962 and the first of three consecutive No.1's from the group.
1 Feb 1949
RCA Records issued the first ever 45rpm single, the invention of this size record made jukeboxes possible.
Born on this day in music
1 Feb 1994
Harry Styles from English-Irish pop boy band One Direction who formed after finishing third in the seventh series of The
X Factor
in 2010. Scored the 2011 UK No.1 single 'What Makes You Beautiful' and the 2013 No.1 'One Way or Another (Teenage Kicks)'. His self-titled debut solo album (2017) debuted at No.1 in the UK and the US and his second album, Fine Line (2019), debuted atop the US Billboard 200 with the biggest ever first-week sales by an English male artist. Styles has received various accolades, including two Brit Awards, a Grammy Award, an Ivor Novello Award, and three American Music Awards.
1 Feb 1990
British folk singer-songwriter Laura Marling. She won the Brit Award for Best British Female Solo Artist at the 2011 Brit Awards. Her sixth record, Semper Femina, was nominated for a Grammy Award in the Best Folk Album category.
1 Feb 1985
Swedish songwriter, record producer and musician, Shellback who was listed as the No.1 producer of 2012 on Billboard magazine's year end chart. With songwriter Max Martin he has produced, written and/or co-written songs for
Taylor Swift
, Usher,
Pink
, Lily Allen, Carrie Underwood ,Adam Lambert, Maroon 5, Avril Lavigne,
Adele
and other artists.
1 Feb 1975
Big Boi, (Antoine Patton), Outkast, US rapper who had the 2001 US No.1 & UK No.2 single 'Ms Jackson' and the 2004 US No.1 single 'Hey Ya'.
1 Feb 1971
Ron Welty, drummer from American punk rock band The Offspring, who had the 1999 UK No.1 single 'Pretty Fly, (For A White Guy)', and the 1999 US No.6 & UK No.10 album Americana.
1 Feb 1969
Patrick Wilson, drummer with American alternative rock band Weezer who had the 1995 UK No.12 single, '
Buddy Holly
'.
1 Feb 1968
Lisa Marie Presley, daughter of
Elvis Presley
. Also known as the "Princess of Rock and Roll." She married
Michael Jackson
in 1994, and separated on 10th December 1995. She was also married to actor Nicolas Cage. Lisa Marie had the UK No.16 single 'Lights Out'.
1 Feb 1957
Dennis Brown, reggae singer, who had the 1979 UK No.14 single 'Money In My Pocket'. He died on July 1st 1999.
1 Feb 1950
Mike Campbell, guitarist with
Tom Petty
and the Heartbreakers who had the 1977 single 'American Girl', the 1989 UK No.28 single 'I Won't Back Down', and the 1991 UK No.3 album 'Into The Great Wide Open'. Campbell has also worked with
Bob Dylan
,
Johnny Cash
,
Fleetwood Mac
, Roger McGuinn, Tracy Chapman, Warren Zevon,
George Harrison
and Stevie Nicks.
1 Feb 1948
Rick James, US singer who scored the 1981 US No.3 album 'Street Songs', and the 1981 US No 16 single 'Super Freak part 1'. James was found dead at his Los Angeles home on 6th August 2004.
1 Feb 1947
Normie Rowe, singer, biggest solo star of Australian pop in the Sixties, who in 1965 had the Australian No.1 single 'Que Sera Sera' which spent 11 weeks at the top of the charts.
1 Feb 1939
Joe Sample, keyboards with The Crusaders who had the 1979 UK No.5 single 'Street Life'.
1 Feb 1938
Jimmy Carl Black, drummer who worked with
Frank Zappa
on his 1970 UK No.9 album Hot Rats. Black died on 1st Nov 2008.
1 Feb 1937
American singer, songwriter Don Everly, from The Everly Brothers who had the 1958 UK & US No.1 single 'All I Have To Do Is Dream'. Other hits include: 'Wake Up Little Susie,' 'Bird Dog,' 'Cathy's Clown,' 'Walk Right Back' and 'Crying in the Rain'. The music of the Everly Brothers influenced
The Beatles
who based the vocal arrangement of 'Please Please Me' on 'Cathy's Clown. Everly, the surviving member of the rock 'n' roll duo died on 21 August 2021 at the age of 84.
1 Feb 1937
Ray Sawyer, singer, songwriter with American rock band Dr Hook who had the 1970s hits 'The Cover of Rolling Stone', 'A Little Bit More', 'When You're in Love with a Beautiful Woman' and 'Sylvia's Mother'. Sawyer died on 31 December 2018 aged 81.
1 Feb 1934
Bob Shane from The Kingston Trio who had the 1958 US No.1 & UK No.5 single 'Tom Dooley' plus nine other US Top 40 hits. He died on January 26, 2020.
1 Feb 1928
American singer Debbie Dean who was the first white solo artist to record for
Motown
. She went on to work with The
Supremes
, Temptations, Smokey Robinson, Martha and the Vandellas, Edwin Starr, and other Motown artists. She died on February 17, 2001.