February 17th: The Biggest Music Headlines
Scroll down the page to see all the music headlines, stories, and events for February 17 throughout music history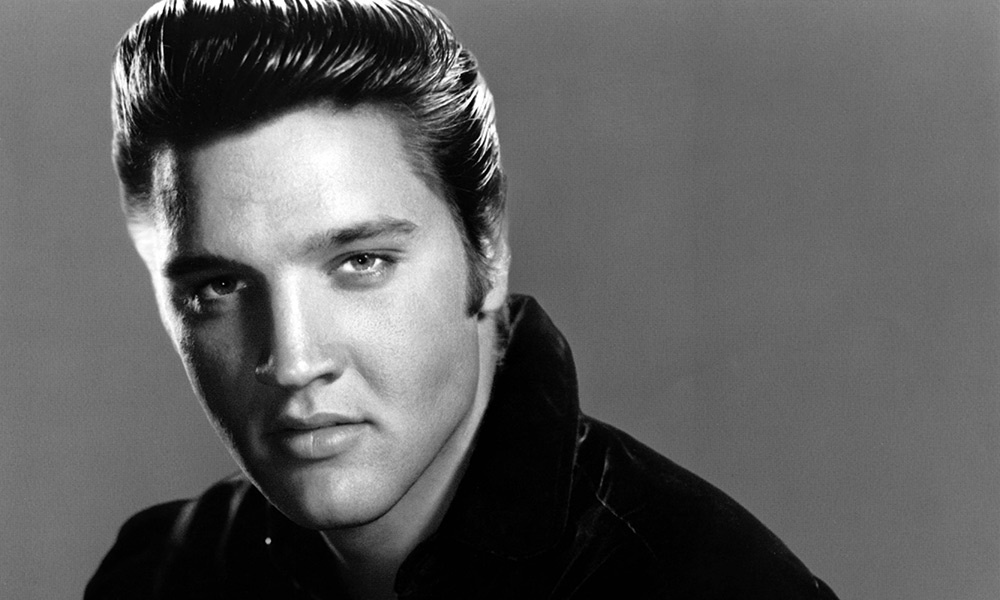 Elvis Presley Earns Gold Record For Self-Titled Album
On this day in music, February 17, 1960, Elvis Presley earned his first Gold record for an album, weeks before his discharge from the US Army. The plaque celebrated his self-titled second studio album, which was originally released in October 1956. Featuring three Little Richard covers (including "Long Tall Sally" and "Rip It Up"), several new country ballads, as well as the hits "Love Me" and "Paralyzed," Elvis spent four weeks at the top of the Billboard albums chart, making Presley the first artist to have two albums reach No.1 in the same year.
In 1975, AC/DC released their debut studio album, High Voltage in Australia only. Recorded in November 1974 at Sydney's Albert Studios, the LP offered a glimpse into the band's early glam-rock influences. Nearly two years later, the Aussie group released an identically-titled international debut, which had a very different tracklist and showcased the hard rock sound they settled into.
In 1978, British singer-songwriter Kate Bush released her debut album, The Kick Inside, via EMI Records. Lead single "Wuthering Heights" peaked at No.1 in the UK, remaining at the top for four weeks and making Bush the first female artist in the UK to write a No.1 hit. Produced by Andrew Powell and David Gilmour, the album was also a rousing success, landing at No.3.
In 1971, singer-songwriter James Taylor made his TV debut with an appearance on The Johnny Cash Show, where he performed "Sweet Baby James," "Country Road," and his No.1 hit, "Fire and Rain."
In 1989, Whitesnake frontman David Coverdale married actress and model Tawny Kitaen. Kitaen famously starred in several of the British hard rockers' music videos, including an iconic appearance in 1987's "Here I Go Again," where she danced and cartwheeled atop two Jaguar XJs. The couple divorced in 1991.
Looking for more things that happened on this day in music?
Keep scrolling for all of the headlines for February 17.
BORN ON FEBRUARY 17:
1941: Gene Pitney
1950: Rickey Medlocke (Lynyrd Skynyrd)
1972: Billie Joe Armstrong (Green Day)
1972: Taylor Hawkins (Foo Fighters)
1981: John Hassall (The Libertines)
1988: Arin Ilejay (Avenged Sevenfold)
1991: Ed Sheeran
Looking for more artists born on this day?
Keep scrolling for all of our February 17 birthdays.
---
What to find another day?
---
February 17th
17 Feb 2020
American blues piano player and singer Henry Gray died age 95. He performed with many artists, including Robert Lockwood Jr., Billy Boy Arnold, Morris Pejoe,
The Rolling Stones
, Muddy Waters, and Howlin' Wolf. He released over 60 albums including recordings for Chess Records.
17 Feb 2014
American musician and sound engineer Bob Casale, best known as a guitarist and keyboardist in the new wave band Devo died of heart failure in Los Angeles, California. He engineered the first solo album for Police guitarist, Andy Summers.
17 Feb 2008
British soul singer Duffy started a five week run at No.1 on the UK singles chart with 'Mercy', from the Welsh singers debut album 'Rockferry'. 'Mercy' was the UK'S best selling single of 2008, and won Duffy a Grammy for Best Female Pop Vocal Performance.
17 Feb 2005
A 1965 Fender Stratocaster guitar belonging to
Jimi Hendrix
sold for £100,000 at an auction in London. Other Hendrix items sold included a poem written two weeks after his appearance at the
Monterey Pop Festival
which went for £10,000 and the first
Jimi Hendrix Experience
's single 'Hey Joe', signed by all the band sold for £2,000.
17 Feb 2005
Scottish rockers Franz Ferdinand made music history after taking two top prizes at the NME Awards. The band, who won best album and best single, became the first act ever to win the Mercury Music Prize, Brit Awards and NME awards in the same year.
17 Feb 2004
Prosecutors in the murder case of producer Phil Spector demanded that a fingernail overlooked by police investigating Lana Clarkson's shooting should be put forward as evidence. They claimed the fingernail, blackened with gunpowder, could indicate that the 40-year old actress killed herself at Spector's Los Angeles mansion. Spector, had denied murdering Clarkson.
17 Feb 2003
The man behind the Backstreet Boys and *NSYNC was being investigated over complaints that aspiring stars paid $1,500 (£882) to feature on his website. Lou Pearlman was accused by Florida authorities of getting young actors and models to pay upfront to appear on his Trans Continental company's website by saying he would also help them to find work.
17 Feb 2000
John Lennon
's Steinway piano, on which he composed '
Imagine
', went on display at the Beatles Story Museum in Liverpool, England. The piano was set to be auctioned on the Internet later in the year and was expected to fetch more than £1 million ($1.7 million).
17 Feb 1996
A Platinum American Express card once belonging to
Bruce Springsteen
was sold for $4,500 (£2,650) at a New York memorabilia sale. The singer had given the expired card to a waiter in a LA restaurant by mistake and let them keep it as a souvenir.
17 Feb 1989
David Coverdale married actress Tawny Kitaen (known for her provocative appearances in Whitesnake's music videos 'Here I Go Again, 'Is This Love' and 'Still of the Night'). The couple divorced in 1991.
17 Feb 1979
Blondie
scored their first UK No.1 album when 'Parallel Lines' started a four-week run at the top of the charts, featuring the singles 'Heart Of Glass', 'Hanging On The Telephone' and 'Sunday Girl.'
17 Feb 1979
The Clash
opened the US leg of their 'Pearl Harbour '79', North American tour at New York's Palladium.
17 Feb 1978
Kate Bush
released her debut studio album The Kick Inside which contained her UK number one hit, 'Wuthering Heights', (marking the first time a female singer-songwriter topped the charts with a self-penned song). Bush was just 19 years old and had written some of the songs when she was only 13.
17 Feb 1975
AC/DC
released their debut album 'High Voltage'. The album featured a cover of 'Baby, Please Don't Go' a blues song first recorded by Big Joe Williams and 'She's Got Balls' which was written about singer
Bon Scott
's ex-wife Irene - the first
AC/DC
song for which he wrote lyrics.
17 Feb 1971
James Taylor made his TV debut on The
Johnny Cash
Show. Other guests included
Neil Young
, Linda Ronstadt and Tony Joe White.
17 Feb 1969
Bob Dylan
and
Johnny Cash
recorded 'Girl From The North Country' together in Nashville at CBS Studios. The track appeared on Dylan's 'Nashville Skyline' album.
17 Feb 1967
The Beatles
started recording a new
John Lennon
song
'Being For The Benefit Of Mr Kite'
at Abbey Road studios, London. John's lyrics for the song came almost entirely from an antique poster advertising a circus performance scheduled to take place in Rochdale, Lancashire, in February 1843. John had purchased the poster in Sevenoaks on January 31 while
The Beatles
were on location for the filming of the 'Strawberry Fields Forever' promotional film.
17 Feb 1966
Nancy Sinatra was at No.1 on the UK singles chart with 'These Boots Are Made For Walking', Frank's eldest daughters first No.1. Written by Lee Hazlewood Sinatra's recording of the song was made with the help of Los Angeles session musicians known as the Wrecking Crew.
17 Feb 1960
Elvis Presley
won his first Gold record for his second studio album 'Elvis'. It spent four weeks at No.1 on the Billboard Top Pop Albums chart, making Presley the first recording artist to have both albums go straight to No.1 in the same year.
Born on this day in music
17 Feb 1991
Ed Sheeran
, British singer, songwriter. In 2012, he won two BRIT Awards for Best British Male Solo Artist, and British Breakthrough of the Year, while 'The A Team' also won the Ivor Novello Award for Best Song Musically and Lyrically. Also won Best Song of the Year at the 2016 Grammys for 'Thinking Out Loud'.
17 Feb 1988
Arin Ilejay, American drummer of Avenged Sevenfold, who had the 2010 US No.1 album Nightmare and the 2013 US No.1 album Hail to the King.
17 Feb 1981
John Hassall, bassist with English group The Libertines who had the 2004 UK No.1 album The Libertines.
17 Feb 1981
Paris Hilton, American socialite, singer, actress and fashion model. Heiress to a share of the Hilton Hotel fortune, featured in the reality TV series, The Simple Life. Had the UK No.5 and US No.18 single 'Stars Are Blind', from her debut album 'Paris' released in 2006.
17 Feb 1976
Svein Berge, Norwegian electronic musician who makes up half of the duo Röyksopp. Berge has done several remixes for other artists, amongst them artists like
Coldplay
, Lady Gaga, Depeche Mode and Beck.
17 Feb 1972
Taylor Hawkins, American drummer, who worked with
Alanis Morissette
as her touring drummer on her Jagged Little Pill tour. He joined
Foo Fighters
in 1997, and had a side project, Taylor Hawkins and the Coattail Riders, in which he played drums and sings. He was voted Best Rock Drummer in 2005 by the UK drumming magazine Rhythm. At Live Earth in 2007, Hawkins was part of SOS Allstars with Roger Taylor of
Queen
and Chad Smith of
Red Hot Chili Peppers.
Hawkins died on 25 March 2022 age 50 in Bogota, Colombia, where he was set to perform with the Foo Fighters headlining set at Lollapalooza Brazil.
17 Feb 1972
Billie Joe Armstrong, American singer, songwriter, musician, guitarist, multi-instrumentalist, and actor with
Green Day
who had the 1995 UK No.7 single with 'Basket Case'. Their 1994 album Dookie has sold over 10 million copies and they were the Top Modern Rock Act in the US in 1995. Armstrong is also a member of the punk rock band Pinhead Gunpowder and provides lead vocals for
Green Day
's side projects Foxboro Hot Tubs and The Network.
17 Feb 1950
Rickey Medlocke, American musician best known as the frontman/guitarist for the southern rock band Blackfoot and a member of Lynyrd Skynyrd. During his first stint with Lynyrd Skynyrd from 1971-1972 he played drums and sang lead on a few songs that would initially be released on 1978's 'First and Last'. Medlocke would rejoin Blackfoot in 1972 and later returned to Lynyrd Skynyrd in 1996 as a guitarist.
17 Feb 1941
Packy Axton, American rhythm and blues tenor saxophone player and bandleader, who was a member of the Mar-Keys and later the Packers. The Mar-Keys and had a major hit with 'Last Night' in 1961. Axton also worked with
Otis Redding
. He died on 20 January 1974.
17 Feb 1941
Gene Pitney, singer, who had the 1962 US No.4 single 'Only Love Can Break A Heart'. Also scored the 1967 solo UK No.5 & 1989 UK No.1 single with Marc Almond 'Something's Gotten Hold Of My Heart', plus over 15 other US & UK Top 40 hits. Pitney was found dead aged 65 in his bed in a Cardiff hotel on 5th April 2006. The American singer was on a UK tour and had shown no signs of illness.
17 Feb 1936
English actor and singer John Leyton, who had the 1961 UK No.1 single 'Johnny Remember Me', despite being banned by the BBC for its death references. His follow-up single, 'Wild Wind, reached No.2 in the charts. His films include an appearence in the 1963 American epic war film The Great Escape starring Steve McQueen and James Garner.
17 Feb 1933
American rock and roll and rhythm and blues singer Bobby Lewis, known for his 1961 US No.1 single 'Tossin' and Turnin'. Lewis died on 28 April 2020, aged 95, after contracting pneumonia.
17 Feb 1905
American singer and bassist Orville 'Hoppy' Jones, who with the Ink Spots, had the 1955 UK No.10 single 'Melody Of Love'. He Died 18th October 1944.