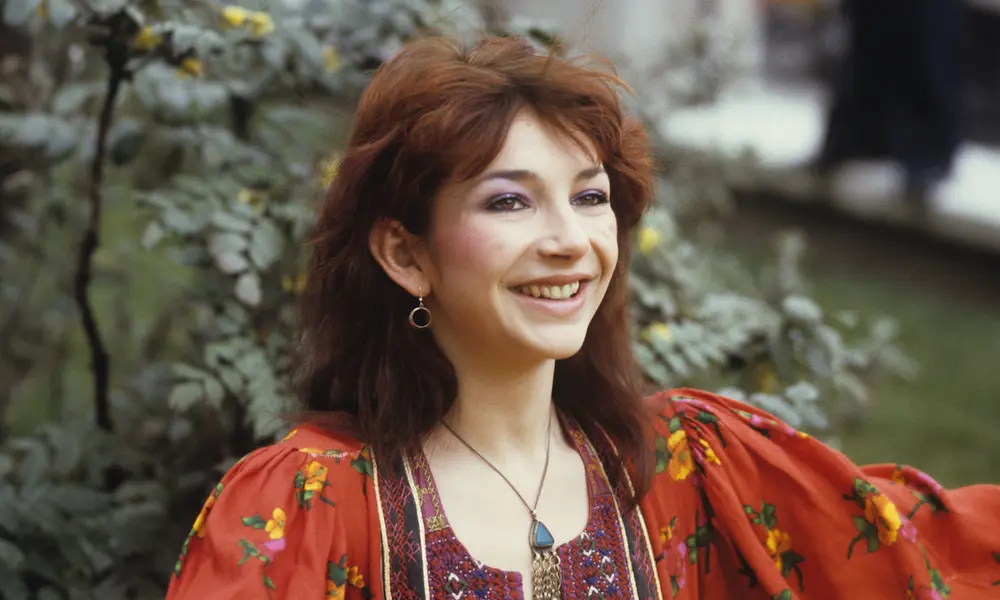 This is an extract from Under The Ivy: The Life & Music of Kate Bush by Graeme Thomson, published by Omnibus Press in 2010.
In recent years the notion of Kate Bush as a genius has rarely been disputed. In 2006, viewers of BBC 2's Culture Show voted her seventh in a poll to find the top ten living British icons. 50 Words For Snow certainly proved that she has no need to rest on former glories, but it's also true that as an icon, as an idea, Bush is in that rare and strange position where what she represents now overshadows the actual music. Her life is in her work, but her work exists beyond her, is greater than her.
Her influence certainly reaches far beyond the parameters of pop music, encompassing fashion (designer Greg Myler used her shifting styles as the bedrock of his 2005 Milan fashion show), numerous visual artists, comedians, film-makers and writers; David Mitchell, author of Cloud Atlas, recently wrote passionately about his fandom. In her own specific field, through each of her absences her reach simply seems to grow and grow, across generations and genres.
Countless dance acts have sampled or covered her songs, among them Utah Saints, E-Clypse and Blue Pearl, and she has also penetrated urban music. Aside from Prince, Tupac Shakur was a fan, US nu-soul singer Maxwell did unspeakable things to 'This Woman's Work', while OutKast's Big Boi is a raving devotee who has consistently haggled for a collaboration which has, sadly, yet to emerge. Guitar bands seem equally in her thrall. Among many others, Futureheads had a Top 10 hit in 2005 with 'Hounds Of Love', Placebo covered 'Running Up That Hill', and the Decemberists have played 'Wuthering Heights' in concert many times.
Since the emergence of Toyah Wilcox, and later Tori Amos, it has been de rigueur for virtually every young female artist to either cover Bush's songs, cite her as a heroine or be compared to her. Fiona Apple, Bat For Lashes, Lily Allen, Kathryn Williams, Lady Gaga, Florence + The Machine, MPHO, Charlotte Church, Joanna Newsom, La Roux – the list rolls on and on; in 2010 Little Boots posted a stripped down version of 'Running Up That Hill' on YouTube.
Some are fine artists, but the similarities with Bush often amount to little more than a smattering of external eccentricities and what is usually defined, rather vaguely and perhaps chauvinistically, as 'kookiness'. Although Bush has made no attempt to engage with – or apparently even listen to – these acts, she is still regarded as the grande dame of arty outsiders the world over. Yet the people she is often said to have most in common with rarely sound anything like her. But then who does? Before Kate Bush, there was no Kate Bush. She is sui generis. There are only a few comparisons that make sense, and they are all about a certain shared sensibility rather than a look or a sound. Never mind Bjork. How about Roald Dahl, Terry Gilliam, Tim Burton, Philip Pullman, Mark Hollis and perhaps Scott Walker: inimitable individualists who paint vivid pictures and work in the realm of dark imagination, sly humour and deep emotion; who inhabit lands that belong to neither the adult or the child; or rather, belong to both.
David Bowie may well be the most useful point of musical comparison. Crucially, like Bush, he has always been unafraid to make himself seem ridiculous for a good cause. But although Bowie is ultimately a more comfortable and accomplished pop star than Bush – with thicker skin, better at finding the art in the artifice and quicker on the draw – he never quite defeated his acute self-awareness; with Bowie there is always a pose, always a façade. His music is a beautiful fabrication.
Bush takes us somewhere else, somewhere deeper. She theatrically embodies and exaggerates numerous personality traits, but only in order to get to the heart of what makes us all tick. Despite the dressing up and dancing, there is no trace of affectation in her music. It's a very inquisitive, giving, quixotic thing which in the end has nothing to do with the teachings of Gurdjieff, or Sufi mysticism, or Peter Pan, or Lindsay Kemp, or the films of Michael Powell, or Jay's poems. There is no need to join every dot, or explain every reference. That is a game for those who can't trust their own responses without first looking for an intellectual hook on which to hang it. Kate Bush is all about emotion: the things she uses to get to those emotions aren't necessarily important. You either hear it and feel it – and trust what you're hearing and feeling – or you don't.
She is not a pop star, a fact which may only now be becoming truly clear. She just happened for a long time to make what we broadly describe as pop music the vehicle for her creativity. Who is she? "A writer, I suppose." "That's what I started doing when I was a little girl," she said. "That's what turned me on, that's the buzz: writing a story." At her best, she is our greatest poet of the senses and the psyche. "With a mind that renders everything sensitive," she once sang. "What chance do I have here?" She brings to life every twitch, every neurosis, every love, every tingle, every ache, every muscle, every unseen demon, every remembered angel, every recalled taste and smell through her music. At her worst, of course, she can be painfully sincere, naïve, twee, shrill, ridiculous and rather clumsy, but it has proved a price worth paying.
Over 10 albums she had tried to resensualise the human experience, to break down the barriers between the heart and the mind, the body and the spirit, the living and the dead, the sea and the sky, winter and summer. The thought often occurs that she gives her fans very little back in return for their endless patience, yet they remain incredibly loyal because on some level they recognise the depth of her music, how much goes into it and how much she reveals of herself.
It's a generous gift from such an otherwise determinedly concealed individual. As Bowie once noted, "It's not great for a writer to find [themselves as] the centre of attention." Her intensely private nature is not a fiction, but it has perhaps been misinterpreted. There are many stars who appear more regularly in public than Bush who live considerably more reclusive, fearful lives, and the idea of her eking out a remote, witchy existence is a nonsense which now finally seems to be accepted as such. Away from the spotlight she genuinely seems to enjoy the kind of true stability with her partner and her son that doesn't require outside validation. She does normal things. She socialises, stays in touch, via phone and email, she is very responsive and generally available to those who she trusts, by all accounts a loyal and often very generous friend.
She could be forgiven at looking out at the Jordans, the Brangelinas, the Mariah Careys, Madonnas and Lady Ga Gas and shouting, 'It's not me that's mad'. In one sense she has clearly been the victim of our distorted view of how celebrities should behave; her quiet normality has been turned into something grotesque, primarily due to a popular press that is unable and unwilling to cope with a woman who has consistently refused to play the PR game and which as a result ridicules, exaggerates and demeans her eccentricities.
But her although she is at pains to emphasise how ordinary her everyday life is, it's hard not to conclude – weighing up the lengthy silences and her now seemingly habitual refusal to support her music publicly as a living, breathing, walking, talking human being – that at some level Bush has been wounded by the experience. Has she been cursed with fame? "I've thought about that a lot, because I was so proud of signing her and not letting her go into the studio, and so I was obviously somewhat conscious of that," says [former EMI CEO] Bob Mercer. "But to be honest, no. I think Kate is Kate, and fame didn't crack her at all – the demands, yes, but that's because of the way she is. But Kate has had the career that she would have liked to have had."
As a woman who has always fought to control every aspect of her art, it would be foolish to expect her to then cede control of her life. Fame can arrive so fast sometimes that reality never succeeds in catching up; she hasn't allowed this to happen to her. Not only has she refused to permit the wide world access to her internal life, but she has also refused to construct an alternative version to sell publicly as part of fame's Faustian pact. The decision has served her well, though many times it has made her seem prickly, defensive, controlling, humourless, frightened and paranoid, with an overdeveloped sense of persecution.
When she appeared at the Q Awards in 2001, emerging from a public absence of several years, she was booed by the waiting paparazzi outside the Park Lane Hotel because she didn't linger to pose for shots. She was upset, interpreting it as representing some kind of deep, lingering hostility on the part of the public dating back to 1993, rather than a few disgruntled snappers venting pantomime spleen at her refusal to humour them for a moment or two. When she was featured on the BBC's Queens Of British Pop series, broadcast in April 2009, she was the only living artist involved not to consent to a new interview. The participation of those close to her – Del Palmer, Jay – was only granted after Bush was allowed complete control over the contents of the broadcast. Sometimes it's hard to tell what exactly it is she's afraid of.
There are inherent contradictions: she likes people yet craves solitude; she is proud of her work and wants people to hear it, yet hates selling it; her music is both candid confession and armour-plated shield. These tensions have at times made her life difficult. In particular, the artist who has relished playing around with binary opposites in her work – the synthetic and the earthy, the childishly innocent and the overtly erotic, the male and the female – has for much of her career struggled to resolve the core clashes in her life, those between privacy and fame and reality and image. The result, from those looking in from the outside, has been a central confusion about who she really is. "There is a figure that is adored," she says. "But I'd question very strongly that it's me."
It is fame, rather than her innate sense of privacy, that has been the great anomaly of her life. She survived the post- 'Wuthering Heights' period of invasion, intrusion and immense self-consciousness, but it's little wonder that she has spent the ensuing 30 years and more steadily backing away from that utterly unexpected entrance, gradually carving out more and more elbow room. Her career has been an incremental process of withdrawal from that first hot blast of exposure, shedding along the way producers, bands, musicians, studios, press, the expectation of live performance, even her own image.
She has jettisoned all the unwanted accoutrements of a 'pop' career in order to maintain a connection – primarily mentally rather than physically, although she did build two studios in the barn at East Wickham Farm and record three albums there – with the emotional landscape in which she started: being left alone to work in a safe, secluded space, free to explore and expand the borders of her imagination, the clock on the wall ticking to her own stretched sense of time, the ones she loves around her, always there but not always right there.
Her pursuit of this very authorly isolation doggedly carved out from instant pop stardom and its attendant objectification and ceaseless questions; the constant demands to tour; to be here, there, anywhere and to produce more, more, more, is perhaps her greatest achievement. She simply couldn't continue to do what she does without protecting it fiercely. "The more I got into presenting things to the world, the further it was taking me away from what I was, which was someone who just used to sit quietly at a piano and sing and play," she said. With 50 Words For Snow, her music has returned to somewhere very close to that place.
Her career has never been about fame or fortune. Everything has been concerned with keeping alive the initial, terribly fragile surge of wonder and possibility she first glimpsed as a young girl. Against fearsome odds, she has succeeded. She has almost come full circle: making beautiful, out-of-time music at her own speed, playing and singing in an old English building, surrounded by trees and grass and water. Still searching for clues under the ivy and under the snow. "It comes from a quiet place," she said of her music. And the world is so loud. Perhaps that's all we really need to know.
© Chris Charlesworth – More from Chris at Just Backdated
Important Dates In The Life Of Kate Bush:
17 Jun 2022
Kate Bush went to No.1 on the UK singles chart with 'Running Up That Hill.' Originally released in 1985, the song had enjoyed a new lease of life after featuring in the Netflix sci-fi show Stranger Things. With 44 years between her 1978 No.1 'Wuthering Heights' and 'Running Up That Hill' the singer claimed the record of the longest time taken for a single to reach the top of the charts, the longest-ever gap between No.1 singles in UK chart history and she became the oldest female artist to ever score a No.1 on the Official Singles Chart, beating fellow icon Cher who was 52 when her hit 'Believe' topped the charts in 1998.
30 Aug 2014
Kate Bush
followed her stage comeback by becoming the first woman to have eight albums in the UK charts at the same time. Two of the singer's albums were in the top 10, and eight overall in the top 40. It came after she returned for her first live concerts for 35 years. The only artists ahead of Bush are
Elvis Presley
, who had 12 entries in the top 40 after his death in 1977 and
The Beatles
who had 11 in 2009.
26 Aug 2014
Kate Bush
made her stage comeback at London's Hammersmith Apollo to an ecstatic response from fans at her first live concert for 35 years. Bush received a standing ovation as she closed the show with 'Cloudbusting', from her 1985 hit album The Hounds of Love. The 22 shows had completely sold out in less than fifteen minutes, after tickets were released in March of this year.
19 Aug 2014
Kate Bush
requested fans did not take any photographs or record footage using mobile devices at her upcoming 22-date run of performances in London, England. The 56-year-old star said on her website: "I very much want to have contact with you as an audience, not with iPhones, iPads or cameras." The musician added it would mean "a great deal to me" but admitted that it was "a lot to ask".
28 Mar 2014
Tickets for
Kate Bush
first live shows in 35 years sold out in less than 15 minutes. The Before the Dawn concerts, which were booked to take place this August and September, marked the singer's first return to the stage since The Tour Of Life in 1979. Demand was so high that the singer's own website, as well as some ticket-selling sites, crashed as people tried to log on.
10 Apr 2013
Kate Bush
received her CBE for services to music from the Queen at an investiture ceremony at Windsor Castle, England. The singer-songwriter, who was catapulted to fame in 1978 when Wuthering Heights topped the charts, said she was 'incredibly thrilled'. The 54-year-old dedicated the award to her family and joked that it would have pride of place at the top of her Christmas tree.
3 Dec 2008
Composer, keyboardist and arranger Derek Wadsworth died in Oxfordshire, England. As a musician he worked with Georgie Fame, Alan Price,
George Harrison
, Mike Oldfield, Diana Ross, Tom Jones, Dionne Warwick, Simply Red. Arranger for David Essex, Dusty Springfield, Nina Simone, Judy Garland,
Kate Bush
, Cat Stevens,
Rod Stewart
,
Small Faces
, The
Rolling Stones
and Manfred Mann.
13 Feb 2005
Readers of UK newspaper The Sun voted
George Michael
's 'Careless Whisper' as the greatest British pop single of the past 25 years.
Oasis
came second with 'Wonderwall' and
Kate Bush
third with 'Wuthering Heights'. The rest of the Top 10: No.4, Robbie Williams, 'Angels', No.5,
The Jam
, 'Going Underground', in equal 6th,
Sex Pistols
, 'God Save The
Queen
' and
Joy Division
, 'Love Will Tear Us Apart', 7th was
Queen
, 'We Are The Champions', 9th, The Stone Roses, 'Fool's Gold' and 10th The Undertones 'Teenage Kicks'.
18 Nov 2003
American composer and orchestral arranger Michael Kamen died of a heart attack in London aged 55. Worked with
Pink Floyd
,
Queen
,
Eric Clapton
, Roger Daltrey,
Aerosmith
,
Tom Petty
,
David Bowie
, Eurythmics,
Queen
sryche, Rush,
Metallica
, Herbie Hancock, The Cranberries,
Bryan Adams
, Jim Croce, Sting, and
Kate Bush
. Kamen co-wrote the
Bryan Adams
' ballad '(Everything I Do), I Do It for You.'
28 Sep 2002
Madonna
was voted the greatest female singer of all-time by 75,0000 music fans in a VH1 poll. But critics and music fans were unhappy with the position of
Kylie Minogue
who was voted into second place beating Diana Ross, (12th) and Annie Lennox, (14th). The highest placed UK act was
Kate Bush
who was voted No. 10.
23 May 2002
Winners at the 47th Ivor Novello awards included, Dido for Songwriter of the year, Best song went to
U2
, 'Walk On.'
Kylie Minogue
won The Dance Award and Most Performed Work and International Hit for 'Can't Get You Out Of My Head.' Hear'say won Bestselling UK single for 'Pure And Simple'. Mick Hucknall won Outstanding Song collection and
Kate Bush
was awarded Outstanding Contribution to British music.
7 Aug 2001
Harmonica player Larry Adler died aged 87. Known for his original collaborations with George Gershwin,
Kate Bush
, Sting and Vaughan Williams and his own virtuoso performances.
19 Oct 1989
Alan Murphy guitarist with English band Level 42 died of pneumonia related to aids. Murphy also worked with
Kate Bush
, Go West and Mike & the Mechanics.
9 Feb 1987
Winners at this years Brit awards held in London included Peter Gabriel who won British Male Solo Artist,
Kate Bush
won British Female Solo Artist, Best British Group went to Five Star, British Album was
Dire Straits
'Brothers In Arms', British Breakthrough Act was The Housemartins, International Solo Artist went to
Paul Simon
. The Bangles won Best International Group, Best British Video went to Peter Gabriel for 'Sledgehammer' and Best British Single was The Pet Shop Boys for 'West End Girls'.
17 Jan 1987
Kate Bush
started a two-week run at No.1 on the UK album chart with The Whole Story'. The compilation album was Bush's third UK number one album as well as her best selling release.
31 May 1986
Peter Gabriel scored his second solo UK No.1 album with 'So' featuring the singles 'Sledgehammer' and a duet with
Kate Bush
'Don't Give Up'. The song was inspired by the Depression-era photographs of Dorothea Lange, showing poverty-stricken Americans in Dust Bowl conditions.
28 Sep 1985
Kate Bush
scored her second UK No.1 album with 'Hounds Of Love'. The singers second No.1 album featured the tracks 'Running Up That Hill', 'Cloudbusting', 'Hounds of Love' and 'The Big Sky'.
16 Sep 1985
Kate Bush
released her fifth studio album Hounds of Love. The album's lead single, 'Running Up That Hill', became one of Bush's biggest hits and the album produced three further successful singles, 'Cloudbusting', 'Hounds of Love', and 'The Big Sky'. NME placed Hounds of Love 48th on their "500 Greatest Albums of All-Time" list.
22 Dec 1981
At a rock & roll memorabilia auction in London, a stage suit worn by
John Lennon
sold for £2,300, a letter from
Paul McCartney
to a fan sold for £2,200 and a Perspex sculpture of John & Yoko was bought by singer
Kate Bush
for £4,200.
4 Oct 1980
Winners in the Melody Makers readers poll included,
Kate Bush
who won Best female singer, Peter Gabriel won Best male singer, Best guitarist went to Ritchie Blackmore,
Phil Collins
won Best drummer,
Genesis
won Band of the year, Best single went to
Pink Floyd
for 'Another Brick In
The Wall
(Part 2)' and Saxon won brightest hope.
20 Sep 1980
Kate Bush
scored her first UK No.1 album with 'Never For Ever.' It was the first ever album by a British female solo artist to top the UK album chart as well as being the first album by any female solo artist to enter the chart at No.1.
20 Apr 1979
Lighting director Billy Duffy was killed in an accident during a
Kate Bush
concert in Southampton, England. 21-year old Duffy fell twenty feet through an open trap door on the stage. Bush held a benefit concert on 12th May with Peter Gabriel and Steve Harley at London's Hammersmith Odeon for his family.
3 Apr 1979
Kate Bush
kicked off the 28-date 'Tour Of Life' trek making her concert debut at Liverpool's Empire Theatre, England. Bush never set out on another tour again. She played a run of 22 shows at London's Hammersmith Apollo in 2014.
2 May 1978
Kate Bush
was on the UK charts with her debut album 'The Kick Inside'. The album which featured the singers No.1 hit 'Wuthering Heights' peaked at No.3 spent a total of 70 weeks on the UK chart.
14 Mar 1978
Blondie
were at No.2 on the UK chart with their version of the Randy & the Rainbows song 'Denis', kept off the No.1 position by
Kate Bush
's 'Wuthering Heights'.
11 Mar 1978
The debut single from
Kate Bush
, 'Wuthering Heights' a song inspired by the Emily Bronte novel, started a four-week run at No.1 on the UK singles chart. Record company, EMI had originally chosen another track, 'James and the Cold Gun' as the lead single, but Bush was determined that 'Wuthering Heights' would be the first release from the album.
17 Feb 1978
Kate Bush
released her debut studio album The Kick Inside which contained her UK number one hit, 'Wuthering Heights', (marking the first time a female singer-songwriter topped the charts with a self-penned song). Bush was just 19 years old and had written some of the songs when she was only 13.
3 Mar 1972
Elton John
released 'Rocket Man' as a single, (officially titled 'Rocket Man (I Think It's Going to Be a Long, Long Time)'. The song was inspired by the short story "The Rocket Man" in The Illustrated Man by Ray Bradbury, and echoes the theme of David Bowie's 1969 song
'Space Oddity'
.
Kate Bush
released a cover of 'Rocket Man' in 1991 as part of the Elton John, Bernie Taupin tribute album Two Rooms.