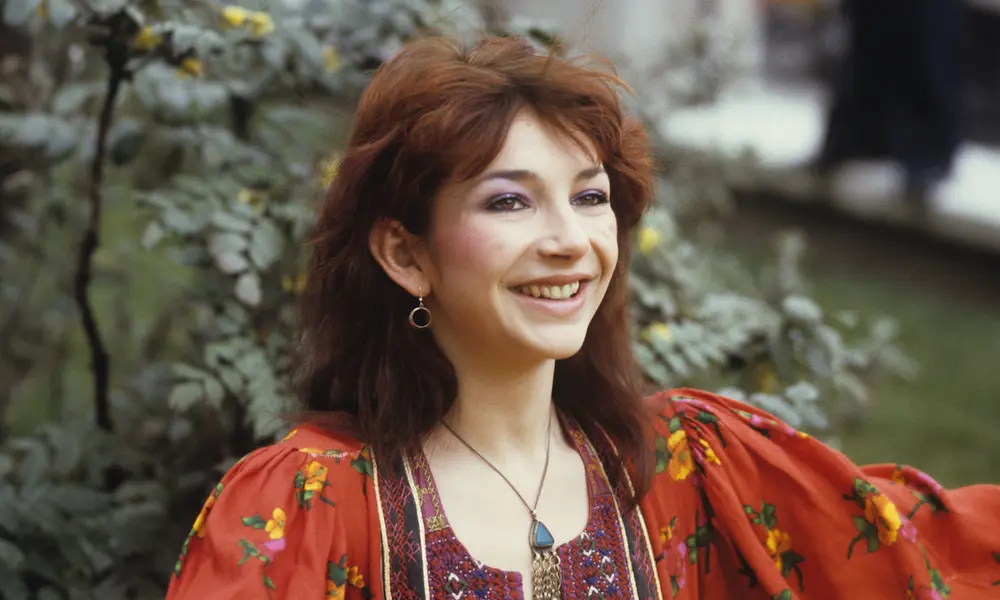 Catherine Bush was born on 30 July 1958 in Bexleyheath, Kent, to an English doctor, general practitioner Robert Bush (1920–2008), and Hannah Patricia (née Daly) (1918–1992), an Irish staff nurse.
Bush trained at Goldsmiths College karate club where her brother John was a karate instructor. There she became known as "Ee-ee" because of her squeaky kiai.
In 1978, at the age of 19, she topped the UK Singles Chart for four weeks with her debut single "Wuthering Heights", becoming the first female artist to achieve a UK number one with a self-written song.
Bush has since released 25 UK Top 40 singles, including the Top 10 hits "The Man with the Child in His Eyes", "Babooshka", "Running Up That Hill", "Don't Give Up" (a duet with Peter Gabriel), and "King of the Mountain".
All ten of her studio albums reached the UK Top 10, with all but one reaching the top five, including the UK number one albums Never for Ever (1980), Hounds of Love (1985) and the greatest hits compilation The Whole Story (1986).
Bush was the first British solo female artist to top the UK album charts and the first female artist to enter the album chart at number one.
Bush began writing songs at 11. Her family produced a demo tape with over 50 of her compositions, which was turned down by record labels. She was signed to EMI Records after Pink Floyd guitarist David Gilmour helped produce a demo tape.
Gilmour helped the 16-year-old Bush record a more professional demo tape. Bush recorded three tracks, paid for by Gilmour. The tape was produced by Gilmour's friend Andrew Powell; Powell later produced Bush's first two albums, and sound engineer Geoff Emerick, who had worked with the Beatles. The tape was sent to EMI executive Terry Slater who signed Bush.
EMI gave Bush a large advance, which she used to enroll in interpretive dance classes taught by Lindsay Kemp, a former teacher of David Bowie, and mime training with Adam Darius.
Her debut album The Kick Inside was released when Bush was 19, with some songs written when she was as young as 13. EMI originally wanted the more rock-oriented track "James and the Cold Gun" to be her debut single, but Bush, who already had a reputation for asserting herself in decisions about her work, insisted that it should be "Wuthering Heights".
Inspired by the 1847 Emily Brontë novel of the same name, "Wuthering Heights" was released as the lead single. Bush recorded her vocal in a single take and the single peaked at number one on the UK Singles Chart for four weeks.
Bush's only tour, the Tour of Life, ran for six weeks in April and May 1979, covering Britain and mainland Europe. The BBC suggested that she may have quit touring due to a fear of flying, or because of the death of a lighting engineer, Bill Duffield, who was killed in an accident after a warmup concert.
"Don't Give Up" by Peter Gabriel was recorded as a duet with Kate Bush for Gabriel's fifth solo studio album So (1986). The song won Ivor Novello Award for Best Song Musically and Lyrically.
Elton John cited Bush's duet with Peter Gabriel, "Don't Give Up", for helping him to become sober, particularly Bush's lyric, "Rest your head. You worry too much. It's going to be all right. When times get rough you can fall back on us. Don't give up." He stated, "she [Bush] played a big part in my rebirth."
After the release of The Red Shoes, (1993) Kate Bush dropped out of the public eye. She had originally intended to take one year off, but despite working on material, twelve years passed before her next album release. In 1998, Bush gave birth to Albert, known as "Bertie", fathered by guitarist Dan McIntosh, whom she met in 1992.
In 2002, she was awarded an Ivor Novello Award for Outstanding Contribution to Music, and performed "Comfortably Numb" at David Gilmour's concert at the Royal Festival Hall in London.
She was appointed a Commander of the Order of the British Empire (CBE) in the 2013 New Year Honours for services to music.
Bush returned to headline performance with a 22-night residency, Before the Dawn, which ran from 26 August to 1 October 2014 at the London Hammersmith Apollo. Tickets were on sale to the general public on 28 March and were sold out within 15 minutes.
Bush's 1985 single "Running Up That Hill" gained newfound popularity in May 2022 after it was incorporated into the plot of the fourth season of the Netflix series Stranger Things. It became the most streamed song on Spotify in the United States, the United Kingdom, Ireland, Canada, Australia, New Zealand and globally.
Important Dates In The Life Of Kate Bush:
17 Jun 2022
Kate Bush went to No.1 on the UK singles chart with 'Running Up That Hill.' Originally released in 1985, the song had enjoyed a new lease of life after featuring in the Netflix sci-fi show Stranger Things. With 44 years between her 1978 No.1 'Wuthering Heights' and 'Running Up That Hill' the singer claimed the record of the longest time taken for a single to reach the top of the charts, the longest-ever gap between No.1 singles in UK chart history and she became the oldest female artist to ever score a No.1 on the Official Singles Chart, beating fellow icon Cher who was 52 when her hit 'Believe' topped the charts in 1998.
30 Aug 2014
Kate Bush
followed her stage comeback by becoming the first woman to have eight albums in the UK charts at the same time. Two of the singer's albums were in the top 10, and eight overall in the top 40. It came after she returned for her first live concerts for 35 years. The only artists ahead of Bush are
Elvis Presley
, who had 12 entries in the top 40 after his death in 1977 and
The Beatles
who had 11 in 2009.
26 Aug 2014
Kate Bush
made her stage comeback at London's Hammersmith Apollo to an ecstatic response from fans at her first live concert for 35 years. Bush received a standing ovation as she closed the show with 'Cloudbusting', from her 1985 hit album The Hounds of Love. The 22 shows had completely sold out in less than fifteen minutes, after tickets were released in March of this year.
19 Aug 2014
Kate Bush
requested fans did not take any photographs or record footage using mobile devices at her upcoming 22-date run of performances in London, England. The 56-year-old star said on her website: "I very much want to have contact with you as an audience, not with iPhones, iPads or cameras." The musician added it would mean "a great deal to me" but admitted that it was "a lot to ask".
28 Mar 2014
Tickets for
Kate Bush
first live shows in 35 years sold out in less than 15 minutes. The Before the Dawn concerts, which were booked to take place this August and September, marked the singer's first return to the stage since The Tour Of Life in 1979. Demand was so high that the singer's own website, as well as some ticket-selling sites, crashed as people tried to log on.
10 Apr 2013
Kate Bush
received her CBE for services to music from the Queen at an investiture ceremony at Windsor Castle, England. The singer-songwriter, who was catapulted to fame in 1978 when Wuthering Heights topped the charts, said she was 'incredibly thrilled'. The 54-year-old dedicated the award to her family and joked that it would have pride of place at the top of her Christmas tree.
3 Dec 2008
Composer, keyboardist and arranger Derek Wadsworth died in Oxfordshire, England. As a musician he worked with Georgie Fame, Alan Price,
George Harrison
, Mike Oldfield, Diana Ross, Tom Jones, Dionne Warwick, Simply Red. Arranger for David Essex, Dusty Springfield, Nina Simone, Judy Garland,
Kate Bush
, Cat Stevens,
Rod Stewart
,
Small Faces
, The
Rolling Stones
and Manfred Mann.
13 Feb 2005
Readers of UK newspaper The Sun voted
George Michael
's 'Careless Whisper' as the greatest British pop single of the past 25 years.
Oasis
came second with 'Wonderwall' and
Kate Bush
third with 'Wuthering Heights'. The rest of the Top 10: No.4, Robbie Williams, 'Angels', No.5,
The Jam
, 'Going Underground', in equal 6th,
Sex Pistols
, 'God Save The
Queen
' and
Joy Division
, 'Love Will Tear Us Apart', 7th was
Queen
, 'We Are The Champions', 9th, The Stone Roses, 'Fool's Gold' and 10th The Undertones 'Teenage Kicks'.
18 Nov 2003
American composer and orchestral arranger Michael Kamen died of a heart attack in London aged 55. Worked with
Pink Floyd
,
Queen
,
Eric Clapton
, Roger Daltrey,
Aerosmith
,
Tom Petty
,
David Bowie
, Eurythmics,
Queen
sryche, Rush,
Metallica
, Herbie Hancock, The Cranberries,
Bryan Adams
, Jim Croce, Sting, and
Kate Bush
. Kamen co-wrote the
Bryan Adams
' ballad '(Everything I Do), I Do It for You.'
28 Sep 2002
Madonna
was voted the greatest female singer of all-time by 75,0000 music fans in a VH1 poll. But critics and music fans were unhappy with the position of
Kylie Minogue
who was voted into second place beating Diana Ross, (12th) and Annie Lennox, (14th). The highest placed UK act was
Kate Bush
who was voted No. 10.
23 May 2002
Winners at the 47th Ivor Novello awards included, Dido for Songwriter of the year, Best song went to
U2
, 'Walk On.'
Kylie Minogue
won The Dance Award and Most Performed Work and International Hit for 'Can't Get You Out Of My Head.' Hear'say won Bestselling UK single for 'Pure And Simple'. Mick Hucknall won Outstanding Song collection and
Kate Bush
was awarded Outstanding Contribution to British music.
7 Aug 2001
Harmonica player Larry Adler died aged 87. Known for his original collaborations with George Gershwin,
Kate Bush
, Sting and Vaughan Williams and his own virtuoso performances.
19 Oct 1989
Alan Murphy guitarist with English band Level 42 died of pneumonia related to aids. Murphy also worked with
Kate Bush
, Go West and Mike & the Mechanics.
9 Feb 1987
Winners at this years Brit awards held in London included Peter Gabriel who won British Male Solo Artist,
Kate Bush
won British Female Solo Artist, Best British Group went to Five Star, British Album was
Dire Straits
'Brothers In Arms', British Breakthrough Act was The Housemartins, International Solo Artist went to
Paul Simon
. The Bangles won Best International Group, Best British Video went to Peter Gabriel for 'Sledgehammer' and Best British Single was The Pet Shop Boys for 'West End Girls'.
17 Jan 1987
Kate Bush
started a two-week run at No.1 on the UK album chart with The Whole Story'. The compilation album was Bush's third UK number one album as well as her best selling release.
31 May 1986
Peter Gabriel scored his second solo UK No.1 album with 'So' featuring the singles 'Sledgehammer' and a duet with
Kate Bush
'Don't Give Up'. The song was inspired by the Depression-era photographs of Dorothea Lange, showing poverty-stricken Americans in Dust Bowl conditions.
28 Sep 1985
Kate Bush
scored her second UK No.1 album with 'Hounds Of Love'. The singers second No.1 album featured the tracks 'Running Up That Hill', 'Cloudbusting', 'Hounds of Love' and 'The Big Sky'.
16 Sep 1985
Kate Bush
released her fifth studio album Hounds of Love. The album's lead single, 'Running Up That Hill', became one of Bush's biggest hits and the album produced three further successful singles, 'Cloudbusting', 'Hounds of Love', and 'The Big Sky'. NME placed Hounds of Love 48th on their "500 Greatest Albums of All-Time" list.
22 Dec 1981
At a rock & roll memorabilia auction in London, a stage suit worn by
John Lennon
sold for £2,300, a letter from
Paul McCartney
to a fan sold for £2,200 and a Perspex sculpture of John & Yoko was bought by singer
Kate Bush
for £4,200.
4 Oct 1980
Winners in the Melody Makers readers poll included,
Kate Bush
who won Best female singer, Peter Gabriel won Best male singer, Best guitarist went to Ritchie Blackmore,
Phil Collins
won Best drummer,
Genesis
won Band of the year, Best single went to
Pink Floyd
for 'Another Brick In
The Wall
(Part 2)' and Saxon won brightest hope.
20 Sep 1980
Kate Bush
scored her first UK No.1 album with 'Never For Ever.' It was the first ever album by a British female solo artist to top the UK album chart as well as being the first album by any female solo artist to enter the chart at No.1.
20 Apr 1979
Lighting director Billy Duffy was killed in an accident during a
Kate Bush
concert in Southampton, England. 21-year old Duffy fell twenty feet through an open trap door on the stage. Bush held a benefit concert on 12th May with Peter Gabriel and Steve Harley at London's Hammersmith Odeon for his family.
3 Apr 1979
Kate Bush
kicked off the 28-date 'Tour Of Life' trek making her concert debut at Liverpool's Empire Theatre, England. Bush never set out on another tour again. She played a run of 22 shows at London's Hammersmith Apollo in 2014.
2 May 1978
Kate Bush
was on the UK charts with her debut album 'The Kick Inside'. The album which featured the singers No.1 hit 'Wuthering Heights' peaked at No.3 spent a total of 70 weeks on the UK chart.
14 Mar 1978
Blondie
were at No.2 on the UK chart with their version of the Randy & the Rainbows song 'Denis', kept off the No.1 position by
Kate Bush
's 'Wuthering Heights'.
11 Mar 1978
The debut single from
Kate Bush
, 'Wuthering Heights' a song inspired by the Emily Bronte novel, started a four-week run at No.1 on the UK singles chart. Record company, EMI had originally chosen another track, 'James and the Cold Gun' as the lead single, but Bush was determined that 'Wuthering Heights' would be the first release from the album.
17 Feb 1978
Kate Bush
released her debut studio album The Kick Inside which contained her UK number one hit, 'Wuthering Heights', (marking the first time a female singer-songwriter topped the charts with a self-penned song). Bush was just 19 years old and had written some of the songs when she was only 13.
3 Mar 1972
Elton John
released 'Rocket Man' as a single, (officially titled 'Rocket Man (I Think It's Going to Be a Long, Long Time)'. The song was inspired by the short story "The Rocket Man" in The Illustrated Man by Ray Bradbury, and echoes the theme of David Bowie's 1969 song
'Space Oddity'
.
Kate Bush
released a cover of 'Rocket Man' in 1991 as part of the Elton John, Bernie Taupin tribute album Two Rooms.