February 23rd: The Biggest Music Headlines
Scroll down the page to see all the music headlines, stories, and events for February 23 throughout music history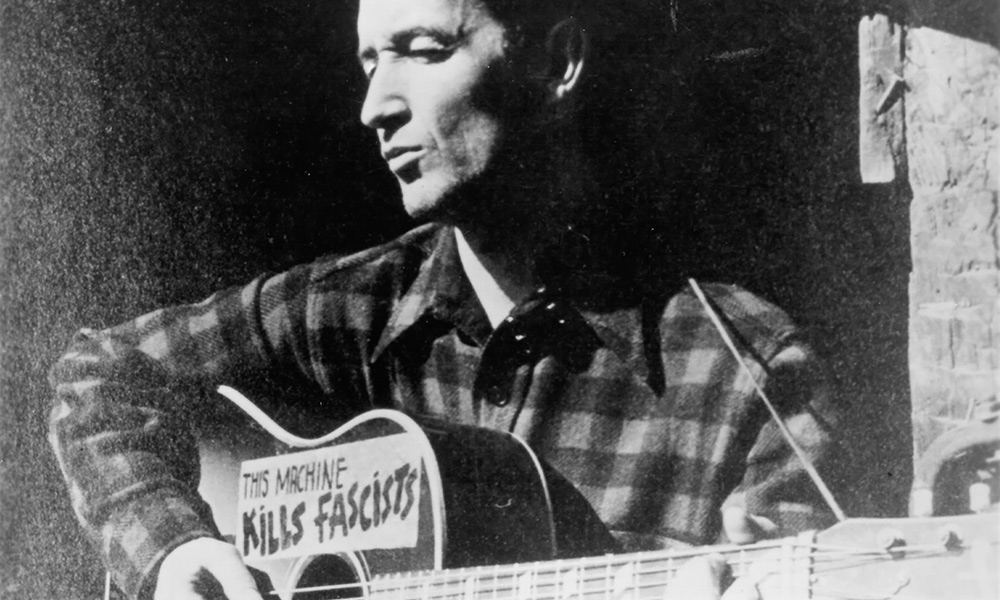 Woody Guthrie Writes "This Land Is Your Land"
On this day in music, February 23, 1940, Woody Guthrie penned "This Land Is Your Land" in his room at the Hanover House Hotel in New York City. Written in response to Irving Berlin's "God Bless America" and originally titled "God Blessed America," the song was an ode to the beauty of the American landscape, as well as a sharp reminder that not all Americans were feeling blessed, amid the Great Depression. Guthrie put the song to tape four years later, while in the 60s and 70s, a new generation of folk musicians recorded their own versions of Guthrie's anthem. One of the United States' most famous songs, "This Land Is Your Land" was among the first songs to be chosen by the Library of Congress for inclusion in the National Recording Registry.
In 2017, Jay-Z became the first rapper to be inducted into the Songwriters Hall of Fame. Born Shawn Carter, the rapper, producer, songwriter, and entrepreneur co-founded Roc-a-Fella Records in 1995, dropping his own debut album the following year. Since then, the artist has pushed the boundaries of his genre and earned more No.1 albums on the Billboard 200 than any other solo artist (including his collaborations). Jay-Z's fellow inductees included producer and songwriter Max Martin, Kenneth "Babyface" Edmonds, and Motown founder Berry Gordy.
In 2002, The Bee Gees made their final concert appearance as a trio at the Love and Hope Ball in Miami Beach, FL. The brothers formed the group in 1958 and rose to fame in the late 60s, before becoming one of the most influential acts in disco. On January 12, 2003, Maurice Gibb died unexpectedly from a heart attack, leading to the surviving brothers' decision to retire the group name. The Bee Gees received the Grammy Legend Award that same year.
In 2010, London's Abbey Road Studios became a listed building by the British Government, protecting it from drastic alterations. Established in 1931 as EMI Recording Studios, it was famously known for its usage by The Beatles, who recorded the majority of their music there. In 1976, it was renamed Abbey Road Studios in honor of the band and their final album.
In 2019, Ariana Grande became the first solo artist to hold the top three spots on the Billboard Hot 100 in the same week with "7 Rings," "Break Up with Your Girlfriend, I'm Bored," and "Thank U, Next." The achievement was previously accomplished by The Beatles in April 1964 with "Can't Buy Me Love," "Twist and Shout," and "Do You Want to Know a Secret."
In 1985, The Smiths earned their first and only No.1 album in the UK with Meat Is Murder. Their sophomore LP remained on the chart for 13 weeks.
Looking for more things that happened on this day in music?
Keep scrolling for all of the headlines for February 23.
BORN ON FEBRUARY 23:
1952: Brad Whitford (Aerosmith)
1955: Howard Jones
1958: David Sylvian
1962: Michael Wilton (Queensrÿche)
1963: Rob Collins (The Charlatans)
1986: Skylar Grey
Looking for more artists born on this day?
Keep scrolling for all of our February 23 birthdays.
---
What to find another day?
---
February 23rd
23 Feb 2019
Ariana Grande became the first solo artist to hold the top three spots on the US Hot 100 in the same week, a feat previously accomplished only by
The Beatles
. The songs: No.1: '7 Rings', No.2: 'Break Up With Your Girlfriend, I'm Bored' and at No.3: 'Thank U, Next'.
23 Feb 2017
23 Feb 2013
Jermaine Jackson officially changed his last Name to Jacksun. The third-oldest member of the
Jackson 5
, who unofficially took the name Mohammad Abdul Aziz upon his 1989 conversion to Islam, said he was making the new change for "artistic reasons."
23 Feb 2010
London's Abbey Road studios was made a listed building, protecting it from plans to radically alter it. Culture Minister Margaret Hodge listed the studios on the advice of English Heritage saying it had "produced some of the very best music in the world".
The Beatles
used Abbey Road for 90% of their recordings. The studio was origanally named EMI Studios, they changed the name to Abbey Road Studios in 1970 because of
The Beatles
album.
23 Feb 2003
Howie Epstein bassist with
Tom Petty
and the Heartbreakers died of a suspected drug overdose in New Mexico. He had replaced The Heartbreakers original bassist Ron Blair, Epstein also worked with
Bob Dylan
,
Johnny Cash
,
Stevie Nicks
,
Roy Orbison
, Carl Perkins, Linda Ronstadt and Del Shannon.
23 Feb 2003
The News Of The World reported that
Michael Jackson
had undergone scores of painful operations to strip his body of black skin until he appeared white. And that surgeons at a Santa Monica clinic eventually refused him any more treatment. An insider told the paper that Jackson had been anaesthetised on a weekly basis to have his skin peeled and bleached.
23 Feb 2003
Norah Jones cleaned up at the 45th Grammy Awards, held at Madison Square Garden, New York. The singer, songwriter won, Album of the year and Record of the year, with 'Don't Know Why.' Song of the year, Best new artist and Best female pop vocal for 'Don't Know Why'. Other winners included Best male pop vocal, John Mayer, 'Our Body Is A Wonderland'. Best male rock vocal,
Bruce Springsteen
, 'The Rising', Best female rock vocal, Sheryl Crow, 'Steve Mc
Queen
', Best rock performance by group,
Coldplay
'In My Place', Best rap album,
Eminem
, 'The
Eminem
Show'.
23 Feb 2002
The
Bee Gees
made their last ever concert appearance when they appeared at the Love and Hope Ball, Miami Beach, Florida.
23 Feb 1998
All members of
Oasis
were banned for life from flying Cathay Pacific Airlines after "abusive and disgusting behaviour" during a flight from Hong Kong to Perth, Australia.
23 Feb 1995
American singer Melvin Franklin of The
Temptations
died of a brain seizure aged 52. Had the 1971 US No.1 & UK No.8 single 'Just My Imagination' and re-issued 'My Girl' UK No.2 in 1992. In 1978 Franklin was shot in the hand and the leg when trying to stop a man from stealing his car.
23 Feb 1985
Stevie Wonder
was arrested during an antiapartheid demonstration outside the South African Embassy in Washington; he was released after being questioned by police.
23 Feb 1985
The Smiths
scored their first UK No.1 album with Meat Is Murder. The album's sleeve uses a 1967 photograph of Marine Cpl. Michael Wynn in the Vietnam War, though with the wording on his helmet changed from "Make War Not Love" to "Meat Is Murder". The original image was used for Emile de Antonio's 1968 documentary In the Year of the Pig.
23 Feb 1980
U2
appeared at The Moonlight Club, at The Railway Hotel in London, tickets cost £2.
23 Feb 1978
Winners at this years Grammy Awards included
Fleetwood Mac
, Album of the year for
Rumours
. The
Eagles
, Record of the year for Hotel California and Best pop vocal performance, The
Bee Gees
for 'How Deep Is Your Love.'
23 Feb 1976
AC/DC
shot the video clip for "It's A Long Way To The Top, (If You Wanna Rock 'n' Roll)" for the Australian music television program Countdown. It featured the band's then-current lineup, along with members of the Rats of Tobruk Pipe Band, on the back of a flat-bed truck travelling on Swanston Street in Melbourne. In May 2001, Australasian Performing Rights Association celebrated its 75th anniversary by naming the Best Australian Songs of all time, as decided by a 100-member industry panel. "It's a Long Way to the Top (If You Wanna Rock 'n' Roll)" was ranked as the ninth song on the list.
23 Feb 1974
'Rebel Rebel' by
David Bowie
entered the UK chart, the single reached No.5 the following month. Originally written for an aborted
Ziggy Stardust
musical in late 1973, 'Rebel Rebel' was Bowie's last single in the glam rock style that had been his trademark. It was also his first hit since 1969 not to feature lead guitarist
Mick Ronson
.
23 Feb 1974
Suzi Quatro was at No.1 on the UK singles chart with 'Devil Gate Drive', the singers second UK No.1 and fourth No.1 for the songs writers Chinn & Chapman.
23 Feb 1972
After nearly five years of marriage, Priscilla Presley moved out of
Elvis Presley
's California home and into a two bedroom apartment near the Pacific Ocean. Their divorce would be finalized on October 9, 1973, with Priscilla being awarded an outright cash payment of $725,000 as well as spousal support, child support, 5% of Elvis' new publishing companies and half the income from the sale of their Beverly Hills home.
23 Feb 1965
Filming began on
The Beatles
follow up to 'A Hard Day's Night' on location in the Bahamas with the working title of 'Eight Arms To Hold You.'
23 Feb 1961
Petula Clark had her first UK No.1 single with 'Sailor'. During her career the former child actress achieved a total of 20 UK Top 40 hits and 2 US No.1 singles.
23 Feb 1940
Woody Guthrie wrote the lyrics to 'This Land Is Your Land' in his room at the Hanover House Hotel in New York City. The song was brought back to life in the 1960s, when several artists of the new folk movement, including
Bob Dylan
, The Kingston Trio, Trini Lopez, Jay and the Americans, and The New Christy Minstrels all recorded versions, inspired by its political message.
Born on this day in music
23 Feb 1986
American singer, songwriter Skylar Grey. She co-wrote
Eminem
and
Rihanna
's hit single, 'Love the Way You Lie' and has written songs for Alicia Keys, Christina Aguilera, Nick Jonas,
Celine Dion
and CeeLo Green. Her 2013 album Don't Look Down reached the top 10 on the US chart.
23 Feb 1973
Olaf Lasse Johansson keyboards with Swedish rock band The Cardigans who had the 1997 UK No.2 single 'Lovefool' which was included in the soundtrack to the 1996 film Romeo + Juliet.
23 Feb 1967
Chris Vrenna, Grammy-winning producer, engineer, worked with Tweaker, Nine Inch Nails, Rammstein,
U2
, Weezer,
David Bowie
, The Smashing Pumpkins, Hole, Marilyn Manson and the Japanese rock band Dir en grey.
23 Feb 1963
Rob Collins, keyboards with British indie group The Charlatans who had the 1990 UK No.9 single 'The Only One I Know'. In 1992 Collins was arrested and charged with armed robbery on an off-licence near his home and was sentenced to 8 months imprisonment. Collins was killed in a car crash 23rd July 1996.
23 Feb 1962
Michael Wilton, American heavy metal and hard rock guitarist and songwriter, best known for being a lead and rhythm guitarist in the progressive metal band Queensrÿche, which he co-founded in 1982.
23 Feb 1958
David Sylvian singer with British group Japan who had the 1982 UK 5 single 'Ghosts'. Sylvian also works as a solo artist.
23 Feb 1957
Patrick Francfort, singer with The Gibson Brothers who had success during the disco boom of the late 1970s. Their best known hit singles included 'Cuba' and 'Que Sera Mi Vida'. He died on 4 April 2020 from Covid-19 age 64.
23 Feb 1955
English musician, singer and songwriter Howard Jones, who had the 1983 UK No.2 single 'What Is Love', plus 9 other UK Top 40 singles. His 1984 album Human's Lib spent over a year on the UK chart. He also scored the 1986 US No.4 single 'No One Is To Blame'. Jones has also been a member of
Ringo Starr
's All Star Band.
23 Feb 1955
Zeke Manyika, (born in Zimbabwe) drummer, vocalist and songwriter. With Orange Juice he had the 1983 UK No.8 single 'Rip It Up'. He also worked with The Style Council ('Speak Like a Child' and 'A Solid Bond in Your Heart') and later toured with Paul Weller.
23 Feb 1952
American musician Brad Whitford, guitarist with
Aerosmith
who scored the 1989 UK No.13 single 'Love In An Elevator'. They had the 1993 US No.1 & UK No.2 album Get A Grip and the 1998 US No. 1 & UK No. 4 single 'I Don't Want To Miss A Thing', Aerosmith is the best-selling American hard rock band of all time, having sold more than 150 million records worldwide.
23 Feb 1948
Steve Priest, bassist with English group Sweet, who had the 1973 UK No.1 single 'Blockbuster', plus 14 other UK Top 40 singles. Sweet scored four top-ten hits in the US: 'Little Willy', 'Ballroom Blitz', 'Fox On The Run', and 'Love Is Like Oxygen'. He died on 4 June 2020 at the age of 72.
23 Feb 1946
American guitarist, vocalist and songwriter Rusty Young, with American group Poco who had the 1979 US No.17 single 'Crazy Love'. A virtuoso on pedal steel guitar, Young was inducted into the Steel Guitar Hall of Fame in 2013. He died of a heart attack om 14 April 2021 at the age of 75.
23 Feb 1944
English songwriter and guitarist Mike Maxfield from Billy J Kramer and the Dakotas, who had the 1964 UK No.1 & US N0.7 single 'Little Children'.
23 Feb 1944
American singer and guitarist Johnny Winter who worked with his brother Edger Winter and Rick Derringer. He produced three Grammy Award-winning albums for blues singer and guitarist Muddy Waters. Winter died at the age of 70 on 16 July 2014 in Zurich, just days after playing at the Lovely Days Festival in Austria.
23 Feb 1942
Steve Barri, American songwriter and record producer. He produced such huge hits as 'Dizzy' by Tommy Roe and with P. F. Sloan, he was responsible for the success of The Grass Roots and contributed largely to the band's first album. They co-produced the global hit version of Sloan's song 'Eve of Destruction' a 1965 US No. 1 by Barry McGuire. As a member of Rhythm Heritage he had the 1976 US No. 1 single 'Theme from S.W.A.T.'