February 24th: The Biggest Music Headlines
Scroll down the page to see all the music headlines, stories, and events for February 24 throughout music history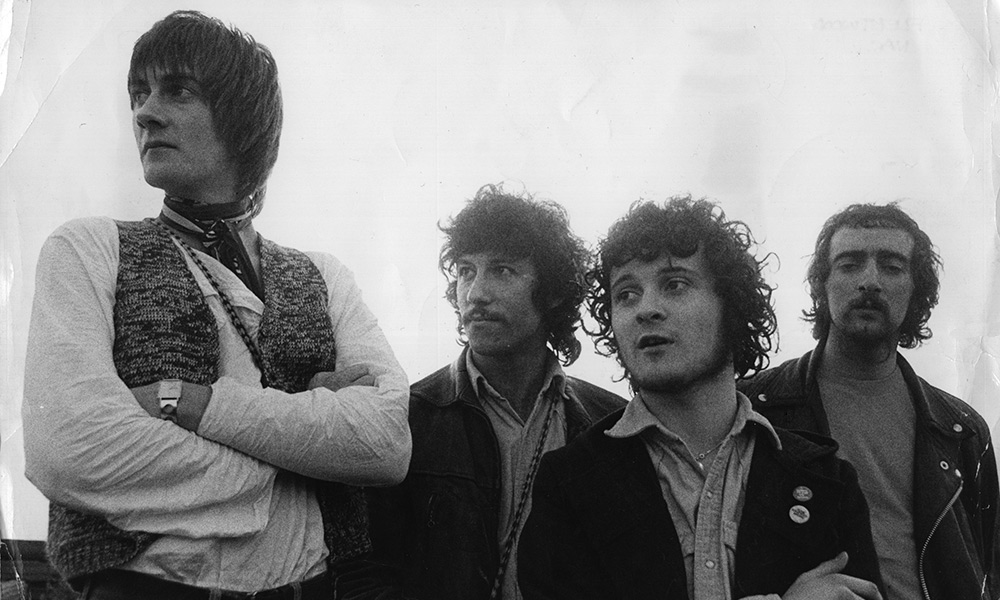 Fleetwood Mac Release Their Eponymous Debut
On this day in music, February 24, 1968, Fleetwood Mac (popularly known then as Peter Green's Fleetwood Mac) released their eponymous debut. At the time, the band (Peter Green, Mick Fleetwood, Jeremy Spencer, and John McVie) was a blues-rock outfit. That style was reflected in the album's tracklist, which included covers of blues standards by Howlin' Wolf, Robert Johnson, and Elmore James, plus original material. Despite the lack of a hit single, Fleetwood Mac peaked at No.4 in the UK. The album also marks the only Fleetwood Mac LP to not include keyboardist and vocalist Christine McVie (wife of John), who joined the group in 1970.
In 1969, The Jimi Hendrix Experience played their final UK show together. Held at London's Royal Albert Hall, the set included covers of Cream's "Sunshine of Your Love" and Elmore James' "Bleeding Heart," plus an extended jam of "Room Full of Mirrors," all of which appeared on the 1971 live album, Experience. The band would break up shortly after an appearance at the Denver Pop Festival that June.
In 1976, The Eagles' Their Greatest Hits compilation became the first album to receive Platinum certification by the RIAA, marking the sale of one million copies. Released just one week earlier, the album contained favorites from the rock band's first four albums – all of which were Top 40 US hits (except "Tequila Sunrise").
In 2020, guitarist David Roback, a founding member of Mazzy Star, died from metastatic cancer at age 61. Before forming the dream pop band in 1989 with singer Hope Sandoval, Roback was an active member of Los Angeles' Paisley Underground scene, with bands like Rain Parade and Opal (which morphed into Mazzy Star).
In 1982, the first annual BRIT Awards were held in London, four years after an inaugural event took place around the Queen's Silver Jubilee. British broadcaster David Jacobs hosted the ceremony, as Adam and the Ants won British Album of the Year (for Kings of the Wild Frontier) and Soft Cell's "Tainted Love" earned British Single of the Year.
In 2004, 85-year-old Estelle Axton, who co-founded Stax Records, died in Memphis. Axton established the pioneering soul label with her brother, Jim Stewart, in the late 50s.
Looking for more things that happened on this day in music?
Keep scrolling for all of the headlines for February 24.
BORN ON FEBRUARY 24:
1942: Paul Jones (Manfred Mann)
1947: Lonnie Turner (Steve Miller Band)
1947: Rupert Holmes
1950: George Thorogood
1959: Colin Farley (Cutting Crew)
1973: Chris Fehn (Slipknot)
1974: Chad Hugo (The Neptunes)
Looking for more artists born on this day?
Keep scrolling for all of our February 24 birthdays.
---
What to find another day?
---
February 24th
24 Feb 2020
American guitarist, songwriter and producer, David Roback best known as the founding member of the duo Mazzy Star died age 61 from metastatic cancer. The American alternative rock band formed in Santa Monica, California, in 1989 from remnants of the group Opal. They were best known for the song 'Fade into You' which brought the band some success in the mid-1990s and was the group's biggest mainstream hit.
24 Feb 2016
Cranberries singer Dolores O'Riordan was ordered to give 6,000 euros to charity after head-butting an Irish police officer.The artist was arrested at Shannon Airport in November 2014 when she was taken off a flight from New York after an alleged air rage incident. Medical reports given to the court showed she had been suffering mania and was mentally ill when then incident happened.
24 Feb 2014
Franny Beecher the lead guitarist for
Bill Haley
& His Comets from 1954 to 1962 died in his sleep from natural causes. He was 92 years old. He continued to perform with surviving members of the Comets into 2006.
24 Feb 2010
50 Cent was being sued over claims he unlawfully distributed a homemade sex video. Lastonia Leviston filed legal action in Manhattan, saying she made the private video with a lover in 2008 and alleged that 50 Cent posted the video on his website last year after blurring out the lover's face - and editing himself into it as narrator.
24 Feb 2010
The personal assistant to former
Ramones
manager Linda Stein was convicted in a New York court of bludgeoning her boss to death at her Manhattan apartment on 30 October 2007. Prosecutors said Natavia Lowery, 28, stole more than $30,000 (£19,500) from Stein, then clubbed her with a piece of exercise equipment. Jurors spent less than a day reaching a second-degree murder verdict.
24 Feb 2010
Promotions company MCD launched a $2.3 million lawsuit against
Prince
for pulling out of a concert in Dublin, Ireland in June, 2008, just ten days before it was to take place. The singer blamed the William Morris Agency for booking the event without permission, but the agency said the star cancelled the gig and gave "no reason of substance" for deciding to pull out.
24 Feb 2009
The United States Mint launched a new coin featuring American composer, pianist and bandleader Duke Ellington.
24 Feb 2004
Estelle Axton, who helped create the legendary US soul music label Stax, died in hospital in Memphis, aged 85. Stax was home to
Otis Redding
, Rufus Thomas, Isaac Hayes and Booker T and the MG's and the Stax studio, 'Soulsville USA', was second only to
Motown
in its production of soul hits during its 1960s heyday.
24 Feb 2000
Carlos Santana
won eight awards at this years Grammy Awards for his Supernatural album. Before Supernatural, the guitarist had not had a Top 10 album since 1981. Sting won two awards, one for best pop album and another for best male pop vocalist. Sir
Elton John
won the legend award and
Phil Collins
the best soundtrack award for Tarzan.
24 Feb 1997
The
Spice Girls
won best single with 'Wannabe' at this year's Brit Awards held in London. Other winners included, Best Group for Manic Street Preachers, Best Dance Act went to The Prodigy,
George Michael
won Best Male, Best Female went to Gabrielle, Best Newcomer was won by Kula Shaker, International Male was Beck, International Female Sheryl Crow and Best International Group was The Fugees.
24 Feb 1992
Kurt Cobain
married Courtney Love in Waikiki, Hawaii. The press reported that the couple were expecting a baby on Sept 10th of this year.
24 Feb 1990
American singer, songwriter, pianist Johnnie Ray died of liver failure at Cedars-Sinai Hospital in Los Angeles. He scored over 20 Top 40 singles between 1952 & 1960 including 1956 UK No.1 & US No.2 single, 'Just Walking In The Rain'. Dexys Midnight Runners' name checked Ray in the lyrics to their 1982 hit 'Come On Eileen'.
24 Feb 1982
The Police
won best British group at the first annual Brit Awards held in London, Adam And The Ants won best album for 'Kings Of The Wild Frontier', Cliff Richard won British Male Solo Artist, Randy Crawford won British Female Solo Artist, British Breakthrough Act went to The Human League, British Producer was Martin Rushent and Outstanding Contribution went to
John Lennon
.
24 Feb 1982
Winners at the Grammy Awards included John & Yoko Album of the year with 'Double Fantasy, Kim Carnes for Song of the year with 'Bette Davis Eyes', Quincy Jones won producer of the year and Sheena Easton best new act.
24 Feb 1976
The
Eagles
'Greatest Hits' became the first album to be certified platinum by the R.I.A.A. New certification's represented sales of 1 million copies for albums and two million for singles.
24 Feb 1975
Led Zeppelin
released their sixth album
Physical Graffiti
in the UK. Recording sessions had been disrupted when bassist and keyboard player John Paul Jones had proposed quitting the band, supposedly to become choirmaster at Winchester Cathedral, England, although in reality he just needed time to rest after Zeppelin's demanding tour schedule. The group decided on a double album so they could feature songs left over from their previous albums
Led Zeppelin III
,
Led Zeppelin IV
and
Houses Of The Holy
.
24 Feb 1973
Roberta Flack had her second US No.1 when 'Killing Me Softly With His Song', started a five-week run at the top of the charts. The song was written in collaboration with singer songwriter Lori Lieberman and was born of a poem she wrote after experiencing a strong reaction to the Don McLean song 'Empty Chairs.' Roberta Flack first heard the song during a flight. She performed it for the first time live when supporting
Marvin Gaye
who told her she had to recorded a version before playing it live again.
24 Feb 1973
The Byrds made their final live appearance when they played at The Capitol Theatre in Passaic, New Jersey. (The then-current incarnation of the Byrds, which included Roger McGuinn, Clarence White, John York and Gene Parsons).
24 Feb 1969
The
Jimi Hendrix Experience
played their last ever-British performance when they appeared at the Royal Albert Hall.
24 Feb 1968
Fleetwood Mac
released their debut studio album (also known as Peter Green's Fleetwood Mac), a mixture of blues covers and originals penned by guitarists Peter Green and Jeremy Spencer which peaked at No.4 on the UK chart and stayed on the charts 37 weeks. This is the only album by the band not to feature keyboardist, vocalist Christine McVie in any capacity.
24 Feb 1965
The first full day of filming took place for
The Beatles
movie
Help!
' with the group riding bicycles on location near London Airport, England.
24 Feb 1963
The
Rolling Stones
started a Sunday night residency at The Station Hotel, Richmond, Surrey. The Stones were paid £24 ($41) for the gig and played on the first night to a total of 66 people. £24 from 1963 would be worth £392, adjusted for inflation.
Born on this day in music
24 Feb 1989
American musician Trace Cyrus the son of country singer Billy Ray Cyrus and brother of recording artists Miley Cyrus and Noah Cyrus. He is the backing vocalist and guitarist of the band Metro Station.
24 Feb 1974
American musician Noah "Wuv" Bernardo Jr, founding member of the multi-platinum selling, San Diego based band P.O.D.
24 Feb 1974
American record producer, multi-instrumentalist, singer and songwriter Chad Hugo, one half of the music production and writing duo The Neptunes. His partner is Pharrell Williams, who has produced numerous No.1 hits for Mystikal, Jay-Z, *NSYNC,
Britney Spears
and Nelly.
24 Feb 1973
Chris Fehn, American musician, best known as one of the two custom percussionists of the Grammy Award-winning heavy metal band Slipknot.
24 Feb 1962
Michelle Shocked, American singer songwriter, 1988 single 'Anchorage'. She had the track 'Quality of Mercy' featured on the soundtrack for the film Dead Man Walking.
24 Feb 1959
Colin Farley, British bassist with Cutting Crew who had the 1987 US No.1 & 1986 UK No.4 single 'I Just Died In Your Arms Tonight'.
24 Feb 1950
George Thorogood, American musician, singer and songwriter. His high-energy boogie-blues sound became a staple of 1980s rock radio, with hits like his original songs 'Bad to the Bone' and 'I Drink Alone'.
24 Feb 1948
Dennis Waterman, British singer, actor who had the1980 UK No.3 single with the theme from UK TV show 'Minder', 'I Could Be So Good For You'.
24 Feb 1947
British-American composer, singer-songwriter Rupert Holmes, who had the 1980 US No.1 & UK No. 23 single 'Escape, (The Pina Colada Song).
24 Feb 1947
Lonnie Turner, American bassist with the Steve Miller Band who had the 1974 US No.1 & 1990 UK No.1 single 'The Joker', the 1976 hit 'Fly Like an Eagle' and the 1982 US No.1 hit 'Abracadabra'.
24 Feb 1944
24 Feb 1942
English singer, actor, harmonica player, radio personality and television presenter Paul Jones, from British group Manfred Mann who had the 1964 UK & US No.1 single 'Do Wah Diddy Diddy. Jones is also a member of The Blues Band.