February 3rd: The Biggest Music Headlines
Scroll down the page to see all the music headlines, stories, and events for February 3 throughout music history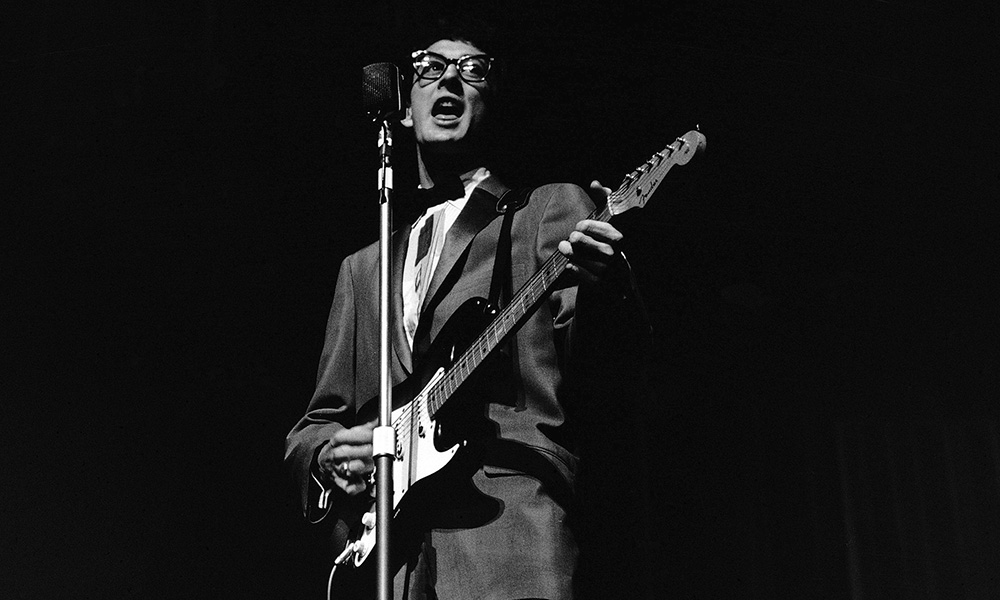 The Day the Music Died
On this day in music, February 3, 1959, tragedy struck when Buddy Holly (aged 22), The Big Bopper (aged 28), and Ritchie Valens (aged 17) all lost their lives in a plane crash on their way to the next date of their Winter Party Dance Tour. After experiencing heating problems on his tour bus, Holly hired a private plane to take the three men from Clear Lake, Iowa, to Moorhead, Minnesota. The event, which also took the life of pilot Roger Peterson, later became known as "The Day the Music Died," after Don McLean's reference to the tragedy in his 1971 song, "American Pie." Clear Lake's Surf Ballroom, where the musicians each played their final concerts, hosts an annual memorial show.
In 1973, Elton John scored his first No.1 hit in the US with "Crocodile Rock." Written in France, the whimsical track was inspired by another hit single, "Eagle Rock," by Australian band Daddy Cool.
In 1979, Blondie earned their first of five UK No.1 hits with "Heart Of Glass." Written in 1975 by singer Debbie Harry and guitarist Chris Stein, the song was originally much slower and titled "Once I Had a Love." The band revisited the track for album Parallel Lines, and took the advice of producer Mike Chapman, who suggested that they put a disco twist on it. In 2015, the enduring hit was inducted into the Grammy Hall of Fame.
In 1992, Pearl Jam made their live UK debut with a 13-song set at London's Esplanade Club. The show, in support of their debut album, Ten, also kicked off their first European tour, and included stops in Norway, Sweden, Holland, France, Spain, and Italy.
In 2008, Adele topped the UK album chart with her debut, 19. The British artist, who was just 17 when she signed her first record deal and 19 when she recorded the LP, found instant success with the release. Singles "Hometown Glory" and "Make You Feel My Love" both landed in the UK Top Ten, while the former song became Adele's first entry on the
Billboard Hot 100 and later earned a Grammy Award. 19 has since sold more than eight million copies worldwide.
Looking for more things that happened on this day in music?
Keep scrolling for all of the headlines for February 3.
BORN ON FEBRUARY 3:
1928: Frankie Vaughan
1947: Dave Davies (The Kinks)
1949: Arthur Kane (New York Dolls)
1956: Lee Ranaldo (Sonic Youth)
1977: Daddy Yankee
1990: Sean Kingston
Looking for more artists born on this day?
Keep scrolling for all of our February 3 birthdays.
---
What to find another day?
---
February 3rd
3 Feb 2021
American singer-songwriter Jim Weatherly died age 77. He wrote mostly pop and country music, his notable songs include "The Need to Be" and "Midnight Train to Georgia" a 1973 No.1 hit single by Gladys Knight & the Pips. Ray Price, Lynn Anderson,
Glen Campbell
, Kenny Rogers, Kenny Chesney and Garth Brooks have all recorded his songs. He was inducted into the Nashville Songwriters Hall of Fame in 2006.
3 Feb 2021
American folk musician and singer-songwriter, political activist Anne Feeney died age 69. Feeney's song "Have You Been to Jail for Justice?" was recorded by Peter, Paul and Mary and she also worked with John Prine and Pete Seeger.
3 Feb 2021
Taylor Swift
was being sued by a US theme park called Evermore, which said the star's latest album had infringed its trademark by using the same name. The theme park's owners said Swift's Evermore release had caused confusion about whether the two were linked saying there was a "dramatic departure from typical levels" of traffic on its website in the week after the album's release.
3 Feb 2018
American pop, funk and jazz drummer Leon Chancler died in Los Angeles, California of prostate cancer, at the age of 65. He worked with Herbie Hancock, Miles Davis,
Michael Jackson
's (on 'Billie Jean'), Donna Summer,
Carlos Santana
, The Crusaders,
Frank Sinatra
, Weather Report, Lionel Richie, Kenny Rogers, Thelonious Monk, Herbie Hancock and John Lee Hooker.
3 Feb 2014
Bruce Springsteen
was at No.1 on the US chart with his eighteenth studio album High Hopes. His eleventh No.1 album in the US, placed him third all-time for most No. 1 albums only behind The
The Beatles
and Jay-Z. The album is a collection of cover songs, out-takes and re-imagined versions of tracks from past albums, EPs and tours.
3 Feb 2010
AC/DC
singer Brian Johnson, joined a growing group of critics of
Bob Geldof
and
U2
singer Bono over their very public charity work, saying they should stop lecturing audiences about charity work and instead do their good deeds in private. Johnson said "When I was a working man I didn't want to go to a concert for some bastard to talk down to me that I should be thinking of some kid in Africa. I'm sorry mate, do it yourself, spend some of your own money and get it done. It just makes me angry."
3 Feb 2008
UK singer
Adele
went to No.1 on the UK album chart with her debut album '19'. As of December 2011, worldwide sales for the album stood at over 6.5 million copies.
3 Feb 2008
Tom Petty
and the Heartbreakers performed during the halftime-show of Super Bowl XLII at the University of Phoenix Stadium. They played 'American Girl', 'I Won't Back Down', 'Free Fallin'' and 'Runnin' Down a Dream'.
3 Feb 2007
Wayne Fontana, of 'Game Of Love' fame, was arrested at his home in Glossop, Derbyshire, England and charged with arson with intent to endanger life. The 61 year-old, who was already set to appear in court in March on traffic offenses, was accused of pouring gasoline over a bailiff's car and setting it on fire. The following November, he was sentenced to 11 months in jail, but was allowed to walk free from court immediately after already serving the equivalent of his term while held under the Mental Health Act.
3 Feb 2004
R. Kelly appeared in Court and entered of plea of not guilty to 21 charges of child pornography. Kelly, who was free on bond, did not talk during the brief hearing. Outside the Cook County Criminal Courthouse fans voiced their support for the singer, proclaiming his innocence with placards and T-shirts. Kelly had been arrested in Florida after he was indicted by a grand jury in Chicago on 21 counts of child pornography, stemming from a videotape that allegedly shows the star performing sexual acts with a 14-year-old girl.
3 Feb 2004
Sean 'P. Diddy' Combs settled a $3 million (£1.76 million) court case filed by his former driver after an incident in 1999. Wardell Fenderson had driven Mr Combs and his then-girlfriend Jennifer Lopez away from a New York nightclub where three people had been wounded in a shooting. Mr Fenderson said he was traumatized by having guns in the car and being ordered to ignore police orders to stop, for which he was arrested.
3 Feb 2004
American woodwind, keyboard player and vocalist Cornelius Bumpus died of a heart attack at age 58. He toured with The Doobie Brothers and Steely Dan. Bumpus became ill while on an airline flight from New York to California, where he was scheduled to perform at the Columbia College Jazz Concert Series. The plane made an emergency landing in Sioux City, Iowa but Bumpus died by the time the plane reached the ground.
3 Feb 1999
American soul singer Gwen Guthrie died of cancer aged 48. She sang backing vocals for
Aretha Franklin
,
Billy Joel
,
Stevie Wonder
and
Madonna
and wrote songs for Sister Sledge and Roberta Flack. She scored the 1986 R&B No.1 'Ain't Nothin' Goin' on But the Rent'.
3 Feb 1999
Tony Hadley singer with Spandau Ballet told a High Court in London of his "desperate" financial situation after his solo career failed. Hadley and band members Steve Norman and drummer John Keeble, were suing Spandau Ballet songwriter Gary Kemp for hundreds of thousands of pounds of allegedly unpaid publishing royalties. Hadley earned £120,000 a year during the band's heyday in the early 1980s, but the court heard that when he fell on hard times he was forced him to sell his home to pay off a £50,000 overdraft in 1993.
3 Feb 1992
On their first Europe tour
Pearl Jam
played at The Esplanade Club in Southend, England to 300 people, the bands first ever UK show. The tour also took
Pearl Jam
to Norway, Sweden, Holland, France, Spain and Italy.
3 Feb 1990
For the first time ever, the UK Top 3 singles featured non-British and non-American acts. Ireland's
Sinead O'Connor
, Australia's
Kylie Minogue
and Belgium's Technotronic. Sinead O'Connor had her first No.1 single with Nothing Compares To U', a song written by
Prince
.
3 Feb 1986
Dire Straits
were at No.1 on the UK album charts with their fifth studio album Brothers in Arms. With ten weeks at No.1, the album is the seventh best-selling album in UK chart history and won two Grammy Awards in 1986, and also won Best British Album at the 1987 Brit Awards. Brothers in Arms also spent nine weeks at No.1 on the Billboard 200 in the US, and thirty-four weeks at No.1 on the Australian Album Chart.
3 Feb 1979
Blondie
had their first of five UK No.1 singles, with 'Heart Of Glass', taken from the band's third studio album, Parallel Lines. 'Heart of Glass' was originally recorded in 1975 under the name 'Once I Had a Love.'
3 Feb 1973
Elton John
started a three-week run at No.1 on the US singles chart with 'Crocodile Rock'. Elton's first of five US No.1 singles was inspired by John's discovery of leading Australian band Daddy Cool and their hit single 'Eagle Rock'.
3 Feb 1970
Led Zeppelin II
was in the Top 20 on both the UK & US album charts after peaking at No.1. The album went on to spend 138 weeks on the UK chart. The album is now recognised by writers and music critics as one of the greatest and most influential rock albums ever recorded.
3 Feb 1968
One Hit Wonders
The Lemon Pipers went to No.1 on the US singles chart with 'Green Tambourine' the song was a No.7 hit in the UK. The song has been credited as being one of the first bubblegum pop chart-toppers.
3 Feb 1968
The Beatles
started work on their new single 'Lady Madonna' at Abbey Road studios in London. Recording three piano and drum takes with overdub bass, fuzz guitars, drums, and vocals.
3 Feb 1967
Producer Joe Meek shot his landlady Violet Shenton and then shot himself at his flat in London, Meek produced The Tornadoes hit 'Telstar', the first No.1 in the US by a British group. Meek was interested in spirituality and often attended séances. At one such meeting in 1958 he was warned that
Buddy Holly
would die on February 3. Meek tried his best to find Holly when he was in London to warn him but failed in his mission. Holly died on February 3, 1959.
3 Feb 1959
22 year old
Buddy Holly
, The Big Bopper and Ritchie Valens, aged 17, died in a crash shortly after take-off from Clear Lake, Iowa, the pilot of the single-engined Beechcraft Bonanza plane was also killed. Holly hired the plane after heating problems developed on his tour bus. All three were travelling to Fargo, North Dakota, for the next show on their Winter Dance Party Tour which Holly had set - covering 24 cities in three weeks, to make money after the break-up of his band, The Crickets, last year.
Born on this day in music
3 Feb 1990
Sean Kingston, (Ka'Shon Anderson), Jamaican-American reggae, rap and pop musician who scored the 2007 US and UK No.1 single 'Beautiful Girls'.
3 Feb 1977
Puerto Rican singer, songwriter, rapper, actor and record producer Daddy Yankee. He featured on the 2017 single 'Despacito (Remix)' with Justin Bieber and Luis Fonsi.
3 Feb 1970
Richie Kotzen, Mr. Big, with American hard rock supergroup Mr. Big, who had the 1992 US No.1 & UK No.3 single 'To Be With You'.
3 Feb 1969
Matt Johnson, British keyboardist with Jamiroquai who had the 1993 UK No.1 album Emergency on Planet Earth and the 1998 UK No.1 single 'Deeper Underground'. Jamiroquai have sold more than 26 million albums worldwide and won a Grammy Award in 1998.
3 Feb 1965
Nick Hawkins, guitarist with Big Audio Dynamite who had the 1986 UK No.11 single 'E=MC2'.
3 Feb 1959
Lol Tolhurst, keyboards, with
The Cure
, who had the 1989 US No.2 single 'Love Song', the 1992 UK No.6 single 'Friday I'm In Love', plus over 20 other UK Top 40 singles.
3 Feb 1956
Lee Ranaldo, guitarist with American alternative rock band Sonic Youth, who had the 1993 UK hit single 'Sugar Kane'. The band is considered to be a pivotal influence on the alternative and indie rock movements.
3 Feb 1949
Arthur 'Killer' Kane, bass guitarist with The New York Dolls, who had the 1973 album 'New York Dolls'. Kane died in Los Angeles on July 13th 2004, due to complications from leukaemia, aged 55.
3 Feb 1947
English singer, songwriter and guitarist Dave Davies, with
The Kinks
who scored the 1964 UK No.1 & US No.7 'You Really Got Me', and the 1967 UK No.2 single 'Waterloo Sunset' plus 19 other UK Top 40 singles. Davies suffered a stroke in 2004 after being interviewed by the BBC in London where he had been promoting his then current album, Bug.
3 Feb 1947
Melanie Safka, US singer, songwriter who had the 1971 US No.1 & 1972 UK No.4 single 'Brand New Key'.
3 Feb 1946
Stan Webb, guitar, vocals, with British group Chicken Shack, who had the 1969 UK No.14 single 'I'd Rather Go Blind'.
3 Feb 1943
Dennis Edwards, singer with The
Temptations
, who had the 1971 US No.1 & UK No.8 single 'Just My Imagination' and re- issued 'My Girl' UK No.2 in 1992.
3 Feb 1943
Eric Haydock best known as the original bass guitarist of The Hollies from December 1962 until July 1966. He was one of the first British musicians to play a Fender Bass VI, a six-string bass. Haydock died on 5 January age 75.
3 Feb 1940
Angelo D'Aleo, vocals, Dion And The Belmonts, who 1961 US No.1 & UK No.11 single 'Runaround Sue'.
3 Feb 1935
Johnny 'guitar' Watson, American blues guitarist, singer. His ferocious 'Space Guitar' single of 1954 pioneered guitar feedback and reverb. Watson died on 17th May 1996 while on tour in Yokohama, Japan. According to eyewitness reports, he collapsed mid-guitar solo. His last words were "ain't that a bitch".
3 Feb 1928
Val Doonican, Irish singer, and television presenter who had the 1964 UK No. 4 single 'Walk Tall', and 1967 UK No.1 album 'Val Doonican Rocks, But Gently'. Doonican died at a nursing home in Buckinghamshire on 1 July 2015, aged 88.
3 Feb 1928
Frankie Vaughan, UK singer. During the 50s he scored twenty UK Top 30 singles including, UK No.2 'Green Door'. He was made an OBE in 1965. Vaughan died 17th Sept 1999 aged 71.