February 9th: The Biggest Music Headlines
Scroll down the page to see all the music headlines, stories, and events for February 9 throughout music history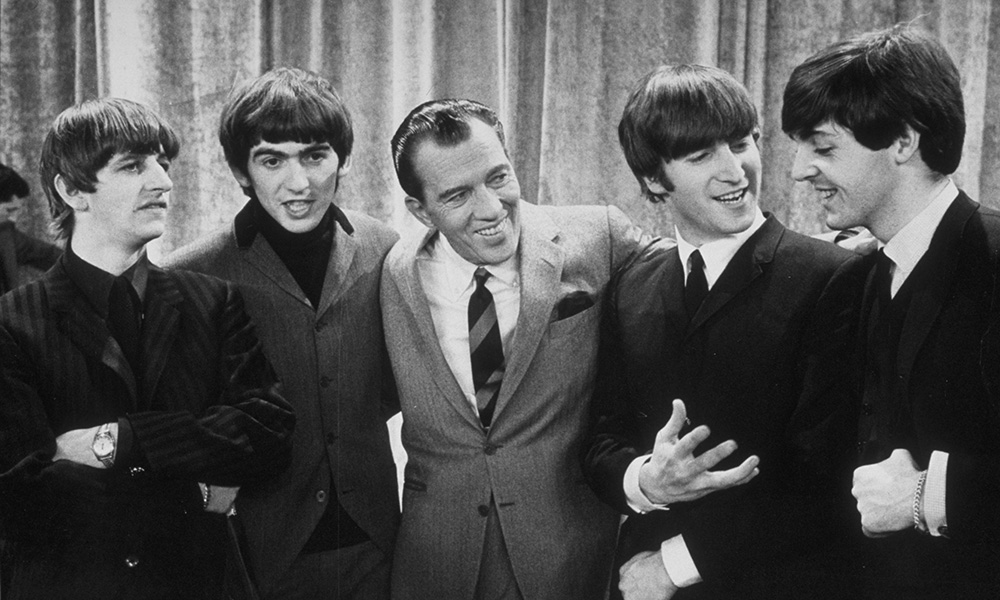 The Beatles Perform on 'The Ed Sullivan Show'
On this day in music, February 9, 1964, The Beatles made their first of several appearances on The Ed Sullivan Show, performing five songs, including their No.1 hit, "I Want to Hold Your Hand" and "All My Loving." The show received over 50,000 applications for the 728 in-studio seats. Richard Nixon's daughters, Julie and Tricia, and Olympic gold medalist Terry McDermott were among the lucky audience members. A record-breaking 73 million viewers tuned into the live television program, helping Sullivan top the nightly ratings for the first time in seven years.
In 2021, jazz pianist, composer, and fusion pioneer, Chick Corea, died at the age of 79. A significant loss in the jazz world, Corea was one of the foremost pianists of the post-John Coltrane era. His compositions "Spain" and "500 Miles High" are regarded as genre standards. During his lengthy career, Corea was nominated for more than 70 Grammy Awards – 27 of which he won.
In 1961, The Beatles (formerly The Silver Beatles) made their first appearance at the Cavern Club in Liverpool under their new moniker. While George Harrison was nearly denied admission after arriving in blue jeans, the band performed a lunchtime set, for which they were paid £5. They would play the Liverpool club nearly 300 more times over the following years.
In 1981, 55-year-old Bill Haley was found dead in his Harlingen, TX home. Known as the first rock'n'roll star, Haley and his band, The Comets, rose to fame in the early 50s and topped the charts on both sides of the Atlantic with 1955's "Rock Around the Clock." Haley, who sold over 60 million records worldwide, was posthumously inducted into the Rock and Roll Hall of Fame in 1987.
In 1998, chaos ensued at the BRIT Awards when Chumbawamba frontman Danbert Nobacon threw a bucket full of cold water over UK Deputy Prime Minister, John Prescott. Earlier in the evening, the outspoken band performed their hit "Tubthumping," which was nominated for Best British Single.
Looking for more things that happened on this day in music?
Keep scrolling for all of the headlines for February 9.
BORN ON FEBRUARY 9:
1925: Bobby Lewis
1939: Barry Mann
1942: Carole King
1947: Joe Ely
1947: Major Harris (The Delfonics)
1951: Dennis Thomas (Kool & The Gang)
1964: Rachel Bolan (Skid Row)
Looking for more artists born on this day?
Keep scrolling for all of our February 9 birthdays.
---
What to find another day?
---
February 9th
9 Feb 2021
American jazz composer, keyboardist, bandleader Chick Corea died age 79. His compositions 'Spain', '500 Miles High', 'Armando's Rhumba' and 'Windows' are widely considered jazz standards. As a member of Miles Davis's band in the late 1960s, he participated in the birth of jazz fusion. In the 1970s he formed Return to Forever along with Herbie Hancock, McCoy Tyner, Keith Jarrett and Bill Evans.
9 Feb 2015
Bob Dylan
turned the tables on his critics during a 30-minute speech, at the Musicares charity gala honouring his career. The 73-year-old, who rarely talks about his work, asked why critics complained he "can't sing" and sounds "like a frog" but do not "say that about Tom Waits?" The singer added, "Critics say my voice is shot, that I have no voice. Why don't they say those things about Leonard Cohen? Why do I get special treatment?"
9 Feb 2010
The White Stripes were taking on the US Air Force, complaining that it used one of the group's songs 'Fell In Love With A Girl' in a TV advert without permission. In a statement on their website, the duo said they took "strong insult and objection, with the implication that we licensed one of our songs to encourage recruitment during a war that we do not support."
9 Feb 2009
Led Zeppelin
singer Robert Plant took home five prizes for his collaboration with bluegrass singer Alison Krauss at this year's Grammy Awards held in Los Angeles. The duo won album of the year for Raising Sand and record of the year for 'Please Read The Letter.'
Coldplay
(who won song of the year for 'Viva La Vida')
Adele
, Duffy,
Radiohead
and Peter Gabriel were among other UK acts to be honoured.
9 Feb 2009
Ringo Starr
became the 2,401st person to be added to the Hollywood Walk Of Fame during a ceremony that marked the 50th anniversary of the attraction.
The Beatles
as a group were given a star in 1998.
9 Feb 2005
Winners at this year's Brit Awards included The Streets who won Best British male solo artist, Joss Stone won British female solo artist, Best British Album went to Keane for 'Hopes and Fears', Franz Ferdinand won Best British Group and Best Rock Act, McFly won Best Pop Act, Scissor Sisters won Best International group and the Best Album award the Brits 25 best song award went to Robbie Williams for 'Angels' and Sir
Bob Geldof
won the Outstanding Contribution To Music award.
9 Feb 2001
Eminem
beefed up security for his UK shows following the threat of gay rights protests. Campaigners said the rapper was a homophobe who fuelled prejudice with hate-filled lyrics.
9 Feb 1998
Winners at this year's Brit Awards included Finley Quaye who won Best British Male Solo Artist, Best British Female Solo Artist went to Shola Ama, The Verve won British Group and Best British Album for 'Urban Hymns', British Dance Act went to The Prodigy, British Breakthrough Act was Stereophonics, Best Selling British Album Act was The
Spice Girls
International Male, Jon
Bon Jovi
, International Female, Bjork, International Group,
U2
and Outstanding Contribution went to
Fleetwood Mac
. During the show Chumbawamba singer Danbert Nobacon threw a plastic bucket full of cold water over UK Deputy Prime Minister John Prescott.
9 Feb 1997
Scottish singer Brian Connolly with the Seventies Glam rock group Sweet died of kidney and liver failure aged 51. Connolly replaced Ian Gillan (later of
Deep Purple
and
Black Sabbath
) in Wainwright's Gentlemen who became Sweetshop and then shortened to Sweet. The group scored 15 UK top 40 hits including the 1973 No.1 hit 'Block Buster'.
9 Feb 1997
American Delta blues singer and guitarist Jack Owens died aged 92. In 1995 he appeared in a TV advertisement for Levi's jeans, showing him seated on his front porch. He was a recipient of a 1993 National Heritage Fellowship awarded by the National Endowment for the Arts, which is the highest honor in the folk and traditional arts in the United States
9 Feb 1993
British broadcaster Bill Grundy died of a heart attack aged 69. He conducted the famous
Sex Pistols
interview on Thames Television on December 1, 1976; when Grundy provoked the band into using obscenities on live TV. The broadcast wrecked Grundy's television career. He was also the first television presenter to present
The Beatles
on Granada Television on October 17, 1962.
9 Feb 1987
Winners at this years Brit awards held in London included Peter Gabriel who won British Male Solo Artist,
Kate Bush
won British Female Solo Artist, Best British Group went to Five Star, British Album was
Dire Straits
'Brothers In Arms', British Breakthrough Act was The Housemartins, International Solo Artist went to
Paul Simon
. The Bangles won Best International Group, Best British Video went to Peter Gabriel for 'Sledgehammer' and Best British Single was The Pet Shop Boys for 'West End Girls'.
9 Feb 1985
Madonna
started a three-week run at No.1 on the US album chart with 'Like A Virgin', a No.3 hit in the UK.
9 Feb 1982
9 Feb 1981
American singer and musician
Bill Haley
who became known as the first Rock 'n' Roll star, was found dead, fully clothed on his bed at his home in Harlingen, Texas from a heart attack, aged 55. He scored the 1955 UK & US No.1 single 'Rock Around the Clock' as well as 'See You Later, Alligator', 'Shake, Rattle and Roll', 'Rocket 88', 'Skinny Minnie', and 'Razzle Dazzle'. Haley was blinded in his left eye as a child due to a botched operation and later adopted his distinctive spit-curl hairstyle to distract attention from his blind eye.
9 Feb 1972
Paul McCartney
's Wings played the first night of a UK College tour in Nottingham. The group arrived unannounced asking social secretaries if they would like them to perform that evening. The band's intended first stop on the tour, Ashby-de-la-Zouch, refused to allow them to play so they drove on to Nottingham. Admission was 40p, British pub rock band Brinsley Schwarz was the opening act for the tour.
9 Feb 1968
Hal Cone former manager of The
Monkees
and Head of Jones Records was found guilty of theft, forgery, receiving stolen property and conspiracy.
9 Feb 1967
Canadian conductor Percy Faith died aged 67. He scored the 1953 hit 'Song from the Moulin Rouge' and 1960 US No.1 'Theme From A Summer Place', which spent nine weeks at No.1, and won the Grammy Award for Record of the Year in 1961.
9 Feb 1967
The film for the latest
Beatles
single 'Penny Lane' and 'Strawberry Fields Forever' was shown on BBC-TV's
Top Of The Pops
. It was the first Beatles single not to make No.1 in the UK since 1963, held off the top by Engelbert Humperdinck's 'Release Me.'
9 Feb 1964
The Beatles
made their US live debut on CBS-TV's 'The Ed Sullivan Show'; they performed five songs including their current No.1 'I Want To Hold Your Hand'. Never before had so many viewers tuned-in to a live television program, which with 73 million viewers, was three-fourths of the total adult audience in the United States.The show had received over 50,000 applications for the 728 seats in the TV studio.
9 Feb 1961
The Beatles
appeared at The
Cavern Club
, Liverpool, for the very first time (as
The Beatles
), they would go on to make a total of 292 other appearances at the Club. They were paid £5 for this luchtime appearance and
George Harrison
was nearly denied admission to play because he was wearing jeans.
9 Feb 1959
Mercury Records released 'White Lightning' by George Jones, which became the first No.1 single of his career. In his 1997 autobiography, I Lived To Tell It All, Jones mentions the fact that the recording process of 'White Lightning' was extremely lengthy after he arrived for the recording session under the influence of a great deal of alcohol and it took him approximately 80 takes just to record his vocals.
Born on this day in music
9 Feb 1964
Rachel Bolan, from American heavy metal band Skid Row. The group achieved commercial success in the late 1980s and early 1990s, with its first two albums Skid Row (1989) and Slave to the Grind (1991) the latter of which reached No.1 on the Billboard chart.
9 Feb 1963
Dave Rotheray, guitarist with English group The Beautiful South who had the 1990 UK No.1 single 'A Little Time' plus over 15 other UK Top 40 singles.
9 Feb 1960
Holly Johnson, singer who was a member of Liverpool based groups Big In Japan and Frankie Goes To Hollywood who had the 1984 UK No.1 & US No. 10 single 'Relax' and six other UK Top 40 singles. As a solo, artist scored the 1989 UK No.4 'Love Train' and 1989 UK No.1 album 'Blast'.
9 Feb 1955
Jimmy Pursey, singer with UK punk group Sham 69 who had the 1979 UK No.6 single, 'Hersham Boys'.
9 Feb 1951
Dennis Thomas, singer with Kool & The Gang who had the 1981 US No.1 & UK No.7 single 'Celebration', and the 1984 UK No.2 single 'Joanna' plus over 15 other Top 40 hits. He died on 7 August 2021 age 70.
9 Feb 1947
Joe Ely, country singer who toured with
The Clash
in the late 70s, and was a one time member of Linda Ronstadt's band.
9 Feb 1947
Major Harris, singer from American R&B/soul vocal group The Delfonics who had the 1968 US No.4 single 'La-La Means I Love You', and the hits 'Didn't I (Blow Your Mind This Time)', and 'Ready or Not Here I Come (Can't Hide from Love)'. Harris died in a Richmond, Virginia, hospital on November 9, 2012 from congestive heart and lung failure at the age of 65.
9 Feb 1942
Carole King
, US singer, songwriter who wrote many songs with Gerry Goffin including the 1962 UK No.3 & US No.22 single, 'It Might As Well Rain Until September'. Her 1970 US No.1 album 'Tapestry' has sold over 15 million copies and became a Grammy award winner in 71.
9 Feb 1940
Brian Bennett, drummer with The Shadows, who had the 1963 UK No.1 single 'Foot Tapper' plus 28 other UK Top 40 singles as well as having hits with Cliff Richard.
9 Feb 1939
Barry Mann, US singer, songwriter. Wrote many early 60s pop hits including 'Saturday Night At The Movies', 'You've Lost That Loving Feeling', 'Walking In The Rain'. Also had the 1961 US No.7 solo single 'Who Put The Bomp, In The Bomp, Bomp, Bomp.'
9 Feb 1925
American steel guitar player Billy Williamson. He was a member of
Bill Haley
and His Saddlemen, and its successor group
Bill Haley
& His Comets, from 1949 to 1963. Williamson had the distinction of being the only Comet allowed to record lead vocal tracks during Haley's tenure at Decca Records (such as the song 'Hide and Seek' on their 1956 album, Rock and Roll Stage Show and 'B.B. Betty' on the 1958
Bill Haley
's Chicks album. He died on 22 March 1996.
9 Feb 1925
American rock and roll and rhythm and blues singer Bobby Lewis best known for his 1961 hit singles 'Tossin' and Turnin'' (number 1 for seven weeks on the Billboard chart in the summer of 1961) and 'One Track Mind'. He died on 28 April 2020 aged 95.