January 10th: The Biggest Music Headlines
Scroll down the page to see all the music headlines, stories and events for January 10 throughout music history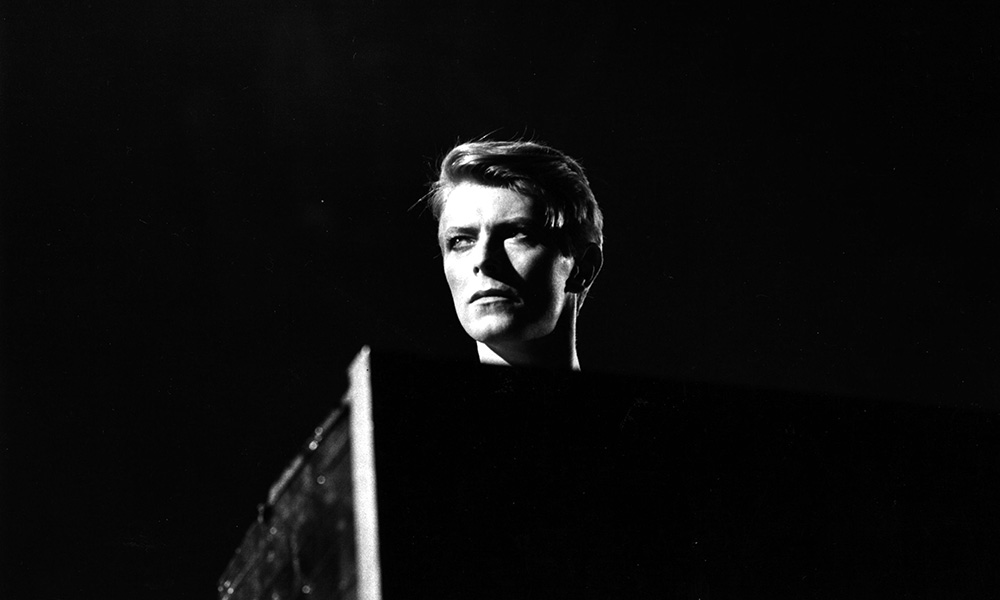 Music Fans Around The Globe Mourn Icon David Bowie
On this day in music, January 10, 2016, beloved music icon David Bowie died in his New York City home, following a battle with liver cancer. His death – and unannounced illness – came as a shock to fans, particularly as the news arrived just two days after the 69-year-old artist released his 25th album, Blackstar. In typical Bowie fashion, the album was an intentional parting gift to fans. From his years as Ziggy Stardust to his Thin White Duke era, the innovative musician reinvented himself throughout his lengthy career, while also finding success as an actor and visual artist. His mighty influence continues to reverberate.
In 1964, the first US Beatles album, Introducing…The Beatles, was released on Vee-Jay records, just 10 days before Capitol released their better-known Meet the Beatles! The collection of early hits, rushed amid the band's meteoric rise, sold a quick 1.3 million copies before legal complications barred the label from further sales.
In 1984, Cyndi Lauper proved that girls just wanted to have fun and success when she became the first female recording artist since Bobbie Gentry to earn five Grammy nominations. During the 1985 ceremony, Lauper took home one of these awards: Best New Artist.
In 2008, Radiohead topped the US album charts with the physical edition of In Rainbows, after letting fans name their own price for the digital version. The gamble paid off, and the band sold 122,000 physical copies of the album during its first week of release.
In 1964, The Rolling Stones recorded a cover of Buddy Holly's "Not Fade Away" at London's Olympic Studios. The song became the band's first US single.
In 1958, Jerry Lee Lewis topped the UK singles chart with "Great Balls Of Fire." The song, which featured a particularly high-energy performance by Lewis, would help to bring American rock'n'roll to European shores.
Looking for more things that happened on this day in music?
Keep scrolling for all of the headlines for January 10.
BORN ON JANUARY 10:
1930: Lyle Ritz (Wrecking Crew)
1943: Jim Croce
1945: Rod Stewart
1948: Donald Fagen (Steely Dan)
1953: Pat Benatar
Looking for more artists born on this day?
Keep scrolling for all of our January 10 birthdays.
---
What to find another day?
---
January 10th
10 Jan 2023
English guitarist
Jeff Beck
died age 78 from a bacterial meningitis infection at a hospital near Riverhall, England. He rose to prominence as a member of the Yardbirds, and afterwards founded and fronted the Jeff Beck Group and Beck, Bogert & Appice. In 1975, he switched to an instrumental style with focus on an innovative sound, and his releases spanned genres and styles ranging from blues rock, hard rock, jazz fusion and a blend of guitar-rock and electronica.
10 Jan 2023
American jazz and rock guitarist Dennis Budimir died at the age of 84. He was a member of The Wrecking Crew and worked with many artists including Joni Mitchell, The Carpenters, Brian Wilson, Barbra Streisand, Frank Zappa, Linda Ronstadt an Dusty Springfield. He also played on more than 900 movie soundtracks from the early 1960s until the 2000s.
10 Jan 2019
American singer Larry Cunningham died of a heart attack age 67. He is best known as a member of the R&B/soul group The Floaters who scored the 1977 US No.2 and UK No.1 hit 'Float On.' The song was adapted in the early 1990s to advertise Cadbury's Crème Eggs.
10 Jan 2018
British guitarist Eddie Clarke, who was a member of heavy metal bands Fastway and Motörhead died in hospital, where he was being treated for pneumonia. He was 67 years old. Of Motörhead's classic lineup, which consisted of Lemmy, himself and Phil "Philthy Animal" Taylor, he was the last surviving member.
10 Jan 2016
English singer, songwriter, multi-instrumentalist, record producer, painter, and actor
David Bowie
died from liver cancer at his New York home two days after releasing the album Blackstar on his 69th birthday. His first UK Top 40 single was the 1969 '
Space Oddity
' which became a UK No.1 in 1975, plus over 50 other UK Top 40 hits including five No.1's. Bowie has also scored two US No.1 singles, the 1975 'Fame' and 1983 'Let's Dance'. During his lifetime, his record sales, estimated at 140 million albums worldwide, made him one of the world's best-selling music artists.
10 Jan 2013
Claude Nobs the founder and general manager of the Montreux Jazz Festival died aged 76. During a 1971
Frank Zappa
concert, at the Montreux Casino the venue caught fire. Nobs saved several young people who had hidden in the casino, thinking they would be sheltered from the flames. This act earned him a mention (as Funky Claude in the line "Funky Claude was running in and out pulling kids out the ground") in the
Deep Purple
song Smoke on the Water, which is about the incident.
10 Jan 2008
Rod Allen Bainbridge, lead singer of The Fortunes, died aged 63 after battling liver cancer. The group's biggest hit was 'You've Got Your Troubles' which was a UK No.2 hit in 1965, also reaching No.7 seven in the US.
10 Jan 2008
Radiohead
topped the US album charts with the physical release of 'In Rainbows', originally sold via the internet for a price chosen by fans. The album sold 122,000 copies during its first week on release, giving the band a second US chart topper following 2000's 'Kid A', which sold an initial 207,000 copies.
10 Jan 2006
An Australian woman appeared in court charged with repeatedly stabbing her partner with a pair of scissors in the back, shoulder and thigh because he played
Elvis Presley
's song 'Burning Love' over and over again.
10 Jan 2005
American drummer Spencer Dryden died from colon cancer at his home in California aged 66. Was the drummer for Jefferson Airplane, (replaced Skip Spence), New Riders of the Purple Sage and The Dinosaurs. Dryden was the Nephew of Charlie Chaplin.
10 Jan 2005
A woman was suing Gene Simmons from
Kiss
for slander, alleging a documentary made her out to be a "sex-addicted nymphomaniac". Georgeann Walsh Ward, 53, of New York, said during a VH1 documentary her photo was flashed up as Simmons talked about his past sexual encounters. Ms Walsh Ward had dated Simmons for three years when he was a student. In the documentary, Simmons boasted of having sex with over 4,600 women.
10 Jan 2003
A haul of 500 Beatles tapes known as the 'Get Back sessions' stolen in the 1970s were found after UK police cracked a major bootleg operation in London and Amsterdam. Five men were arrested.
10 Jan 2003
Bee Gee
Maurice Gibb
was fighting for his life after a heart attack following major stomach surgery. The 53 year-old singer had been rushed to hospital after collapsing at his Florida home.
10 Jan 2001
American guitarist and songwriter and founder member of The Cramps Bryan Gregory died after suffering a heart attack aged 46 at Anaheim Memorial Medical Center, Anaheim, California. He appeared on The Cramps first two albums Gravest Hits and Songs the Lord Taught Us. He abruptly left the band in 1980, with a van full of most of the band's equipment; no police report or proof was established. After the Cramps, Gregory went on to play in Beast from 1980-1983.
10 Jan 1984
Cyndi Lauper became the first female recording artist since Bobbie Gentry in 1967 to be nominated for five Grammy Awards: Album of the Year, Best New Artist, Best Pop Vocal Performance (Female), Record of the Year and Song of the Year.
10 Jan 1981
John Lennon
's
Imagine
started a four-week run at No.1 on the UK singles chart, 10 years after it was recorded. Lennon had two other songs in the Top 5 this week, 'Happy Christmas, (War Is Over') and '(Just Like) Starting Over.' 'Imagine' was voted by the viewers of BBC TV as the best lyrics of all time in a poll broadcast in Oct 1999. Also on this day John and Yoko's 'Double Fantasy' album started an eight-week run at No.1 on the US chart. 'Just Like Starting Over' was at No.1 on the US singles chart.
10 Jan 1976
Blues artist Howlin Wolf, (Chester Burnett), died in hospital of cancer aged 66. The guitarist, singer and harmonica player's well known songs included 'Smoke Stack Lightning', 'Little Red Rooster' and 'Spoonful.'
10 Jan 1976
CW McCall went to No.1 on the US singles chart with 'Convoy', it made No.2 in the UK. CW McCall was in fact an advertising agent whose real name was Bill Fries.
10 Jan 1965
John Lennon
appeared on the UK TV Peter Cook and Dudley Moore show, 'Not Only But Also.'
10 Jan 1964
The
Rolling Stones
recorded 'Not Fade Away' at Olympic Studios, London, England. The song which was first recorded by
Buddy Holly
and his band, the Crickets, became The Stones first US single.
10 Jan 1964
The first US Beatles album, 'Introducing
The Beatles
', was released on Vee-Jay records. The album cover showed John, Paul and George with their now famous "mop top" haircuts, but Ringo had yet to convert. Vee-Jay would be forced to stop selling the disc by the end of the year because of legal complications, but by then over 1.3 million copies had been sold.
10 Jan 1958
Jerry Lee Lewis was at No.1 on the UK singles chart with 'Great Balls Of Fire'. Lewis was the only major white rock 'n' roll star to play piano rather than guitar.
10 Jan 1957
Tommy Steele and the Steelmen were at No.1 on the UK singles chart with 'Singing The Blues'. Guy Mitchell had been at No.1 the previous week with his version and then returned to No.1 the following week.
10 Jan 1956
Elvis Presley
made his first recordings for RCA Records at The Methodist television, radio & TV Studios in Nashville. '
Heartbreak Hotel
' was one of the songs recorded during this session.
10 Jan 1953
Jo Stafford was at No.1 on the UK singles chart with 'You Belong To Me'. Originally a singer with Tommy Dorsey until 1942, Stafford was the first female to have a No.1 on the UK singles Chart.
Born on this day in music
10 Jan 1981
Nasri (Nasri Tony Atweh), Canadian singer, songwriter with Magic! who scored the US & UK No.1 and international hit single 'Rude'. He and songwriter Adam Messinger have produced a string of hits for Justin Bieber, Shakira, Pitbull, and Chris Brown.
10 Jan 1979
Chris Smith, Kris Kross, (1992 US No.1 & UK No.2 single 'Jump'). The duo of Chris Smith and Chris Kelly were 12 and 13 when they recorded the song.
10 Jan 1978
Matt Roberts, guitarist, with American rock band 3 Doors Down who had the 2003 US No.4 single When I'm Gone', and the 2005 US No.1 album Seventeen Days. Roberts died on 20 Aug 2016 at the age of 38 from a prescription drug overdose.
10 Jan 1973
Aerlee Taree, from American alternative hip hop group, Arrested Development, who scored the 1992 UK No.2 and US No. 8 single 'People Everyday'. The group won two Grammy Awards in 1993 for Best New Artist and Best Rap Performance and were also named Band of the Year by Rolling Stone magazine.
10 Jan 1965
Nathan Moore, vocals, Brother Beyond, (1988 UK No.2 single 'The Harder I Try').
10 Jan 1964
Brad Roberts, vocals, guitar, with Canadian rock band Crash Test Dummies best known internationally for their 1993 single 'Mmm Mmm Mmm Mmm'.
10 Jan 1958
Shawn Colvin, Singer songwriter, (1995 UK No.40 single with Mary Chapin Carpenter, 'One Cool Remove').
10 Jan 1955
American singer Luci Martin on of the original members of Chic, had the 1978 US No.1 & UK No.7 single 'Le Freak'.
10 Jan 1955
German rock guitarist, Michael Schenker. Nicknamed the "Blonde Bomber", he first rose to fame as an early member of Scorpions, then achieved fame in the mid-1970s as the lead guitar player for UFO. Since leaving UFO in 1978, he has been leading the Michael Schenker Group.
10 Jan 1953
Pat Benatar, singer, and four-time Grammy winner, (1985 US No.5 and UK No.17 single 'Love Is A Battlefield' plus 10 other US Top 40 singles).
10 Jan 1948
American singer Fayette Pinkney from The Three Degrees. Their 1974 single 'When Will I See You Again', which was a huge international success topping the UK Singles Chart and peaked at number 2 on the US chart. Pinkney died on 27 June 2009 of acute respiratory failure after a short and sudden illness at the age of 61.
10 Jan 1948
Donald Fagen, vocals, keyboards, Steely Dan, (1973 US No.11 single 'Reeling In The Years' and nine other US Top 30 hits). Steely Dan's 'Two Against Nature' won a Grammy in 2001 for Album of the year. He has also released four albums as a solo artist and in 2001 was inducted into the Rock and Roll Hall of Fame.
10 Jan 1946
Aynsley Dunbar, drums, Journey, (1982 US No.2 single 'Open Arms'), Whitesnake, (1987 US No.1 & UK No.9 single 'Here I Go Again').
10 Jan 1946
Bob Lang, Mindbenders, (1965 US No.1 single 'Game Of Love', 1966 UK No.2 single 'Groovy Kind Of Love').
10 Jan 1945
Rod Stewart
, singer, songwriter, The Hoochie Coochie Men, Steampacket, Shotgun Express,
Jeff Beck
Group, the
Faces
(UK No.6 & US No.17 single 'Stay With Me'). Solo, (1971 UK & US No.1 single 'Maggie May', plus five other UK No.1's & over 35 Top 40 hits). His 1971 debut album 'Every Picture Tell's A Story' was the first album ever to simultaneously be No.1 in the UK & US.
10 Jan 1943
Jim Croce, US singer/songwriter who had a 1973 US No.1 single with 'Time In A Bottle'. He was killed in a plane crash on the way to a concert on September 20th 1973.
10 Jan 1939
Scott McKenzie, (1967 UK No.1 & US No.4 single 'San Francisco, Be Sure To Wear Some Flowers In Your Hair'. McKenzie also auditioned for The
Monkees
.) McKenzie died on August 18, 2012 aged 73.
10 Jan 1937
American songwriter Scott English best known as the co-writer of 'Brandy' which he wrote with Richard Kerr. This song became a No. 1 hit for Barry Manilow in 1974. He also wrote 'Bend Me, Shape Me', a hit US hit for The American Breed and a UK hit for Amen Corner. He died on 16 November 2018 age 81, due to complications of hip surgery.
10 Jan 1935
American singer-songwriter Ronnie Hawkins. He had the 1959 US No.26 single 'Mary Lou', Hawkins was a talent scout and mentor of the musicians he recruited for his band, The Hawks (later known as The Hawks). Also known as "Rompin' Ronnie", "Mr. Dynamo" or "The Hawk", he was one of the key players in the 1960s rock scene in Toronto. Hawkins died on May 29, 2022, at the age of 87.
10 Jan 1930
American jazz ukulele musician Lyle Ritz who as session musician on the bass guitar joined the Wrecking Crew a popular group of studio musicians in the Los Angeles recording industry. Ritz compiled over 5,000 recording credits including such notable tracks as Herb Alpert's 'A Taste of Honey', The
Righteous Brothers
' 'You've Lost That Lovin' Feelin'', and
The Beach Boys
'Good Vibrations.'
10 Jan 1927
American singer, songwriter, and pianist and teen idol Johnnie Ray, who had the 1956 UK No.1 & US No.2 single, 'Just Walking In The Rain', plus over 20 Top 40 singles between 1952 & 60. Ray has been cited by critics as a major precursor to what became rock and roll. He died of liver failure on 21st February 1990 age 63.
10 Jan 1917
Jerry Wexler, producer and record company executive. Co-owner of Atlantic records, vice president at Warner Brothers, worked with Ray Charles, Phil Spector, Dr John, Dusty Springfield,
Dire Straits
,
Bob Dylan
. He died on Aug 15th 2008, aged 91.