January 13th: The Biggest Music Headlines
Scroll down the page to see all the music headlines, stories and events for January 13 throughout music history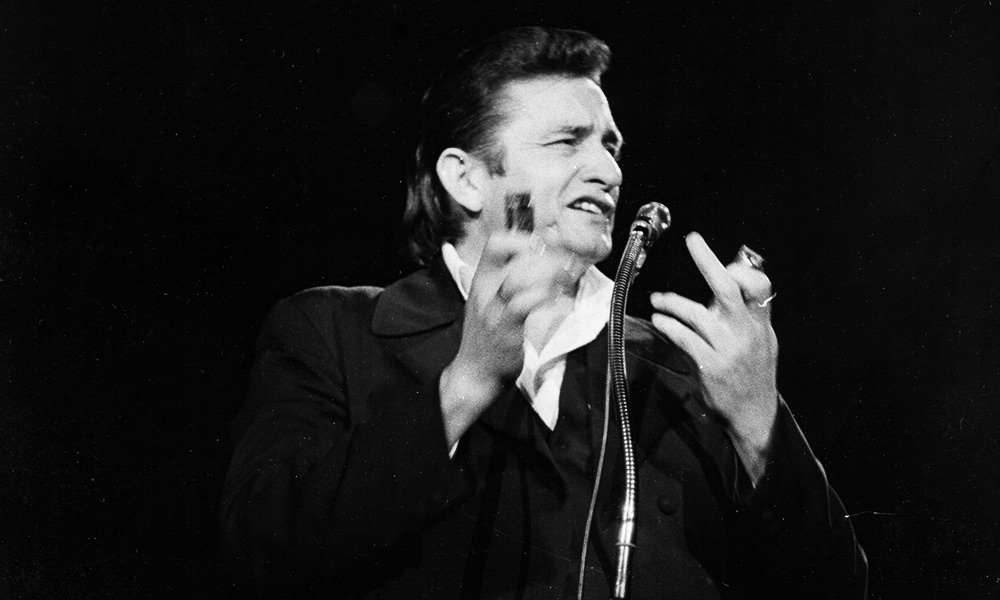 Johnny Cash Performs Live At Folsom Prison
On this day in music, January 13, 1968, Johnny Cash performed in front of 2000 inmates at California's Folsom Prison. The legendary appearance, which was recorded and released as Johnny Cash at Folsom Prison, had been a long-time dream for the country star, who first learned about the institution from the 1951 documentary, Inside the Walls of Folsom Prison. The film inspired Cash's 1955 song, "Folsom Prison Blues," which he famously performed during the 1968 concert. The live rendition became a Top 40 hit in the US, while the album topped Billboard's country chart.
In 1965, Bob Dylan entered Columbia Recording Studios to begin recording his fifth studio album, Bringing It All Back Home. The day proved to be particularly fruitful, with takes of some of his finest songs, "It's All Over Now Baby Blue" and "Subterranean Homesick Blues."
In 2016, Ed Sheeran made UK chart history as the first artist to simultaneously take the top two spots with new songs. The hits in question were "Shape of You" and "Castle on the Hill," which entered the pop chart at No.1 and No.2, respectively.
In 1990, reigning boy band New Kids On The Block scored their second and final UK No.1 single with "Hangin' Tough." The Boston group would continue to find success across the pond, landing seven more Top 10 hits in the UK before the end of 1991.
In 1978, The Police began recording their debut album, Outlandos d'Amour, at Surrey Sound Studios with producer Nigel Gray. Despite a tiny budget (borrowed from their manager, who also happened to be the brother of drummer Stewart Copeland) the band was able to lay down such career-defining tracks as "Roxanne" and "So Lonely."
In 1962, Chubby Checker's "The Twist" returned to the top of the Billboard Hot 100, a little more than two years after it first took the No.1 spot. The occurrence marked the first time in American chart history that a song hit No.1 on two separate occasions.
In 1969, Elvis Presley returned to Memphis to record his final No.1 hit in the US, "Suspicious Minds." The date also marked his first hometown session since 1956.
Looking for more things that happened on this day in music?
Keep scrolling for all of the headlines for January 13.
BORN ON JANUARY 13:
1929: Joe Pass
1938: Daevid Allen (Soft Machine, Gong)
1961: Graham "Suggs" McPherson (Madness)
1961: Wayne Coyne (Flaming Lips)
1975: Blasphemer (Mayhem)
Looking for more artists born on this day?
Keep scrolling for all of our January 13 birthdays.
---
What to find another day?
---
January 13th
13 Jan 2021
American musician Tim Bogert died from cancer age 76. He was bass guitarist and vocalist with Vanilla Fudge, Cactus and the power trio
Beck
, Bogert & Appice.
13 Jan 2021
New York Dolls guitarist Sylvain Sylvain died from cancer at the age of 69. Along with the Velvet Underground and the Stooges, they were one of the bands later credited as influences of the soon to be punk scene, the band's first two albums, New York Dolls (1973) and Too Much Too Soon (1974), became among the most popular cult records in rock. Prior to joining the New York Dolls, Sylvain and future band mate Billy Murcia ran a clothing company called Truth and Soul, which would play a role in the band's ground-breaking look.
13 Jan 2021
American Hip hop producer and rapper Duke Bootee died age 69. His best known single, 'The Message', was released in 1982 on Sugar Hill Records under the name Grandmaster Flash and the Furious Five.
13 Jan 2017
Magic Alex (Alexis Mardas) a Greek electronics engineer died aged 74. He is best known for his close association with the Beatles. His nickname was given to him by
John Lennon
when he was involved with the group between 1965 and 1969, during which time he became head of Apple Electronics. Mardas often said that the Abbey Road studio was "no good", much to producer George Martin's annoyance. He allegedly said that he could build a 72-track tape machine and was then given the job of designing the new Apple Studio in Savile Row, London. His schemes lost Apple at least £300,000 (£3 million in 2017 pounds).
13 Jan 2016
The
Rolling Stones
first manager, Giorgio Gomelsky, passed away at the age of 82. He owned the Crawdaddy Club in London where The
Rolling Stones
were the house band. After he was replaced by Andrew Loog Oldham in May, 1963, Gomelsky went on to manage The Yardbirds, Julie Driscoll and Brian Auger before moving to New York in 1978 and opening The Green Door nightclub.
13 Jan 2016
Ed Sheeran
's new singles 'Shape of You' and 'Castle On The Hill' entered the UK singles chart at No.1 and No.2 respectively. The Official Charts Company said it was the first time in history an artist had taken the top two chart positions with brand new songs.
13 Jan 2010
Beyoncé
and Jay-Z were named Hollywood's top-earning couple by Forbes magazine. The pair earned an estimated $122m (£75.1m) between June 2008 and June 2009 - more than any other couple married or unmarried.
13 Jan 2010
Soul singer Teddy Pendergrass died at the age of 59 following a difficult recovery from colon cancer surgery. Pendergrass enjoyed early success with Harold Melvin and the Blue Notes, whose hits included If You Don't Know Me By Now, before going solo in 1976. He was the first black male singer to record five consecutive multi-platinum albums in the US.
13 Jan 2010
A plaque of
The Beatles
iconic yellow submarine, which was stolen six months ago from Liverpool's Albert Dock, was set to be replaced by a new creation. The 5ft (1.5m) design featured the faces of
John Lennon
,
Paul McCartney
,
Ringo Starr
and
George Harrison
peering through its portholes. The new submarine would hang outside the museum dedicated to the band,
The Beatles
Story.
13 Jan 2005
A report showed that more songs had been written about
Elvis Presley
than any other artist. It listed over 220 songs including: 'Graceland' by
Paul Simon
, 'A Room At The Heartbreakhotel' by
U2
, 'Calling Elvis',
Dire Straits
, 'Happy Birthday Elvis', Loudon Wainwright III, 'There's A Guy Works Down The Chip Shop Swears He's Elvis', Kirsty MacColl, 'I Saw Elvis in a UFO', Ray Stevens. 'Elvis Has Left the Building' by
Frank Zappa
and 'My Dog Thinks I'm Elvis' by Ray Herndon.
13 Jan 2003
Diana Ross appeared in a US court charged with driving while twice over the drink driving limit. Police in Tucson reported that Miss Ross could not walk in a straight line, touch her nose or count to 30 after she had been stopped for swerving across the road.
13 Jan 2003
Who guitarist Pete Townshend was arrested on suspicion of child porn offences. Police officers impounded seven computers from his £15 million ($25.5 million) home in Richmond, Surrey.
13 Jan 1990
New Kids On The Block had their second and last No.1 UK single with 'Hangin' Tough.' They had a further 7 Top 10 hits by the end of 1991. They broke up after that, but set the scene for numerous boy bands throughout the 90s.
13 Jan 1986
Sex Pistols
members John Lydon, Steve Jones and Paul Cook, as well as the mother of Sid Vicious, sued former manager Malcom McClaren for £1 million ($1.7 million). They later settled out of court.
13 Jan 1984
BBC
Radio 1
announced a ban on 'Relax' by Frankie Goes To Hollywood, after DJ Mike Read called it 'obscene', a BBC TV ban also followed. The song went on to become a UK No.1 and spent a total of 48 weeks on the UK chart.
13 Jan 1979
American soul and gospel singer-songwriter Donny Hathaway took his own life at the age of 33, following well-documented struggles with his mental health. Hathaway, who was honored with a Grammy Lifetime Achievement Award in 2019, scored numerous hits during his career, including 1972's "Where Is the Love" and 1978's "The Closer I Get," both with Roberta Flack.
13 Jan 1978
With a budget of only £1,500 borrowed from Stewart Copeland's brother Miles Copeland III,
The Police
started recording their debut album at Surrey Sound Studios, Surrey, England with producer Nigel Gray. The album 'Outlandos d'Amour' which was released in November of this year featured the hits 'So Lonely', 'Roxanne' and 'Can't Stand Losing You'.
13 Jan 1973
Eric Clapton
made his stage comeback at the Rainbow Theatre, London, with Pete Townsend,
Ronnie Wood
, Stevie Winwood, Rebop, Jim Capaldi and support from The Average White Band. The night's two shows were recorded for the 'Rainbow Concert' album. Pete Townshend from
The Who
had organised the concert to help Clapton kick his heroin addiction.
13 Jan 1970
Steel Mill, (featuring
Bruce Springsteen
) played at The Matrix in San Francisco, California. Boz Scaggs was the scheduled headliner but he cancelled at that last minute due to illness. Rock critic Philip Elwood, who turned up intending to review Scaggs ended up writing a highly favorable review of Steel Mill for The San Francisco Examiner.
13 Jan 1969
Elvis Presley
began a ten day recording session that would produce his final US number one record, 'Suspicious Minds'. The tracks were laid down at American Sound Studios in Memphis and marked the first time Presley had recorded in his hometown since his Sun Records days in 1956.
13 Jan 1968
Johnny Cash
played a show, which was recorded, for his forthcoming live album at Folsom Prison, near Sacramento, California in front of 2,000 inmates. When released, the lead single, 'Folsom Prison Blues' (an update of his 1956 hit) became one of the most famous recordings of his career.
13 Jan 1967
13 Jan 1965
The first day of recording sessions for
Bob Dylan
's Bringing It All Back Home album were held at Studio A, Columbia Recording Studios in New York City. Dylan recorded
Subterranean Homesick Blues
and 'It's All Over Now, Baby Blue'.
13 Jan 1963
The Beatles
recorded a TV appearance on the ABC Television program "Thank Your Lucky Stars" in Birmingham playing their new single, 'Please Please Me' The show was broadcast on January 19.
13 Jan 1962
Chubby Checker went back to No.1 on the US singles chart with 'The Twist'. The song first went to No.1 in Sept 1960 and became the only record in American chart history to top the charts on two separate occasions.
Born on this day in music
13 Jan 1975
Norwegian award winning musician Rune Eriksen best known as the former guitarist in the black metal band Mayhem under the stage name Blasphemer.
13 Jan 1964
David McClusky, from Scottish indie rock band The Bluebells who had the 1993 UK No.1 single with the re-issued 'Young At Heart' after it was used in a Volkswagen television advertisement.
13 Jan 1963
American guitarist Tim Kelly from Slaughter. Kelly released four studio albums with the band, and two live albums. Kelly was involved in a fatal car accident on February 5, 1998, while traveling on Highway 96 in Arizona. Kelly's vehicle was hit head on when an 18 wheeler crossed the middle line.
13 Jan 1962
American singer and actor Trace Adkins who has charted more than 20 singles on the Billboard country music charts.
13 Jan 1961
American musician Wayne Coyne, guitarist and singer with Flaming Lips. Their 1999 release The Soft Bulletin was NME magazine's Album of the Year and the group has won three Grammy Awards.
13 Jan 1961
Graham McPherson, (Suggs), singer from English ska band Madness. They have had 15 singles reach the UK top ten, hits include 'One Step Beyond', 'Baggy Trousers', 'Our House' and 'It Must Be Love'. As a solo artist he had the 1995 UK No.7 single with a cover of
The Beatles
'I'm Only Sleeping'.
13 Jan 1959
heavy metal bassist James LoMenzo known for his roles as a former member of White Lion and Megadeth. He is also known for his work in Black Label Society.
13 Jan 1957
Don Snow, Hammond organist, pianist, guitarist, bass guitarist, drummer and saxophonist who is primarily known for his work with Squeeze. Some of their best-known songs are 'Tempted', 'Pulling Mussels (From the Shell)', 'Cool for Cats' and 'Up the Junction'. He has also frequently worked with Van Morrison.
13 Jan 1957
Jim Paris, bass, Carmel, (1983 UK No.15 single 'Bad Day').
13 Jan 1955
Fred White, drummer with Earth, Wind & Fire, who had the 1975 US No.1 single 'Shining Star', and the 1981 UK No.3 single 'Let's Groove'. The band has received 20 Grammy nominations and were the first African-American act to sell out Madison Square Garden. White died on 1 January 2023 age 67.
13 Jan 1955
Australian singer-songwriter Paul Kelly who was a member of the Dots, the Coloured Girls, and the Messengers.
13 Jan 1948
John Lees, from English progressive rock band Barclay James Harvest who scored eight UK Top 40 albums from 1974-87.
13 Jan 1938
Australian poet, guitarist, singer, composer and performance artist Daevid Allen. He was co-founder of progressive rock groups Soft Machine (in the UK, 1966) and Gong. Allen died on 13th March 2015.
13 Jan 1929
American virtuoso jazz guitarist Joe Pass who worked with
Frank Sinatra
, Sarah Vaughan, Johnny Mathis, Duke Ellington, Dizzy Gillespie, Ella Fitzgerald and worked on TV shows including The Tonight Show Starring Johnny Carson and The Steve Allen Show. Pass died on May 23 1994.