January 14th: The Biggest Music Headlines
Scroll down the page to see all the music headlines, stories and events for January 14 throughout music history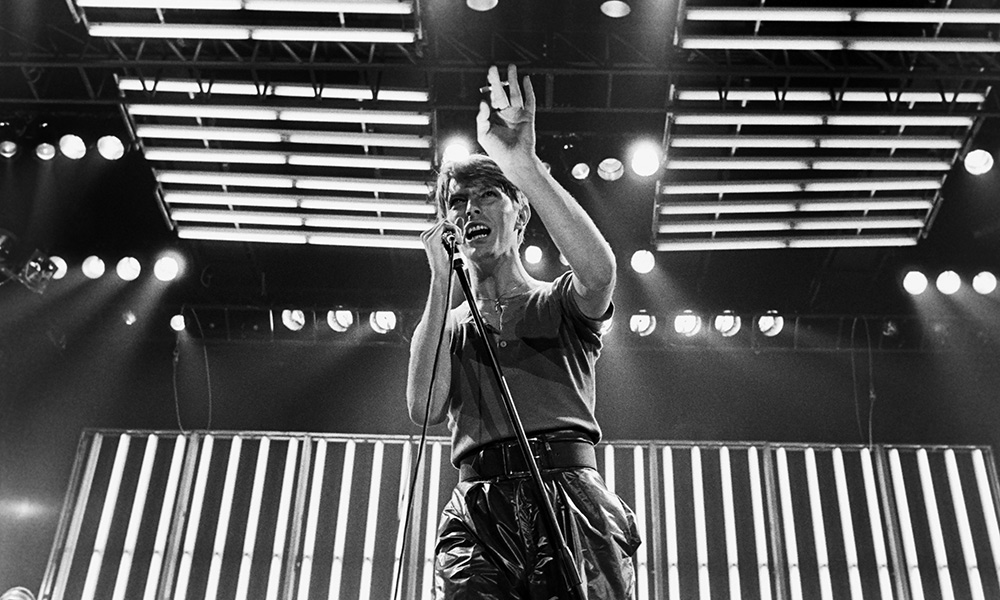 David Bowie Releases 'Low'
On this day in music, January 14, 1977, David Bowie released his eleventh studio album, Low, the first of three collaborations with Brian Eno (known as "The Berlin Trilogy"). The futuristic-sounding record found Bowie experimenting with electronic and ambient music, resulting in one of his more avant-garde works. While fans and critics were divided on the artist's new sound, and Bowie did little to promote the record, Low was a commercial success, landing at No.2 in the UK and No.11 in the US. Single "Sound and Vision," meanwhile, peaked at No.3 on the UK pop chart.
In 1970, Diana Ross made her final live appearance with The Supremes, before embarking on a solo career. During the performance, which took place at The Frontier Hotel in Las Vegas, Ross introduced her replacement in the group, Jean Terrell. The show was released later in the year as part of The Supremes' Farewell double LP, while the new line-up continued to find success on the charts.
In 2007, Amy Winehouse began a two-week run at the top of the UK album chart with Back to Black, her second and final studio album. Released in November 2006, the album featured Winehouse's signature hits, including "Rehab," "You Know I'm No Good," "Tears Dry on Their Own," and the title track. Across the pond, Back to Black broke first-week sales records, and would earn Winehouse multiple Grammys in 2008.
In 1996, Oasis scored their second No.1 album in the UK with (What's the Story) Morning Glory, the Manchester, UK band's colossally successful sophomore LP. The album would spend a whopping 145 weeks on the charts and become a staple of the Britpop genre.
In 1984, Paul McCartney scored his first UK No.1 hit as a solo artist with "Pipes Of Peace." McCartney previously scored chart-topping hits with The Beatles, Wings, and Stevie Wonder, when they released their duet, "Ebony and Ivory." The feat also made McCartney the first artist in the UK to score a No.1 hit as a solo artist, as a duo, and as a member of a band.
In 1978, The Sex Pistols played their final show together at the Winterland Ballroom in San Francisco. Ahead of the encore, frontman Johnny Rotten announced his displeasure with the band, effectively ending the group's short-but-mighty reign.
In 1967, The Human Be-In took place in San Francisco's Golden Gate Park. Attended by approximately 25,000 people, the event served as a precursor to the Summer of Love and set the standard for music festivals. Touted as a "Gathering of the Tribes for a Human Be-In," the event featured a variety of speakers and musical acts, including Timothy Leary, Allen Ginsberg, the Grateful Dead, Quicksilver Messenger Service, Jefferson Airplane, and Big Brother and the Holding Company.
Looking for more things that happened on this day in music?
Keep scrolling for all of the headlines for January 14.
BORN ON JANUARY 14:
1938: Allen Toussaint
1962: Patricia Morrison (Sisters of Mercy)
1968: LL Cool J
1969: Dave Grohl, Nirvana (Foo Fighters)
1982: Caleb Followill (Kings of Leon)
Looking for more artists born on this day?
Keep scrolling for all of our January 14 birthdays.
---
What to find another day?
---
January 14th
14 Jan 2022
American country musician and songwriter Dallas Frazier died aged 82. Frazier's 1957 song 'Alley Oop', taken to No. 1 in the US by The Hollywood Argyles, became his first hit, (The lyric from 'Alley Oop' "look at that caveman go" is referenced in David Bowie's 'Life on Mars'). He wrote 'There Goes My Everything', a big hit for Jack Greene in 1966 that earned him a nomination for the Grammy Award for Best Country Song. His tunes were recorded by George Jones (who recorded an entire album of Frazier's songs in 1968), Diana Ross, Engelbert Humperdinck, Jerry Lee Lewis, Willie Nelson, Charley Pride, Waylon Jennings, Merle Haggard and Elvis Presley.
14 Jan 2014
Justin Bieber was questioned by police over the egging of his neighbour's house in Calabasas, California. Bieber spoke to police in relation to the incident, which saw him accused of throwing eggs at his neighbour's house while his neighbour and neighbour's daughter were on the balcony filming him. Billboard reports that a dozen vehicles arrived on Bieber's property with a search warrant, looking for evidence that Bieber was involved in the incident. Det. Dave Thompson commented: "We collected evidence related to that crime. Mr. Bieber was present and cooperative. He was not arrested."
14 Jan 2012
English drummer, producer, journalist, music educator, and broadcaster Robbie France died aged 52. Born in Sheffield, England, France moved to Australia where he formed the jazz-fusion group, Carnival. He also worked with Stevie Wright of the Easybeats, Marty Rhone, Tim Gaze, and other major Australian artists as well as Skunk Anansie and Diamond Head in the UK. He amassed over 1,000 television, radio, and advertising credits, including eight documentaries and four film scores, including Band on the Run, one of the most successful surfing films ever made.
14 Jan 2010
The BBC admitted coverage of the launch of
U2
's album No Line On The Horizon in 2009 went too far - giving "undue prominence" to the band. RadioCentre, the trade body for commercial radio companies, had made a formal complaint over the coverage saying the BBC had given
U2
"the sort of publicity money can't buy".
14 Jan 2010
Guitarist
Jimmy Page
was honoured with the United Nations' first ever Pathways To Peace Award. Pathways To Peace is an international peace building, educational and consulting organization which has consultative status with the United Nations.
14 Jan 2007
Amy Winehouse
started a two week run at No.1 on the UK album chart with 'Back To Black'. The album has sold over 3.58 million copies in the UK alone, becoming the UK's second best-selling album of the 21st century. Worldwide, the album has sold over 20 million copies.
14 Jan 2005
A $100,000 (£58,823) statue honouring the late punk guitarist Johnny Ramone was unveiled by his widow Linda at the Hollywood Forever Cemetery. Johnny died from prostate cancer in September 2004 at the age of 55. Hundreds turned out for the ceremony, including Tommy Ramone the only surviving band member. Dee Dee Ramone died of a drugs overdose in 2002 and Joey died in 2001 of lymphatic cancer.
14 Jan 2003
Linda Gail Lewis the sister of Jerry Lee Lewis, dropped a claim of sex discrimination against Van Morrison. Lewis had claimed that Morrison had 'publicly humiliated' her on stage and had tried to ruin her life by asking her for sex. She withdrew her claim after discussions with her lawyer. Morrison denied all the allegations.
14 Jan 2001
Jennifer Lopez scored her first UK No.1 single with 'Love Don't Cost A Thing.' The track was taken from her album J.Lo.
14 Jan 1996
Oasis
went to No.1 on the UK album chart with '(What's The Story) Morning Glory', the group's second UK No.1 spent a total of 145 week's on the chart.
14 Jan 1992
American rock drummer, Jerry Nolan from The New York Dolls died from a fatal stroke aged 45. The influential American band formed in 1972 and made just two albums, the 1973 New York Dolls and 1974 Too Much Too Soon. Nolan joined the New York Dolls in the autumn of 1972 to replace Billy Murcia, who had died of asphyxiation as a result of a failed attempt to revive him from a drug overdose while on tour in England, early in the band's career. Nolan left the Dolls together with Johnny Thunders in the spring of 1975. The two then placed a call to bassist Richard Hell, formerly of the Neon Boys and Television, to form The Heartbreakers.
14 Jan 1984
Paul McCartney
was at No.1 on the UK singles chart with 'Pipes Of Peace.' With this release McCartney made chart history by becoming the first artist to have a No.1 in a group, (
The Beatles
), in a duo, (with
Stevie Wonder
) in a trio, (with Wings) and as a solo artist.
14 Jan 1978
The
Sex Pistols
played their last show at the Winterland Ballroom in San Francisco where Johnny Rotten yelled to the crowd at the outset, "Ever get the feeling you've been cheated." It was the last time the band played with bassist Sid Vicious.
14 Jan 1977
David Bowie
released his eleventh studio album Low, the first of three collaborations with Brian Eno termed the "Berlin Trilogy". The track 'Sound and Vision' was released as a single and used by the BBC in the UK on trailers at the time, providing much needed exposure, as Bowie opted to do nothing to promote the single himself, and helped the song reach No.3 on the UK charts.
14 Jan 1970
Diana Ross made her last appearance with The
Supremes
at The Frontier Hotel, Las Vegas. During the show, Diana introduced her replacement, Jean Terrell, who would lead the group to seven more Top 40 hits, including the Top 10 entries 'Up The Ladder To The Roof' and 'Stoned Love' later in the year.
14 Jan 1967
Over 25,000 people attend The Human Be-In-A Gathering Of The Tribes at San Francisco's Golden Gate Park. The event was a forerunner of major, outdoor rock concerts and featured
Grateful Dead
, Jefferson Airplane, Quicksilver Messenger Service and Big Brother And The Holding Company.
14 Jan 1966
David Jones changed his name to
David Bowie
to avoid confusion with Davy Jones from The
Monkees
, just in time for the release of his single, 'Can't Help Thinking About Me'. He would later say that he chose "Bowie" because he liked that "big American bear-killin' knife."
14 Jan 1964
The Beatles
(minus
Ringo Starr
who was fog-bound in Liverpool) departed from Liverpool for Paris, France for an 18-day run at the Olympia Theatre. Arriving in Paris, John, Paul, and George were met by 60 fans. Ringo, accompanied by roadie Neil Aspinall, arrived the next day.
14 Jan 1963
Charlie Watts made his live debut with The
Rolling Stones
at The Flamingo Jazz Club, Soho, London. Before joining the Stones, Watts played regularly with Blues Incorporated.
14 Jan 1961
Elvis Presley
's 'GI Blues' started a seven-week run at No.1 on the UK chart. Also on this day Elvis was promoted to Acting-Sergeant in the US Army, receiving a pay increase of $22.94 per month.
Born on this day in music
14 Jan 1989
Frankie Sandford, best known for being a member of girl group The Saturdays who scored the 2013 UK No.1 hit single 'What About Us' featuring Sean Paul.
14 Jan 1982
Caleb Followill, lead singer, rhythm guitarist, from American rock band Kings of Leon who had the 2007 UK No.1 album Because Of The Times, and the 2008 UK No.1 single 'Sex on Fire'. The band has sold over 21 million albums worldwide and 38 million singles.
14 Jan 1974
Denise Van Outen, actress / singer, (2002 UK No. 23 single with Andy Williams, 'Can't Take My Eyes Off You'). The song set a new record of the biggest age gap of a duo to have a hit: 45 years.
14 Jan 1969
American musician, singer, songwriter, record producer
Dave Grohl
. At the age of seventeen, Grohl joined Scream, he was the longest serving drummer with
Nirvana
and the frontman and founder of the Foo Fighters and is the drummer and co-founder of the rock supergroup Them Crooked Vultures. In 2012, Grohl was estimated to be the third wealthiest drummer in the world, behind
Ringo Starr
and
Phil Collins
, with a fortune of $260 million.
14 Jan 1968
American rapper, actor, author and entrepreneur LL Cool J, (1995 US No.3 single 'Hey Lover', 1997 UK No.1 single 'Ain't Nobody' and 2000 US No.1 album 'G.O.A.T.). LL Cool J is also known as one of the forefathers of pop rap.
14 Jan 1967
Zakk Wylde,
Ozzy Osbourne
Band, between the studio albums of 'The Ultimate Sin' and 'No Rest for the Wicked' and NRFTW had the track 'Miracle Man' as a single.
14 Jan 1962
Patricia Morrison, from English gothic rock band, The Sisters Of Mercy who scored the 1992 UK No.3 single 'Temple Of Love'.
14 Jan 1959
Chas Smash, horns, from English ska band Madness. They have had 15 singles reach the UK top ten, hits include 'One Step Beyond', 'Baggy Trousers', 'Our House' and 'It Must Be Love'.
14 Jan 1956
Bob Bradbury, Hello, (1974 UK No.6 single 'Tell Him').
14 Jan 1948
Tim Harris, drummer from British soul band The Foundations who scored the 1967 UK No.1 single 'Baby Now That I've Found You' and the 1969 US No.3 single 'Build Me Up A Buttercup'. The group was the first multi-racial group to have a No.1 hit in the UK in the 1960s.
14 Jan 1944
Linda Jones, US soul singer. She died on 14th March 1972 aged 26, after collapsing into a diabetic coma following a performance at Harlem's Apollo Theatre in New York. Jones had the 1967 US No.21 single 'Hypnotized.'
14 Jan 1938
Allen Toussaint, US singer, songwriter, producer, worked with
Paul Simon
, Joe Cocker, The Band, Lee Dorsey, Neville Brothers. Toussaint died after appearing in concert in Madrid on 10th Nov 2015. He was 77.
14 Jan 1937
Billie Jo Spears, US female singer, who had the 1975 UK No.6 single 'Blanket On The Ground'. One of Spears's first singles was 'Harper Valley PTA', but her single release was beaten off the presses by Jeannie C. Riley's version which became a monster crossover hit, while Spears's failed to chart. Spears died on Dec 14th 2011.
14 Jan 1936
Clarence Carter, blind US singer, guitarist, (1970 US No.4 & UK No.2 single 'Patches').