January 17th: The Biggest Music Headlines
Scroll down the page to see all the music headlines, stories and events for January 17 throughout music history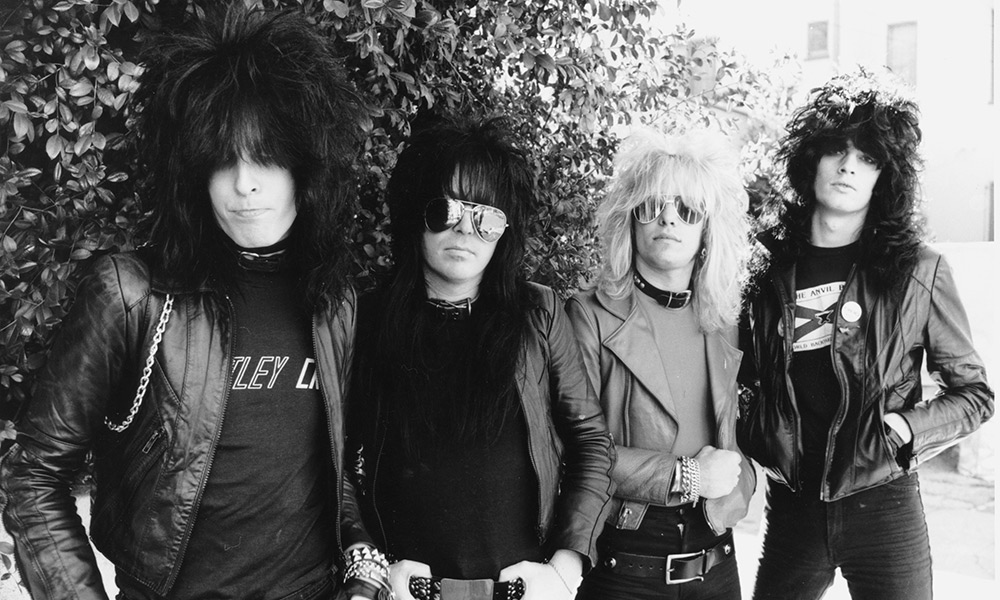 The Birth of Mötley Crüe
On this day in music, January 17, 1981, heavy metal history was made when bass guitarist Nikki Sixx left the band London to begin rehearsals with drummer Tommy Lee and singer/guitarist Greg Leon, effectively marking the beginning of Mötley Crüe. While Leon would depart within months, the group eventually cemented their legendary lineup with vocalist Vince Neil and guitarist Mick Mars. Fame would be their next stop, as they went on to be one of the most successful bands of their genre.
In 1978, Scottish band Simple Minds made their live debut at Glasgow's Satellite Club. The New Wave stars, who would achieve international fame with their 1985 hit, "Don't You (Forget About Me)," went on to release five chart-topping albums in the UK, and have sold more than 60 million albums worldwide.
In 1964, The Rolling Stones released their self-titled debut EP. Despite the raw production value, the four-song collection proved the band's early prowess, as heard on the tracks "You Better Move On," "Poison Ivy," "Bye Bye Johnny," and "Money."
In 1998, effervescent British girl group All Saints scored their first UK No.1 hit with "Never Ever." The wildly catchy tune spent a total of 24 weeks on the chart and marked the first of five No.1 singles for the group.
In 1976, Barry Manilow scored his second No.1 hit in the US with "I Write The Songs." Ironically, the song was written not by Manilow but by the Beach Boys' Bruce Johnston.
In 1987, Kate Bush began a two-week run atop the UK album chart with The Whole Story. Showcasing such hits as "Running Up That Hill" and "Wuthering Heights," the compilation became the British artist's best-selling album.
In 1966, NBC added a new series to their fall schedule: The Monkees. Centering around a rock band in Los Angeles, the sitcom starred a group of musically-inclined actors, including Micky Dolenz, Davy Jones, Michael Nesmith, and Peter Tork.
Looking for more things that happened on this day in music?
Keep scrolling for all of the headlines for January 17.
BORN ON JANUARY 17:
1927: Eartha Kitt
1955: Steve Earle
1959: Susanna Hoffs (The Bangles)
1963: Andy Rourke (The Smiths)
1971: Kid Rock
1978: Ricky Wilson (Kaiser Chiefs)
1984: Calvin Harris
1986: Jeremiah Fraites (The Lumineers)
Looking for more artists born on this day?
Keep scrolling for all of our January 17 birthdays.
---
What to find another day?
---
January 17th
17 Jan 2023
American rock musician Van Conner died from pneumonia age 55. He was best known as the bassist for Screaming Trees and also joined a live lineup of Dinosaur Jr.
17 Jan 2016
English drummer Dale Griffin died aged 67. He was a founder member of Mott the Hoople best known for classic tracks 'Roll Away The Stone' and 'All The Young Dudes'. The band who made eight albums during their five-and-a-half year existence, reformed to mark their 40th anniversary in 2009 - but Griffin was too ill to take part. Griffin also produced numerous BBC
Radio 1
John Peel
sessions from 1981 to 1994 including the first professional recording session for Pulp in 1981.
17 Jan 2016
American brass player Mic Gillette died of a heart attack. A child prodigy, Gillette picked up the trumpet and was reading music by age four. He was a member of soul band Tower of Power.
17 Jan 2014
Madonna
apologised for using a racial slur to refer to her son on an Instagram post, after she uploaded a snapshot of 13-year-old Rocco Ritchie boxing with the offensive epithet used in a hashtag accompanying the photo.
Madonna
's comment was swiftly deleted from her Instagram account after some of her 1.1 million followers berated her for using the hashtag "#disnigga"
17 Jan 2011
American music publisher, talent manager, and songwriter Don Kirshner who helped launch the careers of
Neil Diamond
, Bobby Darin,
Carole King
, Neil Sedaka, The
Monkees
, The Archies and Kansas, died of heart failure at the age of 76. Kirshner was hired by the producers of the
Monkees
to provide hit-worthy songs to accompany the television program and also served as a music consultant for almost two dozen TV series between 1966 and 1977.
17 Jan 2003
A long-lost recording featuring
John Lennon
and
Mick Jagger
was set to spark a biding war at a London auction. The acetate record was recorded in 1974 with Jagger singing the blues song 'Too Many Cooks' and Lennon playing guitar. The track had never been released because the two artists were both signed to different record companies.
17 Jan 2003
Singer Lou Rawls was arrested at Albuquerque Airport, New Mexico after an incident with his companion, Nina Inman. Officers reported that she and Rawls had been talking about their relationship when the conversation escalated into a shoving match resulting in Rawls being booked on one count of battery on a household member.
17 Jan 1998
All Saints scored their first UK No.1 single with 'Never Ever'. The track spent a total of twenty-four weeks on the UK chart and was the first of five No.1 singles for the London based girl group.
17 Jan 1996
David Bowie
Tom Donahue, The Jefferson Airplane,
Gladys Knight
And The Pips, Little Willie John,
Pink Floyd
, Pete Seeger, The Shirelles and The Velvet Underground were all inducted into the Rock and Roll Hall of Fame.
17 Jan 1987
Kate Bush
started a two-week run at No.1 on the UK album chart with The Whole Story'. The compilation album was Bush's third UK number one album as well as her best selling release.
17 Jan 1982
American blues singer-songwriter and pianist Tommy Tucker died, aged 48, after being overcome by poisonous fumes while he was renovating the floors of his New York City home. Tucker wrote the 1964 US No.11 hit 'Hi Heel Sneakers'. Tucker left the music industry in the late 1960s, taking a position as a real estate agent in New Jersey.
17 Jan 1981
Motley Crue formed when bass guitarist Nikki Sixx left the band London and began rehearsing with drummer
Tommy Lee
and vocalist, guitarist Greg Leon, (who later left). Sixx and Lee then added guitarist Bob "Mick Mars" Deal. Vince Neil accepted an offer to join (after turning them down) in April of this year.
17 Jan 1978
Scottish rock band
Simple Minds
made their live debut at The Satellite Club, Glasgow. The band went on to achieved five UK Albums chart No.1 albums and have sold more than 60 million albums worldwide.
17 Jan 1976
Barry Manilow scored his second US No.1 single with 'I Write The Songs', which was written by
The Beach Boys
Bruce Johnson.
17 Jan 1972
A section of Bellevue Boulevard in Memphis was renamed
Elvis Presley
Boulevard. The remaining length of road kept its original name after protests from the Bellevue Baptist Church.
17 Jan 1970
American rhythm and blues singer and pianist Billy Stewart and three of his band were killed when the Ford Thunderbird that Stewart was driving crashed off a bridge and plunged into the Neuse River near Smithfield, North Carolina. Stewart had the 1966 US No.10 single with his version of the George Gershwin song 'Summertime'.
17 Jan 1970
The Doors
played the first of four shows at the Felt Forum in New York City. The shows were recorded for the bands forthcoming 'Absolutely Live' album.
17 Jan 1967
40-year-old David Mason recorded the piccolo trumpet solo for The Beatle's 'Penny Lane' at Abbey Road Studios in London. He was paid £27, 10 shillings ($42) for his performance. In August, 1987, the trumpet he used was sold at a Sotheby's auction for $10,846.
17 Jan 1967
The Daily Mail ran the story about a local council survey finding 4,000 holes in the road in Lancashire inspiring
John Lennon
's contribution to
The Beatles
song 'A Day In The Life'.
17 Jan 1967
The
Jimi Hendrix Experience
recorded a session for Radio Luxembourg's Ready Steady Radio. The band ran up a bar bill of £2.5 shillings, ($6.21), which they were unable to pay.
17 Jan 1966
NBC-TV in the US bought The
Monkees
series, placing it on their 1966 autumn schedule. The series centered on the adventures of The
Monkees
, a struggling rock band from Los Angeles, California and introduced a number of innovative new-wave film techniques to television.
17 Jan 1964
The
Rolling Stones
released their first EP, which included, 'You Better Move On', 'Poison Ivy', 'Bye Bye Johnny' and 'Money'. It peaked at No.15 on the UK chart.
17 Jan 1963
The Beatles
played at The
Cavern Club
at lunchtime and in the evening played at the Majestic Ballroom, Birkenhead. At the Majestic, every ticket had been sold in advance, leaving 500 disappointed fans waiting outside.
Born on this day in music
17 Jan 1990
British rapper Courtney Freckleton known professionally as Nines. He topped the UK chart with his third album Crabs in a Bucket in 2020. On 1 October 2021, he was sentenced to 28 months in HM Prison Wormwood Scrubs after being charged to a plot with others to import 28 kilograms of cannabis from Spain and Poland, and admitted a further charge of money laundering.
17 Jan 1986
Jeremiah Fraites American musician with the American folk rock band The Lumineers. Their second album, Cleopatra, released in 2016 debuted at No.1 on the US chart and also on the Canadian and UK album charts.
17 Jan 1984
Calvin Harris, singer-songwriter and producer. Had the 2009 UK No.1 single 'I'm Not Alone.' His collaboration with
Rihanna
'We Found Love' became an international success, giving Harris his first US No.1 single on the US Billboard Hot 100 chart. Harris broke the record for the most top 10 songs from one studio album on the UK Singles Chart with nine entries, from his 2012 album 18 Months surpassing
Michael Jackson
.
17 Jan 1978
Ricky Wilson, vocals, Kaiser Chiefs, (2005 UK No.3 album 'Employment', 2005 UK No.6 single 'Oh My God', 2007 UK No.1 single 'Ruby').
17 Jan 1971
Kid Rock, (Robert James Ritchie), American singer-songwriter, musician and rapper who had the 2000 US No.2 album 'History Of Rock' and the 2007 US No.1 album 'Rock N Roll Jesus' which featured the hit 'All Summer Long' charting at No.1 in eight countries.
17 Jan 1971
Jon Wysocki, drummer with American rock band Staind who had the 2001 US No.1 album, Break The Cycle.
17 Jan 1966
Shabba Ranks, singer, (1993 UK No.3 single 'Mr Loverman').
17 Jan 1963
Andy Rourke, bassist with English rock band
The Smiths
who had the 1984 UK No.10 single 'Heaven Knows I'm Miserable Now', plus 15 other UK Top 40 singles. Rourke has also played and recorded with the Pretenders and later formed Freebass with bass players Mani (ex-the Stone Roses) and Peter Hook (ex-New Order) in 2007. He died from pancreatic cancer on 19 May 2023.
17 Jan 1961
Dave Collard, keyboards, with British new wave group Jo Boxers, who had the 1983 UK No.3 single 'Boxer Beat'.
17 Jan 1960
John Crawford, bassist from American new wave band Berlin, who scored the 1986 UK & US No.1 single 'Take My Breath Away' which was featured in the 1986 film Top Gun.
17 Jan 1959
Susanna Hoffs, guitar vocals, The Bangles, (1986 UK No.2 single with
Prince
song 'Manic Monday', 1986 US No.1 single 'Walk Like An Egyptian').
17 Jan 1958
Jez Strode, bass, Kajagoogoo, (1983 UK No.1 single 'Too Shy').
17 Jan 1956
Paul Young, singer, (1983 UK No.1 single 'Wherever I Lay My Hat, That's My Home', 1985 US No.1 single 'Everytime You Go Away'. The Streetband, (1978 UK No.18 single 'Toast.' Also lead singer with 1980s Q-Tips a soul covers band.
17 Jan 1955
Steve Earle, US singer, songwriter who had the 1988 UK No. 45 single 'Copperhead Road' and the Country and independent No.1 album 'Transcendental Blues'.
Johnny Cash
, Emmylou Harris, Gretchen Peters, Shawn Colvin and Eddi Reader have all covered his songs.
17 Jan 1954
Cheryl Bentyne, singer, Manhattan Transfer, (1977 UK No.1 'Chanson D'amour', 1981 US No.7 single 'Boy From New York City').
17 Jan 1953
Sheila Hutchinson, vocals, The Emotions, (1977 US No.1 & UK No.4 single 'Best Of My Love').
17 Jan 1949
Mick Taylor, guitar, John Mayall's Bluesbreakers, joined The
Rolling Stones
in 1969 (aged 20), and left the Stones in 1974. He has appeared on some of the Stones' classic albums including Sticky Fingers and Exile on Maine Street and worked with
Bob Dylan
, Mike Oldfield, Jack Bruce and
Ronnie Wood
.
17 Jan 1948
Dennis Marcellino American musician. He has been a member of The Tokens (The Lion Sleeps Tonight), Sly and The Family Stone and The Elvin Bishop Group.
17 Jan 1945
William Hart, singer from American R&B/soul vocal group The Delfonics who had the 1968 US No.4 single 'La-La Means I Love You', and the hits 'Didn't I (Blow Your Mind This Time)', and 'Ready or Not Here I Come (Can't Hide from Love)'.
17 Jan 1943
Chris Montez, UK singer, (1962 UK No.2 & US No.4 single 'Let's Dance').
17 Jan 1927
Eartha Kitt, US female singer, (1955 UK No.7 single 'Under The Bridges Of Paris,' 1989 UK No.32 single with Bronski Beat, 'Cha Cha Heels'). Kitt died from colon cancer on December 25 2008 at her Weston, Connecticut home at the age of 81.