January 23rd: The Biggest Music Headlines
Scroll down the page to see all the music headlines, stories and events for January 23 throughout music history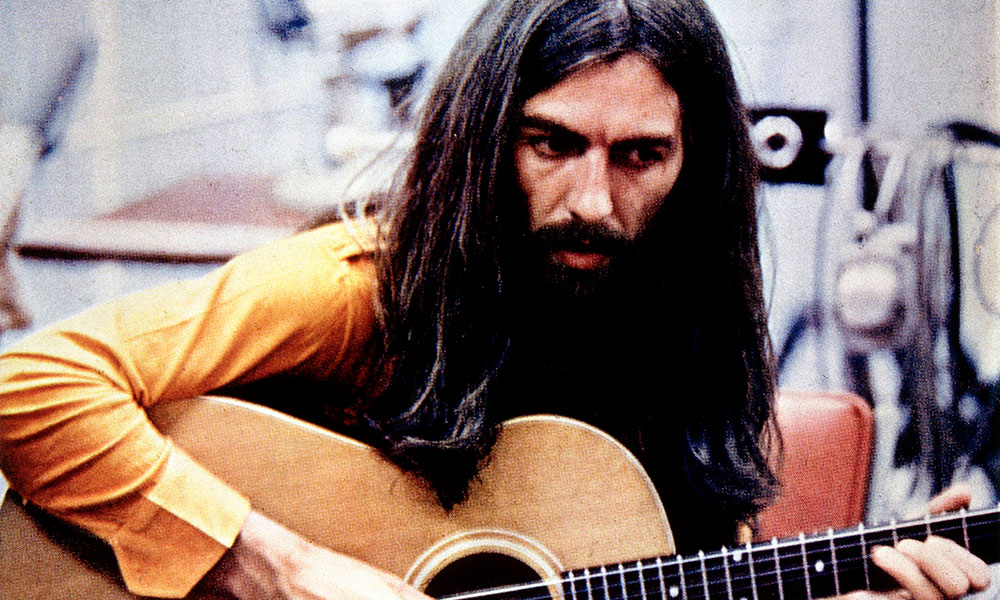 George Harrison Is the First Former Beatle to Score a Solo No.1 Hit
On this day in music, January 23, 1971, George Harrison became the first member of the recently-disbanded Beatles to top the UK charts as a solo artist with his debut single, "My Sweet Lord." The tender ballad, which appeared on Harrison's broadly acclaimed album, All Things Must Pass, remained at No.1 for five weeks in the UK. It later became the biggest-selling single of the year. The not-so "Quiet Beatle" also proved his talents around the globe, as the single topped the pop charts in more than a dozen territories, including the US, Canada, Australia, and West Germany.
In 1976, David Bowie released his highly-regarded tenth studio album, Station to Station. The album not only introduced the shapeshifting artist's "Thin White Duke" persona, but also marked a new creative era for Bowie, as he began to explore elements of electronic music and krautrock. Led by the funk-forward single "Golden Years," Station to Station made the top five in both the UK and US.
In 1965, "Downtown" made Petula Clark the first British female singer to score a US No.1 hit since Vera Lynn in 1952. The irresistible tune, which peaked at No.2 in the UK, featured instrumentation from future Led Zeppelin guitarist, Jimmy Page, who was a young session musician at the time.
In 1988, a ragtag group of Seattle misfits entered producer Jack Endino's studio to record their first batch of songs under the name Nirvana. The ten-song demo directly led to their deal with local label, Sub Pop.
In 1956, underage rock'n'roll fans in Cleveland faced a real-life Footloose situation, when the city banned kids under 18 from dancing in public (unless accompanied by an adult). Officials cited a law dating back to 1931.
Looking for more things that happened on this day in music?
Keep scrolling for all of the headlines for January 23.
BORN ON JANUARY 23:
1910: Django Reinhardt
1948: Anita Pointer (The Pointer Sisters)
1953: Robin Zander (Cheap Trick)
1959: Earl Falconer (UB40)
1975: Nick Harmer (Death Cab For Cutie)
1998: XXXTentacion
Looking for more artists born on this day?
Keep scrolling for all of our January 23 birthdays.
---
What to find another day?
---
January 23rd
23 Jan 2023
English musician Top Topham died at the age of 75. He was best known as a blues guitarist and also for being the first lead guitarist of The Yardbirds. Topham left the band before they achieved mainstream popularity and was replaced by
Eric Clapton
.
23 Jan 2021
American bassist, guitarist, singer, and songwriter, Tom Stevens died age 64. He worked with roots rock band the Long Ryders and released a string of solo albums.
23 Jan 2017
African-American soul and R&B singer, songwriter and record producer Bobby Freeman died of natural causes aged 76. He scored the 1958 US & UK No.5 single 'Do You Want To Dance'. The song has been covered (as 'Do You Wanna Dance') by Del Shannon,
The Beach Boys
, Johnny Rivers, Bette Midler,
John Lennon
, Cliff Richard,
Marc Bolan
& T.Rex, the Mamas & The Papas and the
Ramones
.
23 Jan 2016
Scottish musician Jimmy Bain died aged 68 while in his cabin on
Def Leppard
's "Hysteria on the High Seas" cruise. The cause of death was determined to be lung cancer. Bain was best known for playing bass guitar in the bands Rainbow and Dio, he also worked with
Thin Lizzy
frontman Phil Lynott, co-writing on his solo albums as well as Ian Hunter, Gary Moore and John Cale.
23 Jan 2014
Justin Bieber was arrested after racing his yellow Lamborghini against another sports car on a Miami Beach street. Police said the singer did not co-operate when pulled over also charged him with resisting arrest without violence and having an expired driving licence. The 19-year-old singer was granted bail set at $2,500 (£1,500).
23 Jan 2005
Former Happy Mondays dancer Bez, won the £50,000 Celebrity Big Brother prize, after gaining 54% of the final viewer vote. The "Madchester" pop legend danced his way to becoming the sixth member of the indie-dance band in the late-1980s after playing maracas with them.
23 Jan 2003
R Kelly was arrested on new child pornography charges. The singer was detained in Miami after police said digital sex pictures were discovered at his home in Florida last June. The singer was already facing 21 charges relating to producing child pornography and appearing in a video having sex with an underage girl. He was charged with a further 12 counts of possession of child pornography.
23 Jan 2001
An English coroner criticised the rap singer
Eminem
's lyrics as depressing during an inquest into the death of a schoolboy who threw himself in front of a train. The 17-year old boy had printed out the lyrics to
Eminem
's track 'Rock Bottom' before his death.
23 Jan 1998
US soul singer Johnny Funches from The Dells died of pneumonia at the age of 62. The Dells had the 1956 hit 'Oh What a Night' and 1968 US No.10 single 'Stay In My Corner'. The Dells formed in 1952 after all attending high school together.
23 Jan 1995
American singer Bill Horton with The Silhouettes died. The doo wop/R&B groups single 'Get A Job' was a No.1 hit on the Billboard R&B singles chart and pop singles chart in 1958. The doo-wop revival group Sha Na Na derived their name from the song's lyrics. 'Get A Job' is included in the soundtracks of the film American Graffiti, Trading Places and Stand By Me. The Silhouettes performed in the 1986 movie Joey.
23 Jan 1991
John Sebastian, owner and general manager of KLSK FM in Albuquerque, New Mexico, played
Led Zeppelin
's '
Stairway To Heaven
' for twenty-four solid hours to inaugurate a format change to Classic Rock. Police showed up with guns drawn: once after a listener reported that the DJ had apparently suffered a heart attack, and later because of suspicion that, this being eight days into the Gulf War, the radio station had been taken hostage by terrorists dispatched by Zeppelin freak Saddam Hussein.
23 Jan 1990
Allen Collins guitarist from Lynyrd Skynyrd died of pneumonia after being ill for several months. Collins who was one of the founding members also co-wrote most of the band's songs (including Free Bird), with late front man Ronnie Van Zant. He survived a plane crash in 1977 that killed two other band members. Collins was behind the wheel in a car accident in 1986 that killed his girlfriend and left him paralyzed from the waist down. He later pleaded no contest to vehicular manslaughter as well as driving under the influence of alcohol.
23 Jan 1990
David Bowie
announced his forthcoming Sound And Vision world tour, during which he would invite each local audience to decide on a 'greatest hits' running order, organised through local radio stations. The concert tour surpassed Bowie's previous Serious Moonlight (1983) and Glass Spider (1987) tours' statistics by visiting 27 countries with 108 performances.
23 Jan 1988
Michael Jackson
went to No.1 on the US singles chart with 'The Way You Make Me Feel'. It was the third single from Jackson's seventh studio album Bad for which Jackson had written over sixty songs for the album, with plans of releasing a three disc album, but producer Quincy Jones convinced Jackson to make Bad a one disc LP.
23 Jan 1988
Nirvana
recorded a 10-song demo with Seattle producer Jack Endino. Sub Pop records boss Jonathan Poneman hears the tape and offers to put out a
Nirvana
single.
23 Jan 1978
American musician and songwriter Terry Kath, best known as the original guitarist, and founding members of the rock band Chicago accidentally shot himself dead. After a party at roadie and band technician Don Johnson's home in Woodland Hills, Los Angeles, California, Kath picked up a semiautomatic 9 mm pistol and, leaning back in a chair, said to Johnson, "Don't worry about it ... look, the clip is not even in it." To satisfy Johnson's concerns, Kath showed the empty magazine to Johnson. Kath then replaced the magazine in the gun, put the gun to his temple and pulled the trigger. Apparently unbeknownst to Kath, however, there was still one round in the chamber, and he died instantly from the gunshot
23 Jan 1976
David Bowie
released his tenth studio album Station to Station, which was the vehicle for his last great character, the Thin White Duke. The album was recorded after he completed shooting Nicolas Roeg's The Man Who Fell to Earth, and the cover artwork featured a still from the movie. The album made the top five in both the UK and US charts.
23 Jan 1971
Steel Mill played their final show when they appeared at the Upstage Club, Asbury Park, New Jersey. Singer
Bruce Springsteen
formed new bands during the rest of the year known under such names as the
Bruce Springsteen
Jam, Dr. Zoom and the Sonic Boom, and finally the
Bruce Springsteen
Band.
23 Jan 1971
George Harrison
became the first solo Beatle to have a No.1 when ' '
My Sweet Lord
' went to the top of the UK single charts. The song from his '
All Things Must Pass
' album stayed at No.1 for five weeks. The track returned to the top of the UK charts in 2002, following his death.
23 Jan 1971
Dawn started a three week run at No.1 on the US singles chart with 'Knock Three Times', the group's first No.1, which was also an UK No.1.
23 Jan 1969
Working at Apple studios in London,
The Beatles
(with Billy Preston on keyboards) recorded ten takes of a new song called 'Get Back'.
23 Jan 1967
Pink Floyd
spent the first of three days recording the
Syd Barrett
songs Arnold Layne and Candy And A Current Bun at Sound Techniques Studios, Chelsea, London. According to Roger Waters, Arnold Layne was based on a real person - a transvestite whose primary pastime was stealing women's clothes and undergarments from washing lines in Cambridge.
23 Jan 1965
'Downtown' made Petula Clark the first UK female singer to have a No.1 on the US singles chart since Vera Lynn in 1952. The song was also a No.2 hit in the UK. Recorded in three takes (with the second take ultimately chosen as the completed track), session players in the studio recording included
Jimmy Page
.
23 Jan 1956
Rock 'n' Roll fans in Cleveland aged under 18 were banned from dancing in public (unless accompanied by an adult), after Ohio Police introduced a law dating back to 1931.
Born on this day in music
23 Jan 1998
American rapper, singer, and songwriter Jahseh Dwayne Ricardo Onfroy known professionally as XXXTentacion and commonly referred to as simply X. His second album ? (2018) debuted at No.1 on the Billboard chart. He was murdered at the age of 20 on 18 June 2018 when he was fatally shot near a motorcycle dealership in Deerfield Beach, Florida. The attackers fled the scene in an SUV after stealing a Louis Vuitton bag containing $50,000 from him. Four suspects were arrested and charged with first-degree murder.
23 Jan 1975
Nick Harmer, bass guitarist with Death Cab for Cutie who scored the 2008 US No.1 album 'Narrow Stairs'.
23 Jan 1974
Kita, drummer with Lordi. They became Finland's first ever Eurovision Song Contest winners after their song 'Hard Rock Hallelujah' won the contest held in Athens in 2006.
23 Jan 1964
American folk rock singer-songwriter and guitarist Jonatha Brooke. In 2019 she won Overall Grand Prize in the 15th Annual IAMA (International Acoustic Music Awards), as well as Best Female Artist with her song 'Put the Gun Down'.
23 Jan 1959
Earl Falconer, bassist with UB40, who had the 1983 UK No.1 & US 1988 US No.1 single 'Red Red Wine' and over 30 other Top 40 hits.
23 Jan 1953
Robin Zander, singer, songwriter from American rock band, Cheap Trick, who had the 1979 hit single 'I Want You To Want Me', and the 1988 US No.1 single 'The Flame'.
23 Jan 1950
Danny Federici, organ and keyboard player for
Bruce Springsteen
's E Street Band who had the 1984 US No.2 and 1985 UK No.4 single 'Dancing In The Dark'. Federici who had worked with Springsteen for over 40 years, including early bands Steel Mill and Child died of cancer on April 17th 2008 at the age of 58.
23 Jan 1950
Bill Cunningham, bass, piano, The Box Tops who had the 1967 US No.1 & UK No.5 single 'The Letter'.
23 Jan 1948
Anita Pointer, singer with American R&B singing group The Pointer Sisters who had the 1981 US No.2 single, 'Slow Hand' and the 1984 UK No.2 single 'Automatic'. The Pointer Sisters have won three Grammy Awards and had 13 US top 20 hits between 1973 and 1985. She died from cancer on 31 December 2022 at her home in Beverly Hills, California, aged 74.
23 Jan 1944
Jerry Lawson, singer with The Persuasions, a-cappella group, who worked with
Joni Mitchell
,
Stevie Wonder
and Don McLean. Lawson died on 10 July 2019 age 75 after a long illness.
23 Jan 1910
Django Reinhardt, jazz guitarist. He badly burned his third and fourth fingers of his left hand in a house fire aged 18. Doctors suggested he play the guitar to keep his fingers flexible, giving him his two fingered guitar style. Has worked with Stepane Grappelli and Duke Ellington. Reinhardt died of a stroke on 15th May 1953.