January 27th: The Biggest Music Headlines
Scroll down the page to see all the music headlines, stories and events for January 27 throughout music history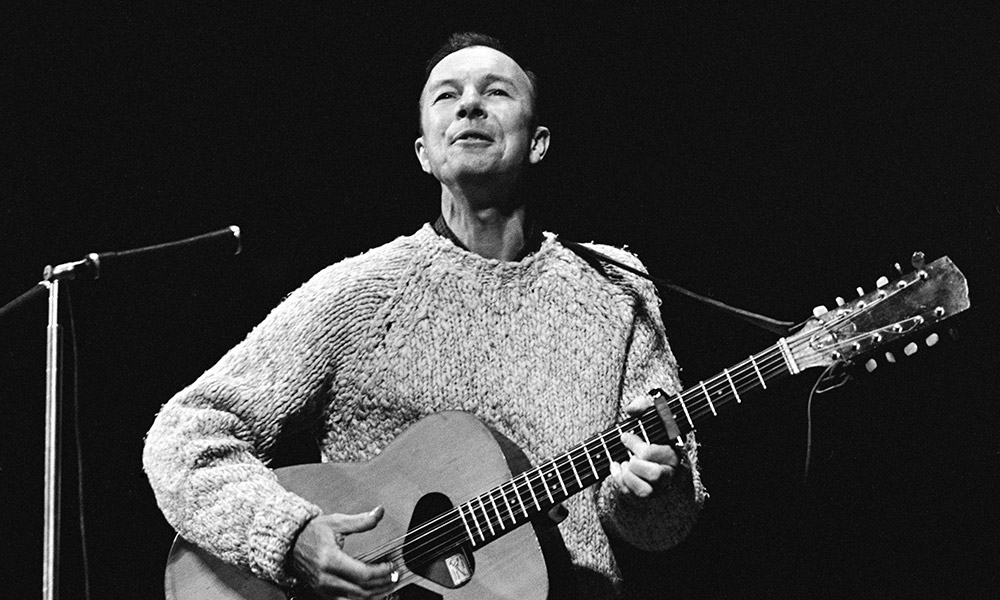 Folk Legend Pete Seeger Passes Away
On this day in music, January 27, 2014, American folk singer, songwriter, and activist, Pete Seeger, died at the age of 94. Seeger began his lengthy career in the early 1940s, playing alongside the likes of Woody Guthrie (with their group The Almanac Singers) and appearing regularly on Alan Lomax and Nicholas Ray's weekly CBS radio show. As a member of the foundational folk group, The Weavers, Seeger scored several hits in the 50s, including a chart-topping rendition of Lead Belly's "Goodnight, Irene." Despite being blacklisted during the McCarthy Era, Seeger's voice only grew louder. As the counterculture movement blossomed, Seeger was a vital voice in support of nuclear disarmament, civil rights, and environmental causes, writing such powerful songs as "Where Have all the Flowers Gone?" and "Turn! Turn! Turn!," while delivering enduring interpretations of anthems like "We Shall Overcome."
In 1977, The Clash signed to CBS Records in the UK for £100,000 – a bargain considering the body of work they would record for the label. The influential band went on to enjoy years of critical and commercial success.
In 1973, "Superstition," the lead single from Stevie Wonder's Talking Book LP, became his second No.1 single in the US, 10 years after his first chart-topping hit. The funky track's instantly-recognizable drum beat was conceived by guitar legend Jeff Beck.
In 1970, John Lennon wrote, recorded, and mixed his new single, "Instant Karma," all in one day. One of the fastest-released pop tracks of all time, the timeless anthem hit stores ten days later and became one of the artist's most recognizable solo works.
In 1956, Elvis Presley's "Heartbreak Hotel" was released by RCA Records, who had just bought out the artist's contract from Sun Records (for just $35,000). It was a smart move on the label's part, as the song would eventually sell over a million copies, becoming Presley's first Gold record.
In 1972, the "Queen of Gospel Music," Mahalia Jackson, died in Chicago at the age of 60. One of the era's most influential singers, Jackson recorded over 30 albums during her four-decade-long career. With sales of more than 22 million records worldwide, Jackson was also instrumental in bringing Black music to a broader audience.
In 1984, Madonna appeared on British television for the first time when she performed her hit "Holiday" on The Tube. The music show was broadcast live from Manchester's legendary Hacienda Club.
Looking for more things that happened on this day in music?
Keep scrolling for all of the headlines for January 27.
BORN ON JANUARY 27:
1918: Elmore James
1930: Bobby Bland
1944: Nick Mason (Pink Floyd)
1951: Brian Downey (Thin Lizzy)
1953: Janick Robert Gers (Iron Maiden)
1968: Mike Patton (Faith No More)
1968: Tricky
1972: Mark Owen (Take That)
Looking for more artists born on this day?
Keep scrolling for all of our January 27 birthdays.
---
What to find another day?
---
January 27th
27 Jan 2015
Tom Petty
and Jeff Lynne were given a song writing credit on Sam Smith's hit 'Stay With Me', because of the similarities to his 1989 track 'I Won't Back Down'. 'Stay With Me' had been nominated for three Grammys, including song of the year - which honours the writers of the track. Petty's publisher had contacted Smiths publisher who made an out of court settlement.
27 Jan 2014
American folk singer, songwriter, and activist, Pete Seeger, died at the age of 94. Seeger began his lengthy career in the early 1940s, playing alongside the likes of Woody Guthrie (with their group The Almanac Singers) and appearing regularly on Alan Lomax and Nicholas Ray's weekly CBS radio show.
27 Jan 2009
Road Chef, the Watford Gap UK Motorway services operator, paid £1,000 at an auction for a collection of celebrity signatures, which were collected by former employee, Beatrice England. The book included signatures of Sir
Paul McCartney
, Sir
Mick Jagger
,
Keith Richards
,
Brian Jones
, the
Eagles
and Dusty Springfield. The Blue Boar services as it was once known received so many famous guests in its 50-year history that
Jimi Hendrix
mistook it for a London nightclub as it was mentioned so often by his contemporaries.
27 Jan 2006
American singer, songwriter, and record producer Gene McFadden, best known as half of the Philly soul team McFadden & Whitehead, died of cancer at the age of 56. The duo who were discovered by
Otis Redding
, who acted as their manager had the 1979 hit 'Ain't No Stoppin' Us Now', which sold more than 8 million copies and was nominated for a Grammy Award.
27 Jan 2004
R&B singer Faith Evans and her husband were charged with possession of cocaine and marijuana after being arrested in Atlanta, Georgia. Police pulled them over for a suspected licence plate offence.
27 Jan 1998
James Brown
was charged with possession of marijuana and unlawful use of a firearm after police were called to his South Carolina home. Brown later clamed the drugs were used to help his 'eyesight.'
27 Jan 1996
Babylon Zoo started a five-week run at No.1 on the UK singles chart with 'Spaceman', the fastest selling single by a debut artist in the UK, (420,000 copies in 6 days). The song was used for a Levi Jeans TV commercial. The single also went to Number 1 in twenty-three other countries.
27 Jan 1990
Kylie Minogue
had her third UK No.1 single with 'Tears On My Pillow', the song was originally a US hit for Little Anthony and The Imperials in 1958.
27 Jan 1984
Madonna
made her first appearance in the UK when she appeared on C4 TV music program
The Tube
performing 'Holiday'. The show was broadcast live from the Hacienda Club in Manchester.
27 Jan 1979
Ian Dury And The Blockheads were at No.1 on the UK singles chart with 'Hit Me With Your Rhythm Stick', their only UK chart topper.
27 Jan 1977
The Clash
signed to CBS Records in the UK for £100,000.
27 Jan 1973
'Superstition' the lead single from
Stevie Wonder
's Talking Book album became his second No.1 single in the US, 10 years after his first No.1 hit.
Jeff Beck
created the original drum beat while in the studio with Wonder. After writing the song, Wonder offered it to Beck to record, but at the insistence of
Berry Gordy
, Wonder himself recorded it first. Beck was instead offered 'Cause We've Ended As Lovers', which he recorded on his Blow by Blow album in 1975.
27 Jan 1973
British Glam Rock group Sweet appeared at the Grand Hall in Kilmarnock, Scotland and were driven offstage by a barrage of bottles. The incident inspired their song 'The Ballroom Blitz' which went on to reach number one in Canada, number two in the UK and the Australian Chart, and number five on the US Billboard Hot 100.
27 Jan 1972
American gospel singer Mahalia Jackson died in Chicago of heart failure and diabetes complications aged 60. Known as the "Queen of Gospel Music" she recorded over 30 albums and became one of the most influential gospel singers in the world and was heralded internationally as a singer and civil rights activist.
27 Jan 1971
David Bowie
arrived in the US for the first time; he couldn't play live because of work permit restrictions, but attracted publicity when he wore a dress at a promotion event.
27 Jan 1970
John Lennon
wrote, recorded and mixed his new single '
Instant Karma
!' all in one day. It ranks as one of the fastest-released songs in pop music history, recorded at London's Abbey Road Studios and arriving in stores only ten days later.
27 Jan 1962
The Beatles
appeared at Aintree Institute in Aintree, Liverpool. The group had played here many times before but this was their last performance at the venue. Brian Epstein became infuriated when the promoter paid
The Beatles
' fee (£15 pounds) with handfuls of loose change. Epstein took this as an insult to the group, and made sure that
The Beatles
never played for that promoter (Brian Kelly) again.
27 Jan 1956
Elvis Presley
's single, '
Heartbreak Hotel
' was released by RCA Records, who had just purchased Presley's contract from Sun Records for $35,000. The song sold 300,000 copies in its first week and would eventually sell over a million, becoming Elvis' first Gold record.
Born on this day in music
27 Jan 1972
Mark Owen singer with
Take That
who had the 1995 UK No.1 single 'Back For Good'. The group's 1993 UK No.1 album 'Everything Changes spent 78 weeks on the UK chart. Had the solo 1996 UK No.3 single 'Child'. Was the winner of UK TV show Celebrity Big Brother in 2002. Re-formed
Take That
without Robbie Williams in 2006 for a sold-out European tour. Topped the UK singles and album charts simultaneously for the first time in their career when the single 'Patience' and album 'Beautiful World' both reached No.1 in Dec 2006.
27 Jan 1968
Adrian Thawes, (Tricky), musician and actor who had the 1996 UK No.10 single 'Milk'. His 1995 debut album Maxinquaye was nominated for the Mercury Prize and voted Album of the Year by NME Magazine.
27 Jan 1968
Mike Patton, singer and multi-instrumentalist with American rock band Faith No More, who had the 1993 UK No.3 and US No.4 single 'I'm Easy'. They had the best-selling albums The Real Thing (1989) and Angel Dust (1992).
27 Jan 1964
Migi Drummond from English pop group Curiosity Killed The Cat who had the 1989 UK No.14 single 'Name And Number' and the UK No.1 album Keep Your Distance.
27 Jan 1961
Gillian Gilbert, keyboards with The Inadequates, and New Order who had the 1983 UK No.9 single 'Blue Monday', Also a member of The Other Two who had the 1991 UK hit single 'Tasty Fish'.
27 Jan 1961
Martin Deguille, singer with British group Sigue Sigue Sputnik who had the 1986 UK No.3 single 'Love Missile F1-11'.
27 Jan 1961
Margo Timmins singer with Canadian alternative country/blues/folk rock band, Cowboy Junkies.
27 Jan 1957
Janick Robert Gers, English guitarist with English heavy metal band
Iron Maiden
, who had the 1982 UK No.1 album The Number Of The Beast, and the 1991 UK No.1 single 'Bring Your Daughter ...To The Slaughter'.
Iron Maiden
have sold over 100 million copies of their albums worldwide.
27 Jan 1951
Brian Downey, Irish drummer and founding member of
Thin Lizzy
, who had the 1973 UK No.6 single 'Whisky In The Jar' and hits with 'Jailbreak' and 'The Boys Are Back in Town'.
27 Jan 1951
Seth Justman, keyboards, vocals with American rock band The J Geils Band, who had the 1982 US No.1 & UK No.3 single 'Centerfold' which was taken from their US No.1 1981 album Freeze Frame.
27 Jan 1948
Kim Gardner from English group Ashton Gardner & Dyke who had the 1971 UK No.3 single 'The Resurrection Shuffle'. Gardner died on 24/10/01,
27 Jan 1946
Nedra Talley American singer with the all girl group The Ronettes who had five US chart toppers including 'Be My Baby', 'Baby, I Love You', '(The Best Part Of) Breakin' Up', and 'Walking in the Rain.'
27 Jan 1944
Kevin Coyne, singer, songwriter, film-maker, and a writer of lyrics, stories and poems. In the mid-1970s, prior to the formation of
The Police
, Coyne's band included guitarist Andy Summers. Coyne died on 2nd December 2004.
27 Jan 1944
Nick Mason: drums, percussion and tape effects,
Pink Floyd
. Nick is the only member of the band to play on every album since the band's formation in 1965. He studied architecture at London's Regent Street Polytechnic, where he teamed up with fellow students Roger Waters, Rado 'Bob' Klose and
Richard Wright
in 1964 to form
Pink Floyd
's predecessor, Sigma 6. Mason is a keen auto racing enthusiast and has taken part in many racing events such as the French 24 Heures du Mans race in Le Mans.
27 Jan 1933
Jimmy Bond American double bass player, arranger and composer. He played with many artists including: Randy Newman,
Frank Zappa
, Tim Buckley and Linda Ronstadt. He died on 26 April 2012 age 79.
27 Jan 1930
Bobby Bland, R&B singer,who had the 1963 US R&B No.1 single 'That's The Way Love Is'. Bland was inducted into the Blues Hall of Fame in 1981, the Rock and Roll Hall of Fame in 1992, and received the Grammy Lifetime Achievement Award in 1997. He died on 23rd June 2013 at his home in Memphis.
27 Jan 1919
David Seville, The Chipmunks who had the 1958 US No.1 single 'The Chipmunk Song', and the 1959 UK No.11 single 'Ragtime Cowboy Joe'. Seville died on 16th January 1972.
27 Jan 1918
Elmore James, US blues guitarist, singer, known as the King of the Slide Guitar. James wrote 'Shake Your Money Maker', which was covered by
Fleetwood Mac
in 1968. Influenced
Jimi Hendrix
, B.B. King and
Keith Richards
. James died 24th May 1963.