January 6th: The Biggest Music Headlines
Scroll down the page to see all the music headlines, stories and events for January 6 throughout music history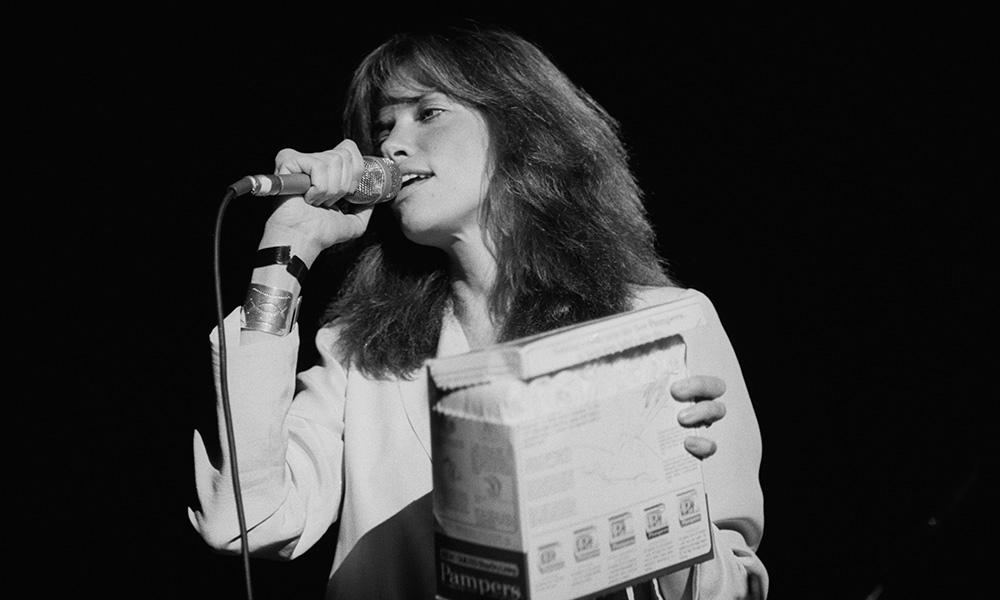 Carly Simon Takes the Number One Spot with "You're So Vain"
On this day in music, January 6, 1973, Carly Simon's "You're So Vain" (featuring Mick Jagger on backing vocals and a bass intro by Klaus Voormann), began a three-week run at the top of the Billboard Hot 100. The brutal – yet delightfully catchy – takedown of a selfish lover would go on to be the singer-songwriter's biggest hit and her signature song.
In 1968, The Beatles' Magical Mystery Tour began an eight-week run at the top of the Billboard 200, marking their 11th US chart-topper. The album included surreal hits such as "I Am The Walrus" and "Strawberry Fields Forever."
In 1975, Pink Floyd began recording their ninth album, Wish You Were Here, at Abbey Road Studios in London. Released in September of the same year, the LP includes the song "Shine On You Crazy Diamond," a nine-part tribute (split between two tracks, which open and close the record) to the group's former bandmate, Syd Barrett.
In 1990, Phil Collins began a three-week run at the top of the Billboard 200 with his fourth studio album, …But Seriously. Spurred by hits like "I Wish It Would Rain Down," "Something Happened on the Way to Heaven," and the Grammy-winning "Another Day in Paradise," the record became a massive global hit, topping the charts in more than 20 countries, and becoming the highest-selling album of the year in the UK.
In 1987, Eric Clapton played a six-night engagement at London's historic Royal Albert Hall. The residency would become an annual event for the British superstar.
Looking for more things that happened on this day in music?
Keep scrolling for all of the headlines for January 6.
BORN ON JANUARY 6:
1924: Earl Scruggs
1946: Syd Barrett (Pink Floyd)
1947: Sandy Denny (Fairport Convention)
1953: Malcolm Young (AC/DC)
1986: Alex Turner (Arctic Monkeys)
1999: Polo G
Looking for more artists born on this day?
Keep scrolling for all of our January 6 birthdays.
---
What to find another day?
---
January 6th
6 Jan 2022
American singer Calvin Simon died at the age of 79. He was a former member of both Parliament and Funkadelic who had the 1978 US No.16 album 'One Nation Under A Groove'. He is a member of the Rock and Roll Hall of Fame, inducted in 1997 along with fifteen other members of Parliament-Funkadelic.
6 Jan 2020
Martin Griffin former drummer of Hawkwind and spin-off project Hawklords, died following a short illness age 69. Between 1978 and 1982 Griffin drummed on albums such as Sonic Attack, Church of Hawkwind and Choose your Masques. During the seventies he ran Roche recording studios in Cornwall, recording many upcoming artists including Elvis Costello, ABC and Secret Affair.
6 Jan 2017
Norway announced that it would become the first country in the world to gradually stop using the FM radio network. The move, which aimed to ditch the analogue platform in favour of a digital one called Digital Audio Broadcasting, would bring a clearer sound to the nation's five million people.
6 Jan 2007
US country-rock steel guitar player 'Sneaky' Pete Kleinow, died aged 72. He was one of the original members of the Flying Burrito Brothers with the Byrds' Chris Hillman and
Gram Parsons
. Also worked with
John Lennon
and
Joni Mitchell
.
6 Jan 2006
A collection of
Elvis Presley
memorabilia bought by a council worker who embezzled nearly £600,000 was set to be sold to compensate the local authority. Julie Wall, 46, from Rippon Drive in Sleaford, was jailed for three years for the offence last October. The collection - which included rare recordings and foreign pressings of Elvis songs, was to be auctioned off by a High Court receiver to provide compensation.
6 Jan 2006
American soul, jazz, singer Lou Rawls died at Cedars-Sinai Medical Center in Los Angeles. The 72-year-old, Grammy-winning artist had been battling lung cancer. Rawls who released more than 60 albums, sold more than 40 million records, had the 1976 US No.2 and UK No.10 single 'You'll Never Find Another Love Like Mine'.
6 Jan 2006
Guitarist, trumpeter and drummer Alex St. Claire died. Member of The Omens, The Solid Senders and an original member of Captain Beefheart and his Magic Band and
Frank Zappa
.
6 Jan 2006
Ms Dynamite was charged with assaulting a police officer and disorderly conduct. The singer allegedly punched a female officer in the face, bruising her nose, while in custody. She had been arrested after allegedly kicking the door to the Paragon Lounge night-club in London and was said to have been abusive towards officers who questioned her.
6 Jan 2005
US CD sales rose for the first time in four years. The CD format accounted for 98% of the 666 million albums sold, according to research company Nielsen Soundscan. A total of 140 million digital tracks were legally downloaded during 2004, equivalent to 14 million albums. R&B star Usher was the biggest-selling artist with his album 'Confessions' selling eight million copies. Other top sellers of the year were Norah Jones,
Eminem
and country stars Kenny Chesney and Gretchen Wilson. The UK recorded a record year for album sales in 2004, with 237 million sold The Scissor Sisters proved the most popular album of the year, followed by Keane and Maroon 5.
6 Jan 2001
Pink Floyd
guitarist David Gilmour won the right to his dot com name. Dave took legal action in his battle to reclaim davidgilmour.com from Andrew Herman who had registered the URL and was selling
Pink Floyd
merchandise through the site.
6 Jan 1997
Two bronze busts worth £50,000 were stolen from a garden at
George Harrison
's estate in Henley-on- Thames, Oxfordshire. Thieves had climbed a 10- foot-wall and cut the figures of two monks from their stone plinths.
6 Jan 1993
It was reported that
David Bowie
had lost over £2.5 million ($4.25 million) in unpaid royalties to an Italian Mafia-linked bootleg fraud.
6 Jan 1990
Phil Collins
started a three-week run at No.1 on the US album chart with '...But Seriously', his fourth solo studio album.
6 Jan 1987
Eric Clapton
started what became an annual event by playing six shows at the Royal Albert Hall, London.
6 Jan 1980
Georgeanna Tillman singer with
Motown
girl group The
Marvelettes
died from lupus and sickle cell anemia aged 35. The
Marvelettes
scored the 1961 US No.1 single 'Please Mr Postman'. In 1963 Tillman was diagnosed with lupus, she also had been diagnosed with sickle cell anemia during childhood.
6 Jan 1979
The Village People scored their only UK No.1 single with 'Y.M.C.A.' At its peak the single was selling over 150,000 copies a day. In the gay culture from which the group sprang, the song was understood as celebrating the YMCA's reputation as a popular cruising and hookup spot.
6 Jan 1977
EMI Records dropped The
Sex Pistols
giving the band £40,000 ($68,000) to release them from their contract.
6 Jan 1975
The mayor of Boston cancelled a
Led Zeppelin
concert after over 2,000 fans rioted trying to buy tickets. The fans caused an estimated $50,000 to $75,000 damage at Boston Garden. The gig during the bands North American tour was rescheduled for Feb 4th.
6 Jan 1975
Pink Floyd
started sessions start at Abbey Road Studios London for their next album
Wish You Were Here
. Their ninth studio album was released on 12 September 1975 and features 'Shine On You Crazy Diamond' a tribute to
Syd Barrett
whose mental breakdown had forced him to leave the group seven years earlier.
6 Jan 1973
Carly Simon's 'You're So Vain', (with
Mick Jagger
on backing vocals), started a three week run at No.1 on the US singles chart. In 2015, after keeping quiet for more than 40 years, Carly Simon admitted that 'You're So Vain' was about Warren Beatty, but only one verse of it. Simon said the other verses were about two other men.
6 Jan 1968
The Beatles
Magical Mystery Tour started an eight week run at No.1 on the US album chart, the group's 11th US chart topper.
6 Jan 1967
The Who
played their first gig of this year when they appeared at Morecambe, Central Pier in England. The band played over 200 gigs in this year, including their first ever US tour.
6 Jan 1964
The first night of a 14 date UK tour 'Group Scene 1964', featuring The
Rolling Stones
, The Ronettes, Marty Wilde, The Swinging Blue Jeans and Dave Berry and The Cruisers, played at the Granada Theatre, Harrow on The Hill, Middlesex.
6 Jan 1962
Elvis Presley
had his third UK No.1 album with 'Blue Hawaii'; it spent a total of 18 weeks at the top of the charts.
6 Jan 1958
Gibson guitars launched it' 'Flying V' electric guitar. Guitarists who played a Flying V include, Albert Collins,
Jimi Hendrix
,
Marc Bolan
and Billy Gibbons from ZZ Top.
6 Jan 1956
Elvis Presley
performed in the gym at Randolph High School, Mississippi; this was the last time he ever appeared in a small auditorium.
Born on this day in music
6 Jan 1999
American rapper, singer, songwriter Polo G. His second studio album, The Goat (2020), peaked at No.2 on the Billboard chart and charted ten singles on the Billboard Hot 100 chart.
6 Jan 1986
Alex Turner, guitar, vocals, with English rock band Arctic Monkeys who had the 2005, UK No.1 single 'I Bet You Look Good On The Dancefloor', and the 2006 UK No.1 album Whatever People Say I Am That's What I'm Not. The band has won six Brit Awards – winning both Best British Group and Best British Album three times, and have been nominated for three Grammy Awards. Turner has also recorded with his side-project The Last Shadow Puppets.
6 Jan 1985
Ben Haenow, British singer. He won the eleventh series of The
X Factor
in 2014. His debut single, a cover of OneRepublic's 'Something I Need', debuted at No.1 on the UK Singles Chart, becoming the 2014 Christmas No.1.
6 Jan 1964
Mark O'Toole, bassist with Frankie Goes To Hollywood, the British band who formed in Liverpool and had the 1984 UK No.1 & US No.10 single 'Relax'. The single eventually sold 2 million copies in the UK alone, making it the seventh best-selling single in the UK Singles Chart's history. Their debut album, Welcome to the Pleasuredome, reached No.1 in the UK in 1984 with advanced sales of over one million.
6 Jan 1960
Muzz Skillings, bass, Living Colour, (1991 UK No.12 single 'Love Rears Its Ugly Head').
6 Jan 1959
Kathy Sledge, singer, Sister Sledge, (1979 US No.2 single 'We Are Family', 1985 UK No.1 'Frankie').
6 Jan 1953
Malcolm Young, guitarist with Australian rock band,
AC/DC
who had the 1980 UK hit single 'Whole Lotta Rosie'. Their 1980 UK No.1 & US No.14 album Back In Black has sold over 49 million copies. Young died on 18 November 2017 age 64.
6 Jan 1951
American blues singer and harmonica player Kim Wilson best known as the lead vocalist and frontman for the Fabulous Thunderbirds on two hit songs of the 1980s, 'Tuff Enuff' and 'Wrap It Up.' Wilson has also released a string of solo albums.
6 Jan 1947
Sandy Denny, UK folk singer and member of Fairport Convention. She died on April 21st 1978 after falling down the stairs at a friend's house. She sang on the Fairport Convention 1969 UK No.21 single 'Si Tu Dois Partir' and also worked as a solo artist. She is featured on the
Led Zeppelin
track 'Battle Of Evermore' on the bands fourth album.
6 Jan 1946
Syd Barrett
guitarist, singer, songwriter with
Pink Floyd
. Barrett, who was a co-founding member, left Floyd in 1968. He released 2 solo albums before going into self-imposed seclusion for more than 30 years, enjoying life as an artist and a keen gardener.
Pink Floyd
wrote many tributes to him after he left, the best-known being Shine On You Crazy Diamond. Barrett died, aged 60, on 7th July 2006 from complications arising from diabetes.
6 Jan 1944
Van McCoy, singer and producer, who had a 1975 US No.1 and UK No.3 single with 'The Hustle'. He also produced
Gladys Knight
and
Aretha Franklin
. McCoy died on July 6th 1979 aged 38.
6 Jan 1940
Brazilian musician and producer Laudir de Oliveira mostly renowned for his time as percussionist with the band Chicago. De Oliveira died of a heart attack on 17 September 2017 at the age of 77 while performing onstage in his native Rio de Janeiro.
6 Jan 1937
American singer Doris Troy. She was a session singer with Dionne Warwick, sang on
Pink Floyd
's The
Dark Side of the Moon
and released an album on
The Beatles
Apple label. She had a 1964 UK No.37 single with 'Whatcha Gonna Do About It' and the 1963 US No. 10 hit 'Just One Look'. She sang back-up for many acts including The
Rolling Stones
, ('You Can't Always Get What You Want'), Carly Simon's ('You're So Vain') and
George Harrison
, ('
My Sweet Lord
'). Troy died on 16 February 2004.
6 Jan 1935
Nino Tempo, US singer, songwriter, Nino Tempo and April Stevens had the 1963 US No.1 '
Deep Purple
', a No.17 hit in the UK.
6 Jan 1929
Wilbert Harrison, singer, 1959 US No.1 single 'Kansas City.' Wrote 'Let's Work Together' a hit for Canned Heat and Bryan Ferry. Died on October 26, 1994.
6 Jan 1924
Earl Scruggs the American musician noted for perfecting and popularizing a 3-finger banjo-picking style (now called Scruggs style). Worked with Bill Monroe in the Blue Grass Boys. Scruggs scored the hit as Flatt and Scruggs with 'The Ballad of Jed Clampett' for the TV show The Beverly Hillbillies in 1962. Scruggs died from natural causes on March 28, 2012, in a Nashville hospital.