January 8th: The Biggest Music Headlines
Scroll down the page to see all the music headlines, stories and events for January 8 throughout music history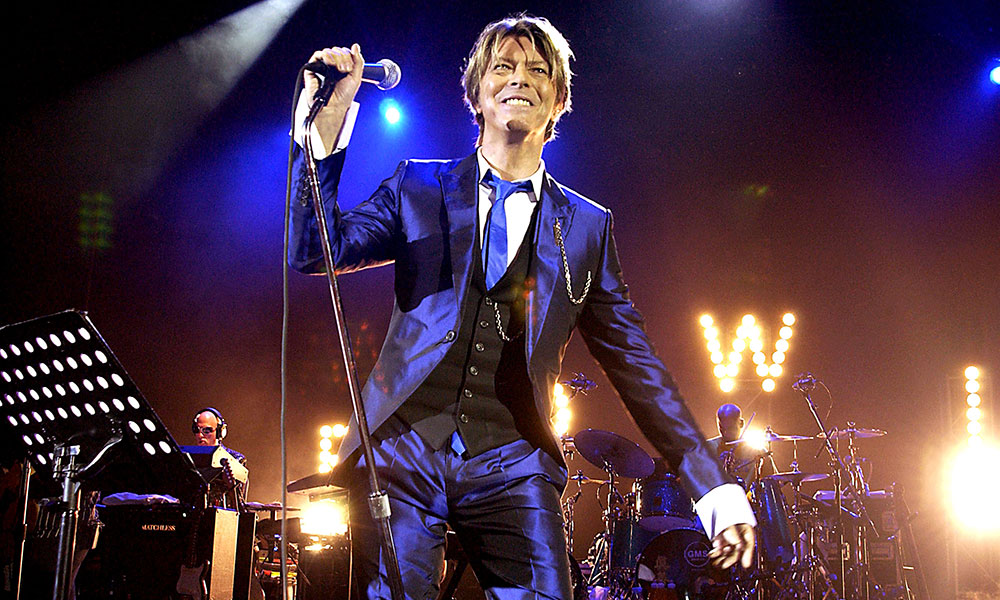 David Bowie Releases Final Album, 'Blackstar'
On this day in music, January 8, 2016, David Bowie released his 25th and final studio album, Blackstar. Recorded in secret with his longtime producer, Tony Visconti, the record – which coincided with Bowie's 69th birthday – served as a final gift to fans, arriving just two days before his death from liver cancer. Drawing from a diverse array of influences, including electronic music, hip-hop, jazz, and art rock, Blackstar is considered a highlight in an already celebrated discography. The album was a critical and commercial success, topping charts around the globe, and becoming Bowie's only No.1 in the US. It went on to win multiple Grammy Awards and a BRIT for British Album of the Year.
In 1991, 30-year-old Def Leppard guitarist Steve Clark was found dead of an accidental overdose. The celebrated musician – who joined the band in 1978, not long after its formation – can be heard in many of Def Leppard's biggest hits, including those from 1987's Hysteria, which was the British group's creative and commercial peak.
In 1966, The Beatles began a six-week run at the top of the Billboard 200 with Rubber Soul, which marked their seventh chart-topping album in the US. At the same time, their single "We Can Work It Out" sat atop the Billboard Hot 100 – their 11th song to reach the feat.
In 2006, The Strokes landed their first No.1 album in the UK with First Impressions of Earth, their third studio album.
In 1957, Bill Haley & His Comets embarked on Australia's very first rock'n'roll tour.
In 1979, Rush was named Canada's official Ambassadors of Music – proving that intricate mastery of prog-rock is the ultimate international language.
Looking for more things that happened on this day in music?
Keep scrolling for all of the headlines for January 8.
BORN ON JANUARY 8:
1935: Elvis Presley
1937: Shirley Bassey
1946: Robby Krieger (The Doors)
1947: David Bowie
1958: Steve Garvey (Buzzcocks)
1973: Sean Paul
Looking for more artists born on this day?
Keep scrolling for all of our January 8 birthdays.
---
What to find another day?
---
January 8th
8 Jan 2022
American songwriter Marilyn Bergman died from respiratory failure at the age of 93. Together with her husband Alan Bergman they wrote music and lyrics for numerous celebrated television, film, and stage productions including Barbra Streisand's hit 'The Way We Were'.
8 Jan 2021
Morgan Wallen released Dangerous: The Double Album, with the hit '7 Summers.' It peaked at No. 1 in America and stayed there for 10 weeks, the longest run at the top since Drake's Views in 2016. In March 2022, the album established the all-time record for the longest duration in the No. 1 spot (84 weeks and counting) on Billboard's Country Albums chart. It achieved the most weeks in the top ten of the Billboard 200 by a solo studio album.
8 Jan 2017
Northern Indian-born British singer-songwriter and multi-instrumentalist Peter Sarstedt died at the age of 75. He was best known for the single 'Where Do You Go To (My Lovely)?' which topped the UK Singles Chart in 1969 (and 14 other countries), and won an Ivor Novello Award.
8 Jan 2016
American R&B and soul singer Otis Clay died aged 73. Clay who started in gospel music scored R&B hits in the late 60s and 70s. He recorded the original version of 'The Only Way Is Up' in 1980 which later became a chart-topping single for Yazz and the Plastic Population.
8 Jan 2016
David Bowie
released his twenty-fifth and final studio album Blackstar, coinciding with his 69th birthday and two days before his death. It became his first and only album to reach No.1 on the Billboard 200 album chart in the US. At the 59th Annual Grammy Awards, the album won awards for Best Alternative Music Album; Best Engineered Album; Best Recording Package, and the title single won Best Rock Performance, and Best Rock Song. The album was also awarded the British Album of the Year award at the 2017 Brit Awards.
8 Jan 2014
It was reported that vinyl record sales had increased 32% in 2013, while CD sales declined 14.5% in the last last year, vinyl sales grew 32% from 4.5 million units sold in 2012 to 6 million sold in 2013, according to Nielsen SoundScan.
8 Jan 2010
Jimmy Page
launched a new set of stamps in the UK which featured classic album covers from the last 40 years including
Coldplay
, Power, Corruption And Lies, New Order,
David Bowie
and Parklife by Blur.
8 Jan 2006
The Strokes went to No.1 on the UK chart with 'First Impressions Of Earth' the bands third album and first No.1.
8 Jan 2004
The estate of
George Harrison
started a $10 million (£5.8 million) legal action against Dr Gilbert Lederman of Staten Island University Hospital, claiming the doctor coerced Harrison to sign souvenirs. The main allegations of the legal action was that Dr Lederman got an extremely sick Harrison to sign his son's guitar and autographs for his two daughters.
8 Jan 2001
A woman who believed that Axl Rose communicated with her via telepathy was arrested for stalking the Guns N' Roses singer for a second time. Police detained Karen Jane McNeil after she was spotted loitering outside his house.
8 Jan 2000
It was reported that police foiled a £1 million ($1.7million) kidnap plot to snatch Victoria Beckham and her baby son. The plot was uncovered after a tip off to the police. The gang had planned to kidnap the pair when husband David was away playing football.
8 Jan 1996
A Los Angeles court found Robert Hoskins guilty of five counts of stalking, assault and making terrorist threats to
Madonna
. Hoskins had twice scaled the walls of the singer's estate and had threatened to slash her throat from ear to ear.
8 Jan 1994
Jamaican reggae/rap (ragga) duo Chaka Demus and Pliers were at No.1 in the UK with their version of 'Twist And Shout.' The song was originally recorded (and produced by Phil Spector) by the Top Notes in 1961 and then covered by The Isley Brothers. It was also covered by
The Beatles
on their first album Please Please Me.
8 Jan 1991
Steve Clark guitarist with
Def Leppard
, was found dead at his Chelsea flat by his girlfriend, after a night of heavy alcohol consumption combined with prescription drugs. The autopsy revealed he had died from an overdose of codeine and had Valium, morphine and a blood alcohol level of .30, three times the British legal driving limit. In 2007 Clark was ranked No.11 on Classic Rock Magazine's "100 Wildest Guitar Heroes".
8 Jan 1979
Canadian rock band Rush were named the country's official Ambassadors Of Music by the Canadian government.
8 Jan 1972
The New Seekers were at No.1 on the UK singles chart with 'I'd Like To Teach The World To Sing, (in Perfect Harmony'). The song started as a Coca Cola TV ad. It originally included the line, 'I'd like to buy the world a Coke.'
8 Jan 1969
Mike Jagger and
Keith Richards
were both barred from an exclusive hotel for wearing "op art" pants and nothing else. They were both asked to leave the Hotel Crillen in Lima, Peru after refusing to change clothes.
8 Jan 1966
The Beatles
started a six week run at No.1 on the US album chart with
Rubber Soul
the group's seventh US chart topper, which went on to spend 56 weeks on the chart. The group also started a three week run at No.1 on the US singles chart with 'We Can Work It Out' the group's 11th US No.1 single.
8 Jan 1958
The Everly Brothers kicked off a 17 date North American tour at the Coliseum in Charlotte, North Carolina. Also on the bill,
Buddy Holly
, The Rays, Royal Teens, Shepherd Sisters, Paul Anka, Margie Rayburn and
Danny & The Juniors.
8 Jan 1957
Bill Haley
& His Comets started the first ever 'rock & roll tour' of Australia, playing two sold out nights in Sydney.
Born on this day in music
8 Jan 1973
Jamaican dancehall recording artist and producer Sean Paul, (2003 US No.1 & UK No.4 single 'Get Busy'). Paul has also been featured in many other singles including chart-toppers 'Baby Boy' by Beyoncé, 'What About Us' by The Saturdays, 'Rockabye' by Clean Bandit and 'Cheap Thrills' by Sia.
8 Jan 1971
Karen Poole, singer, songwriter with Alisha's Attic who had the 1996 UK No.14 'I Am I Feel'. She is the daughter of 60s musician Brian Poole.
8 Jan 1969
Jeff Abercrombie, bassist with American band Fuel.
8 Jan 1969
R. Kelly, American singer, writer, producer, (1994 US No.1 single 'Bump N' Grind', 1997 UK No.1 single 'I Believe I Can Fly'). On July 11, 2019, Kelly was arrested on federal charges alleging sex crimes, human trafficking, child pornography, racketeering, and obstruction of justice.
8 Jan 1966
Andrew Patrick Wood, American musician best known as the lead singer for grunge bands Malfunkshun and Mother Love Bone, cited as "founding fathers" of the Seattle's grunge movement. Wood died on March 19th 1990.
8 Jan 1959
Paul Hester, drums, Crowded House, (1992 UK No.7 single 'Weather With You'). Hester died on 26th March 2005 aged 46.
8 Jan 1958
Steve Garvey bass guitarist of the English punk band
Buzzcocks
who had the 1978 UK No.12 single 'Ever Fallen In Love, With Someone You Shouldn't've'.
8 Jan 1948
Paul King, Mungo Jerry, who had the 1970 UK No.1 & US No.3 single 'In The Summertime' as well as the hits 'Baby Jump' and 'Lady Rose'.
8 Jan 1947
David Bowie
English singer, songwriter, multi-instrumentalist, record producer, painter and actor. His first UK Top 40 single was the 1969 '
Space Oddity
' which became a UK No.1 in 1975, plus over 50 other UK Top 40 hits including five No.1's. Bowie has also scored two US No.1 singles, the 1975 'Fame' and 1983 'Let's Dance'. His music and stagecraft significantly influencing popular music and during his lifetime, his record sales, estimated at 140 million worldwide, made him one of the world's best-selling music artists. Bowie died from liver cancer at his New York home on 10 January 2016.
8 Jan 1946
Robert Krieger, guitarist with
The Doors
, (1967 US No.1 & UK No.49 single with 'Light My Fire' and a 1971 US No.14 & UK No.22 single 'Riders On The Storm').
8 Jan 1945
Terry Sylvester, guitar, vocals, Swinging Blue Jeans, The Hollies, (joined in 1969). Had the 1972 US No.2 single 'Long Cool Woman In A Black Dress', 1988 UK No.1 single 'He Ain't Heavy, He's My Brother', first released in 1969.
8 Jan 1943
Lee Jackson, bass, vocals, from English progressive rock band The Nice, who had the 1968 UK hit single an instrumental rearrangement of Leonard Bernstein's 'America'.
8 Jan 1943
Marcus Hutson, singer with American group The Whispers who had the 1980 UK No.2 & US No.19 single 'And The Beat Goes On'.
8 Jan 1942
John Petersen, drums, The Beau Brummels, (1965 US No.8 single, 'Just A Little').
8 Jan 1941
Anthony Gourdine from Little Anthony and the Imperials who had the 1958 US No.4 single 'Tears On My Pillow', which was The Imperials' first million-seller. The song has been extensively covered, including a No.1 in the UK Singles Chart version by
Kylie Minogue
in January 1990.
8 Jan 1937
Welsh singer Shirley Bassey. In January 1959, Bassey became the first Welsh person to gain a No. 1 single and later had the 1970 UK No.4 single with a cover of
The Beatles
George Harrison
song 'Something' as well as hits with the James Bond themes 'Goldfinger' (1964) 'Diamonds are Forever', (1971) and Moonraker (1979).
8 Jan 1935
American singer, musician and actor Elvis Aaron Presley, the King of rock 'n' roll. He had his first No.1 in 1956 with the US No.1 & UK No.2 single '
Heartbreak Hotel
'. His first UK No.1 single was in 1957, with 'All Shook Up'. Presley went on to have over 100 US and UK Top 40 singles from 1956 - 2006. Presley is one of the most celebrated and influential musicians of the 20th century, with estimated record sales of around 600 million units worldwide.
Elvis Presley
died on August 16th 1977.
8 Jan 1928
American country music guitarist Luther Perkins a member of the Tennessee Three, the backup band for singer
Johnny Cash.
Perkins was an iconic figure in what would become known as rockabilly music. His creatively simple, sparsely embellished, rhythmic use of Fender Esquire, Jazzmaster and Jaguar guitars is credited for creating Cash's signature "boom-chicka-boom" style. He died on 5 August 1968 as a result of severe burns and smoke inhalation. Perkins fell asleep at home in his den with a cigarette in his hand.