July 14th: The Biggest Music Headlines
Scroll down the page to see all the music headlines, stories and events for July 14 throughout music history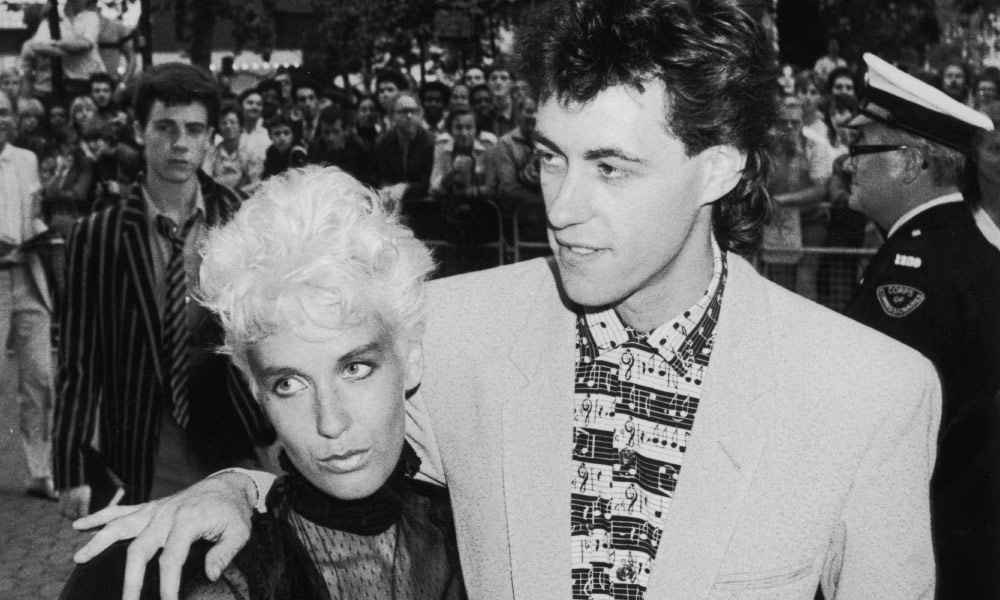 Pink Floyd's 'The Wall' Premieres in London
On this day in music, July 14, 1982, Pink Floyd's psychological musical drama, The Wall premiered in London at The Empire, Leicester Square. David Gilmour, Roger Waters, and Nick Mason of the band all attended the event, alongside Pete Townshend, Sting, and Queen's Roger Taylor, among other stars. The film, which starred musician Bob Geldof (The Boomtown Rats), blended live-action with animation, and was based on Pink Floyd's hit 1979 album of the same name. A commercial success on both sides of the Atlantic, The Wall later earned two BAFTA Awards and remains a cult favorite among fans of the band.
In 1977, Elvis Costello and his new band, The Attractions, played their first show together at the Penzance Winter Gardens in Cornwall, England, opening for Wayne County & the Electric Chairs. A week and a day later, Costello released his debut album, My Aim Is True via Stiff Records in the UK.
In 1964, The Rolling Stones scored their first No.1 hit in the UK with "It's All Over Now." The song was written by Bobby Womack and his sister-in-law, Shirley Womack, and originally recorded by Bobby's group, The Valentinos, that same year.
In 1967, The Who kicked off their first major North American tour at Portland, Oregon's Memorial Coliseum. The British rockers served as the support act for Herman's Hermits throughout the 55-date run.
In 1986, Madonna owned the UK charts when she had both the No.1 single ("Papa Don't Preach") and the No.1 album (True Blue).
In 1973, audiences at Southern California's Knott's Berry Farm were shocked during an Everly Brothers concert when Phil Everly smashed his guitar and stormed off stage. His brother, Don, continued the set at the John Wayne Theater, before announcing that the band had split. It would be nearly a decade before the duo performed again.
Looking for more things that happened on this day in music?
Keep scrolling for all of the headlines for July 14.
BORN ON JULY 14:
1912: Woody Guthrie
1945: Jim Gordon (Drummer, Songwriter)
1948: Tommy Mottola (Record Executive)
1952: Chris Cross (Ultravox)
1955: Matthew Seligman (The Soft Boys, The Thompson Twins)
1971: Nick McCabe (The Verve)
1975: Taboo (Black Eyed Peas)
1978: Ruben Studdard
1986: Dan Smith (Bastille)
1987: Dan Reynolds (Imagine Dragons)
Looking for more artists born on this day?
Keep scrolling for all of our July 14 birthdays.
---
What to find another day?
---
July 14th
14 Jul 2022
Scottish singer-songwriter Paolo Nutini was at No.1 on the UK album chart with his fourth studio album Last Night in the Bittersweet. His first release in eight years became Nutini's third consecutive UK No.1 album.
14 Jul 2015
Arthur Cave the 15-year-old son of musician Nick Cave died after a fall from a cliff in Brighton, Sussex, England.
14 Jul 2015
The Las Vegas coroner's office confirmed that B.B. King died of natural causes primarily stemming from Alzheimer's disease and was not murdered. Two of his daughters had alleged King was poisoned by long-time associates.
14 Jul 2010
Fashion model Ann Kirsten Kennis, whose Polaroid photo is on the cover of Vampire Weekend's No.1 album Contra, filed a $2 million lawsuit against the band, their label, and the photographer, claiming she never granted permission for them to use it. She first discovered herself on the cover when her daughter brought home a copy of the album. Kennis later settled an undisclosed settlement with the band.
14 Jul 2009
Michael Jackson
fans from all over the world congregated at London's O2 arena, where the star had been due to begin his run of 50 concerts. Fans who left messages to a wall of tributes and conducted Jackson sing-a-longs, held a minute's silence at 1830 BST to mark the time when the doors to the concert would have opened.
14 Jul 2007
A pair of glasses worn by former Beatle
John Lennon
sparked a bidding war after being offered for sale online. The circular sunglasses were worn by Lennon during
The Beatles
1966 tour of Japan, where the band played some of their last ever live dates. Anonymous rival bidders had pushed the price as high as £750,000 at online auction house 991.com.
14 Jul 2006
Primal Scream singer Bobby Gillespie had his nose broken when he was attacked in a hotel bar in Madrid in Spain. The singer had to postpone a
Top Of The Pops
recording due to the injuries.
14 Jul 2003
Plans for Sting to write an official anthem for Tuscany came under fire by locals who insisted the job should go to an Italian and not a foreigner. The British pop star owned a house in Tuscany and had been nominated to compose the anthem by Franco Banchi who lived nearby.
14 Jul 2000
Five became the latest pop idols to call for the legalisation of cannabis. J and Richie from the band told Sky magazine that the drug should no longer be outlawed 'No one who smokes a spliff goes out and starts fights like someone who's been drinking.'
14 Jul 1997
Walkers
Spice Girls
crisps went on sale in the UK, over 16 million bags were sold by the end of the year.
14 Jul 1989
At The Peach Festival, South Carolina, 432 guitarist's broke the world record for the most guitar players appearing in unison for the longest period of time, when they performed 'Louie Louie' for 30 minutes.
14 Jul 1989
Tom Jones lost a paternity suit and was ordered to pay $200 a week in child support to 27 year old Katherine Berkery of New York. The judge in the case was Judge Judy Sheindlin, who was still serving in her 15 year tenure as a New York Family Court judge before appearing in her court TV show, Judge Judy.
14 Jul 1988
Michael Jackson
gave himself a place in the Guinness Book of World Records for setting a new attendance record, when he played the first of seven nights at Wembley Stadium in London. The shows on his Bad World Tour were attended by a total of 504,000 fans beating the record previously held by
Genesis
, with four sold out nights.
14 Jul 1986
Madonna
was at No.1 on the UK singles chart with her second No.1 'Papa Don't Preach'.
Madonna
also had the UK No.1 album with 'True Blue'.
14 Jul 1984
Phillippe Wynne lead singer with The Detroit Spinners died of a heart attack while performing at Ivey's nightclub in Oakland, California, aged 43. With The Detroit Spinners had the 1980 UK No.1 & US No.2 single 'Working My Way Back To You.'
14 Jul 1982
The movie premier for
Pink Floyd
's
The Wall
was held at The Empire, Leicester Square, London, England. The film which centers around a confined rocker named Floyd "Pink" Pinkerton earned $22 million in its first year and won two British Academy Awards.
14 Jul 1979
Donna Summer scored her third No.1 US single with 'Bad Girls.' Her album of the same name also started a five-week run at No.1. The inspiration for her to write the song came after one of her assistants was offended by a police officer who thought she was a sex worker.
14 Jul 1977
Elvis Costello and The Attractions made their live debut supporting Wayne County & the Electric Chairs at the Penzance Winter Gardens in Cornwall, England.
14 Jul 1973
During a Southern California concert at Knott's Berry Farm's John Wayne Theater, Phil Everly smashed his guitar and stormed off stage.
14 Jul 1973
A drunk driver killed Clarence White of The Byrds while he was loading equipment after a gig in Palmdale, California. White joined The Byrds in 1968, after the group had recorded 'Mr. Tambourine Man,' 'Turn! Turn! Turn!' and 'Eight Miles High'.
14 Jul 1967
The Who
began their first full North American tour at the Memorial Coliseum, Portland, Oregon, appearing as support band to Herman's Hermits on 55 dates.
14 Jul 1967
David Bowie
released the single 'Love You Till Tuesday' which failed to reach the charts. Bowie's 1969 showpiece film Love You till Tuesday took its name from the song, which also featured over the opening credits.
14 Jul 1964
The
Rolling Stones
were at No.1 on the UK singles chart with 'It's All Over Now', the group's first of 8 UK No.1's. Written by Bobby Womack and Shirley Womack, it was first released by The Valentinos featuring Bobby Womack in the same year.
14 Jul 1962
The Beatles
played their first ever gig in Wales in the UK when they appeared at The Regent Dansette in Rhyl. Tickets cost five shillings, ($0.70).
Born on this day in music
14 Jul 1987
Dan Reynolds, American musician, best known as the frontman of the Las Vegas-based rock band Imagine Dragons.
14 Jul 1986
Dan Smith, lead vocalist, producer, songwriter and founder of the indie rock band Bastille, who won a Brit award and had a No.1 U.K. album with Bad Blood.
14 Jul 1978
Ruben Studdard, singer, winner of the second series of American Idol. (2003 US No.2 single 'Flying Without Wings').
14 Jul 1975
Taboo, rapper, singer, Black Eyed Peas, (2003 US & UK No.1 single 'Where Is The Love').
14 Jul 1971
Nick McCabe, guitarist from English rock band The Verve, who had the 1997 album Urban Hymns, one of the best-selling albums in UK Chart history. The album features the hit singles 'Bitter Sweet Symphony', 'The Drugs Don't Work' and 'Lucky Man'.
14 Jul 1966
Ellen Reid, keyboards, with Canadian rock band Crash Test Dummies best known internationally for their 1993 single 'Mmm Mmm Mmm Mmm'.
14 Jul 1956
American musician Bob Birch, session bassist. He worked with Doobie Brothers,
Bryan Adams
, Lionel Richie,
George Michael
,
Eric Clapton
, B.B. King,
Phil Collins
, Keith Emerson,Barry Manilow and
Elton John
. Birch died on August 15, 2012, from an self-inflicted gunshot wound in his Los Angeles home, aged 56.
14 Jul 1955
English bass guitarist Matthew Seligman, best known as a member of The Soft Boys. Seligman was also a member of the Thompson Twins, and was a sideman for Thomas Dolby and backed
David Bowie
at his performance at
Live Aid
in 1985. He died on 17 April 2020 aged 64 due to complications of the coronavirus.
14 Jul 1952
Bob Casale, best known as a guitarist and keyboardist in the new wave band Devo. He engineered the first solo album for Police guitarist Andy Summers. Casale died on February 17, 2014.
14 Jul 1952
Chris Cross, bass, synth, with British new wave band Ultravox who had the 1981 UK No.2 single 'Vienna', plus 15 other UK Top 40 singles.
14 Jul 1950
American session drummer Andy Newmark who was the drummer for Sly and the Family Stone, and has also played with numerous other artists, particularly British acts such as
John Lennon
,
Pink Floyd
,
David Bowie
, Roxy Music, and
Badfinger
,
Eric Clapton
and David Gilmour.
14 Jul 1948
Tommy Mottola, music executive, Sony Records. Married
Mariah Carey
in 1993, separated in 1997.
14 Jul 1945
Jim Gordon
, American drummer, one of the most requested session drummers in the late 1960s and 1970s. Gordon co-wrote "Layla" with Eric Clapton, worked with The Everly Brothers, The Monkees, The Beach Boys, (George Harrison, (All Things Must Pass), John Lennon (Imagine), The Carpenters, Traffic, Glen Campbell, (Wichita Lineman), Steely Dan, Jackson Browne, Frank Zappa and many others. A diagnosed schizophrenic, Gordon was sentenced to prison in 1984 for the murder of his mother.
14 Jul 1926
Lowman Pauling, guitarist, The Five Royales, co-wrote 1967 hit for Mamas and the Papas, 'Dedicated To The One I Love' which was originally a 1961 hit for the Shirelles. It got to No.3 on the Hot 100. The Five Royales recorded the song in 1957 but it never charted. It was included on their album, Dedicated To You. He died on 26th December 1973.
14 Jul 1912
Woodrow Wilson 'Woody' Guthrie in Okemah, Oklahoma. Folk singer and songwriter, famous for his 'Dust Bowl Ballads' and protest songs in the 1930's and 1940's. His work was a major influence on the young
Bob Dylan
, providing inspiration and mentorship. Guthrie was married three times and fathered eight children, including American folk musician Arlo Guthrie. He frequently performed with the slogan This Machine Kills Fascists displayed on his guitar. Guthrie died of complications resulting from Huntingdon's disease on October 3rd 1967.