July 15th: The Biggest Music Headlines
Scroll down the page to see all the music headlines, stories and events for July 15 throughout music history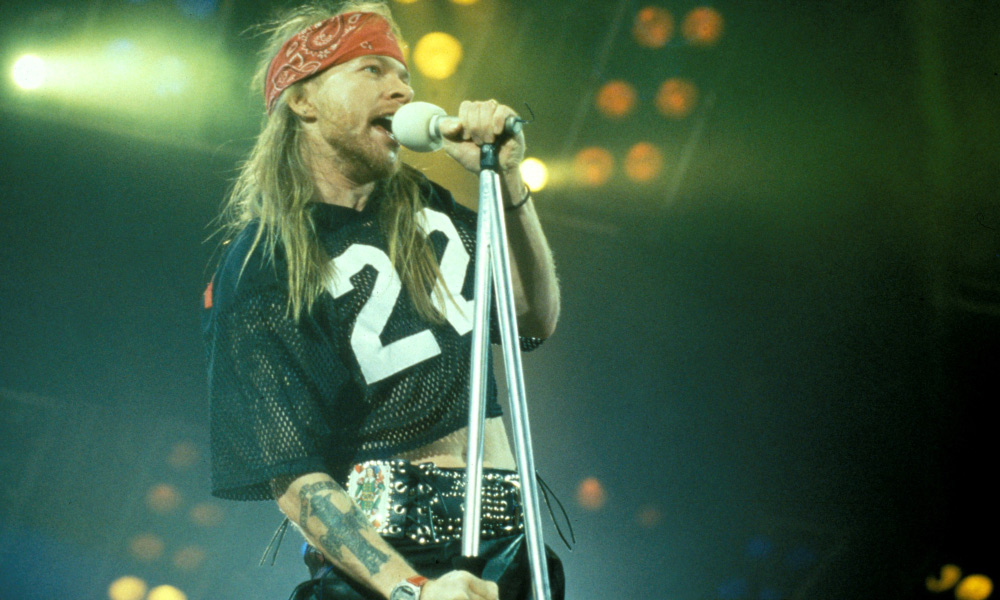 Guns N' Roses Break New Ground on YouTube
In 2018, a new digital milestone occurred when Guns N' Roses' "November Rain" became the first video released before the advent of YouTube to surpass one billion views on the platform. One of the most expensive music videos of its time, the 1992 visual was directed by Andy Morahan and featured supermodel Stephanie Seymour, the then-girlfriend of frontman Axl Rose. The power ballad, which peaked at No.3 on the Billboard Hot 100, also marked the longest song to enter the US Top Ten at the time.
In 1972, Elton John earned his first No.1 album in the US with his fifth studio effort, Honkey Chateau. Named for the 18th-century French chateau in which it was recorded (Château d'Hérouville), the album featured the Top 10 singles "Rocket Man" and "Honkey Cat."
In 1978, The Rolling Stones began a two-week run at the top of the US album chart with Some Girls. Despite the popularity of the album (which marked their 16th LP in the US), the Peter Corriston-designed jacket cover caused a stir among some of the era's biggest celebrities. The image, which featured the likenesses of Lucille Ball, Farrah Fawcett, Judy Garland, Raquel Welch, and Marilyn Monroe, was instantly challenged by the women and/or their estates. Corston redesigned the cover, without the starlets' faces, and the album was promptly reissued.
In 1958, John Lennon's mother, Julia Lennon, was hit and killed by a car driven by an off-duty policeman. While John, who was 17 at the time of the tragedy, lived with his aunt Mimi, he was very close with his mother. Julia, in turn, was one of his biggest supporters at Quarrymen shows. The loss inspired several of the artist's songs, including 1968's "Julia" (with The Beatles) and his 1970 solo track, "Mother." John's first son, Julian, was named for Julia.
In 1956, 13-year-old Frankie Lymon (with The Teenagers) became the youngest artist to hit the top spot on the UK pop charts with "Why Do Fools Fall in Love."
In 1989, Pink Floyd performed on a floating barge in Venice's Grand Canal, during the Italian city's annual Festa del Redentore. More than 200,000 fans attended the show (double what authorities had planned for), taking over buildings and bridges along the San Marco Basin. Following the concert, which was broadcast to global audiences, the Italian Army was called in to help clean up the trash and damage that resulted from the overflow of onlookers.
Looking for more things that happened on this day in music?
Keep scrolling for all of the headlines for July 15.
BORN ON JULY 15:
1946: Linda Ronstadt
1947: Roky Erickson (13th Floor Elevators)
1949: Trevor Horn (Buggles)
1952: Johnny Thunders (New York Dolls)
1956: Ian Curtis (Joy Division)
1956: Joe Satriani
1966: Jason Bonham
1973: John Dolmayan (System of a Down)
1977: Ray Toro (My Chemical Romance)
1990: Olly Alexander (Years & Years)
Looking for more artists born on this day?
Keep scrolling for all of our July 15 birthdays.
---
What to find another day?
---
July 15th
15 Jul 2018
'November Rain' by
Guns N' Roses
became the first '90s video to pass a billion views on YouTube. The next closest '90s video was 'Zombie' by The Cranberries, at 739 million.
15 Jul 2016
In what they famously describe as a 'conscious uncoupling,'
Chris Martin
of Coldplay and actress Gwyneth Paltrow officially divorce after more than ten years of marriage.
15 Jul 2015
A judge trimmed more than $1m (£639,000) from the damages Pharrell Williams was ordered to pay after the Blurred Lines copyright trial. The case revolved around the question of whether Williams and his co-writer Robin Thicke had copied
Marvin Gaye
's 1977 hit 'Got To Give It Up'. The judge also gave Gaye's family a 50% cut of future earnings from the song.
15 Jul 2015
The Los Angeles home of US singer Chris Brown was raided and ransacked by three masked men who locked his aunt in a closet. Officials said the suspects, who were armed with handguns, got away from the Tarzana property with an unknown amount of money and some personal items.
15 Jul 2015
Robbie Williams made a surprise appearance at an auction selling some of his memorabilia for charity. The singer took control of the gavel as 150 items, including handwritten lyrics and bespoke suits, went under the hammer for a Staffordshire hospice. The auction raised over £120,000, ($177,300).
15 Jul 2012
Queen
were crowned top of the patriotic pops in a survey of 100,000 music fans. The band's anthem 'We Are The Champions' was named number one by fans who were asked what song made them proud to be British. The track, which got to number two in 1977, picked up 13,000 votes in the survey carried out among users of the Lucky Voice website. It was followed by the
Oasis
hit 'Wonderwall' which was nominated by 11,000 karaoke singers and then 'Let It Be' by
The Beatles
which got 10,000 votes.
Elton John
's 'Candle In The Wind' and 'London Calling' by
The Clash
rounded off the top five.
15 Jul 2007
The UK music industry reacted angrily at a decision to give away 'Planet Earth' the new album by
Prince
as a 'covermount' with the Mail on Sunday newspaper. The 10-track CD was not due to be released in stores until 24 July. Stephen Miron, the newspaper's managing director, said: "No one has done this before. We have always given away CDs and DVDs, but this is just setting a new level."
15 Jul 2007
Over 10,000 people applied for a job with P Diddy after the rapper posted an advert on Youtube looking to find a new personal assistant. He warned applicants that the job would be far from easy and would involve everything from getting him ready for the red carpet to aiding in billion dollar deals to helping him jump out of planes in movies.
15 Jul 2005
Victor Edward Willis, the original policeman in the Village People, was arrested after police found a gun and drugs in his convertible in Daly City, south of San Francisco. Willis also had an outstanding $15,000 felony warrant for possession of narcotics.
15 Jul 2002
Sir
Paul McCartney
was named the highest-earning music star of the year so far after selling tickets worth £33.9m during his recent US tour.
15 Jul 2000
An
Oasis
fan was killed when he tried to walk home along the M61 motorway in Manchester, England after Oasis had played a sold-out gig at The Reebok stadium.
15 Jul 2000
A Manchester judge reprimanded Happy Mondays singer Shaun Ryder after he turned up a day late in court to give evidence. Ryder told the court he had been on 'a bender'. A man was cleared of dangerous driving and assaulting Ryder.
15 Jul 2000
Sad Cafe singer Paul Young died of a heart attack at his Manchester home aged 53. 'Run Home Girl' was a hit for Sad Cafe in the US, 'Everyday Hurts' was a UK No.3 hit in 1979. Joined Mike Rutherford and Paul Carrack in Mike and the Mechanics and had the hits 'The Living Years' and 'Silent Running'.
15 Jul 1998
Aerosmith
were forced to cancel a forthcoming US tour after Joey Kramer was involved in a freak accident. The drummer's car set on fire and was completely destroyed as he was filling up with petrol. He was admitted to hospital with second-degree burns.
15 Jul 1989
Simply Red scored their second US No.1 single with 'If You Don't Know Me By Now', a 1973 UK hit for Harold Melvin and the Blue Notes.
15 Jul 1989
Pink Floyd
appeared in Canal di San Marco, Piazza San Marco, Venice, Italy on a floating stage. Over 200,000 people attended the gig (almost double the number authorities had planned for) causing damage to buildings and bridges. The cleaning of the area after the concert was said to be around £25,000 and the concert was broadcast live on TV to over 20 countries with an estimated audience of almost 100 million. Two Venice councillors were later ordered to stand trial for the costs incurred by the concert.
15 Jul 1985
Nude photos of
Madonna
taken in 1977 appeared in this months Playboy and Penthouse Magazines.
15 Jul 1978
Bob Dylan
with special guest
Eric Clapton
, Joan Armatrading and Graham Parker all appeared at Blackbushe Aerodrome, Surrey, England. Reputedly this was the biggest ever UK audience for Bob Dylan, with over 200,000 fans attending.
15 Jul 1978
The
Rolling Stones
started a two-week run at No.1 on the US album chart with
Some Girls
the group's seventh US No.1 album. The cover designed by Peter Corriston, featured The
Rolling Stones
in garish drag alongside select female celebrities and lingerie ads. The cover immediately ran into trouble when Lucille Ball, Farrah Fawcett, Liza Minnelli (representing her mother Judy Garland), Raquel Welch, and the estate of Marilyn Monroe who all threatened legal action.
15 Jul 1973
The Edgar Winter Group, Sly & The Family Stone, Canned Heat, Lindisfarne and
The Kinks
all appeared at The Great Western Express festival at White City, west London. With his wife having recently walked out of their marriage, taking their young children with her, Ray Davies of The Kinks announces from the stage that he is sick of the whole thing and is retiring. He then walks into a local hospital and collapses from an overdose of tranquillizers.
15 Jul 1972
Elton John
started a five week run at No.1 on the US album chart with his fifth studio album, "Honky Chateau." The album, which marked the British artist's first US chart topper, took inspiration for its title from the 18th-century French chateau (Château d'Hérouville) in which it was recorded. Two the tracks from the album, "Rocket Man" and "Honkey Cat," were released as singles.
15 Jul 1967
The Doors
and The Jefferson Airplane both played an afternoon and evening show to over 8,000 fans at Anaheim Convention Center, Anaheim, California.
15 Jul 1965
15 Jul 1958
John Lennon
's mother Julia was killed by a car driven by an off-duty drunken police officer named Eric Clague (Clague was later acquitted of the offence). Lennon was 17 years old at the time.
15 Jul 1956
The Teenagers featuring Frankie Lymon were at No.1 on the UK singles chart with 'Why Do Fools Fall In Love'. A No.6 hit in the US. At 13, Lymon was the youngest performer to make No.1.
Born on this day in music
15 Jul 1990
Olly Alexander, actor and lead singer of Years & Years who scored the 2015 UK No.1 single 'King',
15 Jul 1977
Ray Toro, lead guitarist with American rock band My Chemical Romance who had the 2006 UK No.1 single 'Welcome to the Black Parade', and the 2006 US No.2 album The Black Parade.
15 Jul 1973
John Dolmayan, drummer with Armenian-American heavy metal band System of a Down who had the 2001 US No.1 album Toxicity and the 2005 US No.1 & UK No.2 album Mezmerize.
15 Jul 1966
Jason Bonham, drummer and son of Led Zeppelin drummer,
John Bonham
. As well as playing with
Led Zeppelin
, (at Atlantic Records 40th Anniversary concert and the 02 concert), Jason has worked with
Jimmy Page
(on his Outrider album), UFO, Foreigner, Steel Dragon, Damnocracy, Airrace, Virginia Wolf, Black Country Communion and Paul Rodgers.
15 Jul 1956
American instrumental rock guitarist and multi-instrumentalist, Joe Satriani. He is a 15-time Grammy Award nominee and has sold over 10 million albums, making him the biggest-selling instrumental rock guitarist of all time.
15 Jul 1956
Ian Curtis
, guitar, vocals, Warsaw, Joy Division, (1980 UK No.13 single "Love Will Tear Us Apart"). Curtis took his own life on May 18, 1980 at the age of 23.
15 Jul 1953
Alicia Bridges, US singer, (1978 US No.5 & UK No. 32 single 'I Love The Night Life').
15 Jul 1952
Jeff Carlisli, 38 Special, (1982 US No.10 single 'Caught Up In You').
15 Jul 1952
Johnny Thunders, (John Genzale), guitar, vocals, The New York Dolls, 1973 album 'New York Dolls'. Died of a drug overdose on 23rd April 1991.
15 Jul 1951
Jamaican reggae musician Gregory Isaacs, famous for his song 'Night Nurse', which gave Simply Red at hit in 1997. He died on 25 October 2010 after a long battle with lung cancer.
15 Jul 1949
Trevor Horne, Buggles, (1979 UK No.1 single 'Video Killed The Radio Star'), Yes, (1980-81), produced three UK No.1's for Frankie Goes To Hollywood, 'Relax', 'Two Tribes', & 'The Power Of Love').
15 Jul 1948
Artimus Pyle, drummer with Lynyrd Skynyrd from 1974 to 1977 and from 1987 to 1991. Lynyrd Skynyrd are best know for their 1974 US No. 8 single, 'Sweet Home Alabama' and the 1982 single 'Freebird'.
15 Jul 1947
Peter Banks, guitarist, Yes, (1968-70), and Flash. After playing with bassist Chris Squire in the Syn, Banks and Squire helped form Yes in 1968. Banks died aged 65 on 7th March 2013.
15 Jul 1947
American singer, songwriter, harmonica player, and guitarist Roky Erickson who was a founding member of the 13th Floor Elevators and a pioneer of the psychedelic rock genre. Erickson died on 31 May 2019 age 71.
15 Jul 1946
American singer Linda Ronstadt who had the 1975 US No.1 single 'You're No Good', and the 1989 UK No.2 single with Aaron Neville, 'Don't Know Much' plus over 15 other US Top 40 hits. She has earned 11 Grammy Awards, three American Music Awards, two Academy of Country Music awards, an Emmy Award, and an ALMA Award.
15 Jul 1945
Peter Lewis, from American psychedelic rock group Moby Grape, known for their debut album Moby Grape (1967).
15 Jul 1944
Millie Jackson, US soul singer, (1973 US No. 24 single, 'Hurts So Good', 1985 UK No.32 single with
Elton John
'Act Of War').