On 10th July 1965, The Rolling Stones started a four week run at No.1 on the US singles chart with '(I Can't Get No) Satisfaction', the group's first chart-topper there. In the UK, the song was initially played only on pirate radio stations because its lyrics were considered too sexually suggestive.
Two months earlier, Keith Richards recorded a rough version of the riff in a hotel room in Florida, running through it once before falling asleep. He later said when he listened back to it in the morning, there was about two minutes of acoustic guitar before you could hear him drop the pick and then Richards snoring for the next forty minutes. the following day, Keith Richards worked out the opening guitar riff of 'Satisfaction', following his purchase of a Gibson Maestro fuzzbox. (The song's success boosted sales of the Gibson fuzzbox so that the entire available stock sold out by the end of 1965!)
One of the most famous 3-note guitar riffs ever, the finished song gave The Stones their first No.1 in the United States. The song was initially played only on pirate radio stations because its lyrics were considered too sexually suggestive.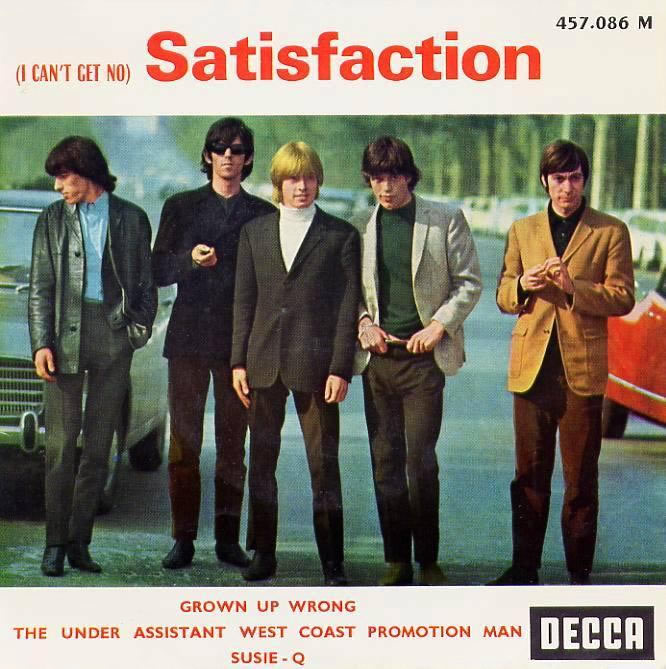 Keith Richards has said that he came up with the guitar riff in his sleep, waking up in the middle of the night. The guitarist then recorded the riff and the words "I can't get no satisfaction" on his portable cassette recorder and promptly fell back to sleep.
Jagger later said: "It sounded like a folk song when we first started working on it and Keith didn't like it much, and Richards was concerned that the riff sounded too much like Martha and the Vandellas' "Dancing in the Street".
When the Rolling Stones performed the song on the TV show Shindig! in 1965, the line "trying to make some girl" was censored. Forty years later, when the band performed three songs during the February 2006 Super Bowl XL halftime show, "Satisfaction" was the only one of the three songs not censored as it was broadcast, (the other two being "Start Me Up" and "Rough Justice").
The track has been widely covered by a diverse mix of acts, some which leave the listener with no satisfaction whatsoever! Otis Redding, Devo and Aretha Franklin's versions are well worth a listen, but avoid versions by Britney Spears, Vanilla Ice and… Bill Cosby.
In 2004, Rolling Stone magazine placed "Satisfaction" in the second spot on its list of The 500 Greatest Songs of All Time".
We have a book! The Rolling Stones – I Was There which contains over 400 eyewitness accounts from fans who saw The Stones live in concert. Available in print and all digital formats.