July 17th: The Biggest Music Headlines
Scroll down the page to see all the music headlines, stories and events for July 17 throughout music history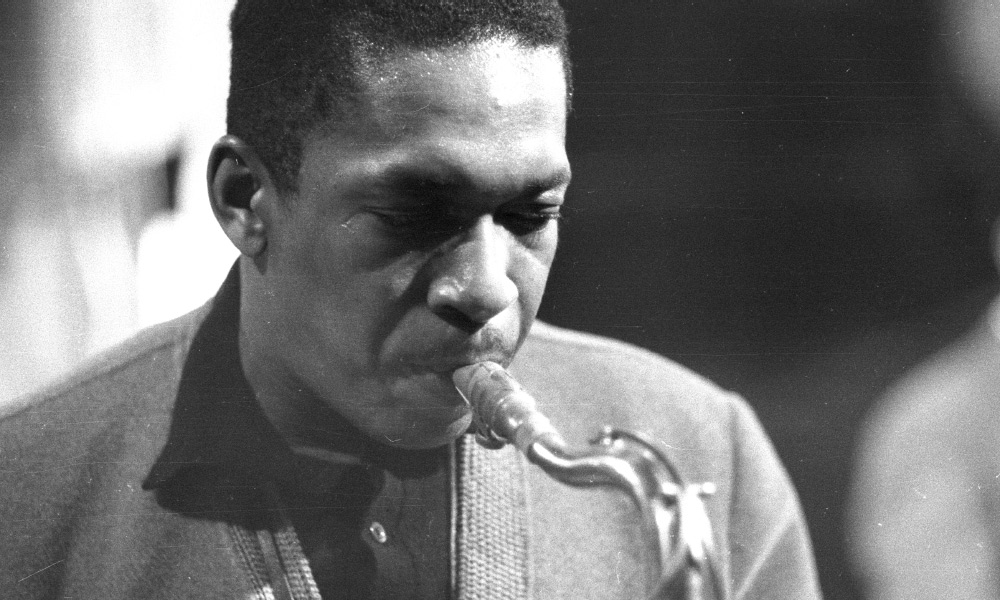 Jazz Great John Coltrane Dies
On this day in music, July 17, 1967, the broadly influential jazz saxophonist and composer John Coltrane died, aged 40, from liver cancer. Born in North Carolina and raised in Philadelphia, Coltrane rose to fame as a member of Miles Davis' pathfinding quintet in the 1950s and played on several of the trumpeter's key albums, including 1959's Kind Of Blue. Coltrane's stellar solo career, which took flight in the late 50s, saw him push the frontiers of modern jazz with groundbreaking albums like Giant Steps, My Favorite Things, and A Love Supreme, the latter sowing the seeds for the spiritual jazz movement.
In 1995, Robbie Williams left Take That during the middle of the British boy band's Nobody Else tour. The singer-songwriter launched his solo career the following year with a cover of Geoge Michael's "Freedom."
In 1975, Bob Marley and the Wailers played the first of two concerts at London's Lyceum Theatre. Marley's label, Island Records, taped both nights and selected the best moments for the reggae icon's first in-concert album, Live!, released in December 1975. It included a performance of the anthemic "No Woman No Cry," which was released as a single and gave Marley his first UK chart entry.
In 1968, the animated movie Yellow Submarine, inspired by the music of The Beatles, premiered in London. A psychedelic fantasy adventure directed by George Dunning, the film featured the "Fab Four" as cartoon characters but their voices were spoken by actors. The soundtrack album made No.2 in the US and No.3 in the UK.
In 1959, legendary jazz singer Billie Holiday died at 44. Born Eleanora Fagan in Philadelphia, "Lady Day" was noted for her plaintive tone as well as her heightened musical sensitivity. Among her signature songs was the Civil Rights anthem, "Strange Fruit," as well as the self-written "Lady Sings The Blues" and "God Bless the Child." Despite her success, the influential singer did not have an easy life and struggled with addictions, legal troubles, and several abusive relationships.
In 1965, James Brown released the single "Papa's Got a Brand New Bag." Regarded as a landmark record in the evolution of funk music, the song spent two months at the top of the Billboard R&B chart and won the Grammy Award for best for Best Rhythm & Blues Recording.
In 2013, U2 frontman Bono was awarded Commandeur of the Ordre des Arts et des Lettres by the French government for his contribution to music and commitment to humanitarian causes.
Looking for more things that happened on this day in music?
Keep scrolling for all of the headlines for July 17.
BORN ON JULY 17:
1941: Spencer Davis (The Spencer Davis Group)
1947: Wolfgang Flür (Kraftwerk)
1948: Ron Asheton (The Stooges)
1949: Geezer Butler (Black Sabbath)
1952: Phoebe Snow
1966: Lou Barlow (Dinosaur Jr., Sebadoh)
1971: DJ Minutemix (P.M. Dawn)
1976: Luke Bryan
1985: Tom Fletcher (McFly)
1987: Jeremih
Looking for more artists born on this day?
Keep scrolling for all of our July 17 birthdays.
---
What to find another day?
---
July 17th
17 Jul 2021
American rock violinist and singer Robby Steinhardt died from complications of acute pancreatitis age 71. He is best known for his work with Kansas, for which he was co-lead singer along with keyboardist Steve Walsh.
17 Jul 2019
Snow Patrol's ballad 'Chasing Cars' was named the most-played song of the 21st Century on UK radio. Originally released in 2006, the lovestruck ballad never reached No.1 in the UK, but remained on the charts for more than three years. Second place went to Black Eyed Peas' 'I Gotta Feeling', while Pharrell's 'Happy' came third.
17 Jul 2013
U2
singer Bono received France's highest cultural honour for his contribution to music and commitment to humanitarian causes when he was presented with the Commander of the Order of Arts and Letters by French Culture Minister Aurelie Filippetti in Paris.
17 Jul 2011
Bruce Springsteen
made a surprise appearance at a tribute to Clarence Clemons at the Wonder Bar in Asbury Park, N.J. The boss played a 45 minute set to an intimate crowd of 400. Clemons who died on June 18th of this year was a prominent member of Bruce Springsteen's E Street Band, playing the tenor saxophone with him since 1971. Springsteen and Clemons had first met at the Wonder Bar in Asbury Park.
17 Jul 2008
Ageing rock stars and session musicians would keep receiving royalties for their old recordings for the rest of their lives under a European Union plan. Performers currently lost the rights to their recordings after 50 years. Veteran artists like Sir Cliff Richard and Roger Daltrey were among those who campaigned for it to be extended. The EU had announced a scheme for copyright on recordings to last for 95 years.
17 Jul 2005
Jamaican musician Laurel Aitken died. Dubbed as 'the Godfather of Ska', his 1958 'Boogie In My Bones' became the first release on the Island Record label and was No.1 on the Jamaican charts for 11 weeks.
17 Jul 2004
Half of the 4,500 people in the audience walked out of Linda Ronstadt's show at the Aladdin Resort and Casino in Las Vegas after the singer dedicated an encore of 'Desperado' to filmmaker Michael Moore and urged the crowd to see his film Fahrenheit 9/11.
17 Jul 1999
Kevin Wilkinson, the 41-year-old drummer with Howard Jones, took his own life. He had also worked with China Crisis, Holly and the Italians, Squeeze and The Waterboys.
17 Jul 1996
Chas Chandler died aged 57 at Newcastle General Hospital, England, where he was undergoing tests related to an aortic aneurysm. He had been the bass player with The Animals and manager of Slade,
Nick Drake
and
Jimi Hendrix
.
17 Jul 1995
Robbie Williams left
Take That
. The group had scored six UK No.1 singles and two No.1 albums with Robbie in the group.
17 Jul 1993
Guns N' Roses appeared at River Plate Stadium in Buenos Aires, Argentina, in front of 80,000 people, the final show on their Use Your Illusion Tour. A highlight of the night was English drummer Cozy Powell playing drums with Matt Sorum, dressed as a Domino's Pizza delivery boy.
17 Jul 1993
Take That
had their first UK No.1 single with 'Pray'. Their first of 8 No.1's, they went on to be the most successful British boy band of the 1990s.
17 Jul 1992
The first night of a North American tour by Guns N' Roses,
Metallica
and Faith No More tour opened at the RFK Stadium in Washington DC.
17 Jul 1987
17 Jul 1982
Irene Cara was at No.1 on the UK singles chart with 'Fame', which was based on the hit TV series about a New York drama school. Cara (who played the role of Coco Hernandez in the original movie) won the Academy Award for Best Original Song and the Golden Globe Award for the same.
17 Jul 1979
Gary Moore left
Thin Lizzy
, during a US tour and was replaced by ex Slick & Rich Kids guitarist Midge Ure.
17 Jul 1976
Demis Roussos was at No.1 on the UK singles chart with 'The Roussos Phenomenon EP'. It was the Greek singers only UK chart topper and the only No.1 EP to top the charts in the 1970s.
17 Jul 1975
Bob Marley
and the Wailers played the first of two nights at The Lyceum, London, and both nights were recorded for the November released 'live' album, featuring the single 'No Woman No Cry.'
17 Jul 1974
The Moody Blues opened what they claimed was the first 'Quadraphonic' recording studio in the world.
17 Jul 1972
A bomb exploded under The
Rolling Stones
equipment van in Montreal, believed to be the work of French separatists. Angry fans rioted throwing bottles and rocks after 3,000 tickets for the show turned out to be fake.
17 Jul 1971
John Lennon
and Yoko Ono appeared on the BBC late night talk show, Parkinson, where John chastised the British media for calling Yoko "ugly" and for saying that she broke up
The Beatles
.
17 Jul 1968
The animated film Yellow Submarine, premiered at The London Pavilion.
The Beatles
made a cameo appearance in the film but didn't supply their own voices for the characters.
17 Jul 1967
American jazz saxophonist and composer John Coltrane died from liver cancer at Huntington Hospital in Long Island, New York, aged 40. Worked with Miles Davis, Dizzy Gillespie. Released the 1964 album 'A Love Supreme'.
17 Jul 1967
The Beatles
single 'All You Need Is Love / Baby You're A Rich Man' (originally called 'One Of The Beautiful People') was released in the US. It became
The Beatles
14th US No.1.
17 Jul 1965
King Records released 'Papa's Got a Brand New Bag' by
James Brown
, which went on to sell over 2 million copies and receive the Grammy Award for best for Best Rhythm & Blues Recording. 'Papa's Got a Brand New Bag' is considered seminal in the emergence of funk music as a distinct style.
17 Jul 1959
Billie Holiday died in a New York City hospital from cirrhosis of the liver after years of alcohol abuse, aged 43, (while under arrest for heroin possession, with Police officers stationed at the door to her room.) In the final years of her life, she had been progressively swindled out of her earnings. The singer who had recorded classics such as 'God Bless the Child' and the civil rights anthem 'Strange Fruit' died with just $0.70 in the bank.
17 Jul 1946
Petula Clark made her UK television debut appearing on the Cabaret TV series at the age of 13. Clark began with guest spots on radio when she was only 9 and made her first film a year later. 'Put Your Shoes On Lucy' was released as her debut release in 1949, her 'The Little Shoemaker' became her first U.K. hit in 1954.
Born on this day in music
17 Jul 1987
American singer songwriter, record producer, Jeremiah Felton. His debut single, 'Birthday Sex' (which was also recorded in French), peaked at No.4 on the US Hot 100.
17 Jul 1985
Tom Fletcher, guitar, vocals, McFly, (2004 UK No.1 single 'Colours In Her Hair', 2004 UK No.1 album 'Room On The 3rd Floor').
17 Jul 1982
English singer-songwriter, Natasha Hamilton who with Atomic Kitten had the 2000 UK No.1 single 'Whole Again'. The girl group were founded by OMD frontman
Andy McCluskey
.
17 Jul 1980
Philip Lawrence, producer and songwriter who is part of the Smeezingtons record producing team with Bruno Mars and Ari Levine. Worked with
Adele
, Snoop Dogg, Cee Lo Green, Justin Bieber, Flo Rida and many other artists.
17 Jul 1976
Luke Bryan, American country music singer and songwriter. He began his music career writing songs for Travis Tritt and Billy Currington. Bryan's first nine solo albums have included fourteen No.1 country music hits.
17 Jul 1971
Jarrett Cordes, DJ Minutemix, from American hip hop act PM Dawn who scored the 1991 US No.1 & UK No.3 single 'Set Adrift On Memory Bliss'.
17 Jul 1970
Mandy Smith, singer, model and actress. In 1983 at age 13 she started dating the then 47 year old
Rolling Stones
bassist Bill Wyman. The couple married in 1989, divorced 1992. Smith released records with SAW none of which charted. Wyman's son later dated Mandy's mother.
17 Jul 1966
American alternative rock musician and songwriter, Lou Barlow, a founding member of the groups Dinosaur Jr., Sebadoh and The Folk Implosion. Barlow is credited with helping to pioneer the lo-fi style of rock music in the late 1980s and early 1990s.
17 Jul 1963
Regina Belle, US singer, (1993 US No.1 & UK No.12 single with Peabo Bryson, 'A Whole New World, Aladdin's Theme').
17 Jul 1952
Chet McCracKen, drums, The Doobie Brothers, (1979 US No.1 single 'What A Fool Believes', 1993 UK No.7 single 'Long Train Runnin').
17 Jul 1952
Phoebe Snow, US singer, songwriter, (1975 US No.5 single 'Poetry Man', 1979 UK No.37 single 'Every Night'). Snow suffered a cerebral hemorrhage on January 19, 2010 and slipped into a coma, she died on April 26, 2011.
17 Jul 1950
Ian McCridie guitarist from Scottish pop group Middle Of The Road, who had the 1971 UK No.1 single 'Chirpy Chirpy Cheep Cheep', which is one of only a few singles to have sold in excess of 10 million physical copies.
17 Jul 1950
Otis Damon Harris, vocals, The
Temptations
, (1971 UK No.8 single 'Just My Imagination' and re-issued 'My Girl' UK No.2 in 1992). Harris died on February 18th 2013 at the age of 62 after a 14-year battle with prostate cancer. Harris was a member of The
Temptations
from 1971 to 1975, joining shortly after the departure of Eddie Kendricks.
17 Jul 1949
Geezer Butler, bassist and primary lyricist with English rock band
Black Sabbath
who had the 1970 UK No.4 single '
Paranoid
'. The bands self-titled album was voted as the best British rock album ever by Kerrang! in 2005. He received the nickname "Geezer" at school because he used to call everybody "Geezer".
17 Jul 1949
Mike Vale, bass, from American rock band, Tommy James & The Shondells who had the 1966 US No.1 single 'Hanky Panky', the 1968 UK No.1 single 'Mony Mony' and the hit 'I Think We're Alone Now'.
17 Jul 1948
Ron Asheton, guitar, Iggy Pop And The Stooges, (1973 album 'Raw Power'). Asheton was ranked as number 29 on Rolling Stone's list of 100 Greatest Guitarists of All Time. He was found dead in his bed by police at his home in Ann Arbor, Michigan in the early hours of January 6, 2009, apparently having died of a heart attack a couple of days earlier.
17 Jul 1947
Mick Tucker, drummer with English group Sweet, who had the 1973 UK No.1 single 'Blockbuster', plus 14 other UK Top 40 singles. Sweet scored four top-ten hits in the US: 'Little Willy', 'Ballroom Blitz', 'Fox On The Run', and 'Love Is Like Oxygen'. Tucker died of leukaemia on 14th February 2002.
17 Jul 1947
German musician Wolfgang Flur, electronic drums with Kraftwerk who had the 1975 US No.25 single, 'Autobahn', and the 1982 UK No.1 single 'Computer Love / The Model'.
17 Jul 1945
Eric McCredie bassist from Scottish pop group Middle Of The Road, who had the 1971 UK No.1 single 'Chirpy Chirpy Cheep Cheep', which is one of only a few singles to have sold in excess of 10 million physical copies. He died on 6 October 2007.
17 Jul 1941
Welsh musician Spencer Davis, the founder of the 60s rock band The Spencer Davis Group who scored 1966 UK No.1 single 'Keep On Running' and the 1967 US No.7 single 'Gimme Some Lovin'. He died on 19 October 2020 age 81.
17 Jul 1938
Stan Brostein, sax, Elephant's Memory, worked with
John Lennon
on his 1972 album Some Time In New York City.