July 23rd: The Biggest Music Headlines
Scroll down the page to see all the music headlines, stories and events for July 23 throughout music history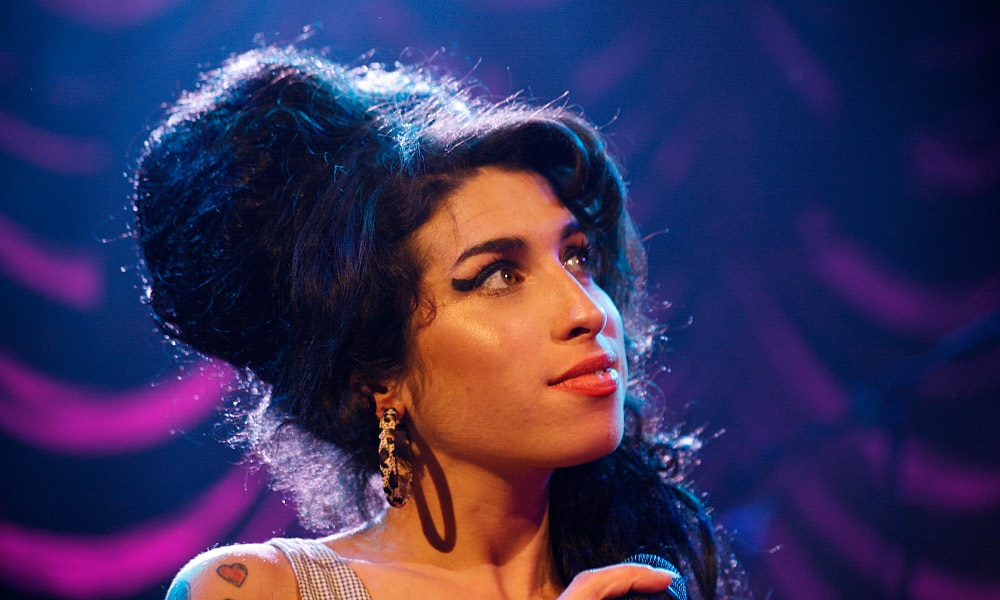 Modern-Day Soul Icon Amy Winehouse Dies at 27
On this day in music, July 23, 2011, 27-year-old British singer-songwriter, Amy Winehouse, died, after a protracted struggle with drug and alcohol addiction. The award-winning Camden-born singer, whose expressive, smoky voice was seen as a throwback to legendary jazz divas like Dinah Washington and Billie Holiday, released her debut album Frank in 2003, but it wasn't until her second LP, 2006's Back To Black, that she garnered international acclaim. The album, which reflected Winehouse's appreciation of 60s girl group pop as well as old-school soul music, netted her five Grammy awards.
In 1994, an asteroid was named after Frank Zappa, who had died in December of the previous year. Initially identified as "Asteroid 3834," the small rocky celestial body was first discovered orbiting the sun between Mars and Jupiter in 1980 and was renamed "Zappafrank" in honor of the former Mothers Of Invention leader. Zappa wasn't the first rock musician to be associated with an asteroid; those similarly honored include all four individual Beatles as well as Mike Oldfield, Eric Clapton, and Jean-Michel Jarre.
In 1989, drummer Ringo Starr toured for the first time since his days with The Beatles, beginning his itinerary with a show in Dallas, Texas. He was accompanied by an all-star supergroup, consisting of organist Billy Preston (who had played with The Beatles on their Apple rooftop concert in 1969), Eagles guitarist Joe Walsh, and saxophonist Clarence Clemons, of Bruce Springsteen's E Street Band.
In 1996, 33-year-old keyboard player Rob Collins, best known for his work in The Charlatans, lost his life in a car accident. Famed for his swirling organ parts, which helped give The Charlatans' music a psychedelic tinge, Collins had been driving back from a recording session in Wales for the group's fifth album, Tellin' Stories.
In 1984, The Cars released "Drive," the third single from their Heartbeat City album. It proved to be the Boston band's most commercially successful track; peaking at No.3 on Billboard's Hot 100 and reaching the top position on the Adult Contemporary chart.
In 1966, Frank Sinatra's Strangers In The Night became his first and only album to top the Billboard 200. The album – whose iconic title track hit the summit of the US singles chart and won two Grammy awards – would prove the most commercially successful of his career, shifting over a million copies in America.
Looking for more things that happened on this day in music?
Keep scrolling for all of the headlines for July 23.
BORN ON JULY 23:
1946: Andy Mackay (Roxy Music)
1947: Tony Joe White
1961: Martin Gore (Depeche Mode)
1964: Nick Menza (Megadeth)
1965: Slash (Guns N' Roses)
1970: Sam Watters (Color Me Badd)
1971: Alison Krauss
1973: Fran Healy (Travis)
1980: Michelle Williams (Destiny's Child)
Looking for more artists born on this day?
Keep scrolling for all of our July 23 birthdays.
---
What to find another day?
---
July 23rd
23 Jul 2018
The National Transportation Safety Board (NTSB) warned against the growing trend of people jumping out of moving cars and dancing to Drake's 'In My Feelings'.
23 Jul 2013
Beyoncé
soldiered through a concert in Montreal, Canada after her hair got tangled in the blades of a fan. The singer was performing 'Halo' from an audience pit when the incident happened. She continued to sing her encore while security guards tried to extract her from the fan, which was mounted on the edge of the stage.
23 Jul 2011
Amy Winehouse
was found dead at her north London home, she was 27. A Metropolitan Police spokesman confirmed that a 27-year-old woman had died in Camden and that the cause of death was as yet unexplained.London Ambulance Service said it had been called to the flat at 1554 BST and sent two vehicles but the woman died.The troubled singer had a long battle with drink and drugs which overshadowed her recent musical career.
23 Jul 2011
A yellow Ferrari previously owned by
Eric Clapton
sold for £66,500 at auction. The rare 2003 Ferrari 575 Maranello, which had only 10,000 miles on the clock, was snapped up by a private buyer at a sale at the Classic Car Sale at Silverstone, Northamptonshire, England. The yellow Maranello was bought new by Mr Clapton, who signed its service book, was later sold to BBC radio presenter Chris Evans.
23 Jul 2010
Surgical instruments allegedly used to conduct
Elvis Presley
autopsy were removed from an upcoming auction amid doubts about their authenticity. Forceps, needle injectors, rubber gloves and a toe tag were among the items that were expected to fetch about $14,000 at Chicago, Illinois' Leslie Hindman Auctioneers. The so-called "memorabilia" was supposedly kept by a senior embalmer at the Memphis Funeral Home where the singer's body was stored prior to his funeral, but the claims were questioned after another employee revealed that the equipment was sterilized and used again in other autopsies.
23 Jul 2009
On the afternoon of tonight's concert at First Energy Park, Lakewood, New Jersey,
Bob Dylan
was picked up by a young policewoman who had been alerted of a man who was 'acting suspiciously'. The police officer drove up to Dylan, who was wearing a blue jacket, and asked him his name, but she did not recognise him. When he was unable to produce any identification, Dylan was driven to his hotel where staff were able to vouch for him. The incident happened when Dylan decided to go for a walk in the afternoon while on tour with Willie Nelson who were due to perform at the local baseball stadium with John Mellencamp.
23 Jul 2008
Kid Rock was sentenced to a year on probation and fined $1,000 (£501) for his part in a fight in an Atlanta waffle restaurant in 2007. The 37-year-old, also received 80 hours community service and six hours of anger management counselling. The rapper pleaded no contest to one count of battery. Four other assault charges were dropped. Kid Rock had been performing at a gig in Atlanta before stopping off in his tour bus in the early hours of the morning. The fight took place when an argument broke out with another customer at the restaurant.
23 Jul 2008
A waxwork model of
Amy Winehouse
was unveiled at Madame Tussauds. The singer's parents, Mitch and Janis, revealed the model, 'complete with trademark beehive and sailor tattoos', at the London attraction. Earlier in the week her husband, Blake Fielder-Civil, was jailed for 27 months for attacking a pub landlord and perverting the course of justice.
23 Jul 2006
George Michael
was accused of engaging in anonymous public sex, after being photographed in London's Hampstead Heath with a 58-year-old unemployed van driver. Despite stating that he intended to sue both the News of the World tabloid who photographed the incident and van driver Norman Kirtland for slander, Michael stated that he openly cruised for anonymous sex and that this was not an issue in his relationship with partner Kenny Goss.
23 Jul 2005
Queen
's 1985
Live Aid
performance was voted the best rock concert ever by over 7,000 UK Sony Ericsson music fans.
Radiohead
were voted the best festival act for their 1997 Glastonbury performance and
Bob Dylan
's 1966 Manchester Free Trade Hall gig won the best ever solo gig.
23 Jul 2003
James Brown
announced his separation from his fourth wife using an advertisement featuring the Disney character Goofy. The 70-year-old placed the notice in Variety magazine, it featured a picture of himself, his wife Tomi Rae and their two-year-old son, James Joseph Brown II, posing with Goofy at Walt Disney World.
23 Jul 2001
59-year-old
Paul McCartney
, who lost his first wife Linda to cancer three years ago, became engaged to 33-year-old Heather Mills, an activist for the disabled. It was the first marriage for the 33-year-old Mills, a former swimwear model whose left leg was amputated below the knee after she was run down by a police motorcyclist in 1993. The pair would split in 2006 and divorce in 2008 with a settlement that cost Macca millions.
23 Jul 1996
Rob Collins, keyboard player with The Charlatans died in a car crash, aged 29. Collins had been recording keyboard parts for the Charlatans 5th album 'Tellin' Stories' at a studio in Wales. An investigation into the accident showed that Collins had consumed a sizable amount of alcohol and was not wearing a seatbelt. He died from head injuries on the roadside shortly after the accident having been thrown through the windscreen.
23 Jul 1995
Two
R.E.M.
fans died at Dublin's Slane Castle gig, one drowned in the River Boyne and the other was allegedly pushed from a bridge.
23 Jul 1994
The International Astronomical Union named an asteroid orbiting between Mars and Jupiter after
Frank Zappa
who had died the previous December.
23 Jul 1989
Ringo Starr
kicked off his first tour since the break-up of the Beatles with a show in Dallas. His backup band included guitarist Joe Walsh, organist Billy Preston and
Bruce Springsteen
's sax man Clarence Clemons.
23 Jul 1984
The Cars released 'Drive' from their Heartbeat City album as a single. Upon its release, 'Drive' became The Cars' highest charting single where it peaked at No.3 on the US chart. The song is associated with the 1985
Live Aid
event, where it was performed by Benjamin Orr during the Philadelphia concert and previously, the song was used as the background music to a montage of clips depicting the contemporaneous Ethiopian famine during the London event, which was introduced by
David Bowie.
23 Jul 1983
The Police
kicked off the North American leg of their Synchronicity 107-date world tour at Comiskey Park, Chicago, Illinois. The Police also went to No.1 on the US album chart with 'Synchronicity', which spent a total of seventeen weeks at No.1.
23 Jul 1983
Paul Young had his first UK No.1 single with his version of the
Marvin Gaye
song 'Wherever I Lay My Hat, (That's My Home.)' The song title was parodied by the UK indie band Super Furry Animals with their 1999 song 'Wherever I Lay My Phone (That's My Home)'.
23 Jul 1979
Keith Godchaux keyboard player with the
Grateful Dead
died after being involved in a car accident aged 32. He co-wrote songs with Lowell George (of Little Feat) and was a member of The New Riders of the Purple Sage.
23 Jul 1977
Led Zeppelin
drummer
John Bonham
was charged with assault after a concert at the Oakland Coliseum in California. Bonham and band manager Peter Grant had the help of their bodyguard in roughing up a security employee at the venue. After pleading guilty to misdemeanors, the accused settle out of court for two million dollars. The tour would eventually be cancelled after Robert Plant's son died a few days later.
23 Jul 1969
The
Rolling Stones
were at No.1 on the UK singles chart with 'Honky Tonk Women,' the group's eighth and last UK No.1. The song was written by
Mick Jagger
and
Keith Richards
while on holiday in Brazil and the Stones initially recorded the track as Country Honk in London in early March 1969 with
Brian Jones
present during these sessions.
23 Jul 1968
Working at Abbey Road studios in London,
The Beatles
recorded 'Everybody's Got Something To Hide Except Me And My Monkey' for their forthcoming double album
The Beatles
.
23 Jul 1966
Frank Sinatra
went to No.1 on the US album chart with 'Strangers In The Night'. The LP would be the most successful of his career, being certified Platinum for 1 million copies sold in the US. The title track would earn him two Grammy awards for Record Of The Year and Best Male Vocal Performance.
23 Jul 1964
The Beatles
were at No.1 on the UK singles chart with 'A Hard Day's Night', the group's fifth UK No.1.
23 Jul 1955
Slim Whitman was at No.1 on the UK singles chart with 'Rose Marie.' The single stayed at the top of the charts for eleven weeks. Whitman held the record for the most consecutive weeks at No.1 (11 weeks), until 1991.
Born on this day in music
23 Jul 1984
Matthew Murphy, vocals, guitar and keyboards for English indie rock band The Wombats.
23 Jul 1980
Michelle Williams, Destiny's Child, (2000 US No.1 single 'Say My Name', 2001 US & UK No.1 single and album 'Survivor').
23 Jul 1980
Canadian musician Steve 'Stevo32' Jocz, drummer with Sum 41, who had the 2001 UK No 13 single 'In Too Deep', and the 2007 Canadian No.1 album Underclass Hero. He has also worked with Avril Lavigne and Iggy Pop.
23 Jul 1973
Fran Healy, vocals, guitar, with Scottish rock band Travis. Their 1999 UK album The Man Who spent nine weeks at No.1 on the UK Charts and one-hundred and thirty-four weeks in the top 100 of the chart. Travis had and 1999 UK No.10 single 'Why Does It Always Rain On Me', plus over 10 other UK Top 40 singles.
23 Jul 1971
Alison Krauss, bluegrass-country singer, songwriter and fiddler. She released her first solo album in 1987 and then was invited to join the band with which she still performs, Alison Krauss and Union Station. Winner of 1996 Rolling Stone's critic's choice best country artist. Krauss recorded Raising Sand with Robert Plant in 2007 which was nominated for and won 5 Grammys at the 51st Grammy Awards.
23 Jul 1971
Chad Gracey, drummer, from American rock band Live who achieved worldwide success with their 1994 album Throwing Copper, which sold eight million copies in the US.
23 Jul 1970
Sam Watters, from American R&B group Color Me Badd who had the 1991 UK No.1 single 'I Wanna Sex You Up', and the 1991 US No.1 single 'I Adore Mi Amor'.
23 Jul 1965
Rob Dickinson, vocals, Catherine Wheel, (1992 UK No.35 single 'I Want To Touch You').
23 Jul 1965
Slash, (Saul Hudson), guitarist with Guns N' Roses who had the 1988 US No.1 and 1989 UK No.6 single Sweet Child o' Mine and the 1991 US and UK No.1 album Use Your Illusion II. Their 1987 debut album, Appetite for Destruction has sold approximately 30 million copies worldwide, including 18 million in the US, making it the best-selling debut album of all time. Slash went on to form the side project Slash's Snakepit and then Velvet Revolver, who had the 2004 US No.1 and UK No.11 album Contraband.
23 Jul 1964
Nick Menza, drums, Megadeth, (1990 UK No.13 single 'No More Mr Nice Guy', 1992 US No.2 album 'Countdown To Extinction'). Menza died on 21st May 2016 after suffering a "massive heart attack" on stage, while performing with his band, OHM, in Los Angeles.
23 Jul 1964
Tim Kellett, keyboards and trumpet with Simply Red who had the 1986 US No.1 & UK No.2 single 'Holding Back The Years'). With Olive he had the 1997 UK No.1 single 'You're Not Alone'.
23 Jul 1961
Martin Gore, keyboards, with English electronic band Depeche Mode. The group have had 50 songs in the UK Singles Chart and seventeen top 10 albums in the UK chart and have sold over 100 million records worldwide.
23 Jul 1957
Dennis Greaves, guitar, vocals, with UK R&B group Nine Below Zero.
23 Jul 1953
American guitarist and songwriter Chris Pinnick, best known for his work with the band Chicago from 1979-1986. His guitar work can also be heard on Herb Alpert's single 'Rise,' which reached No.1 on the Billboard Hot 100 in October 1979.
23 Jul 1952
Janis Siegel, singer, Manhattan Transfer, (1977 UK No.1 'Chanson D'amour', 1981 US No.7 single 'Boy From New York City').
23 Jul 1952
John Rutsey, Canadian drummer, best known as a co-founding member of Rush, and performing on the band's debut album. Rutsey died in his sleep of an apparent heart attack, related to complications from diabetes on May 11, 2008.
23 Jul 1950
Blair Thorton, guitar, Bachman Turner Overdrive, (1974 US No.1 & UK No.2 single 'You Ain't Seen Nothing Yet').
23 Jul 1947
David Essex, UK singer, actor, (1974 UK No.1 single 'Gonna Make You A Star', plus 18 other UK Top 40 singles, 1974 US No.5 single, 'Rock On').
23 Jul 1947
Tony Joe White, US singer, songwriter, best known for his 1969 US No.8 single, 'Polk Salad Annie' (also recorded by
Elvis Presley
and Tom Jones) and 'Rainy Night in Georgia' which he wrote but was first made popular by Brook Benton in 1970. He also wrote 'Steamy Windows' a UK No.13 single for Tina Turner. White died of a heart attack on October 24, 2018, at the age of 75.
23 Jul 1946
English multi-instrumentalist, Andy Mackay, who with Roxy Music scored the hit singles 'Street Life', 'Love is the Drug', 'Dance Away', 'Angel Eyes', 'Jealous Guy' and 'Avalon'. Mackay has also worked with
Duran Duran
, Mott the Hoople, John Cale and
Paul McCartney
.
23 Jul 1946
American bass guitarist Keith Ferguson who was a member of The Fabulous Thunderbirds who had two hit songs in the 1980s, 'Tuff Enuff' and 'Wrap It Up.' He died of liver failure at the age of 50, on April 29, 1997, due in part to a nearly thirty-year addiction to heroin.
23 Jul 1944
Dino Danelli, drummer with American rock band, The Rascals (initially known as The Young Rascals) who had the US No.1 hits 'Good Lovin'' (1966), 'Groovin'' (1967), and 'People Got to Be Free' (1968). He died on December 15, 2022 aged 78.
23 Jul 1942
American soul singer, Madeline Bell, who with Blue Mink had the 1970 UK No.3 single 'Melting Pot'. Her version of
Paul McCartney's
'Step Inside Love' was a minor hit in the US in 1969.
23 Jul 1935
Cleveland Duncan, The Penguins, (1954 US No.8 single 'Earth Angel, Will You Be Mine').