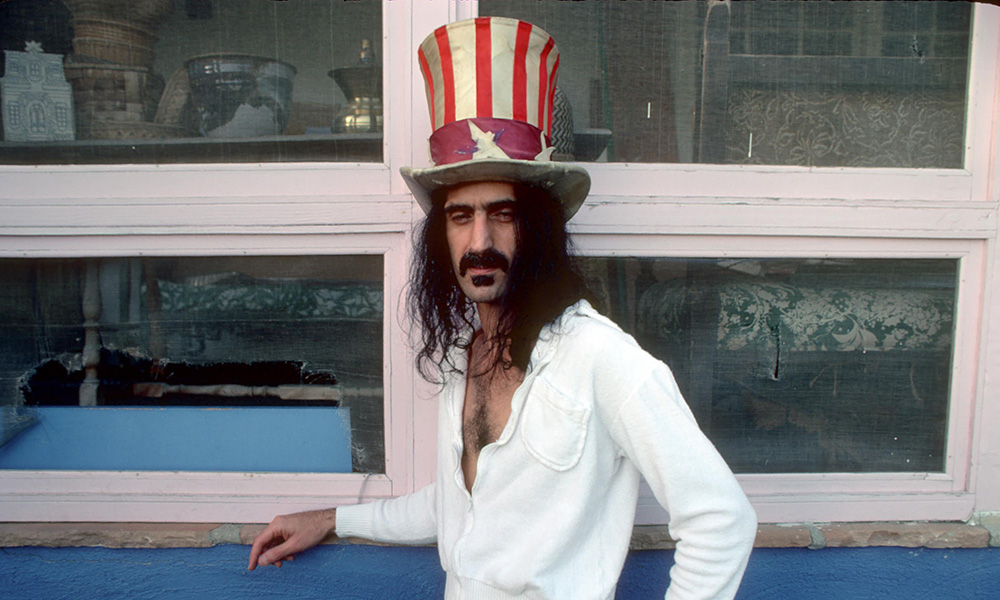 25 Frank Zappa Facts…
1 In 1964, Ray Collins, drummer Jimmy Carl Black, bassist Roy Estrada, saxophonist Dave Coronado, and guitarist Ray Hunt formed The Soul Giants. Hunt was eventually replaced by Frank Zappa, and the group evolved into the Mothers of Invention.
2 In 1968 Zappa appeared on The Monkees TV show dressed as guitarist Mike Nesmith. Later he was shown "playing" a car by repeatedly beating it.
3 Freak Out! released in 1966, is often cited as one of rock music's first concept albums. The album is a satirical expression of Zappa's perception of American pop culture.
4 Zappa's first band was named "The Blackouts", who renamed themselves a little later to "The Omens".
5 His school time friend Don van Vliet became known later on as Captain Beefheart.
6 Zappa's first recording project after the break-up of the original Mothers of Invention was Hot Rats, released in October 1969. Five of the six songs are instrumental, ("Willie the Pimp" features a short vocal by Captain Beefheart).
7 Zappa produced almost all of the more than 60 albums he released with the band the Mothers of Invention and as a solo artist. Since 1994, the Zappa Family Trust has released 38 posthumous albums, making a total of 100 albums.
8 "Valley Girl" by Frank Zappa and his then 14-year-old daughter, Moon Unit Zappa became his biggest selling single ever, (topping out at No. 32 on the Billboard charts). In her improvised lyrics to the song, Zappa's daughter satirized the vapid speech of teenage girls from the San Fernando Valley, which popularized many "Valspeak" expressions such as "gag me with a spoon," "fer sure, fer sure," "grody" (gross), and "barf out".
9 Zappa worked for a short period in advertising.
10 An article in the local press describing Zappa as "the Movie King of Cucamonga" prompted police to suspect that he was making pornographic films. In 1965, Zappa was approached by a vice squad undercover officer, and accepted an offer of $100 to produce a suggestive audiotape. Zappa and a female friend recorded a faked erotic episode and when Zappa was about to hand over the tape, he was arrested. He was charged with "conspiracy to commit pornography" and was sentenced to six months in jail.
11 Frank had to go to prison for 10 days, aged 18. And also was judged not to get close to a woman aged under 21 without an adult.
12 The groundbreaking Freak Out! album released in 1966, which, after Bob Dylan's Blonde on Blonde, was the second rock double album ever released.
13 Every year the German town on Bad Doberan hosts the Zappanale where only Frank's music is performed.
14 The forth album Ruben & the Jets was popular with radio stations, as they believed it to be an unearthed doo-wop album by an unknown band. A band called Ruben and the Jets, named in honor of the album, released their debut album, For Real! in 1973, produced by Zappa.
15 Scientists from various fields have honored Zappa by naming new discoveries after him. In 1967, paleontologist Leo P. Plas, Jr. identified an extinct mollusc in Nevada and named it Amaurotoma zapper. Biologist Ferdinando Boero named a Californian jellyfish Phialella zapper. Belgian biologists Bosmans and Bosselaers discovered a Cameroonese spider, which they named Pachygnatha zappa.
16 Zappa's most commercially successful album is the 1974 release, Apostrophe ('), which features the track "Don't Eat the Yellow Snow".
17 Zappa's son Dweezil was named after his wife's strangely shaped little toe. Dweezil's registered birth name was Ian Donald Calvin Euclid Zappa. The hospital at which he was born refused to register him under the name Dweezil, so Frank listed the names of several musician friends.
18In 1986 Frank took part in the TV series Miami Vice. He played a drug dealer, Mario Fuente, who dealt in "weasel dust" in his boat offshore.
19 The Real Frank Zappa Book is an autobiography/memoir by Frank Zappa, co-written by Peter Occhiogrosso, and was published in 1989. Reviewing the book The New York Post said, "This book belongs in every home".
20 In December 1971 while performing at Casino de Montreux in Switzerland, the Mothers' equipment was destroyed when a flare set off by an audience member started a fire that burned down the casino. The incident immortalized in Deep Purple's song "Smoke on the Water".
21 Frank Zappa had a voice role in American animated television series The Ren & Stimpy Show.
22 In 1971, during a Mothers show at the Rainbow Theatre, London, an audience member, pushed Zappa off the stage and into the concrete-floored orchestra pit. The band thought Zappa had been killed, he suffered serious fractures, head trauma and injuries to his back, leg, and neck, as well as a crushed larynx, this accident resulted in an extended period of wheelchair confinement.
23 French filmmaker Claire Denis named her 2001 film Trouble Every Day after the Frank Zappa song of the same name from Freak Out!.
24 "Don't Eat The Yellow Snow" is a song about a man who dreams that he was an Eskimo named Nanook. His mother warns him "Watch out where the huskies go, and don't you eat that yellow snow."
25 In 1990, Frank Zappa was diagnosed with terminal prostate cancer. The disease had been developing unnoticed for ten years and was considered inoperable. Frank Zappa died on December 4, 1993, in his home with his wife and children by his side.
Important Dates In The Life Of Frank Zappa:
13 Mar 2023
American drummer
Jim Gordon
, died in prison at the age of 77. He was one of the most requested session drummers in the late 1960s and 1970s. Gordon co-wrote Layla with
Eric Clapton
, worked with The Everly Brothers, The
Monkees
,
The Beach Boys
, (
George Harrison
, (
All Things Must Pass
),
John Lennon
(
Imagine
), The
Carpenters
, Traffic,
Glen Campbell
, (Wichita Lineman), Steely Dan, Jackson Browne,
Frank Zappa
and many others. A diagnosed schizophrenic, Gordon murdered his mother on June 3, 1983, by pounding her head with a hammer. He was sentenced to sixteen years-to-life in prison in 1984.
10 Jan 2023
American jazz and rock guitarist Dennis Budimir died at the age of 84. He was a member of The Wrecking Crew and worked with many artists including Joni Mitchell, The Carpenters, Brian Wilson, Barbra Streisand, Frank Zappa, Linda Ronstadt an Dusty Springfield. He also played on more than 900 movie soundtracks from the early 1960s until the 2000s.
5 Aug 2013
American musician, composer, singer and producer George Duke died from chronic lymphocytic leukemia aged 67. He released over thirty solo albums, of which A Brazilian Love Affair from 1980 was his most popular. Duke worked with other musicians, particularly
Frank Zappa
and also appeared on
Michael Jackson
's Off
The Wall
album.
10 Jan 2013
Claude Nobs the founder and general manager of the Montreux Jazz Festival died aged 76. During a 1971
Frank Zappa
concert, at the Montreux Casino the venue caught fire. Nobs saved several young people who had hidden in the casino, thinking they would be sheltered from the flames. This act earned him a mention (as Funky Claude in the line "Funky Claude was running in and out pulling kids out the ground") in the
Deep Purple
song Smoke on the Water, which is about the incident.
24 Dec 2012
American musician Ray Collins died aged 76. Collins was the lead vocalist on early Mothers of Invention albums, including Freak Out!, Absolutely Free, and Cruising with Ruben & the Jets and continued to contribute to other
Frank Zappa
projects through the mid-1970s.
1 Nov 2012
Metal Hammer magazine published a list of the "Top ten rock and heavy metal moustaches…Ever". The list which included moustaches worn by the likes of
Frank Zappa
, all the members of
Black Sabbath
, (except
Ozzy Osbourne
). James Hetfield, and Lemmy placed
Freddie Mercury
at the top of the list.
2 Oct 2012
British session guitarist Big Jim Sullivan (born James George Tomkins) died at the age of 71. Sullivan started his career in 1959 as a member of Marty Wilde's band and when Wilde bought Sullivan a Gibson Les Paul guitar, it was allegedly the first in Britain. Sullivan taught future
Deep Purple
guitarist Ritchie Blackmore to play guitar, as well as helping Yes and Asia guitarist Steve Howe on his road to success. He featured on 55 No.1 hits, and worked with
George Harrison
,
Frank Zappa
, Thunderclap Newman, Love Affair, Long John Baldry, Marmalade and The Tremeloes. During
Jimmy Page
's session career, he was known as 'Little Jim', to differentiate him from Big Jim.
30 Nov 2007
During a Christies Rock & Roll auction held the Rockefeller Plaza, New York City a collection of 276 ticket stubs compiled by a rock journalist who covered many rock concerts at New York City venues sold for $2,000. The tickets included concerts by:
Jimi Hendrix
,
The Who
,
Rolling Stones
,
Frank Zappa
,
The Beach Boys
,
Pink Floyd
,
The Allman Brothers Band
,
Led Zeppelin
,
Neil Young
,
Fleetwood Mac
,
Grateful Dead
and
Bruce Springsteen
.
9 Aug 2007
Baltimore's mayor Sheila Dixon proclaimed today as the city's official
Frank Zappa
Day, citing Zappa's musical accomplishments as well as his defence of the First Amendment to the United States Constitution.
6 Jan 2006
Guitarist, trumpeter and drummer Alex St. Claire died. Member of The Omens, The Solid Senders and an original member of Captain Beefheart and his Magic Band and
Frank Zappa
.
10 Sep 2005
Grammy-award winning guitarist and singer Clarence 'Gatemouth' Brown died in Texas at the age of 81. Recorded with
Eric Clapton
, Ry Cooder and
Frank Zappa
during a career that spanned 50 years.
13 Jan 2005
A report showed that more songs had been written about
Elvis Presley
than any other artist. It listed over 220 songs including: 'Graceland' by
Paul Simon
, 'A Room At The Heartbreakhotel' by
U2
, 'Calling Elvis',
Dire Straits
, 'Happy Birthday Elvis', Loudon Wainwright III, 'There's A Guy Works Down The Chip Shop Swears He's Elvis', Kirsty MacColl, 'I Saw Elvis in a UFO', Ray Stevens. 'Elvis Has Left the Building' by
Frank Zappa
and 'My Dog Thinks I'm Elvis' by Ray Herndon.
7 Jan 2004
Drummer John Guerin died of pneumonia aged 64. Worked with
Joni Mitchell
,
Frank Zappa
, Linda Rondstadt,
Gram Parsons
, Todd Rundgren. He also played on the original title tune for the television series Hawaii Five-O.
2 Sep 2001
American saxophonist Jay Migliori died of cancer aged 70. As a session musician he recorded with
The Beach Boys
,
Frank Sinatra
and
Frank Zappa
and was the founding member of Supersax, a tribute band to Charlie Parker.
30 Nov 1999
Don 'Sugarcane' Harris was found dead in his Los Angeles apartment at the age of 61. The American guitarist and violinist was part of the 50s duo Don & Dewey. He also worked with
Little Richard
, John Mayall,
Frank Zappa
, John Lee Hooker and Johnny Otis.
10 Nov 1997
American session guitarist Tommy Tedesco died of lung cancer aged 67. Described by "Guitar Player" magazine as the most recorded guitarist in history recording with
The Beach Boys
, Everly Brothers,
Supremes
, The
Monkees
, The Association, Barbra Streisand,
Elvis Presley
, Ella Fitzgerald,
Frank Zappa
,
Sam Cooke
, Cher, and Nancy and
Frank Sinatra
. And played on many TV themes including Bonanza, The Twilight Zone, M*A*S*H and Batman.
17 Dec 1995
A statue of the late
Frank Zappa
was unveiled in Vilnius, the capital of the Republic Of Lithuania. It had been organised by Zappa fan club President Saulius Pauksty.
23 Jul 1994
The International Astronomical Union named an asteroid orbiting between Mars and Jupiter after
Frank Zappa
who had died the previous December.
4 Dec 1993
Multi-instrumentalist, producer and composer,
Frank Zappa
died of prostate cancer. Zappa recorded many albums with The Mothers Of Invention as well a solo recordings including the 1969 album 'Hot Rats' and 1974 album 'Apostrophe'. Zappa recorded one of the first concept albums, 'Freak Out' released in 1966, it was also one of the earliest double albums in rock music (although
Bob Dylan
's Blonde on Blonde preceded it by a week). He married Adelaide Gail Sloatman, in 1967, they had four children: Moon Unit, Dweezil, Ahmet Emuukha Rodan and Diva Thin Muffin Pigeen.
24 Jun 1991
Frank Zappa
took part at the concert 'Adieu Soviet Army', organised in Prague, as the farewell to the last soldiers of Soviet Red Army, leaving free Czechoslovakia (the Red Army had occupied Czechoslovakia since the Prague spring). This was probably Zappa's last rock appearance on the stage and it is recorded on the album Adieu C. A. (Soviet Army).
14 Feb 1986
Frank Zappa
appeared on an episode of the television series Miami Vice. Zappa portrayed a crime boss named 'Mr. Frankie.'
12 Nov 1983
Bob Dylan
's Infidels album reached its highest position when it peaked at No.9 in the UK chart. Dylan's 22nd studio album was co-produced with
Dire Straits
guitarist Mark Knopfler. Dylan had also approached Elvis Costello,
David Bowie
and
Frank Zappa
as possible producers.
3 Jun 1983
4 Mar 1982
Frank Zappa
's son Dweezil and his daughter Moon Unit formed a band called Fred Zeppelin. Their first single was 'My Mother is a Space Cadet'.
6 Sep 1978
Record producer Tom Wilson died. He worked with various US acts including
Bob Dylan
(The Times They Are a-Changin', Another Side of
Bob Dylan
, and Bringing It All Back Home),
Frank Zappa
(Freak Out!),
Simon And Garfunkel
(Wednesday Morning, 3 A.M.) and The Velvet Underground, (White Light/White Heat).
27 Oct 1977
American musician Roy Estrada known as a founding member of Little Feat and who also worked with
Frank Zappa
was convicted of sexual assault on a child. Estrada served six years in prison. In January 2012, he pleaded guilty to a charge of continuous sexual abuse of a child which happened in March 2008. In the plea bargain agreement, he was sentenced to 25 years in prison and is not eligible for parole
15 May 1974
Frank Zappa
and his wife announced the birth of their third child, a boy named Ahmet Rodan, after the Japanese movie monster that lived off a steady diet of 707 planes.
16 Dec 1971
Frank Zappa
's '200 Motels' film opened at London's Piccadilly Classic Cinema in the UK. The film which also featured Ringo Star, covers a loose storyline about The Mothers of Invention going crazy in the small town Centerville.
10 Dec 1971
Playing the first of two nights at London's Rainbow Theatre, in England,
Frank Zappa
was pushed off stage by Trevor Howell, the jealous boyfriend of an audience member. Zappa fell onto the concrete-floored orchestra pit - the band thought Zappa had been killed. He suffered serious fractures, head trauma and injuries to his back, leg, and neck, as well as a crushed larynx, which ultimately caused his voice to drop a third after healing. This accident resulted in him using a wheelchair for an extended period, forcing him off the road for over half a year.
4 Dec 1971
The Montreux Casino in Switzerland burnt to the ground during a gig by
Frank Zappa
. The incident is immortalized by
Deep Purple
's 'Smoke On The Water'. In 1967 the Casino became the venue for the Montreux Jazz Festival, which was the brainchild of music promoter Claude Nobs. On the night of the blaze, Nobs saved several young people who, thinking they would be sheltered from the flames, had hidden in the casino from the blaze. A recording of the outbreak and fire announcement can be found on a
Frank Zappa
Bootleg album titled Swiss Cheese / Fire.
16 Nov 1971
Frank Zappa
appeared on this week's UK TV music show the 'Old Grey Whistle Test', playing live and showing clips from his '200 Motels' film.
6 Jun 1971
John & Yoko jammed live on stage with
Frank Zappa
at The Filmore East in New York. Some of these recordings were released in 1972, on
John Lennon
's third post-Beatles album, Some Time in New York City.
26 Aug 1970
27 Jun 1970
The 3-day Bath Festival of Blues and Progressive Music in Bath, England took place. The line-up included,
Santana
, The Flock,
Led Zeppelin
(headlining act), Hot Tuna, Country Joe McDonald, Colosseum, Jefferson Airplane (set aborted), The Byrds (acoustic set), Dr. John,
Frank Zappa
& the Mothers of Invention, Canned Heat, It's a Beautiful Day, Steppenwolf, Johnny Winter, John Mayall with Peter Green,
Pink Floyd
, (who premiered their new suite, "Atom Heart Mother", which at that time was announced as the "Amazing Pudding"), Pentangle, Fairport Convention, and Keef Hartley.
19 Jul 1968
Pink Floyd
played the second of three nights at the Boston Tea Party, Boston, Massachusetts. Opened in January 1967 as a psychedelic club, many many famous artists, including
Grateful Dead
,
Neil Young
, The J. Geils Band,
Frank Zappa
,
Cream
,
Fleetwood Mac
,
The Allman Brothers Band
,
Led Zeppelin
, The
Jimi Hendrix Experience
,
Jeff Beck
,
The Who
,
Santana
, Taj Mahal, Ten Years After and Sly & the Family Stone all appeared.
27 Jun 1966
The Mothers of Invention released their debut studio album Freak Out! on Verve Records. Often cited as one of rock music's first concept albums, the album is a satirical expression of frontman
Frank Zappa
's perception of American pop culture and the nascent freak scene of Los Angeles. It was also one of the earliest double albums in rock music.