July 26th: The Biggest Music Headlines
Scroll down the page to see all the music headlines, stories and events for July 26 throughout music history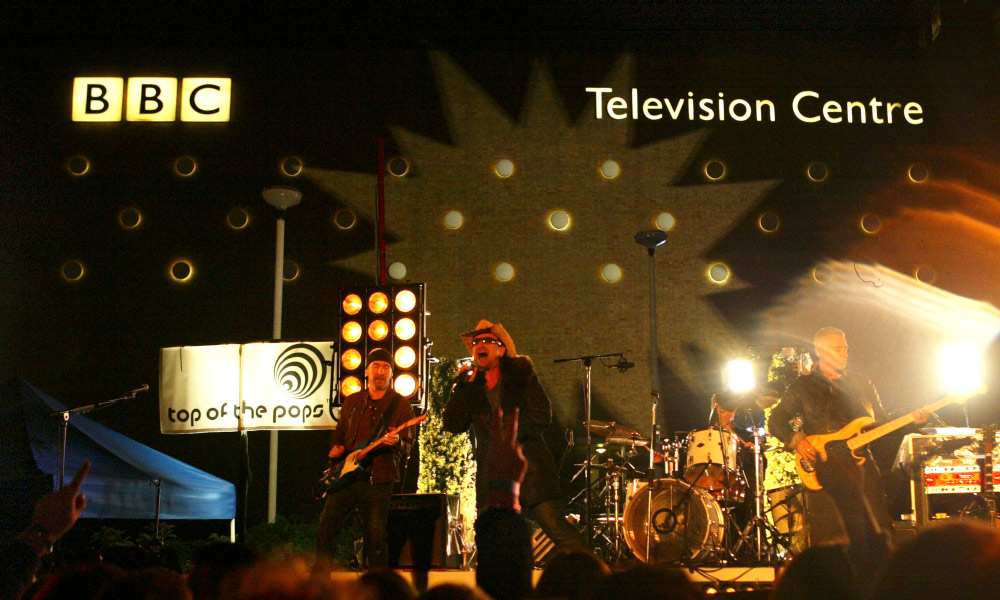 'Top Of The Pops' Tapes Its Final Epsiode
On this day in music, July 26, 2006, the final edition of the iconic British music TV show, Top Of The Pops, was recorded at London's BBC Television Centre in front of a studio audience of 200. First broadcast on New Year's Day 1964, the series ran to 2,260 episodes, a feat which made it the world's longest-running music show. Many of the series' earlier presenters led the hour-long farewell, which included memorable clips from the TOTP archives and tributes by some of the show's most famous guests.
In 1992, "The First Lady of Motown" Mary Wells died at the age of 49, following a battle with laryngeal cancer. Signing with Motown at just 17 years old, Wells helped to put Berry Gordy's Detroit label on the map with three Smokey Robinson-produced chart-topping R&B singles, including 1964's "My Guy."
In 1986, Peter Gabriel's "Sledgehammer," produced by the ex-Genesis frontman with Daniel Lanois, shot to No.1 on the US pop chart. Aiding the record's success was its accompanying promotional video, which used groundbreaking claymation, pixelation, and stop-motion animation techniques to bring the song's imagery to life. In 1987, the visual picked up a record-breaking nine MTV VMAs as well as an award for Best British Video at the BRITs.
In 1968, The Jackson 5 signed a one-year contract with Motown Records after label executive Hank Cosby was bowled over by their audition, which found the youngsters performing James Brown's "I Got the Feeling." The family group went into the record books when their first four singles – "I Want You Back," "ABC," "The Love You Save," and "I'll Be There" – all hit No.1 on Billboard's Hot 100.
In 2020, British blues-rock icon Peter Green died at 73. The London-born guitarist, singer, and songwriter rose to fame in 1965 as Eric Clapton's replacement in John Mayall's Bluesbreakers, before becoming a charter member of Fleetwood Mac two years later. Green wrote some of the band's early hits, including the haunting instrumental "Albatross" (the group's only UK No.1 hit), "Black Magic Woman," and "The Green Manalishi (With The Two Prong Crown)." Green left the band in May 1970, but his solo career was sporadic, interrupted by struggles with his mental health.
Looking for more things that happened on this day in music?
Keep scrolling for all of the headlines for July 26.
BORN ON JULY 26:
1941: Darlene Love (The Crystals)
1942: Dobie Gray
1943: Mick Jagger
1949: Roger Taylor (Queen)
1961: Gary Cherone (Extreme)
1967: DJ Headliner (Arrested Development)
1980: Dave 'Brown Sound' Baksh (Sum 41)
1992: Stormzy
1993: Taylor Momsen (The Pretty Reckless)
Looking for more artists born on this day?
Keep scrolling for all of our July 26 birthdays.
---
What to find another day?
---
July 26th
26 Jul 2023
Irish singer and activist Sinéad O'Connor died age 56. She was best known for her single 'Nothing Compares 2 U', released in 1990, which reached No.1 and brought her worldwide fame. O'Connor, who was outspoken in her social and political views, released 10 studio albums between 1987 and 2014. In 1991, she was was named artist of the year by Rolling Stone magazine and took home the Brit Award for international female solo artist. Her second studio album, I Do Not Want What I Haven't Got (1990), received glowing reviews upon release and became her biggest success, selling over seven million copies worldwide. On 7 January 2022, O'Connor's son, Shane, committed suicide at the age of 17. She subsequently decided to cancel her 2022 tour and her album No Veteran Dies Alone was postponed indefinitely.
26 Jul 2023
American musician, singer, songwriter, and founding member of the Eagles Randy Meisner died due to complications associated with chronic obstructive pulmonary disease in Los Angeles at the age of 77. He was a member of Poco and was a founding member of the
Eagles
who had the 1977 US No.1 & UK No.8 single 'Hotel California'. He co-wrote and sang lead vocal on the Eagles hit 'Take It to the Limit.' He quit The Eagles in 1977 and went on to release solo albums in 1978 (Randy Meisner) and 1980 (One More Song).
26 Jul 2021
American musician Joey Jordison died at the age of 46. He was the drummer and co-founder of metal band Slipknot as well as guitarist for horror punk band Murderdolls. In August 2010 Jordison was voted the best drummer of the previous 25 years, by readers of Rhythm magazine.
26 Jul 2020
English blues rock singer-songwriter and guitarist Peter Green died in his sleep age 73. As the founder of
Fleetwood Mac
, his songs, such as 'Albatross', 'Black Magic Woman', 'Oh Well', 'The Green Manalishi (With the Two Prong Crown)' and 'Man of the World' became world wide hits. Green left the band in 1970 as he struggled with his mental health. He was eventually diagnosed with schizophrenia and spent time in hospital in the mid-70s.
26 Jul 2019
A number of lawsuits over royalties on
Drake's
first six albums were officially settled included lawsuits and counterclaims spanning back to 2017 filed between Aspire Music Group and Cash Money Records. Aspire had claimed that in 2008 it signed an exclusive recording agreement with Drake before making a deal with Cash Money in June 2009 allowing Drake to record for the label in exchange for one-third of the net profits. The terms of the settlement were not disclosed.
26 Jul 2017
A jury awarded Quincy Jones $9.4 million in royalties for the use of
Michael Jackson
songs he produced in two Cirque du Soleil shows and the This Is It documentary. Jones filed suit in 2013, asking for $30 million.
26 Jul 2013
US singer-songwriter JJ Cale died of a heart attack at the age of 74. He became famous in 1970, when
Eric Clapton
covered his song 'After Midnight'. In 1977 Clapton also popularised Cale's 'Cocaine'. The two worked together on an album which won a Grammy award in 2008.
26 Jul 2009
AC/DC
singer Brian Johnson appeared as the Star in a Reasonably Priced Car on the BBC television programme Top Gear. His time of 1:45.9 tied him with
Simon Cowell
for the second fastest time. He was introduced by host Jeremy Clarkson as "a man who has sold more albums than
The Beatles
and I bet almost none of [the audience] have ever heard of him."
26 Jul 2008
Klaxons singer Jamie Reynolds postponed the group's Australian tour dates after he broke his leg at a gig in France. The bands singer said he "drastically misjudged" the distance when he jumped from the stage during their final song in the set.
26 Jul 2006
Jeffrey Borer and Arvel Jett Reeves pleaded guilty to secretly videotaping
Michael Jackson
as he flew to Santa Barbara, California, to surrender in a child-molestation investigation. The two men admitted they installed two digital video recorders to record Jackson and his lawyer as the pair was traveling on a private jet from Las Vegas to Santa Barbara in November 2003.
26 Jul 2006
The final edition of
Top Of The Pops
was recorded at BBC Television Centre in London. Just under 200 members of the public were in the audience for the show which was co-hosted by veteran disc jockey Sir Jimmy Savile, its very first presenter. Classic performances from the
Spice Girls
, Wham,
Madonna
, Beyonce Knowles and Robbie Williams featured in the show alongside The
Rolling Stones
who were the very first band to appear on
Top of the Pops
on New Year's Day in 1964.
26 Jul 2006
The guitar on which Sir
Paul McCartney
learned his first chords sold for £330,000 at an auction at London's Abbey Road Studios. The Rex acoustic guitar helped McCartney persuade
John Lennon
to let him join his band, The Quarrymen, in 1957.
26 Jul 2000
Oasis
were booed of stage during a show at the Paleo Festival in Switzerland after singer
Liam Gallagher
had insulted the 35,000 strong audience.
26 Jul 1992
American singer and
Motown
artist, Mary Wells, referred to as The First Lady of Motown and who had a 1964 US No. 1 and UK No. 5 single 'My Guy', died aged 49 of laryngeal cancer. Wells was forced to give up her career and with no health insurance, was forced to sell her home. Wells' old Motown friends including Diana Ross, Mary Wilson, The
Temptations
and Martha Reeves, along with Dionne Warwick,
Rod Stewart
,
Bruce Springsteen
,
Aretha Franklin
and Bonnie Raitt, personally pledged donations in support.
26 Jul 1990
American keyboardist and vocalist Brent Mydland from the
Grateful Dead
was found dead on the floor of his home aged 38 from a drug overdose. His eleven-year tenure was longer than that of any other keyboardist in the band.
26 Jul 1986
Peter Gabriel went to No.1 on the US singles chart with 'Sledgehammer', a No.4 hit in the UK. The song's music video has won a number of awards, including a record nine
MTV
Awards at the 1987
MTV
Video Music Awards, and Best British Video at the 1987 Brit Awards. Gabriel was also nominated for three Grammy Awards. As of 2011, 'Sledgehammer' is the most played music video in the history of
MTV
.
26 Jul 1980
The
Rolling Stones
started a seven week run at No.1 on the US album chart with 'Emotional Rescue', the group's eighth US No.1. Emotional Rescue was the first
Rolling Stones
album recorded following
Keith Richards
' exoneration from a Toronto drugs charge that could have landed him in jail for years.
26 Jul 1977
Led Zeppelin
cut short their 11th North American tour after Robert Plant's five-year-old-son Karac died unexpectedly of a virus at their home in England, UK.
26 Jul 1975
Van McCoy and the Soul City went to No.1 on the US singles chart with 'The Hustle', his only US chart hit, it made No.3 in the UK. McCoy died on 6th July 1979.
26 Jul 1970
Jimi Hendrix
played in his home town of Seattle for the last time when he appeared at Sicks Stadium.
26 Jul 1969
Johnny Cash
released the single, 'A Boy Named Sue', a song written by Shel Silverstein. Cash was at the height of his popularity when he recorded the song live at California's San Quentin State Prison at a concert on February 24, 1969. The song tells the tale of a young man's quest for revenge on a father who abandoned him at 3 years of age and whose only contribution to his entire life was naming him Sue.
26 Jul 1968
The Jackson Five signed a one-year contract with
Motown
Records. They made history in 1970 as the first recording act to have their first four singles to reach No.1 on the Billboard Hot 100, with the songs being 'I Want You Back', 'ABC', 'The Love You Save' and 'I'll Be There'.
26 Jul 1962
Frank Ifield was at No.1 on the UK singles chart with 'I Remember You'. The singers first of four UK No.1's.
Born on this day in music
26 Jul 1993
Taylor Momsen, American singer, songwriter with The Pretty Reckless who released their debut album Light Me Up in 2010.
26 Jul 1992
British rapper Stormzy. His debut album, Gang Signs & Prayer (2017), was the first grime album to reach No.1 on the UK Albums Chart and won British Album of the Year at the 2018 Brit Awards. In 2019, Stormzy achieved his first UK No.1 single with 'Vossi Bop' and his headline appearance at the 2019 Glastonbury Festival was widely praised; he wore a Union Jack stab vest designed by Banksy, in light of the rise in knife crime in London.
26 Jul 1980
Dave 'Brown Sound' Baksh, guitarist with Sum 41, who had the 2001 UK No 13 single 'In Too Deep'. He quit Sum 41 in 2006 to pursue his career with his second band Brown Brigade and The Organ Thieves.
26 Jul 1967
Tim Barnwell, DJ Headliner, from American alternative hip hop group Arrested Development, who scored the 1992 UK No.2 and US No. 8 single 'People Everyday'. The group won two Grammy Awards in 1993 for Best New Artist and Best Rap Performance and were also named Band of the Year by Rolling Stone magazine.
26 Jul 1963
Scott Francis Crago, American session drummer, worked with the
Eagles
since 1994 as well as Sheryl Crow, Bonnie Raitt,
Bryan Adams
, Stevie Nicks, Jackson Browne,
Paul Simon
,
Stevie Wonder
, Bob Seger and Chris Isaak.
26 Jul 1962
Miranda Joyce, vocals, The Belle Stars, (1983 UK No.3 single 'Sign Of The Times').
26 Jul 1961
Gary Cherone, singer with Extreme who had the 1991 US No.1 & UK No.2 single 'More Than Words'. Also toured and recorded with
Van Halen
.
26 Jul 1961
Andy Connell, Swing Out Sister, (1986 UK No.4 single 'Breakout').
26 Jul 1949
Roger Taylor, drums, vocals,
Queen
, (1975 UK No.1 single '
Bohemian Rhapsody
' also UK No.1 in 1991, plus over 40 other UK Top 40 singles, 1980 US No.1 single 'Crazy Little Thing Called Love'). Also a member of The Cross.
26 Jul 1943
Mick Jagger
, singer, songwriter with The
Rolling Stones
, (1969 UK & US No.1 single 'Honky Tonk Women', and over 35 UK & US Top 40 singles and albums). Solo (1985 UK No.1 single with
David Bowie
'Dancing In The Street'). 1985 UK No. 6 solo album 'She's The Boss.' In 2003 he was knighted for his services to popular music and in early 2009 he joined the electric supergroup SuperHeavy.
26 Jul 1942
Dobie Gray, US singer, (1965 US No.13 and UK No.25 single 'The In Crowd', 1973 US No.5 single 'Drift Away'). Gray died on December 6, 2011, from complications of cancer surgery in Nashville, Tennessee at the age of 71.
26 Jul 1941
Bobby Hebb, US singer, (1966 US No.2 and UK No.12 single 'Sunny'). The song was written about Bobby's brother, who had been killed by a mugger in 1963, and started out as an album filler until it was picked for a single release.
26 Jul 1941
Neil Landon, singer and songwriter with the band Fat Mattress, which he co-founded with guitarist/singer
Noel Redding
. He later joined The Flower Pot Men, who scored a hit in 1967 with 'Let's Go To San Francisco' which reached No.4 in the UK Singles Chart. Landon was a member of The Ivy League who had the 1965 UK No.3 single 'Tossing and Turning'. He died on 26 March 2020, age 78.
26 Jul 1941
American singer Darlene Love from The Crystals who had the 1962 US No.1 single 'He's A Rebel', and the 1963 UK No.2 single 'Then He Kissed Me'.
26 Jul 1939
American drummer Casey Jones. In the early 1960s, he recorded with Earl Hooker, A.C. Reed, McKinley Mitchell, and Muddy Waters. As a session drummer, he worked with artists such as Lou Rawls, Otis Rush and Johnny Winter. For six years he was a member of Albert Collins's band as his drummer. He died on May 3, 2017.