June 14th: The Biggest Music Headlines
Scroll down the page to see all the music headlines, stories and events for June 14 throughout music history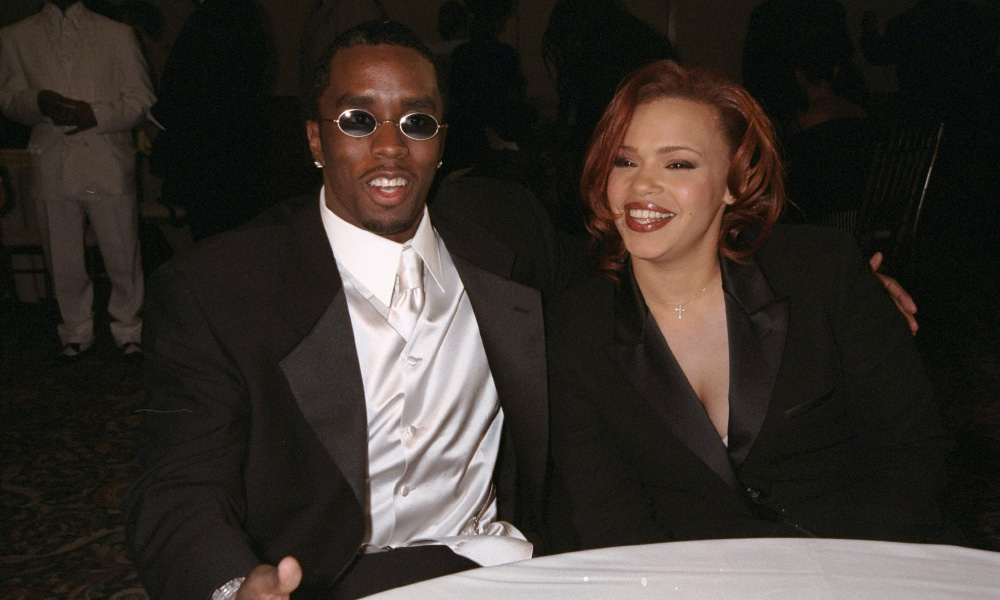 Diddy and Faith Evans Top the Charts with a Moving Tribute to Biggie
On this day in music, June 14, 1997, Sean "Diddy" Combs (then billed as Puff Daddy) and Faith Evans began an 11-week run at the top of the Billboard Hot 100 with "I'll Be Missing You." The song, which sampled and interpolated The Police's "Every Breath You Take" and featured the R&B group 112, was a tribute to Evans' late husband, The Notorious B.I.G., who had been murdered several months earlier. The moving song, which also interpolated "I'll Fly Away," a 1929 hymn by Albert E. Brumley, was a global hit – reaching the top of the charts in 16 countries and becoming one of the best-selling singles of all time. The following year, "I'll Be Missing You" earned a Grammy Award for Best Rap Performance by a Duo or Group.
In 1987, Madonna kicked off her Who's That Girl World Tour in Osaka Japan. The run would become the highest-grossing tour ever at the time, bringing in more than $20 million.
In 1961, Patsy Cline was hospitalized after sustaining serious injuries in a car accident. During her two-month stay, her single "I Fall to Pieces" (released in January) was slowly rising up the charts, eventually topping the Billboard country chart and peaking at No.12 on the pop chart. Although she was unable to promote the song until she was fully recovered, Cline left the hospital a much bigger star.
In 1977, Led Zeppelin concluded their sold-out, six-night engagement at Madison Square Garden with a three-hour set. The New York City residency took place during the British band's 11th and final North American tour.
In 1994, composer Henry Mancini died at the age of 70. During his lengthy career, Mancini scored more than 100 films, writing such memorable selections as "Theme from Romeo and Juliet," "Moon River" (Breakfast at Tiffany's), and "Theme from the Pink Panther."
In 1980, Billy Joel's seventh studio album, Glass Houses, began a six-week run atop the Billboard 200. The LP included Joel's first No.1 hit, "It's Still Rock and Roll to Me."
In 2002, Mick Jagger became Sir Mick Jagger when he was knighted during the Queen's Birthday Honours. Queen Elizabeth II, however, bowed out of the ceremony. Among other rumors, it was speculated that she did not approve of the Rolling Stones frontman, due to his past comments against the monarchy.
Looking for more things that happened on this day in music?
Keep scrolling for all of the headlines for June 14.
BORN ON JUNE 14:
1931: Junior Walker
1945: Rob Argent (The Zombies)
1949: Jim Lea (Slade)
1949: Alan White (Yes)
1958: Nick Van Ede (Cutting Crew)
1961: Boy George (Culture Club)
1963: Chris DeGarmo (Queensrÿche)
1983: Siobhan Donaghy (Sugababes)
1990: Gunna
Looking for more artists born on this day?
Keep scrolling for all of our June 14 birthdays.
---
What to find another day?
---
June 14th
14 Jun 2019
Britney Spears
was granted a permanent restraining order against her former manager, Sam Lutfi who looked after her career from 2007 to 2008. A judge granted the five-year order forbidding Lutfi from contacting Spears and her relatives and from making disparaging comments about them online. The singers father Jamie Spears told the court how Lutfi had been a "predator" on his family for over 10 years and he was "worried" about his potential influence.
14 Jun 2016
Irish rock guitarist, Henry McCullough died after never fully recovering from a severe heart attack he had suffered four years earlier. He recorded with
Paul McCartney
and Wings, featuring on the hit James Bond theme, 'Live and Let Die' and 'My Love', the solo which he made up on the spot in front of a live orchestra. He was also a member of Spooky Tooth and The Grease Band.
14 Jun 2012
Ringo Starr
's birthplace in Liverpool was saved from the threat of demolition. The house, a run-down three-bedroom Victorian terrace, was one of 400 buildings marked for demolition in the Dingle area of Liverpool, but Beatles fans and city residents had successfully lobbied to save the house, along with 15 others in the area. The Liverpool City Council has agreed to give locals the opportunity to fix up the properties.
14 Jun 2007
Bob Dylan
won Spain's Prince of Asturias Arts Award, one of the country's most prestigious honours. Jury chairman Jose Llado called Dylan a 'living legend of popular music and the guiding star of a generation that dreamed of changing the world'. Previous winners of the annual prize include US film-maker Woody Allen.
14 Jun 2002
During an UK visit
Michael Jackson
made a tour of Parliament and was shown the monarch's throne in the House of Lords. Whenever Jackson went outside he called for an umbrella to shield his face from the sun.
14 Jun 2002
Mick Jagger
became a Sir when he was knighted in the Queen's Birthday Honours. It was claimed that the Queen avoided personally giving Jagger his knighthood because she thought he was an inappropriate candidate for the honour.
14 Jun 2000
American pianist and session musician Paul Griffin died aged 62. He recorded with hundreds of musicians from the 1950s to the 1990s. Griffin worked with
Bob Dylan
, Steely Dan, Don McLean, the Isley Brothers, Van Morrison, The Shirelles, and Dionne Warwick. He is best known for playing on the albums
Bob Dylan
albums Highway 61 Revisited, Blonde on Blonde, and Steely Dan's Aja.
14 Jun 2000
Noel Gallagher from
Oasis
was voted into first place in Melody Maker's annual 'Un-coolest People in Rock' survey. Marilyn Manson came second and Robbie Williams was voted third.
14 Jun 1997
Puff Daddy and Faith Evans started a 11 week run at No.1 on the US singles chart with 'I'll Be Missing You', a tribute to the late Notorious B.I.G. Also a No.1 in the UK.
14 Jun 1995
Irish guitarist
Rory Gallagher
died after a chest infection set in following a liver transplant. Had been a member of Taste before going solo, sold over 30m albums worldwide. Voted Melody Maker's Top Musician of the Year in 1972, auditioned for The
Rolling Stones
following the departure of Mick Taylor. Gallagher made his final performance on 10 January 1995 in the Netherlands.
14 Jun 1995
ABC's Diane Sawyer interviewed
Michael Jackson
and Lisa Marie Presley on ABC-TV's Prime Time Live. It was the couple's first interview since their surprise marriage a year earlier and was part of the publicity push for Jackson's album 'HIStory - Past, Present and Future: Book One'. Jackson and Presley declared they were a "normal married couple who hoped to have a baby". When asked if they had sex, they replied "yes, yes, yes!" They also confirmed that a prenuptial agreement had been signed.
14 Jun 1994
Composer Henry Mancini died aged 70. Wrote the music to 'Moon River, which was originally sung in the movie Breakfast at Tiffany's by Audrey Hepburn, was also the theme song for the Andy Williams television show. Had the 1969 US No.1 single 'Love Theme from Romeo And Juliet.' Recorded over 90 albums, contributed music to over 100 movies, including 'Theme From The Pink Panther.'
14 Jun 1989
Pete De Freitas drummer with Echo And The Bunnymen was killed at the age of 27, when his motorbike collided with a car.
14 Jun 1987
Madonna
played the first date on her Who's That Girl World Tour at the Osaka Stadium, Osaka, Japan. The tour became the highest-grossing tour ever, grossing over $20 million.
14 Jun 1987
30 hired hands moved 800 rented NHS beds onto Saunton Sands in North Devon for Storm Thorgerson to shoot what would be the cover of the forthcoming
Pink Floyd
album 'A Momentary Lapse Of Reason'. Rain interrupted the shoot and the team were forced to repeat the exercise two weeks later.
14 Jun 1986
Bob Geldof
was named in HRH The Queen's Birthday Honours List, receiving an honorary Knighthood in recognition of his humanitarian activities.
14 Jun 1986
Three fans died during an
Ozzy Osbourne
gig at Long Beach Arena, California after falling from a balcony.
14 Jun 1984
A model of Boy George from Culture Club was unveiled at Madame Tussaud's Waxworks in London, England on his 23rd birthday.
14 Jun 1980
Billy Joel
started a six-week run at No.1 on the US album chart with 'Glass Houses', his second US No.1 album. The album features Joel's first song to peak at No.1 on Billboard's Pop Singles chart, 'It's Still Rock and Roll to Me.'
14 Jun 1977
Led Zeppelin
played the last of six sold out nights at Madison Square Garden, in New York City during their 11th and final North American tour. The 3-hour set included: The Song Remains The Same, Since I've Been Loving You, No Quarter, Ten Years Gone, '
Stairway To Heaven
', Whole Lotta Love, Rock And Roll and When the Levee Breaks.
14 Jun 1974
Ray Stevens was at No.1 on the UK singles chart with 'The Streak' a song about the latest British craze of streaking, (running naked in a public place).
14 Jun 1967
The Doors
appeared at Steve Paul's Scene, New York City,
Jimi Hendrix
was in the audience to see the show.
14 Jun 1964
The Manish Boys, (featuring
David Bowie
) auditioned for the UK television talent show Opportunity Knocks.
14 Jun 1964
Touring Australia
The Beatles
arrived in Melbourne and were greeted at the airport by over 5,000 fans. Another 20,000 fans lined the route from the airport to the hotel, army and navy units were brought in to help control the crowds, cars were crushed, hundreds of girls fainted and over 50 people were admitted to hospital with broken bones.
14 Jun 1963
During a UK tour
The Beatles
played at New Brighton Tower in Wallasey supported by Gerry and the Pacemakers. Tickets cost 6 shillings in advance. Between 1961 -1963,
The Beatles
played at The Tower Ballroom on 27 occasions.
14 Jun 1961
Patsy Cline
was seriously injured in a car accident. During her two month hospital stay, her song "I Fall to Pieces" gave the singer her first Country No.1 and also became a huge country-pop crossover hit.
Born on this day in music
14 Jun 1993
American rapper, singer, and songwriter Gunna. He featured on the 2020, hip-hop collective Internet Money single, 'Lemonade', featuring American singer Don Toliver and Nav.
14 Jun 1983
English singer-songwriter Siobhan Donaghy, with British girl group Sugababes who had the 2002 UK No.1 single, 'Round Round'. In 2006, British Hit Singles & Albums named the Sugababes as the most successful female act of the 21st century with six UK No.1 singles and eighteen UK top ten hits.
14 Jun 1980
Mark 'Pelli' Pellizzer, musician, singer from Canadian reggae fusion band Magic! that had the 2014 US and UK No.1 hit single 'Rude', from their 2014 US Top 10 album Don't Kill the Magic.
14 Jun 1974
Joshua Radin, American singer-songwriter. His songs have been used in numerous films and TV series including Bones, Scrubs, House, Grey's Anatomy and One Tree Hill.
14 Jun 1971
English rock singer-songwriter Billy Myers known principally for her 1998 transatlantic, Desmond Child penned hit, 'Kiss the Rain'.
14 Jun 1963
Chris Degarmo, with American progressive heavy metal band Queensryche. Their 1994 album Promised Land went top 3 in the US.
14 Jun 1961
George O'Dowd, (Boy George), English singer, songwriter, DJ, fashion designer and photographer. As lead singer of the Grammy and Brit Award winning Culture Club, he scored the 1983 UK No.1 & 1984 US No.1 single 'Karma Chameleon' and global hits 'Do You Really Want To Hurt Me', and 'Time' (Clock of the Heart). As a solo artists George had the 1987 UK No.1 single 'Everything I Own'. He became a coach on The Voice UK in 2016.
14 Jun 1960
English jazz and rock drummer, pianist Gary Husband who has worked with many artists including,
Jeff Beck
, Level 42, Jack Bruce, Gary Moore, Jimmy Nail, John McLaughlin.
14 Jun 1958
Nick Van Ede, singer, with English rock band Cutting Crew, who scored the 1987 US No.1 & 1986 UK No.4 single 'I Just Died In Your Arms Tonight'.
14 Jun 1949
English drummer and songwriter Alan White, best known for his tenure in the progressive rock band Yes. In 1969, he joined the Plastic Ono Band after
John Lennon
invited him to play at the Toronto Rock and Roll Revival festival. This led to drum work on
Imagine
and "
Instant Karma
!" for Lennon and
All Things Must Pass
by
George Harrison
. He died on 26 May 2022, aged 72.
14 Jun 1949
Jim Lea, English musician, bass, piano, violin with Slade who scored the 1971 UK No.1 single 'Coz I Luv You', plus five other UK No.1 hits and 18 UK Top 40 hit singles. Lea has since released a number of singles under the name Gang of Angels, Whild and The X Specials.
14 Jun 1948
American guitarist, and session player Steve Hunter who has worked with Lou Reed,
Aerosmith
and Alice Cooper. He played the acoustic intro on Peter Gabriel's 1977 hit 'Solsbury Hill'.
14 Jun 1945
English musician, singer, songwriter, composer, and record producer Rod Argent who was a member of The Zombies who had the 1964 UK No.12 single 'She's Not There' and went on to form the band Argent Argent who had the 1972 UK No.5 single 'Hold Your Head Up'.
14 Jun 1943
Spooner Oldham, American songwriter and session musician, organist, best known as part of the studio backing band known as the Muscle Shoals Rhythm Section of Alabama. He played on many hits including, Percy Sledge (When a Man Loves a Woman),
Aretha Franklin
(Respect,, Wilson Pickett (Mustang Sally) and worked with
Bob Dylan
, Delaney Bramlett, Willy DeVille, Joe Cocker, the Hacienda Brothers, Linda Ronstadt, Jackson Browne, the Everly Brothers, Dickey Betts, Cat Power, J. J. Cale and many others.
14 Jun 1938
American-born, British-based folk recording artist Julie Felix. She had two UK Singles Chart hits in 1970, the first of several on the RAK label, produced by Mickie Most. The first was with the song entitled 'If I Could (El Cóndor Pasa)', while the second, 'Heaven is Here', was written by Errol Brown and Tony Wilson of Hot Chocolate. Felix died on 22 March 2020 age 81.
14 Jun 1937
14 Jun 1931
American soul singer and multi-instrumentalist Junior Walker. He had the 1966 US & UK Top 20 single 'How Sweet It Is', and the 1969 US No.4 single 'What Does It Take, To Win Your Love'. Walker also played sax on Foreigner's 1981 hit 'Urgent.' He died of cancer on 23 November 1995 aged 64.