June 16th: The Biggest Music Headlines
Scroll down the page to see all the music headlines, stories and events for June 15 throughout music history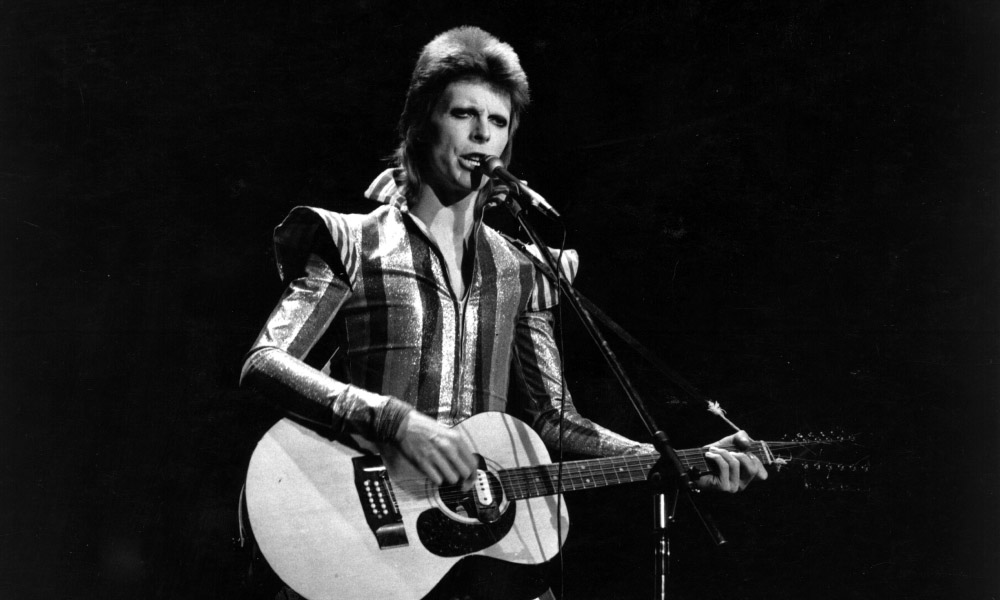 David Bowie Releases 'The Rise and Fall of Ziggy Stardust and the Spiders from Mars'
On this day in music, June 16, 1972, David Bowie released his highly-influential glam-rock masterpiece, The Rise and Fall of Ziggy Stardust and the Spiders from Mars. The artist's fifth LP was a concept album that told the tale of an androgynous alien rock star that is sent to Earth ahead of the apocalypse. Featuring such enduring tracks as "Suffragette City," "Rock 'n' Roll Suicide," and lead single "Starman," Ziggy Stardust became Bowie's breakthrough album, peaking at No.5 on the UK chart. Today, the LP is considered to be one of the most important rock albums of all time and remains the late's artist's second-best-selling album, worldwide.
In 1967, the "Summer of Love" kicked off with California's Monterey International Pop Festival. The three-day event, which set the standard for a variety of future festivals, including Woodstock, was the brainchild of John Phillips (of the Mamas & the Papas) and producer Lou Adler, among others, and boasted an array of memorable performances, including those by Jefferson Airplane, Otis Redding, Jimi Hendrix, Ravi Shankar, and Janis Joplin with Big Brother and the Holding Company.
In 1965, Bob Dylan recorded his generation-defining song "Like a Rolling Stone" at New York's Columbia Recording Studios. Released a month later, the song featured instrumentation by a young Al Kooper (on the Hammond B2) and Chicago blues star Mike Bloomfield (electric guitar).
In 1996, the inaugural Tibetan Freedom Concert took place in San Francisco's Golden Gate Park, becoming the largest US benefit concert since 1985's Live Aid. The sold-out event, which drew attention to the Tibetan independence movement and raised funds for a variety of related causes, drew an audience of over 100,000. Organized by the Beastie Boys, the concert featured a who's who of 90s stars, including Red Hot Chili Peppers, De La Soul, Smashing Pumpkins, Rage Against the Machine, A Tribe Called Quest, and Björk.
In 2002, a remix of Elvis' 1968 song, "A Little Less Conversation," by Dutch producer Junkie XL put The King back on the UK charts and helped the late rock'n'roll icon earn a new record – of having more UK No.1 hits than any other artist in chart history. He also set a record for the longest span of No.1 hits (nearly 45 years). The high-energy remix remained at the top spot for four weeks, while also hitting No.1 in Canada, Australia, and across Europe.
In 1969, Johnny Cash released At San Quentin – a follow-up to his acclaimed live album, At Folsom Prison, and the second in a series of concerts recorded in front of an audience of incarcerated men. The performance, which took place in February of that same year, was also filmed for a TV special on the UK's Granada Television.
In 2013, with the release of 13, Black Sabbath set a new precedent on the UK charts by accruing the longest amount of time between No.1 albums. The metal legends' 19th studio album debuted at the top spot nearly 43 years after their second LP, 1970's Paranoid, held the No.1 position.
Looking for more things that happened on this day in music?
Keep scrolling for all of the headlines for June 16.
BORN ON JUNE 16:
1941: Lamont Dozier (Songwriter)
1942: Edward Levert (The O'Jays)
1950: James Smith (The Stylistics)
1958: Partick Waite (Musical Youth)
1971: Tupac "2Pac" Shakur
1990: John Newman
Looking for more artists born on this day?
Keep scrolling for all of our June 16 birthdays.
---
What to find another day?
---
June 16th
16 Jun 2022
Sir Elton John kicked off the UK leg of his Farewell Yellow Brick Road tour in Norwich. The 75 year-old singer announced the Farewell Yellow Brick Road world tour would be his last, back in 2018, but it was halted during the pandemic.
16 Jun 2016
Meat Loaf
was rushed to hospital after collapsing on stage during a concert in in Edmonton, Canada. The singer was performing his hit, 'I'd Do Anything for Love (But I Won't Do That)', when he dropped his microphone and fell to the floor.
16 Jun 2013
Black Sabbath
established a new UK chart record for the longest gap between No.1 albums when their new release, 13 debuted at the top of the charts, 42 years and 8 months after their second album
Paranoid
reached No.1.
16 Jun 2010
American musician and guitarist Gary Shider died from cancer of the brain and lungs. He was musical director of the P-Funk All-Stars and as a member of Parliament-Funkadelic he scored the hit 'One Nation Under A Groove'.
16 Jun 2007
Rod Stewart
married model girlfriend Penny Lancaster on the Italian Riviera just outside the resort of Portofino. The 62 year old singer was previously married to models Alana Hamilton and Rachel Hunter and has seven children in total.
16 Jun 2002
46 years after his first hit,
Elvis Presley
started a four week run at No.1 on the UK singles chart with 'A Little Less Conversation', (Elvis vs. JXL), giving Elvis a total of 18 UK No.1 singles, the most by any artist in chart history. This also set a new record for the longest span of No.1 hits with 44 years, 11 months and 9 days. His first UK No.1 single was 'All Shook Up' in 1957.
16 Jun 2001
Four-year-old Daniel Karven-Veres drowned in
Tommy Lee
's swimming pool while attending a birthday party for Lee's 5-year-old son, Brandon. His parents, James Veres and Ursula Karven, sued Lee for negligence, claiming they should have been told that a swimming pool was involved, (their son could not swim). Lee was cleared by a jury in April 2003.
16 Jun 2000
On the first night of his 'Up in Smoke' tour in Chula Vista, Snoop Dogg's tour bus was stopped at the Temecula border checkpoint in San Diego after the border patrol smelled marijuana wafting from the tour bus. One member of the crew was arrested.
16 Jun 1999
58-year-old singer-turned-politician Screaming Lord Sutch took his own life. He was the first long-haired pop star-boasting hair over 18 inches long and the self-styled lord (real name David Sutch), was Britain's longest-serving political leader, standing in nearly 40 elections.
16 Jun 1996
Rage Against The Machine, Beastie Boys, Smashing Pumpkins, Fugees,
Red Hot Chili Peppers
, John Lee Hooker, Beck, Sonic Youth, Yoko Ono, De La Soul and Richie Havens all appeared at the two-day Tibetan Freedom Concert, Golden Gate Park, San Francisco: A sell-out crowd of over 100,000 made it the largest US benefit concert since
Live Aid
in 1985.
16 Jun 1994
Kristen Pfaff best known as the bassist for alternative rock band Hole was found dead in her bathtub due to a heroin overdose aged 26. She died two months after
Kurt Cobain
, who was a close friend as well as the husband of Hole's frontwoman Courtney Love.
16 Jun 1991
English singer Vicki Brown died of breast cancer aged 50. She is best known for her membership of both The Vernons Girls and The Breakaways, and as one of the UK's most enduring backing vocalists. She appeared on many hits including The
Jimi Hendrix Experience
version of 'Hey Joe', Petula Clark's hit, 'Downtown',
The Who
's Tommy – film soundtrack,
George Harrison
's Cloud Nine. She was the first wife of singer and musician Joe Brown and mother of the singer Sam Brown.
16 Jun 1990
Roxette started a two week run at No.1 on the US singles chart with 'It Must Have Been Love'. The song, taken from the film 'Pretty Woman' became the duo's third US No.1 and a No.3 hit in the UK.
16 Jun 1989
The first day of the UK three day Glastonbury Festival took place featuring Van Morrison, Elvis Costello, Throwing Muses, Pixies, All About Eve, Hot House Flowers, The Waterboys, Suzanne Vega and Fairground Attraction. Tickets cost £28 ($48).
16 Jun 1988
Vince Neil of Motley Crue married mud wrestler and fashion model Sharisse Rudell. The couple divorced in 1993.
16 Jun 1984
Frankie Goes To Hollywood had their second UK No.1 single with 'Two Tribes.' It stayed at No.1 for nine weeks making Frankie Goes To Hollywood the first band to have their first two singles go to the top of the UK chart. During this run the group's previous single 'Relax' climbed back up the charts to No.2.
16 Jun 1982
Pretenders guitarist James Honeyman-Scott died following sustained cocaine and heroin addiction.
16 Jun 1979
The Electric Light Orchestra started a five-week run at No.1 on the UK album chart with 'Discovery' their first No.1 LP, featuring the tracks 'Shine A Little Love', 'Don't Bring Me Down' and 'The Diary Of Horace Wimp'.
16 Jun 1977
Kenny Rogers was at No.1 on the UK singles chart with 'Lucille'. It was the American Country music singer's first of two UK No.1's.
16 Jun 1973
Suzi Quatro had her first UK No.1 single with the Nicky Chinn & Mike Chapman song 'Can The Can'. 10CC were at No.2 with 'Rubber Bullets' and
Fleetwood Mac
were at No.3 with 'Albatross.'
16 Jun 1972
David Bowie
released his fifth studio album The Rise And Fall Of
Ziggy Stardust
And The Spiders From Mars a concept album telling the story of a fictional bisexual alien rock star named Ziggy Stardust. The album which reached No.5 in the UK and No. 75 in the US has been consistently considered one of the greatest albums of all time.
16 Jun 1970
Mungo Jerry were at No.1 on the UK singles chart with 'In The Summertime'. It went on to become the best selling UK single of 1970 spending seven weeks at No.1 and was a hit in 26 other countries. The UK release was a maxi-single playing at 33 rpm, (whereas singles generally played at 45 rpm).
16 Jun 1969
Johnny Cash
released At San Quentin, his 31st overall album and a recording of a live concert given by Cash to the inmates of San Quentin State Prison. The album was a follow-up to Cash's previous live album, the critically acclaimed and commercially successful At Folsom Prison.
16 Jun 1967
Pink Floyd
released their second single 'See Emily Play' which was written by original frontman
Syd Barrett
. The slide guitar work on the song was done by Barrett using a plastic ruler.
16 Jun 1967
The three day
Monterey Pop Festival
in California began. All the proceeds went to charity when all the artists agreed to perform for free, the 'Summer of Love' was born. The festival saw the first major US appearances by
The Who
,
Jimi Hendrix
and
Janis Joplin
. Also on the bill: The Byrds,
Grateful Dead
,
Otis Redding
,
Simon And Garfunkel
, The Steve Miller Band, Canned Heat, The Mamas & the Papas, Jefferson Airplane, Buffalo Springfield and The Electric Flag. John Phillips, of The Mamas & the Papas wrote, 'San Francisco, (Be Sure To Wear Flowers In Your Hair)' to promote the festival, which later became a hit for Scott McKenzie.
16 Jun 1966
The Beatles
made a surprise live appearance on the UK television program
Top Of The Pops
performing '
Paperback Writer
' and 'Rain'. It became
The Beatles
' last live musical television appearance, with the sole exception of the June 1967 worldwide transmission of 'All You Need Is Love'.
16 Jun 1965
Bob Dylan
recorded 'Like A Rolling Stone' at Columbia Recording Studios in New York City, in the sessions for the forthcoming 'Highway 61 Revisited' album. Session musicians included Mike Bloomfield and Al Kooper, whose Hammond organ on 'Like A Rolling Stone' became one of rock's most recognizable sounds.
16 Jun 1964
The
Rolling Stones
paid £1,500 ($2,500) in return air fares from America back to the UK to honour a booking made a year earlier for £100 ($170) at Magdalen College Oxford. Local group, The Falling Leaves were the support act, and the Stones' bass player, Bill Wyman, had to use one of the Oxford band's amplifiers because of a malfunction with their equipment.
16 Jun 1962
The Konrads (featuring Dave Jay later to become
David Bowie
) made their live debut when they played at Bromley Technical School in Kent, England.
Born on this day in music
16 Jun 1991
English singer and songwriter Joe McElderry who won the sixth series of the ITV show The
X Factor
in 2009. His first single 'The Climb' reached No.1 on the UK Singles Chart.
16 Jun 1990
John Newman, English musician, singer, songwriter and record producer. He is best known for the track 'Love Me Again' which peaked at number one on the UK Singles Chart in July 2013 as well as co-writing and singing on Rudimental's 2012 singles 'Feel the Love' and 'Not Giving In', which peaked at number one and number 14 on the chart, respectively. In 2014, he featured in the Calvin Harris single 'Blame' which topped the UK charts.
16 Jun 1971
American rapper and actor Tupac Amaru Shakur, (born Lesane Parish Crooks) who had the 1996 US No.1 single 'How Do U Want It / California Love.' His Greatest Hits (1998) is among the best-selling albums in the United States. He died from internal bleeding caused by bullet wounds on September 13th 1996.
16 Jun 1958
Patrick Waite, Musical Youth, best remembered for their successful 1982 single 'Pass the Dutchie', which became a No.1 hit around the world. It was a cover version of two songs: 'Gimme the Music' by U Brown, and 'Pass the Kouchie' by Mighty Diamonds, which deals with the recreational use of cannabis (kouchie being slang for a cannabis pipe). Waite died on 13th February 1993.
16 Jun 1954
Garry Roberts, guitar, The Boomtown Rats, who had the 1979 UK No.1 single 'I Don't Like Mondays' plus 10 other UK Top 40 hit singles. After The Boomtown Rats broke up in 1986, Roberts worked with Simply Red,
Orchestral Manoeuvres in the Dark
and Flesh For Lulu as a sound engineer.
16 Jun 1953
Ian Mosley, drummer from British rock band Marillion who had the 1985 UK No.2 single 'Kayleigh'. The band achieved eight Top Ten UK albums between 1983 and 1994, including a No.1 album in 1985 with Misplaced Childhood.
16 Jun 1951
American singer Charlie Dominici who worked with progressive metal band Dream Theater, having replaced Chris Collins.
16 Jun 1950
James Smith, singer with the Philadelphia soul group The Stylistics who had the 1974 US No.2 single 'You Make Me Feel Brand New', and the 1975 UK No.1 single 'Can't Give You Anything But My Love' and twelve consecutive US R&B top ten hits.
16 Jun 1949
American singer-songwriter Robbin Thompson who was a member of the early
Bruce Springsteen
band, Steel Mill, and co-wrote songs with Timothy B. Schmit, Phil Vassar and Butch Taylor and Carter Beauford of the Dave Matthews Band. Thompson died on 10th Oct 2015.
16 Jun 1949
Peppy Castro, from American rock group The Blue Magoos, who scored the 1967 US No.5 single, 'We Ain't Got Nothin' Yet'. They were at the forefront of the psychedelic music trend, beginning in 1966.
16 Jun 1946
English musician and songwriter Iain Matthews who was a member of Fairport Convention and Matthews Southern Comfort, who had the 1970 UK No.1 & 1971 US No. 23 single
Woodstock
. He has also fronted the bands Plainsong, Hi-Fi, No Grey Faith and More Than A Song.
16 Jun 1942
American singer–songwriter and actor Edward Levert, The O'Jays, who scored the 1973 US No.1 & UK No.9 single 'Love Train'. The O'Jays were originally known as The Triumphs and The Mascots.
16 Jun 1941
American songwriter and record producer Lamont Dozier, (Holland/Dozier/Holland), who wrote many hits for
Motown
records, (14 US Billboard No.1 hits), including The
Supremes
,
Four Tops
,
Marvin Gaye
, Martha Reeves & The Vandellas plus Freda Payne and Chairmen Of The Board. Dozier died at his home near Scottsdale, Arizona, on 8 August 2022, at the age of 81.