June 19th: The Biggest Music Headlines
Scroll down the page to see all the music headlines, stories and events for June 19 throughout music history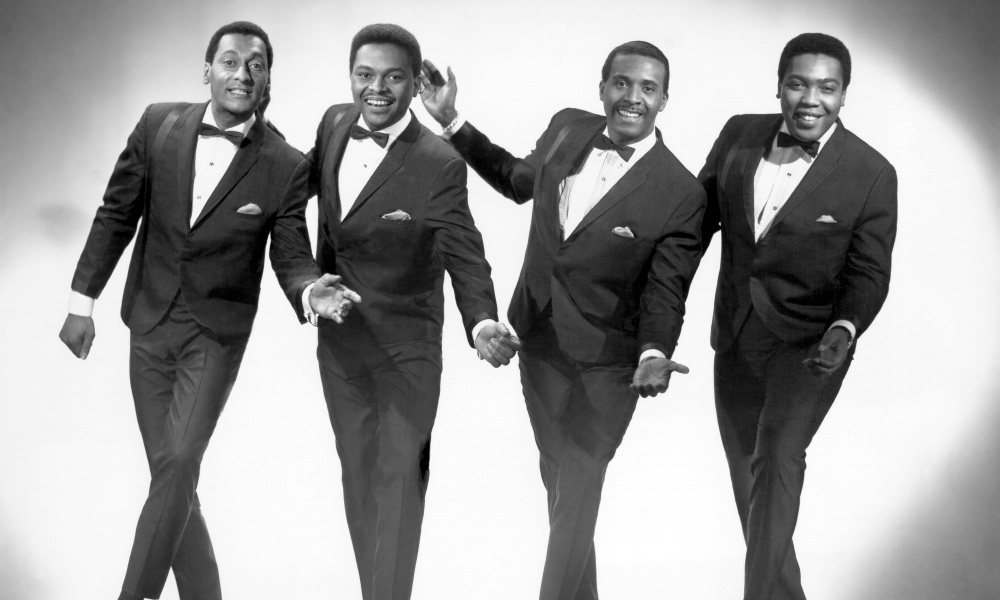 The Four Tops Reach New Heights with a Soon-to-Be Soul Classic
On this day in music, June 19, 1965, The Four Tops scored their first No.1 hit on the Billboard Hot 100 with the enduring classic, "I Can't Help Myself (Sugar Pie Honey Bunch)." Penned by Motown's in-house songwriting team of Holland-Dozier-Holland – and led by singer Levi Stubbs – the upbeat tune would later be named the second-biggest single of 1965 by Billboard and the biggest R&B hit of the year, after a nine-week stay at the top of that chart. In the UK, "I Can't Help Myself" became the legendary group's first Top 40 hit, while decades later, Rolling Stone included the track on their 500 Greatest Songs of All Time list.
In 2006, Taylor Swift released her first single, "Tim McGraw," ahead of her forthcoming self-titled debut. Written by the singer-songwriter when she was just a freshman in high school, the song set Swift on a path to success – breaking the US Top 40 and peaking at No.6 on Billboard's Hot Country Songs chart.
In 1964, Martha and the Vandellas recorded their signature hit, "Dancing in the Street" at Detroit's Hitsville U.S.A. studios. Written by Marvin Gaye, William "Mickey" Stevenson, and Ivy Jo Hunter, the single would reach No.2 on the Billboard Hot 100 and No.4 on the UK pop chart. A Motown classic, the song has since been covered by the likes of Mick Jagger and David Bowie, the Mamas & the Papas, and Van Halen, among many others.
In 1987, Guns N' Roses played their first UK show at London's Marquee Club. Tickets for the sold-out gig, which kicked off a three-night residency, cost only £4.
In 2013, pioneering country artist Slim Whitman died at the age of 90. During his seven-decade-long career, Whitman released more than 500 songs and 100 albums and was known for incorporating falsetto vocals and yodeling into his music. The singer-songwriter toured with Elvis and was a favorite of George Harrison's, while his techniques as a left-handed guitarist inspired another famous lefty, Paul McCartney.
Looking for more things that happened on this day in music?
Keep scrolling for all of the headlines for June 19.
BORN ON JUNE 19:
1928: Tommy DeVito (The Four Seasons)
1948: Nick Drake
1950: Ann Wilson (Heart)
1959: Mark DeBarge (DeBarge)
1963: Paula Abdul
1970: Brian Welch (Korn)
1976: Scott Avett (The Avett Brothers)
1983: Macklemore
Looking for more artists born on this day?
Keep scrolling for all of our June 19 birthdays.
---
What to find another day?
---
June 19th
19 Jun 2020
Bob Dylan
released his 39th studio album Rough and Rowdy Ways. It became Dylan's highest-charting album on the Billboard 200 in more than a decade and it marked his seventh consecutive decade of charting top 40 albums, making him the only artist to date to accomplish this feat.
19 Jun 2016
Artists including
Taylor Swift
, Maroon 5,
Pearl Jam
,
U2
and Sir
Paul McCartney
called for online copyright laws to be reformed. More than 180 artists signed an open letter criticising the Digital Millennium Copyright Act (DMCA). They claimed the law benefits companies that "exploit music for their financial enrichment", but not artists.
19 Jun 2015
Blues musician Wendell Holmes died aged 71. He released 12 albums as part of The Holmes Brothers, a family band that included his siblings Sherman and Willie. During their career, the brothers played with many artists including Van Morrison, Peter Gabriel, Rosanne Cash, Levon Helm and Willie Nelson.
19 Jun 2014
Gerry Goffin, who penned chart-topping songs with his then-wife
Carole King
died at the age of 75 in Los Angeles. He wrote dozens of hits over two decades, including 'The Loco-Motion', 'Will You Love Me Tomorrow' and '(You Make Me Feel Like) A Natural Woman'. After their divorce in 1968, Goffin continued writing songs, including a hit for
Whitney Houston
'Saving All My Love for You' in 1985.
19 Jun 2013
Slim Whitman the American country music and western music singer/songwriter and instrumentalist died aged 90. Known for his yodeling abilities and his smooth high octave falsetto, he sold in excess of 120 million records during his career.
Michael Jackson
cited Whitman as one of his ten favorite vocalists and Beatle
George Harrison
cited Whitman as an early influence.
Paul McCartney
credited a poster of Whitman with giving him the idea of playing his guitar left-handed with his guitar strung the opposite way to a right-handed player's.
19 Jun 2012
The former chief financial officer for
Pearl Jam
was charged with 33 counts of theft for allegedly stealing at least $380,000 from the Seattle band's management company. According to the King County Prosecuting Attorney's Office, Rickey Goodrich allegedly stole hundreds of thousands of dollars over the course of several years, spending the money on lavish family vacations, spa treatments, life insurance and pricey California wines.
19 Jun 2011
Amy Winehouse
was booed by crowds in Serbia's capital Belgrade after appearing to be too drunk to perform. The concert - the first on the singers 12-day European tour, saw Winehouse mumble her way through parts of songs, leave the stage altogether and at one point she threw her microphone to the floor. She was frequently booed by the crowd, who had paid up to £45 to see her in a country in which wages are some of the lowest in Europe.
19 Jun 2007
Lawyers for
Britney Spears
demanded a Florida radio station remove "offensive" advertisements, which featured her with a shaved head. The WFLZ billboards included the slogans "Total nut jobs", "Shock Therapy" and "Certifiable", which ran across pictures of a bald Spears. Law firm Lavely and Singer demanded the "immediate removal" of the banners in a letter to the station. Spears was photographed shaving her own head in a Californian hair salon earlier this year.
19 Jun 2006
Taylor Swift
released her debut single 'Tim McGraw' as the lead single from her self-titled debut album. The track peaked at No.40 on the Billboard Hot 100.
19 Jun 2003
G-Man from So Solid Crew was jailed for four years for possessing a loaded handgun. The 24 year-old dumped a loaded gun during a police chase in London last November. He'd always denied it, as well as denying knowing anything about 11 other bullets that were found in a flat in south London. The jury in London's Southwark Crown Court heard evidence that DNA found on the weapon matched his, and found him guilty.
19 Jun 1990
Prince
played the first of 12 sold-out nights at Wembley Arena in London, England on his current Nude European tour.
19 Jun 1987
Guns N' Roses made their UK live debut at a sold out
Marquee Club
in London. For the first few songs the band were pelted with plastic beer cups thrown from the audience, and a few people close to the stage were spitting at the band.
19 Jun 1977
Six men wielding knives and iron bars outside Shepherd's Bush underground station beat up Paul Cook from the
Sex Pistols
. Cook required 15 stitches to a head wound.
19 Jun 1976
Future
Smiths
singer Steve Morrissey had a letter published in this weeks music magazine Record Mirror and Disc asking the editor why the paper had not included any stories on The
Sex Pistols
.
19 Jun 1974
The Delinquents a band featuring Mick Jones (later of
The Clash
) made their debut at the Students union bar, Queen Elizabeth College, Kensington.
19 Jun 1973
Edgar Winter's US No.1 hit 'Frankenstein' was awarded a Gold record. Winter named the song because of how many cuts and patches were contained in the original studio tape.
19 Jun 1971
Carole King
started a five week run at No.1 on the US singles chart with 'It's Too Late / I Feel The Earth Move'. Both songs were from her million selling Tapestry album.
19 Jun 1968
The
Rolling Stones
scored their seventh UK No.1 single when 'Jumpin Jack Flash' hit the top of the charts.
Keith Richards
has stated that he and Jagger wrote the lyrics while staying at Richards' country house, where they were awoken one morning by the sound of gardener Jack Dyer walking past the window. When Jagger asked what the noise was, Richards responded: "Oh, that's Jack – that's jumpin' Jack."
19 Jun 1967
Having admitted to taking LSD four times during an interview with Life Magazine, Beatle
Paul McCartney
told The Daily Mirror that he didn't regret that he'd spoken out and hoped that his fans would understand.
19 Jun 1965
The Who
, Solomon Burke, Zoot Money, Cliff Bennett & The Rebel Rousers, John Mayall's Bluesbreakers, Spencer Davis Group, Marianne Faithful, Long John Baldry, The Birds, (featuring a young
Ronnie Wood
), Dave Witting and the Ray Martin Group all appeared at Uxbridge Blues Festival, England. Tickets cost from 7/6 to 10/6.
19 Jun 1965
The
Four Tops
went to No.1 on the US singles chart with 'I Can't Help Myself'. Lead singer Levi Stubbs had not been satisfied with the recording session and was promised that he could do it again the following day, but no other session ever took place. The track that became a hit was just the second take of the song.
19 Jun 1964
Martha and the Vandellas recored one of
Motown
's signature songs 'Dancing in the Street' at Hitsville U.S.A. in Detroit, Michigan. Written by
Marvin Gaye
, William "Mickey" Stevenson and Ivy Jo Hunter the song reached No.2 on the Billboard Hot 100 chart and No.4 in the UK. Many artists have covered the song including, the Mamas & the Papas,
David Bowie
and
Mick Jagger
,
The Kinks
,
Grateful Dead
and
Little Richard
.
19 Jun 1961
Pat Boone went to No.1 on the US singles chart with 'Moody River', the single reached No.18 in the UK. A tongue-in-cheek, heavy metal "comeback" was attempted by Boone in 1997 with an album called 'In a Metal Mood (No More Mr. Nice Guy)'.
19 Jun 1928
Tommy DeVito, from American rock and pop band The Four Seasons who had the 1960s hits 'Sherry', 'Big Girls Don't Cry', 'Walk Like a Man', and the 1976 UK & US No.1 single 'December 1963, (Oh What A Night'). They are one of the best-selling musical groups of all time, having sold an estimated 100 million records worldwide. Devito died on 20 Sept 2020 age 92 after contracting COVID-19.
Born on this day in music
19 Jun 1983
American rapper, Ben Haggerty, known by his stage name Macklemore. The Macklemore's and Lewis single 'Thrift Shop' reached No.1 on the US singles chart in 2013 and their second single, 'Can't Hold Us' also peaked at No.1, making Macklemore and Lewis the first duo in the chart's history to have their first two singles both reach the top of the US charts.
19 Jun 1976
Scott Avett, lead singer and founding member of the folk-rock band The Avett Brothers. Had the 2013 US No.5 album 'Magpie And The Dandelion'.
19 Jun 1970
Brian Welch, guitarist from American nu metal band Korn who scored the 1998 US No.1 album, Follow The Leader. Twelve of the band's official releases have peaked in the top ten of the Billboard Chart.
19 Jun 1963
Paula Abdul, American singer, songwriter, voice actress, dancer, choreographer who had the 1990 US No.1 & UK No.2 single 'Opposites Attract' plus five other US No.1 singles. Her 1989 album Forever Your Girl spent ten weeks as US No.1. Became a judge on American Idol TV show.
19 Jun 1963
Simon Wright, drummer,
AC/DC
, joined in 1983. Joined Dio in 1989.
19 Jun 1960
Dennis Fuller, from German-based English dance-pop duo The London Boys who had the UK No.2 single 'London Nights'. He was killed in a car crash with London Boy partner Edem Ephraim on January 21st 1996.
19 Jun 1959
Mark DeBarge singer from American family group DeBarge who had the 1983 US No.17 single 'All This Love', and the 1985 UK No.4 single 'Rhythm Of The Night'.
19 Jun 1957
Maxi Jazz (Maxwell Fraser), rapper, from British electronica band Faithless who had the 1996 UK No.3 album Insomnia. He died on 23 December 2022 aged 65.
19 Jun 1950
Ann Wilson, from American rock band Heart who scored the 1987 US No.1 & UK No.3 single 'Alone'. Heart has sold over 35 million records worldwide.
19 Jun 1948
English singer-songwriter and musician,
Nick Drake
. He signed to Island Records when he was 20 years old and released his debut album, Five Leaves Left, in 1969. By 1972, he had recorded two more albums, Bryter Layter and Pink Moon. Drake took his own life on November 25th, 1974, aged 26.
19 Jun 1944
Robin Box, from British pop group White Plains who had the 1970 UK No.8 single 'Julie Do Ya Love Me' and four other hit singles.
19 Jun 1944
English keyboardist Peter Bardens a founder member of the British progressive rock group Camel. During his career, Bardens worked alongside Rod Stewart, Mick Fleetwood and Van Morrison, and recorded solo albums. Bardens died aged 57 on 22 January 2002.
19 Jun 1942
Elaine McFarlane, from American 1960s sunshine pop band Spanky And Our Gang, who had the 1967 US No.9 single 'Sunday Will Never Be The Same Again'. She joined the re- formed Mama and the Papas in 1982.
19 Jun 1939
American soul singer Al Wilson who had the 1974 US No.1 single 'Show And Tell' and the Northern soul anthem, 'The Snake'. Wilson died on April 21, 2008, of kidney failure, at the age of 68.