June 25th: The Biggest Music Headlines
Scroll down the page to see all the music headlines, stories and events for June 25 throughout music history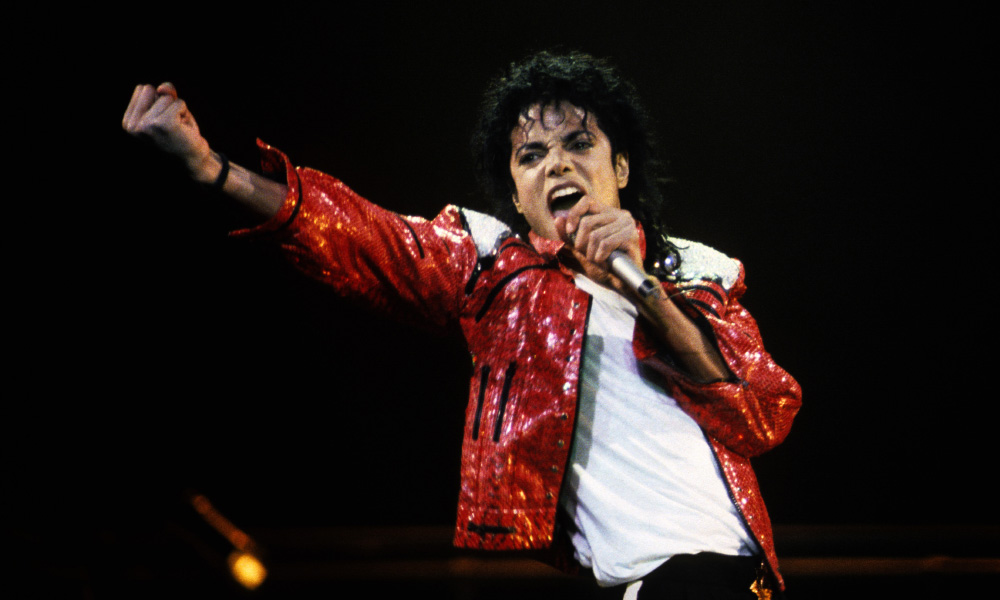 The Shocking Death of Michael Jackson
In 2009, 50-year-old "King of Pop," Michael Jackson, died in his Beverly Hills home. While Jackson's personal life was mired in controversy and mystery, the artist's enduring influence was undeniable. After rising to fame as a child, performing alongside his brothers in The Jackson 5, Jackson broke out as a solo star with 1979's Off the Wall. It was 1982's Thriller, however, that changed the course of his career – and pop culture history. Holding the record as the highest-selling album of all time, Thriller was the first LP to feature seven Top Ten hits on the Billboard Hot 100, including "Beat It" and "Billie Jean," while its music videos broke racial barriers on MTV. Over the next decade, Jackson would continue to smash records, rising to become the world's most successful entertainer through albums like Bad and Dangerous.
In 1984, Prince released his iconic sixth studio album, Purple Rain. The album, which featured his band the Revolution, also served as the soundtrack to his film of the same name. One of the world's best-selling albums of all time, Purple Rain remained at the top of the Billboard 200 for an astonishing 24 consecutive weeks, while it produced two No.1 hits, "When Doves Cry" and "Let's Go Crazy," as well as the Top Ten singles "I Would Die 4 U" and the title track. The album went on to win two Grammy Awards and an Academy Award for Best Original Song Score.
In 1967, The Beatles performed "All You Need Is Love" live, via satellite, to 400 million viewers in 25 countries. Captured at EMI Studios, the segment featured a colorful array of decor and signs, plus a variety of high-profile backing vocalists, including Mick Jagger, Keith Richards, Graham Nash, Keith Moon, and Eric Clapton. The performance was part of the groundbreaking Our World TV production, which marked the first multinational production broadcast via multiple satellites.
In 1988, with "Foolish Beat," 17-year-old Debbie Gibson became the youngest female artist to write, produce, and record a No.1 hit on the Billboard Hot 100.
In 1988, 26-year-old Hillel Slovak, the founding guitarist of the Red Hot Chili Peppers, died of an overdose. The Israeli-born musician met his future bandmates as a student at Los Angeles' Fairfax High School. While he did not appear on the band's debut album, he can be heard on 1985's Freaky Styley and 1987's The Uplift Mofo Party Plan.
Looking for more things that happened on this day in music?
Keep scrolling for all of the headlines for June 25.
BORN ON JUNE 25:
1935: Eddie Floyd
1945: Carly Simon
1952: Tim Finn (Split Enz, Crowded House)
1954: David Paich (Toto)
1963: George Michael
1972: Mike Kroeger (Nickelback)
1991: Charlie Salt (Blossoms)
Looking for more artists born on this day?
Keep scrolling for all of our June 25 birthdays.
---
What to find another day?
---
June 25th
25 Jun 2021
Rock group Måneskin, winners of the 2021 Eurovision Song Contest, became the first act from Italy to have two singles in the top-ten of the UK Singles Chart simultaneously with 'I Wanna Be Your Slave' at No.6 and 'Beggin'' (a cover of the 1967 song by Frankie Valli and the Four Seasons) at No. 10.
25 Jun 2019
A fan who went into labour at Pink's concert in Liverpool, England successfully gave birth at the venue – and named the newborn after the pop star herself. Two medics, who were on duty as crowd doctors, took the fan to the stadium's first aid room, where they delivered the baby.
25 Jun 2016
The Yellow Cloud guitar owned by
Prince
and said to be one of his favourites was bought at auction for $137,500 (£110,000), by the owner of the American Football team Indianapolis Colts. A lock of
David Bowie
's hair also sold for $18,750 at the same auction.
25 Jun 2014
Amnesty International apologised to Iggy Pop after it had used an image of the singer in its latest anti-torture campaign without the singer's permission. The Belgian advert featured the Stooges frontman's face bloodied and beaten, quoting him as saying Justin Bieber was "the future of rock and roll" and the slogan: "Torture a man and he will tell you anything."
25 Jun 2009
A
Sgt. Pepper
souvenir poster bearing the signatures of all four Beatles sold for $52,500 (£31,720) at a pop memorabilia auction in New York City. Other musical items that went under the hammer were a set of
Bob Dylan
's handwritten lyrics, which made $25,000 (£15,090) and a bass guitar owned by
Kurt Cobain
sold for $43,750 (£26,415).
25 Jun 2009
Michael Jackson
died at the age of 50, after suffering heart failure at his home in Beverly Hills. The eighth child of the Jackson family, he debuted with his brothers as a member of The
Jackson 5
in 1964. Jackson is credited for transforming the music video into an art form and a promotional tool, four of his solo albums are among the world's best-selling records: Off the Wall (1979), Bad (1987), Dangerous (1991) and HIStory (1995), while his 1982
Thriller
is the world's best-selling record of all time with sales of over 50 million.
25 Jun 2006
Turkish-American music producer and arranger Arif Mardin died aged 74 from pancreatic cancer. He worked at Atlantic Records for over 30 years, before moving to EMI. The winner of 11 Grammy Awards, he worked with
Aretha Franklin
, Bette Midler, Roberta Flack, Wilson Pickett, Average White Band, The
Bee Gees
, Barbra Streisand and Norah Jones.
25 Jun 2004
Rapper DMX was arrested on charges that he and another man tried to steal a car from New York's Kennedy airport. DMX - real name is Earl Simmons - and Jackie Hudgins were held after the city's Port Authority police interrupted a dispute. The pair were arrested on charges of attempted robbery, criminal impersonation and criminal mischief. A spokesman said a preliminary investigation indicated that Mr Simmons may have identified himself as a federal agent.
25 Jun 1994
Five people attending this years UK Glastonbury Festival were shot and injured when a lone madman pulled a gun and started shooting into the crowd.
25 Jun 1993
The first of the three day Glastonbury Festival in England featured Suede, Belly, Lemonheads, The Orb,
Red Hot Chili Peppers
The Black Crowes, Lenny Kravitz, Verve, Porno For Pyros and Teenage Fan Club. Tickets cost £58 ($98.60) for the three days.
25 Jun 1988
Debbie Gibson went to No.1 on the US singles chart with 'Foolish Beat', making Debbie (aged 17), the youngest female to write, produce and record a US No.1 single. A No.9 hit in the UK.
25 Jun 1988
Hillel Slovak original guitarist and founding member of
Red Hot Chili Peppers
died from a heroin overdose shortly after the band returned from a European tour. Slovak recorded two albums with the band, Freaky Styley and The Uplift Mofo Party Plan.
25 Jun 1987
Songwriter Boudleaux Bryant died. Wrote with his wife Felice, The Everly Brothers hits, 'Bye Bye Love', 'All I Have To Do Is Dream', 'Wake Up Little Susie' and 'Raining In My Heart' a hit for
Buddy Holly
. Other acts to record their song include
Bob Dylan
,
The Beatles
,
Simon And Garfunkel
,
Grateful Dead
,
Dolly Parton
,
Elvis Presley
,
The Beach Boys
,
Roy Orbison
, Dean Martin, Ruth Brown, Cher,
R.E.M.
and Ray Charles.
25 Jun 1984
Prince
released his sixth studio album Purple Rain the first to feature his band the Revolution, and the soundtrack to the 1984 film of the same name. The first two singles from the album, 'When Doves Cry' and 'Let's Go Crazy', topped the US singles charts, and were hits around the world, while the title track went to No.2 on the Billboard Hot 100.
25 Jun 1983
The Police
scored their fourth UK No.1 album with 'Synchronicity', also No.1 in the US and featuring the singles 'Every Breath You Take' and 'Wrapped Around Your Finger'.
25 Jun 1977
Marvin Gaye
went to No.1 on the US singles chart with 'Got To Give It Up', his third US No.1.
25 Jun 1969
The Hollies recorded 'He Ain't Heavy, He's My Brother'. The ballad was written by Bobby Scott and Bob Russell (who was dying of cancer of the lymph nodes). The pair met in person only three times, but managed to collaborate on the song. The track which features
Elton John
on piano was re-released in late 1988 in the UK following its use in a television advertisement for Miller Lite beer, where it reached No.1.
25 Jun 1967
25 Jun 1967
During a north American tour The
Jimi Hendrix Experience
gave a free afternoon concert in Golden Gate Park, San Francisco. They then played another two shows that evening at the Fillmore West.
25 Jun 1966
Jackie Wilson was arrested for inciting a riot and refusing to obey a police order at a nightclub in Port Arthur, Texas. Wilson had a crowd of 400 whipped into a frenzy and refused to stop singing when requested to do so by police. He was later convicted of drunkenness and fined $30.
25 Jun 1966
The Beatles
started a two week run at No.1 on the US singles chart with '
Paperback Writer
', the group's 12th US No.1. The track is marked by the boosted bass guitar sound throughout, partly in response to
John Lennon
demanding to know why the bass on a certain Wilson Pickett record far exceeded the bass on any Beatles records. It was also cut louder than any other Beatles record, due to a new piece of equipment used in the mastering process.
25 Jun 1964
Roy Orbison
was at No.1 on the UK singles chart with 'It's Over', his second UK No.1. Orbison was the first American artist to score a UK No.1 in the past 47 weeks.
Born on this day in music
25 Jun 1991
Charlie Salt, English singer and bassist of the indie pop band Blossoms. Their the self-titled debut studio album peaked at No.1 on the UK chart in Aug 2016.
25 Jun 1972
Mike Kroeger, bassist from Canadian rock band, Nickelback who had the 2002 US No.1 & UK No. 4 single 'How To Remind You', and the 2001 album Silver Side Up. Nickelback is one of the most commercially successful Canadian groups, having sold more than 50 million albums worldwide.
25 Jun 1963
Georgios Panayiotou (
George Michael
) UK singer, songwriter, Wham! (1984 UK & US No.1 single 'Wake Me Up Before You Go Go', 1st solo No.1 single 1984 UK & US 'Careless Whisper', plus 7 other UK & US No.1 singles and over 10 other UK Top 40 hits'). Michael died at his home in England on 25th Dec 2016 aged 53.
25 Jun 1954
American keyboardist, singer, composer, recording producer David Paich who with Toto had the 1983 US No.1 & UK No.3 single 'Africa'. Paich played on various
Michael Jackson
songs including 'Earth Song', 'The Girl Is Mine', 'Heal the World', and 'I Just Can't Stop Loving You'; and the USA for Africa song 'We Are the World', as well as work with
Aretha Franklin
, Boz Scaggs, Quincy Jones, Don Henley, Diana Ross, Doobie Brothers,
Neil Diamond
, Seals and Crofts, Steely Dan,
Elton John
, Joe Cocker, Rod Stewart, Cher, Randy Newman, Brothers Johnson and Pink.
25 Jun 1952
Tim Finn, singer, songwriter, from New Zealand group Split Enz who had the 1980 UK No.12 single 'I Got You'. Split Enz had ten albums (including seven studio albums) reach the top ten of the Official New Zealand Music Chart. And with Crowded House had the 1992 UK No.7 single 'Weather With You' and a hit with 'It's Only Natural'.
25 Jun 1951
David T. Walker, American session guitarist. He has worked with many artists including:
Stevie Wonder
(Innervisions),
Marvin Gaye
(Let's Get It On),
Michael Jackson
(Ben). Walker has also issued fifteen albums in his own name.
25 Jun 1946
Allen Lanier, guitar, keyboards, from American hard rock band Blue Oyster Cult who scored the 1976 US No.12 & 1978 UK No.16 single '(Don't Fear) The Reaper'. Blue Oyster Cult have sold over 24 million records worldwide.
25 Jun 1945
Carly Simon, US singer, songwriter, (1973 UK No.3 and US No.1 single 'You're So Vain', 1974 US No.5 single with James Taylor 'Mockingbird'). In 2015, after keeping quiet for more than 40 years, Carly Simon admitted that 'You're So Vain' was about Warren Beatty, but only one verse of it. Simon said the other verses were about two other men.
25 Jun 1940
Clint Warwick, bassist with English rock band The Moody Blues who had the 1965 UK No.1 & US No.10 single 'Go Now' and the hits singles including 'Go Now', 'Nights in White Satin' and 'Question'. He died from liver disease on May 18th 2004.
25 Jun 1939
Harold Melvin, US soul singer and pianist. (1972 US No.3 & 1974 UK No.9 single 'If You Don't Know Me By Know'). He died on March 24th 1997.
25 Jun 1935
Eddie Floyd, US soul singer, (1966 US No.28 & 1967 UK No.19 single 'Knock On Wood'). Wrote '634-5789 a 1966 hit for Wilson Pickett.