June 8th: The Biggest Music Headlines
Scroll down the page to see all the music headlines, stories and events for June 8 throughout music history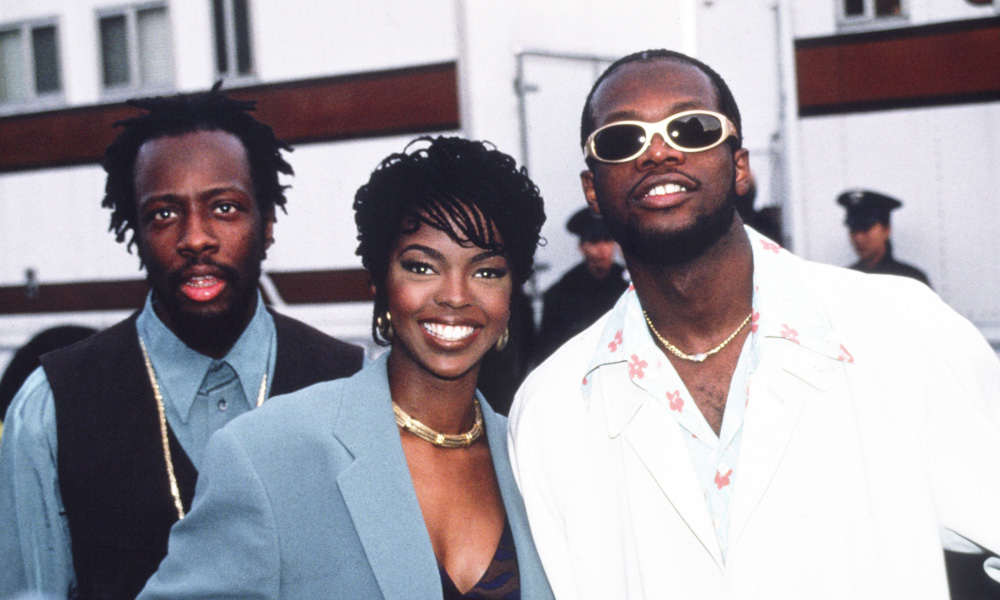 The Fugees Top Charts with an Inspired Cover
On this day in music, June 8, 1996, The Fugees scored their first No.1 single in the UK with "Killing Me Softly." Featured on the hip-hop group's debut album, The Score, the track was an inspired cover of Roberta Flack's 1973 hit, "Killing Me Softly with His Song," incorporating samples from A Tribe Called Quest and 60s psych-soul band Rotary Connection. The song became Britain's best-selling single of the year and catapulted the trio to international stardom, topping the charts in more than 20 countries, including the US. In addition to earning a Grammy in 1997, "Killing Me Softly" has since appeared on numerous rankings, including Rolling Stone's "500 Greatest Songs of All Time" list.
In 1985, Tears for Fears began a two-week run at the top of the Billboard Hot 100 with their new wave classic, "Everybody Wants to Rule the World." The poignant track earned the British duo an award for Best Single at the 1986 BRITs.
In 1974, Dolly Parton went to No.1 on the Billboard country chart with "I Will Always Love You." The ballad would return to the charts nearly two decades later when Whitney Houston covered it for the 1992 film, The Bodyguard, making it her signature hit.
In 1974, Bill Wyman became the first member of The Rolling Stones to release a solo album. The star-studded Monkey Grip featured contributions from Dr. John, Leon Russell, and Lowell George.
In 1991, new jack swing group Color Me Badd scored their sole UK No.1 hit with "I Wanna Sex You Up." Despite controversy over its suggestive lyrics, the song peaked at No.2 in the US.
Looking for more things that happened on this day in music?
Keep scrolling for all of the headlines for June 8.
BORN ON JUNE 8:
1940: Nancy Sinatra
1942: Chuck Negron (Three Dog Night)
1944: Boz Scaggs
1953: Bonnie Tyler
1960: Mick Hucknall (Simply Red)
1962: Nick Rhodes (Duran Duran)
1965: Rob Pilatus (Milli Vanilli)
Looking for more artists born on this day?
Keep scrolling for all of our June 8 birthdays.
---
What to find another day?
---
June 8th
8 Jun 2021
American singer Dean Parrish died at the age of 78. Best known for the song, 'I'm on My Way', which became noted for being the penultimate record that was played at the last Northern soul all-nighter at the Wigan Casino, he also worked as a session musician with
Jimi Hendrix
and
Santana
in 1970, and played guitar with
Bob Marley
in 1972.
8 Jun 2020
Former Pointer Sisters singer Bonnie Pointer died from a cardiac arrest aged 69. She and her sisters rose to fame as the Grammy award-winning Pointer Sisters, who were best known for the 1984 hits 'Jump (For My Love)' and 'I'm So Excited'.
8 Jun 2016
Two US musicians were suing
Ed Sheeran
for $20m (£13.8m) over his single 'Photograph'. Martin Harrington and American Thomas Leonard claimed it had a similar structure to their song, 'Amazing'. Martin Harrington and Thomas Leonard said they penned Amazing in 2009 and in documents, that include musical note comparison and chord breakdowns of the two songs, the pair claimed the chorus of 'Photograph' shares 39 identical notes with their track.
8 Jun 2012
Lauryn Hill was charged with willfully failing to file income tax returns in the US. Authorities said the singer earned more than $1.6m (£1.03m) during the three years that she failed to file returns. US prosecutors said her main source of income during the period 2005 - 2007 was royalties from her music and films. According to court papers, the 37-year-old owned four corporations - Creations Music, Boogie Tours, LH Productions 2001 and Studio 22.
8 Jun 2008
Rolling Stone magazine published a list of the Top 50 guitar songs of all time. No.5 was 'Brown Sugar' by The
Rolling Stones
, No.4 , 'You Really Got Me' by
The Kinks
, No.3, 'Crossroads', by
Cream
, No.2 'Purple Haze', by
Jimi Hendrix
and No.1 'Johnny B Goode',
Chuck Berry
.
8 Jun 2007
George Michael
was sentenced to 100 hours of community service and banned from driving for two years at Brent Magistrates court, north London. The 43-year-old who was arrested last October after being found slumped at the steering wheel of his car pleaded guilty to driving while unfit, blaming "tiredness and prescribed drugs" for the offence.
8 Jun 2003
Led Zeppelin
were at No.1 on the US album chart with their triple live album How The West Was Won, the band's seventh US No.1 album. The performances were from the band's 1972 tour of the United States, recorded at the LA Forum on 25 June 1972 and Long Beach Arena on 27 June 1972.
8 Jun 2002
Months of secrecy surrounding
Paul McCartney
's wedding plans were blown when John Leslie the owner of the 17th century Castle Leslie in Co Monaghan, let slip to reporters that Sir Paul had booked the Castle for the wedding.
8 Jun 1998
Oasis
guitarist Noel Gallagher, Paul Weller and Martin Carr from The Boo Radleys were all involved in a fight at Dingwalls, Camden in London.
8 Jun 1996
The Fugees scored their first UK No.1 single with their version of the Roberta Flack 1973 hit 'Killing Me Softly'. The song composed by Charles Fox and Norman Gimbel in 1971 was inspired by Lori Lieberman's poem 'Killing Me Softly with His Blues', written having seen a performance by US singer, songwriter Don McLean.
8 Jun 1991
Color Me Badd had their only UK No.1 single with 'I Wanna Sex You Up'. The song was a No.2 hit in the US where some radio stations edited out the word "sex" with disc jockeys announcing the song 'I Wanna Love You Up'.
8 Jun 1989
At a Greenpeace Rainbow Warrior's press conference, vegetarian Chrissie Hynde claimed that she once firebombed a McDonalds restaurant. The following day a McDonalds in Milton Keynes, England was firebombed and Hynde was threatened with legal action.
8 Jun 1987
Yogi Horton, a session drummer with Luther Vandross, took his own life, having told his wife he was tired of living in the shadow of the R&B singer. Horton also worked with artists like The B-52's, Diana Ross, and Debbie Harry.
8 Jun 1985
Tears For Fears started a two-week run at No.1 on the US singles chart with 'Everybody Wants To Rule The World', the group's first US No.1. In 1986, the song won Best Single at the Brit Awards. Band member and co-writer Roland Orzabal argued that the song deserved to win the Ivor Novello International Hit of the Year award, claiming that the winner, '19' by Paul Hardcastle - was not an actual song, but only a "dialogue collage."
8 Jun 1974
Bill Wyman became the first Rolling Stone to release a solo album with Monkey Grip, (it peaked at No.39 in the UK and No.99 in the US). The album featured guest appearances by, Dr John, Leon Russell and Lowell George.
8 Jun 1974
David Bowie
started a four-week run at the top of the UK charts with his third No.1 album 'Diamond Dogs'. The cover art features Bowie as a striking half-man, half-dog grotesque painted by Belgian artist Guy Peellaert. It was controversial as the full painting clearly showed the hybrid's genitalia. Very few copies of this original cover made their way into circulation at the time of the album's release.
8 Jun 1974
Dolly Parton
was at No.1 on the US country chart with 'I Will Always Love You'.
Elvis Presley
indicated that he wanted to cover the song. Parton was interested until Presley's manager, Colonel Tom Parker, told her that it was standard procedure for the songwriter to sign over half of the publishing rights to any song Elvis recorded. Parton refused. 'I Will Always Love You' later became a worldwide No.1 hit for
Whitney Houston
in 1992 when featured in The Bodyguard.
8 Jun 1974
Paul McCartney
and Wings went to No.1 on the US singles chart with '
Band On The Run
'. '
George Harrison
unwittingly contributed the first line of one part of the song: "If we ever get out of here" when he said it during one of the many Beatles' business meetings.
8 Jun 1970
Deep Purple
had their van and equipment impounded by East German police while on an European tour, after mistakenly driving too close to the border.
8 Jun 1969
8 Jun 1967
Procol Harum were at No.1 on the UK singles chart with
'A Whiter Shade Of Pale'
the group's only UK No.1. In 2004 the song was named the most played record of the past 70 years. More than 900 recorded versions by other artists are known.
8 Jun 1963
The Crystals' 'Da Doo Ron Ron' peaked at No.3 on the US singles chart. Produced by Phil Spector, who used a multi-track recording system to build the song layer upon layer to achieve a result that become known as a "wall of sound". Backing musicians include
Glen Campbell
on guitar, Leon Russell on piano, Hal Blain on drums and Nino Tempo on sax.
Born on this day in music
8 Jun 1989
Richard Fleeshman, English actor and singer-songwriter. His television appearances have included a role in Coronation Street.
8 Jun 1985
Jamie Shaw, from British boy band One True Voice, created on the ITV television series Popstars: The Rivals who had the 2002 UK No.2 single 'Sacred Trust / After You're Gone'.
8 Jun 1981
Alex Band, American musician and singer-songwriter, best known for his hit with The Calling 'Wherever You Will Go'.
8 Jun 1979
English guitarist Rob Holliday who has worked with Marilyn Manson, Gary Numan, The Prodigy, The Mission and Curve.
8 Jun 1977
American rapper, singer, songwriter, record producer, fashion designer, and entrepreneur Kayne West. He worked with Alicia Keys, Jay-Z, and Ludacris. Solo hits include the 2005 US No.1 single 'Gold Digger', the 2005 US No.1 album Late Registration, and the 2007 World-wide No.1 album Graduation. West is one of the best-selling artists of all time, having sold more than 32 million albums and 100 million digital downloads worldwide and has won a total of 21 Grammy Awards.
8 Jun 1967
Neil Mitchell, keyboards, with Scottish band Wet Wet Wet who formed in 1982. They are best known for their 1994 cover of The
Troggs
' 1960s hit 'Love Is All Around', which spent 15 weeks at No.1 on the UK charts.
8 Jun 1966
Doris Pearson, English singer and ex member of the pop group, Five Star who had the 1986 UK No.3 single 'System Addict' plus 15 other UK Top 40 singles.
8 Jun 1965
Rob Pilatus, singer from German R&B duo Milli Vanilli, who had the 1989 US No.1 & UK No.2 single 'Girl I'm Gonna Miss You'. Their success quickly turned to infamy when they confessed that they did not sing any of the vocals heard on their hits. Consequently, the duo was stripped of their Grammy Award for Best New Artist. He died of a drug and alcohol overdose on April 2nd 1998.
8 Jun 1962
Nick Rhodes, keyboards,
Duran Duran
who had the 1983 UK No.1 single 'Is There Something I Should Know', plus 25 other UK Top 40 singles, and the 1984 US No.1 single 'The Reflex'. Also a member of Arcadia who had the 1985 UK No.7 single 'Election Day'. In March 2013, he released the TV Mania side project with ex-
Duran Duran
guitarist Warren Cuccurullo.
8 Jun 1960
Mick Hucknall, English singer, songwriter with punk rock band the Frantic Elevators and then with Simply Red, who had the 1986 US No.1 & UK No.2 single 'Holding Back The Years'. They have had five No.1 albums in the UK, with their 1991 album, Stars, one of the best-selling albums in UK chart history.
8 Jun 1953
Bonnie Tyler, Welsh singer, who scored the 1983 UK & US No.1 single 'Total Eclipse Of The Heart', as well as hits with 'Lost in France' and 'It's a Heartache'.
8 Jun 1944
American singer, songwriter, and guitarist Boz Scaggs, who was a member of The Marksmen with Steve Miller, The Wigs, and as a solo artist had the 1976 US No.3 single 'Lowdown', and the 1977 US No.11 and UK No.13 single 'Lido Shuffle'.
8 Jun 1942
Chuck Negron, American singer-songwriter with Three Dog Night, who had the 1970 UK No.3 & US No.1 single with a cover of the Randy Newman song 'Mama Told Me Not To Come'. The band scored 21 Billboard Top 40 hits (with three hitting No.1) between 1969 and 1975.
8 Jun 1941
American musician Fuzzy Haskins, former singer with 1950s and 1960s doo-wop group, The Parliaments. He is a founding member of the groundbreaking and influential 1970s funk bands Parliament and Funkadelic.
8 Jun 1940
American singer and actress Nancy Sinatra who scored the 1966 UK & US No.1 single 'These Boots Are Made For Walking'. With her father Frank she became the first father and daughter team ever to score a UK No.1 single with the 1967 hit 'Somethin' Stupid'. She also had several collaborations with Lee Hazlewood such as 'Jackson', and her cover of Cher's 'Bang Bang (My Baby Shot Me Down)'.
8 Jun 1940
Sherman Garnes, singer with American-Puerto Rican doo wop group Frankie Lymon And The Teenagers, who had the 1956 UK No.1 & US No.6 single 'Why Do Fools Fall In Love'. They are also noted for being rock's first all-teenaged act. Garnes died on February 26th 1977.