March 12th: The Biggest Music Headlines
Scroll down the page to see all the music headlines, stories, and events for March 12 throughout music history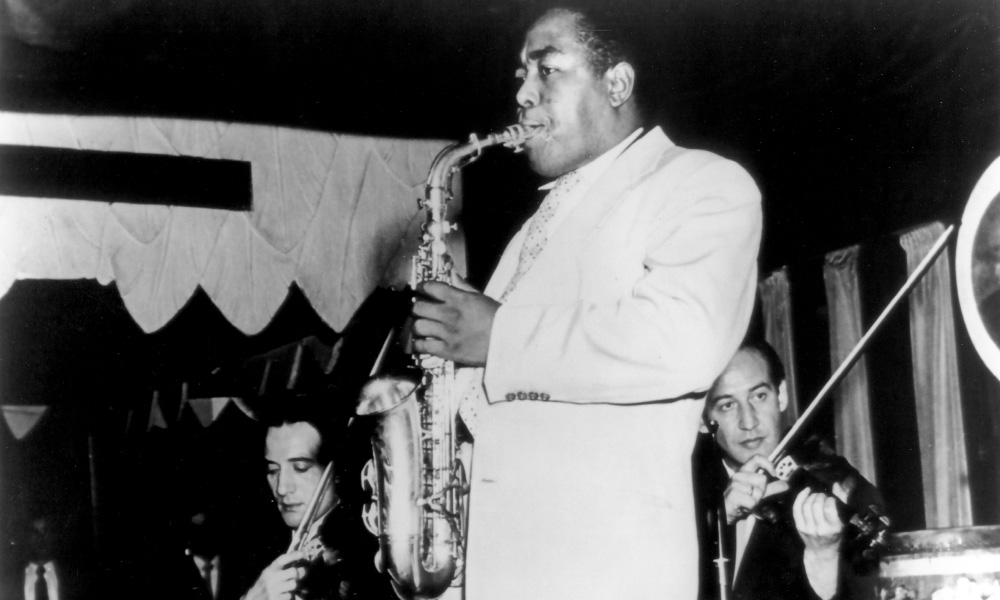 Jazz Great Charlie Parker Dies
On this day in music, March 12, 1955, saxophonist Charlie Parker, considered the father of modern jazz, died at the age of 34 in New York City. Nicknamed "Bird," Parker was born in Kansas City and, in the mid-1940s, became the main instigator of a revolutionary and highly influential new jazz style called bebop. In addition to penning a variety of jazz standards (including "Yardbird Suite," "Confirmation," and "Scrapple from the Apple"), Bird was revered for his innovative approach to phrasing and rhythm.
In 2013, Bob Dylan was voted into the American Academy of Arts and Letters. He was the first rock star to be admitted as a member of the elite institution, joining the likes of writer Ezra Pound and jazz musician Duke Ellington. Unsure of whether to acknowledge him for his words or music, the academy elected to recognize him as an honorary member, as they did with earlier inductees Martin Scorsese and Meryl Streep.
In 1967, the Velvet Underground & Nico released their self-titled debut. Though now regarded as a landmark album that launched art-rock, it was initially ignored by the critics, shunned by radio stations, and sold poorly.
In 2022, Stereophonics scored their eighth UK No.1 with their 25th-anniversary album, Oochya!. The feat tied them with Oasis, R.E.M., and Taylor Swift for the most chart-topping albums on the chart.
In 1969, The Temptations became the first Motown act to win a Grammy Award with "Cloud Nine." An early example of "psychedelic soul," the song (which won for Best Rhythm & Blues Group Performance) peaked at No. 2 on the US charts and marked the debut of lead singer Dennis Edwards, who replaced David Ruffin.
In 1988, Rick Astley's "Never Gonna Give You Up" began a two-week run at No.1 on the Billboard Hot 100. The British singer's debut single also topped the UK pop chart.
In 2001, Judy Garland's "Over The Rainbow" was voted the Song Of The Century in a US-based poll.
Looking for more things that happened on this day in music?
Keep scrolling for all of the headlines for March 12.
BORN ON MARCH 12:
1917: Leonard Chess (Co-founder of Chess Records)
1940: Al Jarreau
1946: Liza Minnelli
1948: James Taylor
1949: Bill Payne (Little Feat)
1969: Graham Coxon (Blur)
1979: Pete Doherty (The Libertines/Babyshambles)
Looking for more artists born on this day?
Keep scrolling for all of our March 12 birthdays.
---
What to find another day?
---
March 12th
12 Mar 2022
Stereophonics scored their eighth UK No.1 with their 25th anniversary album Oochya! The achievement made them one of the most successful chart acts of all time, tying with
Taylor Swift
,
Oasis
,
Kylie Minogue
and
R.E.M.
- who also have had eight chart toppers.
The Beatles
have the most, with 15, followed by
Elvis Presley
and Robbie Williams, both of whom have 13.
12 Mar 2016
Iron Maiden
's personal Boeing 747 was badly damaged after colliding with a tow truck while grounded at Santiago, Chile. The band's crew and their twenty tons of equipment were not onboard at the time of the crash, but two ground crew workers were injured.
12 Mar 2013
Clive Burr, drummer with
Iron Maiden
died in his sleep in London, four days after his 56th birthday, due to complications related to MS. Iron Maiden had the 1982 UK No.1 album The Number Of The Beast, and the 1991 UK No.1 single 'Bring Your Daughter To The Slaughter'. Burr was a member of up-and-coming British metal band, Samson, before joining Maiden in 1979.
12 Mar 2013
Bob Dylan
was voted into the American Academy of Arts and Letters, marking the first time a rock musician had been chosen for the elite honor society. Officials in the Academy – which recognises music, literature and visual art – were unable to decide if Dylan belonged for his words or his music and instead inducted him as an honorary member like previous honorees Meryl Streep, Woody Allen and Martin Scorsese.
12 Mar 2012
Taylor Swift
beat
Adele
and Lady Gaga to be named the highest-earning pop artist of 2011. The 22-year-old earned $35,719,902 (£22.7m) in 2011 from a combination of music sales, royalties and touring.
U2
took second place with $32m (£20m) thanks to their 360 tour, seen by more than seven million people while Adele came 10th.
12 Mar 2012
Doobie Brothers drummer Michael Hossack died at his home in Dubois, Wyoming at the age of 65. He had been battling cancer for some time and succumbed to complications of the disease with his family at his side. Hossack was a member of the Doobie Brothers between 1971 and 1973, playing on several of the band's best-known hits, including 'Listen to the Music' and 'China Grove'.
12 Mar 2010
Over 130 people were arrested and eight people were hospitalised as fans tried to gatecrash a
Metallica
show in Colombia. 1,500 police and four tanks were brought in to manage the crowds as property was vandalized and destroyed, as thousands of ticketless fans rioted during Metallica's first Colombian concert in eleven years.
12 Mar 2009
Hundreds of fans queued at the O2 arena in London as
Michael Jackson
tickets went on sale to the public. The 50-year-old pop veteran had confirmed he would be playing a 50-date residency at the venue, beginning on 8 July 2009. Some 360,000 pre-sale tickets had already sold. Organisers said the This Is It tour had become the fastest-selling in history, with 33 seats sold each minute. Prices ranged from £170 to £10,000, but tickets bought directly from the singer's website cost up to £75. Jackson had said this would be the last time he would perform in the UK.
12 Mar 2007
Amy Winehouse
made her US television debut on the Late Show with David Letterman performing 'Rehab'. The song went on to win three Grammy Awards, including Record of the Year, Song of the Year, and Best Female Pop Vocal Performance and also won an Ivor Novello Award for Best Contemporary Song.
12 Mar 2006
Former
Pink Floyd
guitarist David Gilmour went to No.1 on the UK album chart with his third solo album On An Island. In 2009 UK radio station Planet Rock held a poll asking listeners to name the 'Greatest Solo Album Written By A Former Band Member'. David Gilmour was voted into first place with On An Island.
12 Mar 2004
Rosalind Morganfield, the 34 year old daughter of Blues artist Muddy Waters, surrendered to police after a warrant was issued accusing her of being involved in the 1996 murder of 19 year old Timothy Jason Harrington during a drug deal.
12 Mar 2001
Judy Garland's 'Over The Rainbow' was voted the Song Of The Century in a poll published in America. Musicians, critics and fans compiled the list by the RIA. The highest placed UK act was The
Rolling Stones
'(I Can't Get No) Satisfaction'
in 16th place.
The Beatles
had 'I Want To Hold Your Hand' at No. 28.
12 Mar 1995
The Spin Doctors played a gig at singer Chris Barron's old School in Princeton and raised $10,000 (£5,882) towards a trip to France and the UK for the school choir.
12 Mar 1994
Swedish group Ace Of Base started a six week run at No.1 on the US singles chart with 'The Sign', a No.2 hit in the UK.
12 Mar 1988
Rick Astley started a two week run at No.1 on the US singles chart with 'Never Gonna Give You Up', also a No.1 in the UK.
12 Mar 1983
U2
scored their first UK No.1 album with 'War', which went on to spend a total of 147 weeks on the chart. The album featured the singles 'New Years Day' and 'Two Hearts Beat As One'.
12 Mar 1983
Welsh singer Bonnie Tyler had her only UK No.1 single with a song written by Meat Loaf's producer,
Jim Steinman
, 'Total Eclipse Of The Heart'. Also No.1 in the US, (the only Welsh artist to score a US No.1), Canada and Australia, the single sold over 5 million copies world wide.
12 Mar 1977
The
Sex Pistols
were involved in a fight at London's Speakeasy Club with Bob Harris, presenter of BBC 2's The Old Grey Whistle Test, resulting in one of the shows engineers needing 14 stitches in his head. Two days later Harris's solicitors contact Derek Green at A&M the bands record label. Harris's management also managed Peter Frampton, one of the label's top acts at A&M. Green discussed the matter with the company's two founders, Jerry Moss and Herb Alpert and the decision is made to cancel the Pistols contract and halt production of the bands first single, 'God Save The Queen'.
12 Mar 1975
ABBA
recorded 'Mamma Mia' at Metronome Studio in Stockholm, Sweden. It was the last track recorded for their self-titled third album and was never intended for release as a single. ABBA's Australian record company, RCA, asked that 'Mamma Mia' be released as a single but Polar Music at first refused. The song went on to become a No.1 hit around the world.
12 Mar 1974
John Lennon
made the headlines after an incident at the Troubadour Club, LA. Out on a drinking binge with Harry Nilsson, Lennon hurled insults at the performing Smothers Brothers and punched their manager before being forcibly removed.
12 Mar 1971
The Allman Brothers Band
played the first of two nights at the Fillmore East, New York. Both shows were recorded and released as The Allman Brothers live double album, which became the groups breakthrough album.
12 Mar 1970
James Brown
's backing band The J.B.'s were formed after most of the members of his previous band walked out on him over a pay dispute. The J.B.'s initial lineup included bassist William "Bootsy" Collins and his guitarist brother Phelps "Catfish" Collins, formerly of the obscure funk band The Pacemakers.
12 Mar 1969
The
Temptations
became the first
Motown
recording act to win a Grammy Award - for 'Cloud Nine' for the Best Rhythm & Blues Group Performance. The single which reached No.2 on the US charts was the first of their singles to feature Dennis Edwards instead of David Ruffin in the lineup, and was the first of producer Norman Whitfield's psychedelic soul tracks.
12 Mar 1969
Paul McCartney
married Linda Eastman at Marylebone Register Office. They then held a reception lunch at The Ritz Hotel, Paul then went to Abbey Road studios in the evening to work.
George Harrison
and his wife Patti were arrested on the same day and charged with possession of 120 joints of marijuana.
12 Mar 1968
The
Rolling Stones
started recording their next single 'Jumpin' Jack Flash' with new producer Jimmy Miller at Olympic studios in London.
Keith Richards
has stated that he and Jagger wrote the lyrics while staying at Richards' country house, where they were awakened one morning by the sound of gardener Jack Dyer walking past the window. When Jagger asked what the noise was, Richards responded, "Oh, that's Jack - that's jumpin' Jack."
12 Mar 1967
The Velvet Underground & Nico the debut album by the Velvet Underground was released by Verve Records. Though the record was a commercial failure upon release and was almost entirely ignored by contemporary critics, The Velvet Underground & Nico is now widely recognised as one of the greatest and most influential albums in the history of popular music.
12 Mar 1963
The Beatles
played at the Granada Cinema in Bedford. Also on the bill, Chris Montez and Tommy Roe.
John Lennon
, suffering from a heavy cold, was unable to perform, so The Beatles set was rearranged so that George and Paul could sing the parts that John usually sang.
12 Mar 1955
American jazz saxophonist and composer Charlie Parker died of a heart attack in New York City while watching Tommy Dorsey's Orchestra on television. He was 34. The coroner who performed his autopsy mistakenly estimated Parker's 34-year-old body to be between 50 and 60 years of age. (After years of drug and alcohol abuse).
Born on this day in music
12 Mar 1986
Danny Jones, guitar, vocals, McFly, (2004 UK No.1 single 'Colours In Her Hair', 2004 UK No.1 album 'Room On The 3rd Floor').
12 Mar 1979
Pete Doherty, guitar, vocals, from English rock band The Libertines, who had the 2004 UK No.1 album The Libertines. Doherty was banned from playing with The Libertines until he could overcome his substance abuse problems. He released two albums with Babyshambles, the 2005 Down in Albion and 2007 Shotter's Nation.
12 Mar 1977
Ben Kenny, bassist, from American rock band Incubus, who had the 2001 US No.9 & UK No.40 single, 'Drive', and the 2004 US No.2 and UK No.6 album A Crow Left of the Murder', and the 2006 US No.1 album Light Grenades. Worldwide, Incubus has sold over 23 million albums.
12 Mar 1975
Kelle Bryan, from British R&B girl group Eternal who had the 1997 UK No.1 single 'I Wanna Be The Only One', and the 1993 UK No.2 album Always & Forever. They achieved 15 UK Top 20 hits between 1993 and 1999.
12 Mar 1969
Graham Coxon, guitarist and singer with Blur who scored the 1994 UK No.1 album 'Parklife' which spent over 2 years on the UK chart, and the 1995 UK No.1 single 'Country House', plus over 12 other UK Top 40 singles. Coxon has also released a series of solo albums.
12 Mar 1965
Coleen Nolan, Nolan Sisters, (1980 UK No.3 single 'I'm In The Mood For Dancing').
12 Mar 1957
Marlon Jackson, from American family music group The
Jackson 5
. They were the first group to debut with four consecutive No.1 hits on the Hot 100 with the songs 'I Want You Back', 'ABC', 'The Love You Save', and 'I'll Be There'. And with The Jacksons, had the 1979 hit 'Shake Your Body (Down to the Ground)'.
12 Mar 1956
Steve Harris, bassist with English heavy metal band
Iron Maiden
, who had the 1982 UK No.1 album The Number Of The Beast, and the 1991 UK No.1 single 'Bring Your Daughter ...To The Slaughter'.
Iron Maiden
have sold over 100 million copies of their albums worldwide.
12 Mar 1951
British musician and songwriter Jack Green, who played with
T. Rex
between 1973 and 1974, then with The Pretty Things between 1974 and 1976.
12 Mar 1949
American pianist Bill Payne who co-founded with Lowell George the American rock band Little Feat. Their best-known songs are 'Dixie Chicken' and 'Sailin Shoes'. Payne has also worked and recorded with J. J. Cale, Doobie Brothers, Emmylou Harris,
Bryan Adams
,
Pink Floyd
, Bob Seger, Toto, Linda Ronstadt, Jackson Browne, James Taylor, Bonnie Raitt, Stevie Nicks and Robert Palmer.
12 Mar 1949
Welsh musician Mike Gibbins, drummer with
Badfinger
, who scored the 1970 UK No.4 & US No.7 single 'Come And Get It' and the hits 'No Matter What and 'Day After Day'. Gibbins died from a brain aneurysm in his sleep at his Florida home on 4 October 2005 at the age of 56.
12 Mar 1948
James Taylor, American singer, songwriter. Taylor achieved his breakthrough in 1970 with the hit single 'Fire and Rain' and had the 1971 US No.1 & UK No.4 single 'You've Got A Friend', (written by
Carole King
). His first album was released on
The Beatles
Apple label. Taylor married Carly Simon in 1972.
12 Mar 1948
Les Holroyd, from English progressive rock band Barclay James Harvest who scored eight UK Top 40 albums from 1974-87.
12 Mar 1946
Liza Minnelli, singer, actress, dancer, daughter of Judy Garland and film director Vincente Minnelli. (1970 film 'Cabaret', 1989 UK No.6 single 'Losing My Mind').
12 Mar 1942
Brian O'Hara, from English Merseybeat band The Fourmost who had the 1964 UK No.6 single 'A Little Loving'. O'Hara took his own life on 27th June 1999.
12 Mar 1940
American singer and musician Al Jarreau. He received a total of seven Grammy Awards and Jarreau is best known for his 1981 album Breakin' Away. He also sang the theme song of the late-1980s television series Moonlighting. He died of respiratory failure on February 12, 2017 at the age of 76, just two days after announcing his retirement.
12 Mar 1917
Leonard Chess, the founder of the Chess record label, home to John Lee Hooker,
Chuck Berry
,
Bo Diddley
and Jimmy Reed. Chess died of a heart attack on October 16th 1969, aged 52.