March 15th: The Biggest Music Headlines
Scroll down the page to see all the music headlines, stories, and events for March 15 throughout music history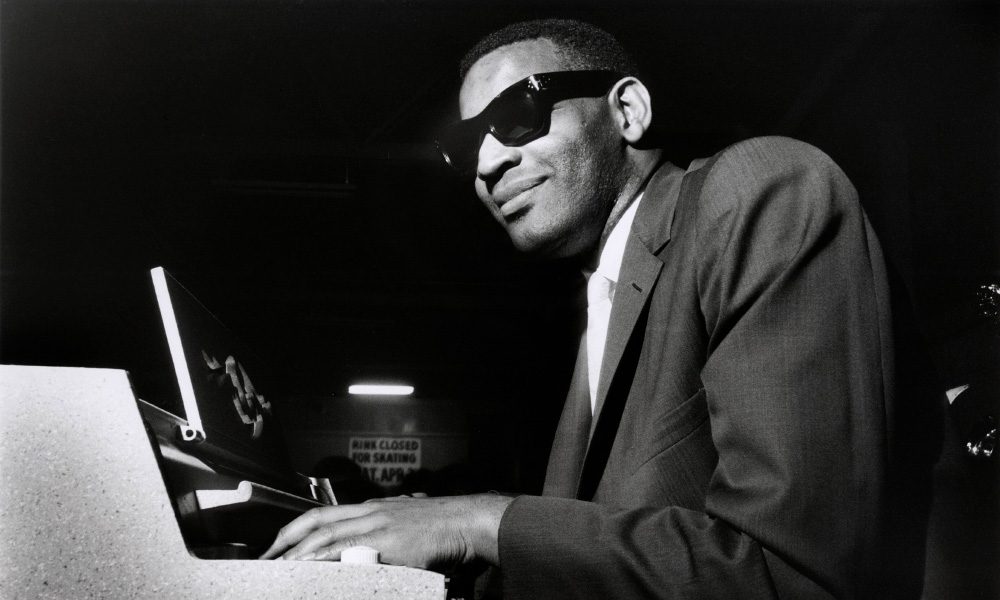 Ray Charles Tops US R&B Chart with First Soul Music Record
On this day in music, March 15, 1955, 24-year-old Ray Charles topped the US R&B charts with "I've Got a Woman," a song that married gospel music's emotional fervor with the rough, earthiness of rhythm and blues – sowing the seeds for what would become known as soul music. With its blend of sacred and profane elements, the record caused outrage in many devout, church-going Black communities, though ultimately, the controversy would help fuel its success. "I've Got a Woman" was the first of 11 No.1 R&B hits for the singer from Albany, GA.
In 1998, Madonna scored a record-breaking sixth UK No.1 album with Ray Of Light, an exploration of electronica and techno that marked a stylistic departure for the artist. It debuted at the top of the UK albums chart, where it stayed for a fortnight, with initial sales of nearly 139,000 copies.
In 1973, Roberta Flack's "Killing Me Softly with His Song" began a five-week run at the top of the Billboard Hot 100. The singer/pianist discovered the song after hearing Lori Lieberman's original version on the inflight audio while flying to a concert in LA.
In 1969, blues-rock British supergroup Cream saw their fourth and final LP, Goodbye, top the UK album chart. By then, the group had already disbanded.
In 1955, Elvis Presley signed a management contract with Colonel Tom Parker, a Svengali figure who would guide and advise "The King" until his death in 1977. Parker had no previous experience in rock and roll management but had a background in showbiz, having run the "Great Parker Pony Circus," among whose acts were dancing chickens.
In 1999, Bruce Springsteen was inducted into the Rock and Roll Hall of Fame by U2's Bono. The singer-songwriter returned the favor six years later when the Irish band was similarly honored. Springsteen had previously inducted Roy Orbison, Credence Clearwater Revival, and Bob Dylan.
In 1982, Bob Dylan was inducted into the Songwriter's Hall of Fame at a ceremony that took place at New York's Hilton Hotel. Fellow inductees included Paul Simon and Dinah Shore.
Looking for more things that happened on this day in music?
Keep scrolling for all of the headlines for March 15.
BORN ON MARCH 15:
1912: Lightnin' Hopkins
1932: Arif Mardin (Producer, Record Executive)
1940: Phil Lesh (Grateful Dead)
1941: Mike Love (The Beach Boys)
1944: Sly Stone
1947: Ry Cooder
1955: Dee Snider (Twisted Sister)
1962: Terence Trent D'arby
1963: Brett Michaels (Poison)
1972: Mark Hoppus (Blink 182)
1975: Will.i.am
Looking for more artists born on this day?
Keep scrolling for all of our March 15 birthdays.
---
What to find another day?
---
March 15th
15 Mar 2019
George Michael
's art collection sold at auction raising more than £11 million ($14,597,000) for charity at the London branch of Christie's auction house. The singer-songwriter was a major supporter of British artists, including the likes of Tracey Emin and Damien Hirst. The highest price was for The Incomplete Truth, a 2006 Hirst work consisting of a dove preserved in formaldehyde, which sold for £911,250.
15 Mar 2015
Mike Porcaro bassist with Toto died following a battle with Lou Gehrig's Disease. He was the middle brother of Toto members Jeff Porcaro and Steve Porcaro. Toto who formed in 1978 are best known for such classic rock hits as 'Hold the Line,' 'Rosanna' and 'Africa' and won an Album of the Year Grammy for 1982's Toto IV.
15 Mar 2014
Scott Asheton best known as the drummer for the Stooges died of a heart attack aged 64. He co-formed the Stooges in 1967 along with his older brother Ron Asheton, Iggy Pop and Dave Alexander.
15 Mar 2013
Singer, songwriter and guitarist Hardrock Gunter died from complications of pneumonia, at the age of 88. His music at the turn of the 1950s prefigured rock and roll and rockabilly music. His song 'Birmingham Bounce' from early 1950, became a regional hit, and led to over 20 cover versions, the most successful being by Red Foley, whose version reached No.1 on the country chart. Gunter's original version has become regarded as a contender for the first rock and roll record, predating 'Rocket 88' by Ike Turner's Kings of Rhythm by a year.
15 Mar 2013
Friends of Lana Clarkson, the actress murdered by music producer Phil Spector, were protesting at a screening of the film about his trial. The movie, starring Al Pacino, focused on his relationship with his defence lawyer, played by Helen Mirren. But the group against the film said it was too sympathetic towards Spector's defence case. Clarkson's former publicist, Edward Lozzi, called the film a 'slap in the face'.
15 Mar 2010
Sony Music announced the biggest recording deal in history with the estate of
Michael Jackson
worth more than $200m (£133m). The deal involved 10 album projects over seven year's including one of previously unreleased material. Sony had sold about 31 million copies of Jackson's albums worldwide since his death on 25 June, 2009.
15 Mar 2005
Former Stone Roses singer Ian Brown was arrested after a fight during a concert in San Francisco after a fan jumped on stage and attacked the singer, who then became involved in a fracas with a security guard. Brown was arrested at his hotel after the show at the Great American Music Hall but released without charge.
15 Mar 2002
Yoko Ono unveiled a seven foot bronze statue of
John Lennon
overlooking the check-in hall of Liverpool
John Lennon
airport. The re-branding of the airport featured a sketch of Lennon's face with the words 'Above Us Only Skies.'
15 Mar 2000
Mick Jagger
was ordered to increase his child support payments to Brazilian model Luciana Morad from $5,500 (£3,235) a month to $10,000 (£5,888). Mick was asked to confirm that he was the father of her child by the court, while Ms Morad was seeking a $10 million (£3.8 million) settlement. Morad told the court her monthly expenses: $3,500 (£2,065) for a nanny; $2,500, £3,000 for food and $3,350 (£1,970) to rent her place on New York's Upper West Side.
15 Mar 1999
15 Mar 1998
Madonna
scored her sixth UK No.1 album with her seventh studio album Ray Of Light. up until this point, no other female artist had achieved more than three UK No.1 albums.
15 Mar 1997
The
Spice Girls
went to No.1 on the UK singles chart with 'Mama', making them the first act ever to have their first four singles reach No.1 on the UK chart.
15 Mar 1988
Mick Jagger
opened his first ever solo tour, his first ever performances in Japan and his first full concerts since 1982, with three shows at Osaka's Castle Hall in Osaka, Japan. The show was mostly made up of
Rolling Stones
songs, including songs not performed by the Stones for a long time, including 'Bitch', 'Gimmie Shelter', 'Ruby Tuesday' and 'Sympathy For The Devil' as well as the
Jimi Hendrix
song 'Foxy Lady'.
15 Mar 1986
The Bangles were at No.2 on the UK singles chart with 'Manic Monday', a song written by
Prince
under the pseudonym Christopher, it also made No.2 in the US, held of No.1 by
Prince
with 'Kiss'.
15 Mar 1982
Bob Dylan
was inducted into the Songwriter's Hall of Fame at the 13th annual dinner held at the Hilton Hotel in New York City. After the ceremony Dylan gave a short interview to Jane Hansen, which was broadcast by NBC, TV in New York City.
15 Mar 1975
The Doobie Brothers went to No.1 on the US singles chart with 'Black Water', the group's first of two US No.1's.
15 Mar 1973
Roberta Flack was at No.1 on the US singles chart with 'Killing Me Softly With His Song'. Flack first heard the song on an airline, when the Lori Lieberman original was featured on the in-flight audio program. The song was born from a poem Lieberman wrote after experiencing a strong reaction after seeing Don McLean perform the song 'Empty Chairs'.
15 Mar 1972
DJ Robert W. Morgan played the Donny Osmond version of 'Puppy Love' for 90 minutes on the radio station KHJ in Los Angeles. LAPD mistakenly raided the station studios after receiving numerous calls from listeners, confused, the officers left without making any arrests.
15 Mar 1970
Mary Ann Ganser American singer with The Shangri-Las died in Queens, New York aged 22 of a drug overdose. Between 1964 and 1966 they charted with teen melodramas, and remain especially known for their hits 'Leader of the Pack', 'Remember (Walking in the Sand)', and 'Give Him a Great Big Kiss'. The Shangri-Las were two sets of sisters: Mary Weiss (lead singer) and Elizabeth "Betty" Weiss and identical twins Marge Ganser and Mary Ann Ganser.
15 Mar 1969
Tyrannosaurus Rex singer
Marc Bolan
's first book of poetry 'The Warlock Of Love' was published, priced at 12s/6d.
15 Mar 1969
Cream
started a two-week run at No.1 on the UK chart with their fourth and final original album Goodbye. The single, 'Badge', (which was written by
Eric Clapton
and
George Harrison
), was subsequently released from the album a month later. Harrison was credited on the track, (for contractual reasons), as 'L'Angelo Misterioso' on rhythm guitar.
15 Mar 1969
Tommy Roe started a four week run at No.1 on the US singles chart with 'Dizzy', also No.1 in the UK. In 1991 Vic Reeves and the Wonder Stuff took the song to No.1 on the UK chart.
15 Mar 1969
Janis Joplin
was featured on the cover of Rolling Stone magazine, on sale for 35 Cents, (2/6). The magazine was founded in San Francisco in 1967 by Jann Wenner, the first issue of November 9, 1967 was in a newspaper format with a lead article on the
Monterey Pop Festival
.
15 Mar 1968
During a Scandinavian tour
Led Zeppelin
played two shows in one day. The first was at Teens Club Box 45, Gladsaxe, Denmark and the second at the Brondby Pop Club in Norregard, Denmark. Also on the bill for the second show was The Keef Hartley Band, Ham and Swedish band Made In Sweden.
15 Mar 1968
The
Rolling Stones
started daily sessions at Olympic Studios in London to start recording their next album,
Beggars Banquet
. Working from 7pm to 8am each day without a break, the Stones worked on 'Jumpin' Jack Flash', 'Child Of The Moon', 'Jigsaw Puzzle' and 'Parachute Woman' as well as the instrumental foundation for a song called 'Did Everybody Paid Their Dues?' (which would later become 'Street Fighting Man').
15 Mar 1967
The first session recording
George Harrison
's new song 'Within You Without You' took place at Abbey Road studios, London. George was the only Beatle to perform on this song, which was still called 'Untitled'. Harrison played the swordmandel and tamboura, Natver Soni played tabla, Amrat Gajjar played dilruba, PD Joshi played swordmandel, and an undocumented musician played a droning tamboura.
15 Mar 1955
Elvis Presley
signed a management contract with Colonel Tom Parker. Parker had previously managed the 'Great Parker Pony Circus' with one of the acts being a troupe of dancing chickens.
15 Mar 1955
Ray Charles peaked at No.2 on the US R&B charts with the Atlantic single 'I Got A Woman', widely considered the first song to be labelled "soul" - a blending of R&B and gospel.
Born on this day in music
15 Mar 1981
Young Buck, American rapper, a former member of the hip hop group UTP Playas. As a music executive, he heads his own record label, Cashville Records, and is a member of hip hop group G-Unit. He had the 2004 US No.2 album Straight Outta Cashville.
15 Mar 1977
Joe Bourdon, DJ,
Linkin Park
who had the 2002 US No.2 & UK No.4 single 'In The End', and the 2002 US No.2 & 2001 UK No.4 album Hybrid Theory.
15 Mar 1975
American recording artist, songwriter, entrepreneur, voice actor, DJ, record producer, Will.i.am who was a member of Black Eyed Peas, (2003 US & UK No.1 single 'Where Is The Love'). He has produced with other artists including
Michael Jackson
, Justin Bieber, Eazy-E,
Britney Spears
, David Guetta,
U2
,
Rihanna
, Usher, Justin Timberlake, and Earth, Wind & Fire.
15 Mar 1972
Mark Hoppus, American musician, record producer, and television host, and bassist and singer with Blink 182, who had the 2000 UK No.2 single 'All The Small Things' and the 2001 US No.1 album 'Take Off Your...'.
15 Mar 1968
American singer Mark McGrath from Sugar Ray, who had the 1999 UK No. 10 single 'Every Morning'. Also a TV host on US Show Extra.
15 Mar 1964
Rockwell, (Kennedy Gordy), 1984 US No 2 & UK No.6 single, 'Somebody's Watching Me'. Rockwell is the son of
Motown
records boss
Berry Gordy
.
15 Mar 1963
American singer-songwriter Bret Michaels with the glam metal band Poison who have sold over 40 million records worldwide. They scored the late 80's UK No.13 & US No.1 single 'Every Rose Has Its Thorn'.
15 Mar 1962
Steve Coy, from English pop band, Dead Or Alive, who scored the 1985 UK No.1 single 'You Spin Me Round, Like A Record'.
15 Mar 1962
American singer and songwriter Terence Trent D'arby, who came to fame with his debut studio album, Introducing the Hardline According to Terence Trent D'Arby, released in July 1987, which included the singles 'If You Let Me Stay', 'Wishing Well', 'Dance Little Sister' and 'Sign Your Name'. He adopted a new name, Sananda Maitreya, which he has said relates to a series of dreams he had in 1995. He legally changed his name six years later on October 4, 2001.
15 Mar 1955
American singer-songwriter Dee Snider, lead singer of the heavy metal band Twisted Sister, (1983 UK No.18 single 'I Am, I'm Me', 1984 album Stay Hungry).
15 Mar 1952
Howard Devoto, English singer-songwriter, who began his career as the frontman for the punk rock band
Buzzcocks
, but then left to form Magazine, one of the first post-punk bands.
15 Mar 1948
Stephen Nisbett, drummer for the British reggae group, Steel Pulse. He later owned his own record company, Grizzly Records. Nisbett died on 18 January 2018, at the age of 69.
15 Mar 1947
Ry Cooder, guitarist, member of Captain Beefheart's Magic Band, worked with Gordon Lightfoot, The
Rolling Stones
,
Eric Clapton
, Randy Newman, John Lee Hooker. He released the 1979 solo album Bop Till You Drop' and the 1985 film soundtrack album Paris Texas. Cooder produced the Buena Vista Social Club album (1997), which became a worldwide hit.
15 Mar 1947
Hernandez Lugo, ? & The Mysterians, (1966 US No. 1 & UK No.37 single 96 Tears). The song was a UK No.17 hit for The Stranglers in 1990.
15 Mar 1946
American guitarist Howard Scott with American funk band War. Their album The World Is a Ghetto was the best-selling US album of 1973. They also scored the 1973 US No.2 single 'Cisco Kid'.
15 Mar 1944
American musician, songwriter, and record producer Sly Stone, most famous for his role as frontman for Sly and the Family Stone, a band which played a critical role in the development of soul, funk, rock, and psychedelia in the 1960s and 1970s. Stones scored the 1968 UK No.7 & US No.8 single 'Dance To The Music', and the 1969 US No.1 single 'Everyday People'.
15 Mar 1944
David Costell, from American 1960s era pop and rock group Gary Lewis and the Playboys who scored the 1965 US No.1 single 'This Diamond Ring' and 11 other US Top 40 hits.
15 Mar 1942
English drummer Hughie Flint, known for his stint in John Mayall & the Bluesbreakers, (on their albums John Mayall Plays John Mayall (1965) and Blues Breakers with
Eric Clapton
(1966), also known as The Beano Album and for his group McGuinness Flint (1970 UK No.2 'When I'm Dead And Gone') and for his subsequent association with The Blues Band.
15 Mar 1941
Mike Love, American singer, songwriter, and musician who co-founded The Beach Boys. Love collaborated with
Brian Wilson
and was a lyricist on singles including 'Fun, Fun, Fun' (1964), 'California Girls' (1965), and 'Good Vibrations. (1966). The Beach Boys released the 1966 classic album
Pet Sounds
.
15 Mar 1940
American musician Phil Lesh who was a founding member and bassist with the
Grateful Dead
. They released over 140 albums, the majority of them recorded live in concert. After the band's disbanding in 1995, Lesh continued the tradition of Grateful Dead family music with side project Phil Lesh and Friends.
15 Mar 1936
Howard Greenfield, American lyricist and songwriter, who for several years in the 1960s worked out of the famous Brill Building. With Neil Sedaka he co-wrote many hits including 'Calendar Girl', 'Breaking Up Is Hard To Do', and 'Crying In The Rain' with
Carol King
and 'Love Will Keep Us Together', by Captain & Tennille. In 2005, 'Is This The Way To Amarillo', a song Greenfield had written with Sedaka in the early 1970s, reached No. 1 on the UK charts in the original 1971 version by Tony Christie. He died on 4 March 4 1986 from complications from AIDS, eleven days before his 50th birthday.
15 Mar 1932
Arif Mardin, Turkish-American music producer and arranger. In 1969, he became Vice President of Atlantic Records and later served as Senior Vice President until 2001. He worked with
Aretha Franklin
, Bette Midler, Roberta Flack, Wilson Pickett, Average White Band, The
Bee Gees
, Barbra Streisand and more recently Norah Jones. Mardin died on June 25th 2006 following a lengthy battle with pancreatic cancer.
15 Mar 1931
Elvis Presley
drummer D.J. Fontana. Before joining guitarist Scotty Moore and bassist Bill Black in Presley's backing band the Blue Moon Boys, Dominic Joseph Fontana worked as the house drummer for his hometown of Shreveport's Louisiana Hayride working with the likes of
Johnny Cash
,
Dolly Parton
, Waylon Jennings, Steve Young, Melba Montgomery, Norma Jean, Vassar Clements, Carl Butler and other country artists. He died on 13 June 2018.
15 Mar 1931
15 Mar 1922
British solo trumpeter Eddie Calvert. He had the 1953 UK No.1 'Oh, Mein Papa' and the 1955 UK No.1 with 'Cherry Pink & Apple Blossom White'. In spite of being an instrumental, his theme music for the film The Man with the Golden Arm was banned by the BBC 'due to its connection with a film about drugs. He died on 7 August 1978 aged 56.
15 Mar 1912
American blues guitarist and singer Sam 'Lightnin' Hopkins. He was a major influence on
Bob Dylan
and
Jimi Hendrix
.
R.E.M.
included the song 'Lightnin' Hopkins' on their 1987 album Document. He died 30th January 1982 aged 69.