March 18th: The Biggest Music Headlines
Scroll down the page to see all the music headlines, stories, and events for March 18 throughout music history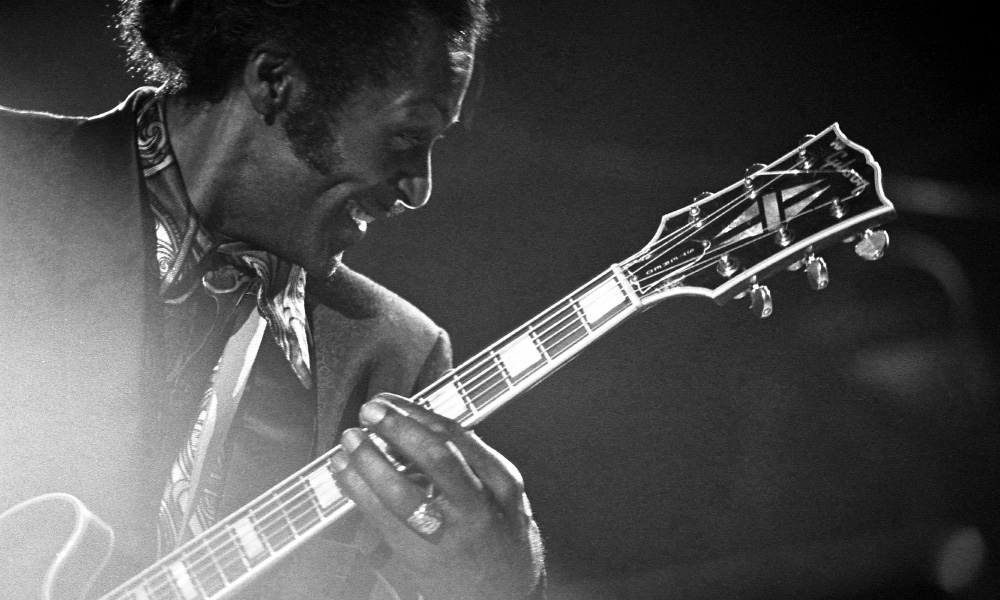 Rock And Roll Pioneer Chuck Berry Dies
On this day in music, March 18, 2017, rock and roll pioneer Chuck Berry died at the age of 90. Born Charles Edward Anderson Berry in St. Louis, MO, Berry forged a distinctive style that married rhythm and blues with country music. Between 1955 and 1964, he racked up 22 hits on the US R&B chart including the No.1s "Maybellene," "School Day," and "Sweet Little Sixteen." Berry's best-selling single was 1972's "My Ding-A-Ling," which topped both the Hot 100 and the UK singles chart.
In 2001, 65-year-old John Phillips of The Mamas and The Papas died of heart failure. Born in North Carolina, Phillips was the folk-rock group's principal arranger and songwriter, co-authoring their iconic hit "California Dreamin'." He also wrote Scott McKenzie's 1967 UK chart-topper "San Francisco (Be Sure to Wear Flowers In Your Hair)" and was one of the main organizers of the Monterey Pop Festival.
In 1978, The Gibb brothers claimed the Top 3 spots on the Billboard Hot 100. The Bee Gees' single "Night Fever" was at No.1 while their younger brother, Andy Gibb, occupied the No. 2 spot with "'(Love Is) Thicker Than Water," which he'd co-written with elder brother Barry. In the No.3 position was Samantha Sang's "Emotion," written and produced by The Bee Gees.
In 1989, the London-based production team Stock, Aitken, and Waterman had three singles in the UK Top 5: Jason Donovan's "Too Many Broken Hearts," Bananarama's "Help," and Donna Summer's "This Time I Know It's For Real." In their ten years together, the trio racked up more than 100 UK Top 40 hits.
In 2013, David Bowie's 25th album, The Next Day, became the UK's fastest-selling title of the year when it debuted at No.1 on the Official Charts. It was the 66-year-old singer's ninth chart-topping UK album and his first No.1 since 1993's Black Tie White Noise.
In 1967, the New Musical Express announced that ex-Spencer Davis Group member Steve Winwood was forming a new band called Traffic. In June of that year, the group debuted in the UK charts with the single "Paper Sun."
In 1972, Neil Young scored his sole No.1 hit on the Billboard Hot 100 with "Heart Of Gold." The song, which remained at the top for three weeks, was taken from the Canadian artist's fourth album, Harvest, which reached No.1 in both the US and UK.
Looking for more things that happened on this day in music?
Keep scrolling for all of the headlines for March 18.
BORN ON MARCH 18:
1938: Charley Pride
1941: Wilson Pickett
1945: Chuck E. Weiss
1959: Irene Cara
1961: Grant Hart (Hüsker Dü)
1963: Vanessa Williams
1966: Jerry Cantrell (Alice in Chains)
1970: Queen Latifah
1979: Adam Levine (Maroon 5)
1986: Lykke Li
Looking for more artists born on this day?
Keep scrolling for all of our March 18 birthdays.
---
What to find another day?
---
March 18th
18 Mar 2019
Slipknot announced that percussionist Chris Fehn has left the band after he launched legal action against the group over a financial dispute. Fehn had been a member since 1998, and had the lineup number of 3. Fehn accused band leaders Corey Taylor and Shawn Crahan of "shady business dealings," and had demanded "full forensic accounting" with a view to recovering profits and damages.
18 Mar 2017
Chuck Berry
died aged 90. The American guitarist, singer and songwriter was one of the pioneers of rock and roll music. With songs such as 'Maybellene' (1955), 'Roll Over Beethoven' (1956), 'Rock and Roll Music' (1957) and 'Johnny B. Goode' (1958), Berry refined and developed rhythm and blues into the major elements that made rock and roll distinctive.
18 Mar 2014
American musician, percussionist, actor and voice actor Joe Lala died from complications of lung cancer at the age of 66. As a drummer and percussionist, he worked with The Byrds, Crosby, Stills, Nash & Young, Manassas, The
Bee Gees
,
Whitney Houston
, Joe Walsh, Andy Gibb and many others. He played the trademark congas that drove the
Bee Gees
' 1976 US chart-topper 'You Should Be Dancing', subsequently included on the multi-million selling Saturday Night Fever soundtrack.
18 Mar 2013
David Bowie
's first album in a decade become the fastest-selling of the year, hitting the No.1 spot in the UK in its first week of release. Bowie took great pains to keep the recording of the album secret, requiring people involved in the recording to sign NDAs. Bowie had to change recording studios after one day when someone at the studio leaked the rumour that he was recording there. The Next Day was the 66-year-old's first No.1 since 1993's Black Tie White Noise and sold 94,000 copies in the first week.
18 Mar 2011
Jet Harris, bass guitarist for The Shadows, died from throat cancer at the age of 71. Jet played on the hit 'Apache' and during their days as Cliff Richard's backing band, performed on the chart-topper 'Living Doll'. In 1962 he left the group and had solo hits with 'Besame Mucho' and 'The Man With The Golden Arm'.
18 Mar 2011
Organisers of an attempt to reunite 19 people who watched
The Beatles
play in a town hall in 1963 had claims from 24 people who said they were there. Billy Shanks was helping to lead the search for the audience members of the gig in Dingwall, Ross-shire, Scotland in 1963. He said some who turned up thought the music was rubbish and left to join an audience of 1,200 watching a local band in nearby Strathpeffer.
18 Mar 2008
Heather Mills' evidence in her divorce case with Sir
Paul McCartney
was 'inconsistent, inaccurate' and 'less than candid', according to judge Mr Justice Bennett's. His High Court ruling was revealed in full after Ms Mills was told she could not appeal against its publication. The full ruling was published a day after she was awarded £24.3m at the High Court in London. Mills was awarded £3.2m per year for herself and the couple's daughter Beatrice, £8m for a home in London and £3m to purchase a home in New York. The judge found the total value of Sir Paul's assets was about £400m. Ms Mills had sought £125m and been offered £15.8m.
18 Mar 2004
Courtney Love exposed her breasts during an appearance on David Letterman's TV talk show. The singer who had her back to the audience flashed at the presenter while singing the song Danny Boy. After the show, she went on to perform a surprise gig at the Plaid night-club in Manhattan where she was alleged to have injured a man by throwing a microphone stand into the crowd. Ms Love was charged with assault and reckless endangerment.
18 Mar 2002
Ramones
were inducted into the Rock and Roll Hall of Fame by Eddie Vedder, lead singer of
Pearl Jam
and close friend of the
Ramones
. The ceremony took place at the Waldorf Astoria Hotel in New York City.
18 Mar 2001
American singer, guitarist, and songwriter John Phillips of Mamas and The Papas died of heart failure aged 65. His first band, The Journeymen, were a folk trio, Mamas and The Papas had the US No.1 'Monday, Monday'. Phillips was married to Michelle Gilliam, they had one child together, Chynna Phillips, vocalist of the 1990s pop trio Wilson Phillips. His second solo album was released on
Rolling Stones
records and featured
Mick Jagger
,
Keith Richards
, Mick Taylor and
Ronnie Wood
.
18 Mar 2001
Tragedy struck at an in-store appearance by British boy band A1 in the Indonesian capital of Jakarta after a stampede amongst the fans. Four girls were killed and two others were seriously injured.
18 Mar 1991
After attending an in-store promo appearance
U2
were fined £500 ($850) after being found guilty of selling condoms illegally at the Virgin Megastore, Dublin.
18 Mar 1989
A radio station in California arranged to have all it's Cat Stevens records destroyed by having a steamroller run over them in protest of the singer's support of Iranian politician Ayatollah Khomeni.
18 Mar 1989
Stock, Aitken and Waterman had three singles in the UK Top 5: Jason Donovan's 'Too Many Broken Hearts', Bananarama's 'Help', and Donna Summer's 'This Time I Know Its For Real.' SAW are considered to be one of the most successful songwriting and producing partnerships of all time, scoring more than 100 UK top 40 hits.
18 Mar 1978
The
Bee Gees
had the Top 3 on the US singles charts, 'Night Fever' at No.1, '(Love is) Thicker Than Water', by brother Andy at No.2, co-written by Barry Gibb and 'Emotion' by Samantha Sang written and produced by The
Bee Gees
at No.3.
18 Mar 1977
The Clash
released their debut single 'White Riot.' The song is in the typical punk style of three chords played very fast. Mick Jones counts off '1-2-3-4' at the start of the album version while the single version begins with the sound of a police siren instead.
18 Mar 1972
Neil Young
started a three week run at No.1 on the US singles chart with 'Heart Of Gold'. Released from the 1972 album Harvest, it is so far Young's only US No. 1 single. The song features backup vocals by James Taylor and Linda Ronstadt.
18 Mar 1972
Paul Simon
scored his first solo No.1 album when his self-titled debut went to the top on the UK charts. Featuring the singles 'Mother And Child Reunion' and 'Me And Julio Down By The School Yard.'
18 Mar 1972
T Rex
played the first of two sold out nights at Wembley's Empire Pool;
Ringo Starr
filmed the shows for the 'Born To Boogie' Apple documentary.
18 Mar 1967
The UK music magazine New Musical Express announced that former Spencer Davis Group member Steve Winwood was planning to form a new group with Jim Capaldi, Chris Wood and Dave Mason. The ensemble would choose the name Traffic.
18 Mar 1967
The Beatles
scored their 13th US No.1 single with 'Penny Lane / Strawberry Fields Forever'. The song's title is derived from the name of a street near Lennon's house, in Liverpool. McCartney and Lennon would meet at Penny Lane junction in the Mossley Hill area to catch a bus into the centre of the city.
18 Mar 1965
The
Rolling Stones
were each fined £5 ($8.50) for urinating in a public place, following an incident that had taken place at a petrol station after a gig at the ABC Theatre in Romford, Essex, England. This was after the last show on their fifth UK package tour with The Hollies, The Konrads, all girl-group Goldie and the Gingerbreads and Dave Berry and the Cruisers.
18 Mar 1965
The groundbreaking Motortown Revue landed at the Finsbury Park Astoria, London, England on the first night of a package tour that took them around the UK visiting 21 theatres for two shows a night, plus a live TV special. Topping the bill was
Smokey Robinson
and the Miracles,
Supremes
, Martha & The Vandellas, and 14 year-old Little
Stevie Wonder
all backed by the legendary Funk Brothers.
Born on this day in music
18 Mar 1986
Lykke Li, Swedish indie pop singer-songwriter. She also worked with Norwegian electronic duo Röyksopp on their 2009 album, Junior, and David Lynch among others.
18 Mar 1985
Marvin Humes, singer, with English boy band JLS, runners-up of the fifth series of The
X Factor
. Their first two singles 'Beat Again' and 'Everybody in Love' both went to No.1 on the UK singles chart.
18 Mar 1979
Adam Levine, guitar, vocals, Maroon 5, who had the 2004 UK No.1 album 'Songs About Jane', the 2004 US No.1 & UK No.4 single 'She Will Be Loved' and the 2014 US No.1 album V.
18 Mar 1974
Stuart Zender, English bassist with Jamiroquai who had the 1993 UK No.1 album Emergency on Planet Earth and the 1998 UK No.1 single 'Deeper Underground'. Jamiroquai have sold more than 26 million albums worldwide and won a Grammy Award in 1998.
18 Mar 1970
American rapper, songwriter and singer,
Queen
Latifah. Her third album Black Reign (1993), spawned the single 'U.N.I.T.Y.', which won a Grammy Award and was successful on the Billboard Hot 100.
18 Mar 1967
English singer, songwriter and guitarist Miki Berenyi who was a member of the alternative rock band Lush who had the 1996 UK No.21 single 'Single Girl'.
18 Mar 1966
American musician Jerry Cantrell who is best known as the founder, lead guitarist, co-lead vocalist and main songwriter for the rock band Alice in Chains. Cantrell had small roles in the films Jerry Maguire (1996) and Rock Slyde (2009).
18 Mar 1964
Multi-instrumentalist, Courtney Pine, British jazz musician from the black British band the Jazz Warriors. Pine has also worked with Charlie Watts, Mica Paris, and is a composer of film and TV music.
18 Mar 1963
American actress, singer, and fashion designer Vanessa Williams who spent five weeks at No.1 on the US charts in 1992 with her single 'Save The Best To Last'. She was the first African-American recipient of the Miss America title when she was crowned Miss America in 1983.
18 Mar 1961
American musician Grant Hart, best known as the drummer and co-songwriter for the alternative rock and hardcore punk band Husker Du. After the band's breakup in 1988, he formed the alternative rock trio Nova Mob. Hart died on September 13, 2017 from liver cancer and Hepatitis C age 56.
18 Mar 1959
Irene Cara, American singer, songwriter, dancer and actress who had the 1982 UK No.1 & US No. 4 single, 'Fame' & 1983 US No.1 & UK No.2 single 'Flashdance...What A Feeling'. Cara played Coco Hernandez in Fame.
18 Mar 1952
Bernie Torme, Irish rock guitarist, singer, songwriter, best known for his work with Gillan, and brief stints with
Ozzy Osbourne
's backing band and Atomic Rooster. He died on 17 March 2019, a day before he would have turned 67.
18 Mar 1950
American drummer John Hartman who was a co-founder and original drummer with The Doobie Brothers. They had the 1979 US No.1 single 'What A Fool Believes', and the 1993 UK No.7 single 'Long Train Runnin'. The group has sold more than 40 million albums worldwide throughout its career.
18 Mar 1947
Barry J Wilson, drums, Procol Harum, who had the 1967 UK No.1 & US No.5 single
'A Whiter Shade Of Pale'
. Wilson died after spending several months in a coma following a car accident on October 8 1990, he was 43.
18 Mar 1945
American songwriter and vocalist Chuck E. Weiss. He was the subject of Rickie Lee Jones's hit song 'Chuck E.'s In Love', from her 1979 debut album. At the time, Jones was linked romantically to Tom Waits. All three lived in the Tropicana Hotel in Los Angeles. Weiss died from cancer age 76 on 20 July 2021.
18 Mar 1945
Scottish songwriter, lyricist, vocalist, producer, pianist, and co-creator of The Alan Parsons Project Eric Woolfson. He wrote songs for Marianne Faithfull, Frank Ifield, The Tremeloes, Marmalade, Dave Berry, and Peter Noone. Following the 10 successful albums he made with Alan Parsons, he sold over 50 million albums worldwide. Woolfson died on 2 December 2009 from kidney cancer age 64.
18 Mar 1943
Dennis Linde, best known for writing the 1972
Elvis Presley
hit, 'Burning Love'. Linde wrote numerous hit songs for mainly country music singers. In 2000, his song for the Dixie Chicks, 'Goodbye Earl', stirred some controversy for its take on spousal abuse. He died at Vanderbilt University Medical Center on December 22, 2006 aged 63.
18 Mar 1941
American singer and songwriter Wilson Pickett, who recorded over 50 songs which made the US R&B charts, many of which crossed over to the Billboard Hot 100. Among his best-known hits are 'In the Midnight Hour' (which he co-wrote), 'Land of 1,000 Dances', 'Mustang Sally', and 'Funky Broadway'. Pickett died of a heart attack on 19 Jan 2006 aged 64.
18 Mar 1938
American singer Charley Pride who has had thirty-nine No.1 hits on the Billboard Hot Country Songs charts. His greatest success came in the 1970s, when he became the best-selling performer for RCA Records since
Elvis Presley
. Pride became the first Black country musician to be inducted into the Grand Ole Opry. He died on 12 Dec 2020 age 86.
18 Mar 1936
Robert Lee Smith, from the American vocal group The Tams who had the 1964 US hit 'What Kind of Fool (Do You Think I Am)' and the 1971 UK No.1 single 'Hey Girl Don't Bother Me'. The group took their name from the Tam O'Shanter hats they wore on stage.