March 19th: The Biggest Music Headlines
Scroll down the page to see all the music headlines, stories, and events for March 19 throughout music history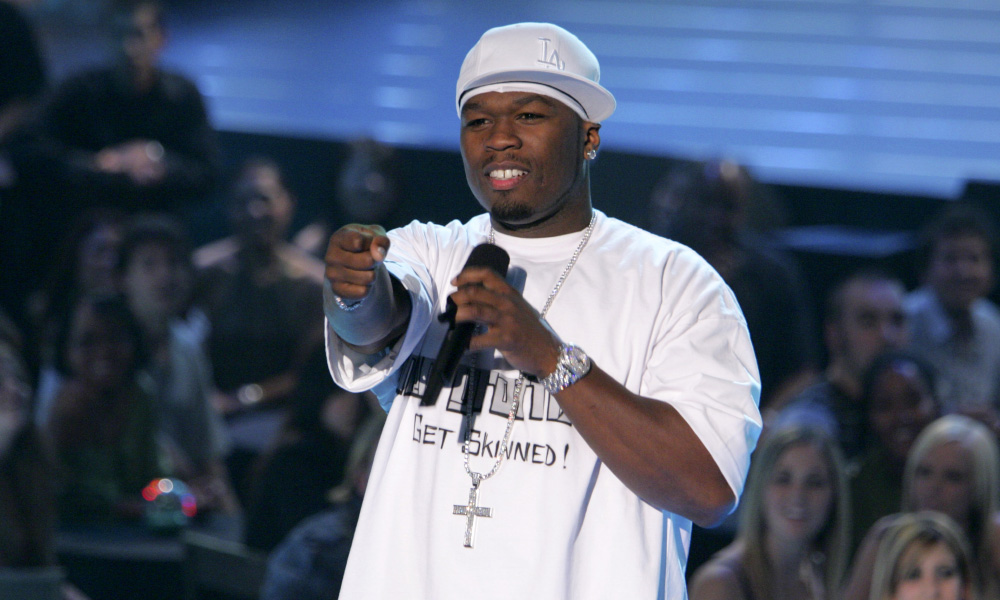 50 Cent Breaks US Singles Chart Record
On this day in music, March 19, 2005, rapper 50 Cent wrote himself into the history books by becoming the first solo artist to have three singles in the US Top 5 at the same time. His song "Candy Shop" – from his second album, the multi-platinum The Massacre – bagged the No.1 slot while at No. 4 was "How We Do" by fellow rapper, The Game, which he had a guest spot on. At No. 5 was another track from The Massacre: "Disco Inferno," not to be confused with The Trammps' 70s dancefloor anthem.
In 2018, Drake smashed first-day streaming records on both Apple Music and Spotify with the single "God's Plan," his fourth US No.1 and the first single from his fifth studio album, Scorpion. The hit, which topped the charts in 14 countries around the globe, was the most-streamed song of 2018.
In 2015, Ed Sheeran's second album x (aka multiply) equaled a feat held by Adele, Emeli Sandé, Take That, and Michael Bublé during the same decade by racking up two million UK sales. The album stayed at No.1 in the UK for 12 weeks and went on to spend 74 consecutive weeks in the Top 10, surpassing the 71-week record held by Adele's 21.
In 1982, Randy Rhoads – a founding member of Quiet Riot and guitarist with Ozzy Osbourne, died in a plane crash. While he was only 25 at the time of his death, Rhoads was considered to be one of metal's most innovative musicians, who popularized a variety of techniques, including two-handed tapping and dive bombs.
In 2006, Colombian pop singer Shakira became the first artist to release a single in the form of an exclusive cell phone download. The track was "Hips Don't Lie," which later went on general release and shot to No.1. It became the most-played pop song during a single week in US radio history, racking up 9,637 plays in seven days.
1962, Bob Dylan's self-titled debut album was released in the US by Columbia Records. Produced by the legendary John Hammond – who discovered Billie Holiday, Aretha Franklin, and Bruce Springsteen – it was largely ignored on its release. Its disappointing sales saw Columbia executives describe it as "Hammond's Folly."
Looking for more things that happened on this day in music?
Keep scrolling for all of the headlines for March 19.
BORN ON MARCH 19:
1928: Clarence Paul (Producer)
1944: Tom Constanten (Grateful Dead)
1946: Ruth Pointer (The Pointer Sisters)
1953: Billy Sheehan (Mr. Big)
1953: Ricky Wilson (The B-52's)
1959: Terry Hall (The Specials)
Looking for more artists born on this day?
Keep scrolling for all of our March 19 birthdays.
---
What to find another day?
---
March 19th
19 Mar 2018
Drake
was at No.1 on the US singles chart with 'God's Plan'. The lead single from his fifth studio album, Scorpion, topped the Hot 100 for 11 weeks and spent 26 weeks in the top ten. The song broke first-day streaming records on both Apple Music and Spotify and topped the charts in fourteen countries.
19 Mar 2016
I Like It When You Sleep, for You Are So Beautiful Yet So Unaware of It the second studio album by The 1975 went to No.1 on the US chart becoming the album with the longest title of a Billboard No.1 album with 71 characters.
19 Mar 2015
Ed Sheeran
sold the two millionth copy of his second album, X, (pronounced multiply), in the UK, nine months after it was released. He became only the fifth artist to achieve the feat this decade, following in the footsteps of
Adele
, Emeli Sande,
Take That
and Michael Buble.
19 Mar 2009
Eighties pop fan Justine Thompson was ordered to pay more than £1,040 for repeatedly playing
The Cure's
'Boys Don't Cry' at full blast. Thompson aged 31, had also belted out 'Geno' by Dexy's Midnight Runners and
The Smiths
'This Charming Man' so loudly it shook flats around her home in Brighton, a court heard. City magistrates found her guilty of ignoring a noise abatement notice.
19 Mar 2007
US soul singer Luther Ingram died from a heart attack at the age of 69. Ingram scored the 1972 US No.2 hit '(If Loving You Is Wrong) I Don't Want to Be Right' and wrote the Staple Singers' hit 'Respect Yourself'.
19 Mar 2006
Shakira was set to become the first pop star to release a single only in the form of a mobile download. The singer's forthcoming release 'Hips Don't Lie' would not be issued in the US as a CD or as a download via the internet but would be available to phone users connected to Verizon.
19 Mar 2005
50 Cent became the first solo artist to have three singles in the US Top 5. 'Candy Shop' was at No.1 with 'How We Do' by The Game, (a member of his G-Unit group) at No.4 and 'Disco Inferno' at No.5.
19 Mar 2001
Former
Spice Girl
Geri Halliwell's London home was broken into. The intruder left obscene notes on the walls, stole the singer's computer and Hi Fi and had thrown milk and Ribena fruit drink on the walls. They also stole a necklace that used to belong to actress Liz Taylor.
19 Mar 2001
Keith Richards
inducted Johnnie Johnson and James Burton at the 16th annual Rock & Roll Hall of Fame award ceremonies at the Waldorf Astoria in New York City. Richards also took part in the closing jam with
Bono
,
Paul Simon
, Kid Rock, Solomon Burke, Robbie Robertson and others.
19 Mar 1996
The second Beatles Anthology series was released. The album featured 'Real Love', a track the remaining members of the Beatles recorded using an old demo track of
John Lennon
's. The song was first recorded by Lennon in 1977 with a handheld tape recorder on his piano at home. It originated as part of an unfinished stage play that Lennon was working on at the time entitled 'The Ballad of John and Yoko.'
19 Mar 1988
Michael Jackson
began construction on his 2,800-acre ranch and private amusement park in Santa Barbara, California, which he named "Neverland" after a fantasy location in his favorite book, Peter Pan, a place where children never grow up.
19 Mar 1982
Ozzy Osbourne
guitarist and former Quiet Riot member Randy Rhoads was killed when the plane he was riding in crashed. After driving much of the night, the band had stopped near a small airstrip. The tour bus driver, Andrew Aycock, talked the band's keyboardist, Don Airey, into taking a test flight in a '55 Beechcraft Bonanza, the joyride ended, and the plane landed safely. Then Aycock took Rhoads and Rachel Youngblood on another flight and attempts were made to 'buzz' the tour bus. The left wing clipped the bus, which sent the plane spiralling into a nearby house and bursting into flames. All three bodies were burned beyond recognition, and were identified by dental records.
19 Mar 1976
Paul Kossof guitarist with
Free
and Back Street Crawler died aged 25, of heart failure during a flight from Los Angeles to New York, (Kossof had a long history of drug abuse). Free had the 1970 UK No.2 & US No.4 single '
All Right Now
'. His first band was Black Cat Bones alongside drummer Simon Kirke, (later of Free), and Kossof formed Back Street Crawler after leaving Free.
19 Mar 1975
Led Zeppelin
played the first of two sold-out nights at the Pacific Coliseum in Vancouver, Canada. Tickets cost $7.50. The set list included: 'Rock And Roll', '
Stairway To Heaven
', 'Whole Lotta Love', 'Black Dog' and 'Heartbreaker'.
19 Mar 1974
Jefferson Airplane re-named the group and became Jefferson Starship. The new line-up included Paul Kantner, Grace Slick, drummer Johnny Barbata, David Freiberg, Peter Kaukonen, Cragi Chaquico and Papa John Creach.
19 Mar 1971
T Rex
were at No.1 on the UK singles chart with 'Hot Love.' The group's first of four UK No.1's spent six weeks at the top of the charts. The two performances of the song in March 1971 on Top of the Pops, which saw Bolan dressed for the first time on television in shiny satin stagewear and glittery make-up were a crucial trigger for the glam rock movement.
19 Mar 1965
The Tailor And Cutter Magazine ran an article asking The
Rolling Stones
to start wearing ties. The current fashion did not include wearing ties with shirts and many tie-makers were facing financial disaster.
Mick Jagger
said of the appeal, 'The trouble with a tie is that it could dangle in the soup. It is also something extra to which a fan can hang when you are trying to get in and out of a theatre.'
19 Mar 1964
UK Prime Minister Harold Wilson presented
The Beatles
with their awards for show business personalities of the year for 1963 at London's Dorchester Hotel.
19 Mar 1962
Bob Dylan
's debut album
Bob Dylan
was released in the Untied States. Initially poor sales led the record to be known around Columbia Records as 'Hammond's Folly' (John Hammond was producer of Dylan's early recordings and the man responsible for signing Dylan). The album was praised by the New York City weekly newspaper Village Voice as an 'explosive country blues debut', but featured only two Dylan original compositions, 'Talkin' New York' and 'Song To Woody', the rest being old folk standards.
Born on this day in music
19 Mar 1971
Jack Bessant, bassist with English band Reef who had the 1996 UK No. 6 single 'Place Your Hands' and the 1997 UK No.1 album 'Glow'.
19 Mar 1959
Terry Hall, English musician and the lead singer of The Specials, and formerly of Fun Boy Three. The Specials, had the 1981 UK No.1 single 'Ghost Town' and with Fun Boy Three had the 1982 UK No.4 single 'It Ain't What You Do It's The Way That You Do It' with Bananarama. Hall was also a member of Colour Field who had the 1985 UK No.12 single 'Thinking Of You'. Hall died on 18 December 2022 from pancreatic cancer at the age of 63.
19 Mar 1959
American pianist, musician, composer Anthony Marinelli who performed on the synthesizer for albums including
Michael Jackson
's
Thriller
and has also worked with Lionel Richie, Kenny Loggins, Herb Alpert, Supertramp, The Crystal Method, Billy Childs and
James Brown
. Marinelli has also scored many film soundtracks.
19 Mar 1955
American actor, producer, and singer Bruce Willis who scored the 1987 hit single with his versions of 'Under The Boardwalk' and 'Respect Yourself,' (a duet with June Pointer), both of which were taken from his debut album The Return of Bruno.
19 Mar 1953
Ricky Wilson, guitarist, with the American new wave band The B-52's. Best known for their 1978 debut single 'Rock Lobster and the 1990 UK No.2 & US No.3 single 'Love Shack'. Wilson died on October 12th 1985 aged 32.
19 Mar 1953
Billy Sheehan, bass guitarist, with American hard rock supergroup Mr. Big, who had the 1992 US No.1 & UK No.3 single 'To Be With You'. Also worked with Steve Vai and David Lee Roth.
19 Mar 1952
Derek Longmuir, Scottish drummer and a founding member of the 1970s pop group, Bay City Rollers who had the 1975 UK No.1 single 'Bye Bye Baby' plus 11 other UK Top 20 singles' and the 1976 US No.1 single 'Saturday Night'.
19 Mar 1946
Paul Atkinson, guitarist with The Zombies who had four US hits, 'She's Not There', 'Tell Her No', 'She's Coming Home', and 'Time of the Season'. He later became an A&R executive, working for Columbia and RCA, discovering and signing such bands as
ABBA
, Bruce Hornsby, Mr. Mister, Judas Priest, and Michael Penn. Atkinson died on 1st April 2004 aged 58.
19 Mar 1946
Ruth Pointer with American R&B singing group The Pointer Sisters who had the 1981 US No.2 single, 'Slow Hand' and the 1984 UK No.2 single 'Automatic'. The Pointer Sisters have won three Grammy Awards and had 13 US top 20 hits between 1973 and 1985.
19 Mar 1944
American keyboardist Tom Constanten who is best known for playing with the
Grateful Dead
from 1968 to 1970.
19 Mar 1928
American songwriter, record producer and singer Clarence Paul best known for his career with
Motown
Records. He was
Stevie Wonder
's mentor and main producer during Wonder's teenage years and also produced early Temptations records.