March 22nd: The Biggest Music Headlines
Scroll down the page to see all the music headlines, stories, and events for March 22 throughout music history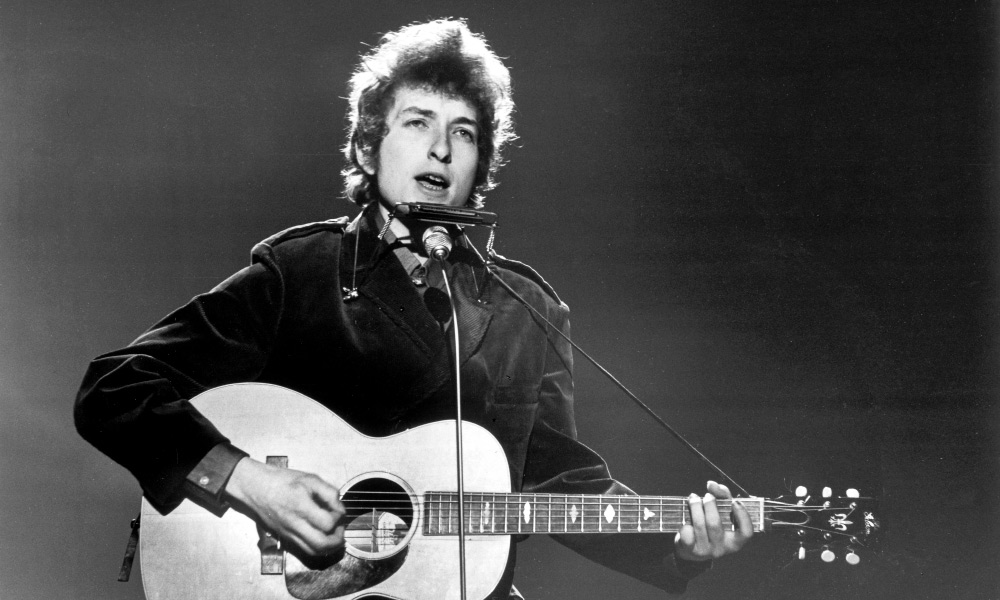 Bob Dylan Releases His Commercial Breakthrough, 'Bringing It All Back Home'
On this day in music, March 22, 1965, Bob Dylan released his influential fifth studio album, Bringing It All Back Home. Featuring a blend of acoustic and rock-forward electric tracks, Bringing It All Back Home found Dylan distancing himself from his folk roots. The shift worked in his favor, however, as the broadly acclaimed album became the singer-songwriter's commercial breakthrough, landing in the US Top Ten and hitting No.1 in the UK. Single "Subterranean Homesick Blues," meanwhile, was Dylan's first Top 40 hit in the US and first Top 10 hit in the UK.
In 1980, The Jam scored their first of four UK No.1 hits with the non-album double A-side single, "Going Underground" / "Dreams Of Children." It was the London trio's tenth single release and the first record of 1980 to debut at No.1 in the UK singles chart. Interestingly, "Dreams Of Children" was originally intended as the top side but a printing error at the record manufacturer saw both songs listed as the A-side.
In 2009, Lady Gaga began a three-week reign at the top of the UK singles chart with "Poker Face," the second single from her multi-platinum debut album, The Fame. It was a No.1 hit in over 20 countries and the follow-up to her chart-topping debut single, "Just Dance."
In 1965, The Temptations released their second album, Sing Smokey, which was comprised of songs written by their Motown labelmate, Smokey Robinson. On the tracklist was one of the group's biggest hits – and a soul classic – "My Girl."
In 1980, Pink Floyd began a four-week run at the top of the Billboard Hot 100 with "Another Brick In The Wall (Part 2)," taken from the band's rock opera The Wall. The track, which was the band's first UK single since 1968, also gave the band their only No.1 hit in Great Britain.
In 1992, British art-pop doyens Tears For Fears split up. The Bath-based duo, comprised of Roland Orzabal and Curt Smith, had an acrimonious falling-out that kept them apart for 12 years before reforming in 2004.
In 1978, The Police signed with A&M Records. Featuring singer/bassist Sting, guitarist Andy Summers, and drummer Stewart Copeland, the band went on to rack up 19 UK Top 40 hits for the label including the international chart-topper, "Every Breath You Take," in 1983.
Looking for more things that happened on this day in music?
Keep scrolling for all of the headlines for March 22.
BORN ON MARCH 22:
1936: Roger Whittaker
1943: George Benson
1948: Andrew Lloyd Webber
1957: Stephanie Mills
1958: Pete Wylie (Wah!)
1963: Susanne Sulley (The Human League)
1973: Beverley Knight
1981: Shawn Mims
1986: Amy Studt
Looking for more artists born on this day?
Keep scrolling for all of our March 22 birthdays.
---
What to find another day?
---
March 22nd
22 Mar 2023
American musician Tom Leadon died age 70. He was one of the founding members of Tom Petty's original band, Mudcrutch, and remained its guitarist following its revival in 2007. Leadon also played bass in Linda Ronstadt's band. He was the brother of Bernie Leadon, the former banjoist and guitarist of the Eagles.
22 Mar 2020
American-born, British-based folk recording artist Julie Felix died age 81. She had two UK Singles Chart hits in 1970, the first of several on the RAK label, produced by Mickie Most. The first was with the song entitled "If I Could (El Cóndor Pasa)", while the second, "Heaven is Here", was written by Errol Brown and Tony Wilson of Hot Chocolate.
22 Mar 2019
East 17 star Brian Harvey was taken to hospital and arrested after 'threatening self-harm' in a livestream video. Police were called to the star's East London home over concerns for his welfare and officers reportedly threatened to taser him in a tense stand-off. In a string of videos the singer spoke about his financial struggles, living on benefits and the government.
22 Mar 2016
American rapper Phife Dawg died in Contra Costa County, California, due to complications relating to diabetes at the age of 45. He was a member of the group A Tribe Called Quest and was also known as the 'Five Foot Assassin' and 'The Five Footer' because he stood at 5 feet 3 inches (1.60 m).
22 Mar 2016
Dave Grohl
leapt to the defence of a teenage heavy metal band from Cornwall, England, after their local council said they were too loud. The Black Leaves of Envy were told they would have to stop practising in a family garage after noise complaints from neighbours. Foo Fighters frontman Grohl penned an open letter to the authority after the band contacted him asking Cornwall Council to 'reconsider the restrictions'.
22 Mar 2009
Lady Gaga started a three week run at No.1 on the UK singles chart with 'Poker Face', her second UK chart topper and a No.1 hit in over 20 countries.
22 Mar 2005
Rod Price, former member of Black Cat Bones and a founding member of Foghat died after falling down a stairway at his home after suffering a heart attack. The 57 year old English guitarist played on Foghat's highest charting US single 'Slow Ride' a hit in 1976.
22 Mar 2004
A new book claimed that
Elvis Presley
's ancestors came from a small village called Lonmay in the North East of Scotland. Author Allan Morrison said he'd found evidence that Elvis's great-great-great-great-great-great grandfather was married in the village 300 years ago.
22 Mar 2001
American singer Earl T. Beal with The Silhouettes died. The doo wop/R&B groups single 'Get A Job' was a No.1 hit on the Billboard R&B singles chart and pop singles chart in 1958. The doo-wop revival group Sha Na Na derived their name from the song's lyrics. 'Get A Job' is included in the soundtracks of the film American Graffiti, Trading Places and Stand By Me. The Silhouettes performed in the 1986 movie Joey.
22 Mar 1997
Puff Daddy featuring Mase started a six week run at No.1 on the US singles chart with 'Can't Nobody Hold Me Down', his first US No.1, a No.19 hit in the UK.
22 Mar 1996
American steel guitar player Billy Williamson died aged 71. He was a member of
Bill Haley
and His Saddlemen, and its successor group
Bill Haley
& His Comets, from 1949 to 1963. Williamson had the distinction of being the only Comet allowed to record lead vocal tracks during Haley's tenure at Decca Records (such as the song 'Hide and Seek' on their 1956 album, Rock and Roll Stage Show and 'B.B. Betty' on the 1958
Bill Haley
's Chicks album.
22 Mar 1994
American musician, singer, songwriter and record producer Dan Hartman died aged 43 of a brain tumor in Westport, Connecticut. He was a member of the Edgar Winter Group and wrote the band's hit 'Free Ride.' As a solo artists he had the 1978 No.1 dance hit 'Instant Replay,' and wrote 'Relight My Fire' a UK No.1 for
Take That
and Lulu and also co-wrote The
James Brown
song 'Living in America.' Hartman collaborated with Tina Turner, Dusty Springfield, Joe Cocker, Bonnie Tyler, Paul Young, Living In A Box, Holly Johnson and Steve Winwood.
22 Mar 1992
Polygram Records officially announced that Tears For Fears had split up, Roland Orzabal continued using the name Tears For Fears. During their career they scored 15 UK Top 40 singles and two US No.1's. Re-formed in 2004.
22 Mar 1986
American singer Mark Dinning died from a heart attack aged 52. He scored the 1959 US No.1 hit 'Teen Angel'. The song which is about a girl and her boyfriend whose car stalled on a railroad track in the path of an oncoming train was initially banned by many radio stations that considered it too sad.
22 Mar 1984
Queen
filmed the video for 'I Want To Break Free' at Limehouse Studio in London, England. Directed by David Mallet, it was a parody of the northern British soap opera Coronation Street with the band members dressed in drag. Guitarist Brian May later said the video ruined the band in America, and was initially banned by
MTV
in the US.
22 Mar 1980
Pink Floyd
's 'Another Brick In
The Wall
(Part 2)' started a four week run at No.1 on the US singles chart. The track, which was the group's only US chart topper, was also a No.1 in the UK, Germany, Australia, Italy and in many other countries around the world.
Pink Floyd
received a Grammy nomination for Best Performance by a Rock Duo or Group for the song, but lost to Bob Seger's 'Against The Wind.'
22 Mar 1980
The Jam
had their first UK No.1 with their tenth release, 'Going Underground / Dreams Of Children' the first single of the 80s to debut at No.1.
22 Mar 1978
The Police
signed to A&M Records. The band scored over 15 UK Top 40 hits with the label including the worldwide No.1 'Every Breath You Take.'
22 Mar 1975
Led Zeppelin
were enjoying a six-week run at No.1 on the US album chart with
Physical Graffiti
the group's fourth US No.1 album. On its first day of release in the US, the album shipped a million copies – no other album in the history of Atlantic records had generated so many sales.
Physical Graffiti
has now been certified 16 times Platinum by the Recording Industry Association of America (RIAA) for US sales in excess of 16 million copies.
22 Mar 1975
The tartan teen sensations Bay City Rollers were at No.1 on the UK singles chart with 'Bye Bye Baby', the group's first of two UK No.1's.
22 Mar 1974
The Eagles
released their third studio album On the Border the first Eagles album to feature guitarist Don Felder. Three singles were released from the album: 'Already Gone', 'James Dean' and 'Best of My Love'. A hidden message carved into the run out groove of some vinyl LPs reads: "He who hesitates is lunch".
22 Mar 1968
Tammy Wynette
recored her version of the Bobby Braddock and Curly Putman song 'D-I-V-O-R-C-E' which went on to top the Billboard Hot Country Singles chart in June of this year. 'D-I-V-O-R-C-E' is a woman's perspective on the impending collapse of her marriage. The lyrics begin with an old parenting trick of spelling out words mothers and fathers hope their young children will not understand.
22 Mar 1965
The
Temptations
released their second studio album Sing Smokey. As its name implies, it is composed entirely of songs written and produced by
Smokey Robinson
, and several other members of the Miracles as well. More importantly, it featured one of the well known
Motown
releases in its history 'My Girl'.
22 Mar 1965
Bob Dylan
released his fifth studio album Bringing It All Back Home. The album was the first of Dylan's albums to break into the US top 10, and it also topped the UK charts later that Spring. The lead-off track, '
Subterranean Homesick Blues
' became Dylan's first single to chart in the US, peaking at No.39. The album's iconic cover, photographed by Daniel Kramer, features Sally Grossman, wife of Dylan's manager Albert Grossman, lounging in the background. The artefacts scattered around the room include vinyl LPs by The Impressions and Robert Johnson.
22 Mar 1956
While driving to New York for appearances on 'The Perry Como Show', and 'The Ed Sullivan Show', the car that Carl Perkins was traveling in was involved in an accident putting Perkins in hospital for several months. The singer received four broken ribs and a broken shoulder, his brother Jay was killed in the accident.
Born on this day in music
22 Mar 1986
English singer, songwriter Amy Studt, UK singer who had the 2003 UK No.4 single 'Misfit'.
22 Mar 1981
American hip hop recording artist Shawn Mims who had the 2007 US No.1 single 'This Is Why I'm Hot'.
22 Mar 1980
Shannon Bex, singer, with American girl group Danity Kane, (formed on the
MTV
reality show Making the Band 3). They became the first female group in Billboard history to debut their first two albums at the top of the charts.
22 Mar 1979
Aaron North, American guitarist who was the co-founder and guitarist of punk band The Icarus Line who joined Nine Inch Nails in 2005. He formed Jubilee in late 2007 and co-founded Buddyhead with Travis Keller in 1998.
22 Mar 1973
Beverley Knight, MBE, English singer, radio presenter and musical theatre actress who released her debut album, The B-Funk, in 1995. Knight is widely labelled as one of Britain's greatest soul singers, and is best known for her hit singles 'Greatest Day', 'Get Up!', and 'Shoulda Woulda Coulda'.
22 Mar 1970
Andreas Johnson, Swedish musician and songwriter who had the international 1999 hit single 'Glorious', which has been used in a number of advertisements from companies including Volvo, Nutella and Vauxhall.
22 Mar 1968
Mickey Dale, keyboards, from English alternative rock band Embrace, who had the 2006 UK No. 2 single 'Natures Law', the 2006 UK No.1 album This New Day and two other UK No.1 albums.
22 Mar 1963
Susanne Sulley, singer, The Human League. Formed in Sheffield, England in 1977 the group attained widespread commercial success with their third album Dare in 1981. The album contained four hit singles, including the UK/US No.1 hit 'Don't You Want Me'.
22 Mar 1958
English singer/songwriter and guitarist Pete Wylie who with Wah! had the 1982 UK No.3 single 'Story Of The Blues'. He began his career in 1977 with lead vocalist Ian McCulloch (Echo & the Bunnymen) and bassist Julian Cope, (Teardrop Explodes) with whom he formed the band Crucial Three.
22 Mar 1957
American Grammy award–winning singer, songwriter and Broadway stage actress Stephanie Mills, who had the 1980 UK No.4 & US No.6 single, 'Never Knew Love Like This Before'.
22 Mar 1953
British guitarist Robin Le Mesurier. He was known for his long collaborations with
Rod Stewart
and Johnny Hallyday, as well as for the wide-ranging nature of his musical performance, including membership of such bands as The Wombles. In September 2015, Le Mesurier joined Rod Stewart and
Rolling Stone
Ron Wood
for the
Faces
reunion. He died on 22 December 2021 age of 68.
22 Mar 1948
English composer and impresario of musical theatre Andrew Lloyd Webber. He has composed 13 musicals and several of his songs have been widely recorded and were hits; 'All I Ask of You' from The Phantom of the Opera, 'I Don't Know How to Love Him' from Jesus Christ Superstar, 'Don't Cry for Me, Argentina' from Evita, and 'Any Dream Will Do' from Joseph and the Amazing Technicolor Dreamcoat. Lloyd Webber was knighted in the 1992 Birthday Honours.
22 Mar 1948
Randy Hobbs, bass guitarist, Johnny Winter group, McCoys, (1965 US No.1 & UK No.5 single 'Hang On Sloopy'). Hobbs died on August 5th 1993 from a drug overdose, aged 45.
22 Mar 1947
Australian musician, songwriter and record producer Harry Vanda, The Easybeats who had the 1966 UK No.6 & US No.16 single 'Friday On My Mind'. After the band broke up in 1969, Vanda and fellow member George Young embarked on a songwriting career that saw the pair produce dozens of hits. They became two of Australia's best-known songwriters, with Young's work including 'Love Is In The Air' and 'Yesterday's Hero' both hits for John Paul Young.
22 Mar 1947
Patrick Olive, Hot Chocolate, who had the 1975 US No.3 single 'You Sexy Thing' the 1977 UK No.1 single 'So You Win Again' and over 25 other Top 40 hits.
22 Mar 1943
American musician, guitarist, and singer-songwriter George Benson. His album Breezin' was certified triple-platinum, hitting No. 1 on the Billboard album chart in 1976 and has since released over 30 albums.
22 Mar 1943
English musician Keith Relf, The Yardbirds who had the 1965 UK No.3 & US No.6 single 'For Your Love'. He also sang an early version of 'Dazed and Confused' in live Yardbirds concerts, a song later recorded by the band's successor group
Led Zeppelin
. Relf died aged 33 on May 14th 1976 when he was electrocuted in the basement of his home, while playing his improperly earthed (electrically grounded) guitar.
22 Mar 1936
Kenyan/British singer-songwriter and musician, Roger Whittaker who had the 1969 UK No.12 single 'Durham Town', and the 1975 UK No.2 & US No.19 single 'The Last Farewell'. He is best known for his baritone singing voice and trademark whistling ability. He died at a hospital near Toulouse on 13 September 2023, aged 87.