March 31st: The Biggest Music Headlines
Scroll down the page to see all the music headlines, stories, and events for March 31 throughout music history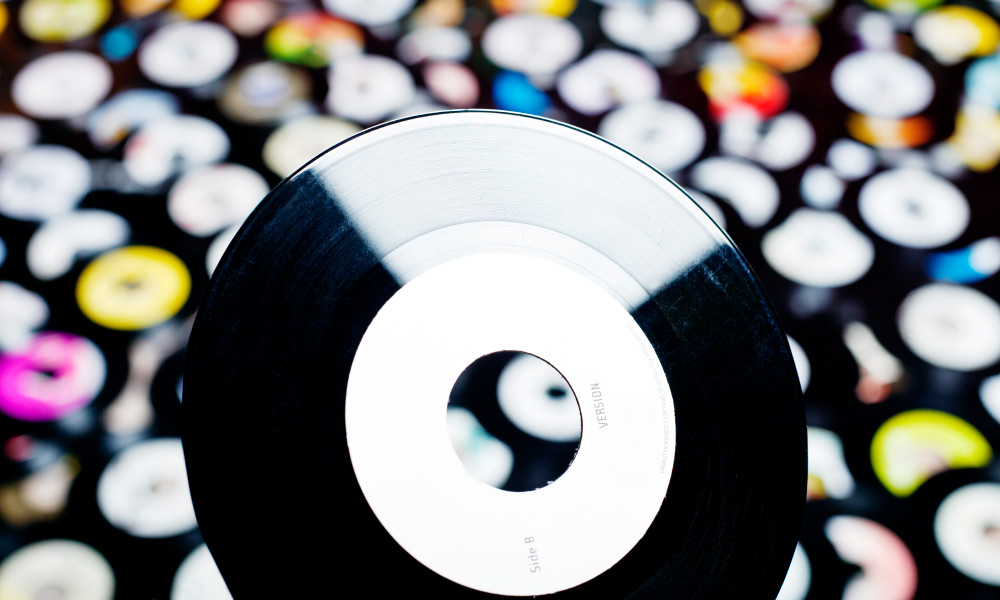 The 45 RPM Single Arrives
On this day in music, March 31, 1949, RCA Victor unveiled the 45 RPM single – an innovative and highly durable 7-inch format that aimed to supersede 78 RPM 10-inch shellac discs and also give the 33 ⅓ RPM 12-inch LP format (introduced by Columbia Records the previous year) some stiff competition. The development went hand-in-hand with a new generation of record players, which could stack up to ten singles at a time and play them continuously. The invention revolutionized the singles market and quickly became the most popular physical format for buying music until the 1980s.
In 2019, the prolific rapper and entrepreneur Nipsey Hussle was shot and killed in the parking lot of his Los Angeles store, Marathon Clothing. The 33-year-old artist, born Ermias Joseph Asghedom, was famed for his mixtapes and released his only album, the Grammy-nominated Victory Lap, in 2018.
In 1984, Kenny Loggins topped the Billboard Hot 100 with "Footloose," the theme song from the same-titled film starring Kevin Bacon. The energetic hit held the No.1 spot for three weeks and also reached the top position in Australia. A year later, Loggins enjoyed another soundtrack hit with "Danger Zone" from the Top Gun movie.
In 1967, Jimi Hendrix set his Fender Stratocaster guitar ablaze on stage for the first time. The act, which took place at London's Astoria theater, would be recreated several more times, including at the Monterrey Pop Festival later that year.
In 1958, Chuck Berry released one of his signature hits, "Johnny B. Goode." The song, which marks the earliest recording about rock'n'roll stardom, was a Top Ten hit on the Billboard Hot 100 and reached No.2 on the R&B chart. It was later ranked at No.7 on Rolling Stones' "500 Greatest Songs of All Time" list.
In 1960, skiffle singer Lonnie Donegan's "My Old Man's a Dustman," recorded live at the Gaumont cinema in Doncaster, debuted at No.1 on the UK singles chart – a feat previously accomplished only by Elvis Presley.
Looking for more things that happened on this day in music?
Keep scrolling for all of the headlines for March 31.
BORN ON MARCH 31:
1937: Herb Alpert (Band leader, record label executive)
1944: Mick Ralphs (Mott The Hoople, Bad Company)
1946: Al Nichol (The Turtles)
1947: Jon Poulos (The Buckinghams)
1955: Angus Young (AC/DC)
1984: Jack Antonoff (fun., Bleachers)
Looking for more artists born on this day?
Keep scrolling for all of our March 31 birthdays.
---
What to find another day?
---
March 31st
31 Mar 2020
American singer and writer Cristina died at age 61 after being diagnosed with coronavirus. The singer, whose full name was Cristina Monet-Zilkha, was known for dance-pop tunes such as 'Things Fall Apart', 'Disco Clone' and a cover of Peggy Lee's 'Is That All There Is?' that were emblematic of the 1980s underground New York scene.
31 Mar 2019
American rapper, songwriter Nipsey Hussle died age 33 after being shot multiple times in the parking lot of his store, Marathon Clothing, in South Los Angeles. Hussle initially became known for his numerous mixtapes, including his Bullets Ain't Got No Name series, The Marathon, The Marathon Continues and Crenshaw. His debut studio album Victory Lap was released in February 2018 to critical acclaim and commercial success and was nominated for Best Rap Album at the 61st Annual Grammy Awards in 2019.
31 Mar 2015
Joni Mitchell
was rushed to hospital after being found unconscious at her Los Angeles home. The singer songwriter was admitted to intensive care where she underwent tests. Los Angeles fire officials said paramedics had answered a 911 call in Bel Air, where Mitchell lives, and had taken a patient whom they did not identify to hospital.
31 Mar 2013
TV hosts Ant and Dec scored their first British No.1 single, with their 1994 hit 'Let's Get Ready to Rhumble'. The song made it to No.1 after the duo performed the track on their ITV1 show Saturday Night Takeaway the previous weekend, prompting fans to download it. The duo were also giving all the money they made from sales to the ChildLine charity.
31 Mar 2011
Australian band Men at Work lost an appeal against a ruling which found their 1983 hit single 'Down Under' was partly copied from a folk song. Australia's Federal Court upheld the decision which stated part of the song's melody came from the tune Kookaburra Sits in the Old Gum Tree. Record label EMI argued the writers did not plagiarise because the inclusion of two bars from the tune was a tribute.
31 Mar 2010
Cher's first child, Chaz Bono, asked a judge to formally change his name and gender following the sex change surgery he had last year. The 41-year-old, who was born Chastity Sun Bono, now wanted to be known as Chaz Salvatore according to a petition filed in Los Angeles. Salvatore was his father Sonny Bono's real first name.
31 Mar 2005
Rap record company boss Marion "Suge" Knight was ordered to pay $107m (£57m) to a woman who claimed she helped found Death Row label in 1989, one of hip-hop's top labels with artists including
Tupac Shakur
, Dr Dre and Snoop Dogg. Lydia Harris said she invested in Death Row but was pushed out by Mr Knight.
31 Mar 2002
Bee Gee Barry Gibb bought his childhood home in Keppel Road, Chorlton, Manchester. Gibb said he was going to clean the house up, rent it out and put a plaque on the wall.
31 Mar 2001
Whitney Houston
and husband Bobby Brown were banned for life from Hollywood's Bel Air hotel after wrecking their room. Hotel workers said a TV was smashed, two doors were ripped of their hinges and the walls and carpets were stained by alcohol. It was reported that Whitney called in her lawyers to plead with the hotel management not to call the police. The suite was so badly damaged it had to be shut for five days for repairs.
31 Mar 1995
Jimmy Page
escaped being knifed when a fan rushed the stage at a Page and Plant gig at Auburn Hills, Michigan. The fan was stopped by two security guards, who he knifes instead. After his arrest, he told police that he wanted to kill
Jimmy Page
because of the Satanic music he was playing.
31 Mar 1994
Madonna
appeared on The Late Show With David Letterman from New York City. The network had to delete 13 offending words from the interview before the show aired.
Madonna
also handed Letterman a pair of her panties and told him to sniff them. He declined and stuffed them into his desk drawer.
31 Mar 1992
Def Leppard
released their fifth studio album Adrenalize, the first by the band following the 1991 death of guitarist Steve Clark. Former Dio and Whitesnake guitarist Vivian Campbell, was brought in as the newest member in April 1992. He appears in all promotional videos for the album's singles (except 'Let's Get Rocked'), despite not playing on the album.
31 Mar 1990
German and Italian production team Snap! had their first UK No.1 single with 'The Power.' The track has been featured in many films including Coyote Ugly, Mighty Morphin Power Rangers, Bruce Almighty soundtrack and The Fisher King.
31 Mar 1986
O'Kelly Isley of The Isley Brothers died of a heart attack, aged 48. Had a hit in 1962 original version of 'Twist and Shout', (later covered by
The Beatles
) and the 1968 UK No.3 single 'This Old Heart Of Mine' and 1969 US No.2 single 'It's Your Thing'.
31 Mar 1984
Kenny Loggins started a three week run at No.1 on the US singles chart with 'Footloose', the theme from the film with the same name, a No.6 hit in the UK.
31 Mar 1976
The Brotherhood Of Man were at No.1 on the UK singles chart with the winning song of the Eurovision Song Contest 1976, 'Save Your Kisses For Me.' The group's first of three UK No.1's.
31 Mar 1976
Led Zeppelin
released Presence, their seventh studio album, on their own Swan Song Records in the UK. Presence has now been certified 3 times Platinum by the Recording Industry Association of America (RIAA) for US sales in excess of 3 million copies.
31 Mar 1972
31 Mar 1967
Jimi Hendrix
set fire to his guitar live on stage for the first time when he was appearing at The Astoria in London, England. It was the first night of a 24-date tour with The Walker Brothers, Cat Stevens and Engelbert Humperdink. The Fender Stratocaster burned on stage by Hendrix sold for £280,000 at a 2008 London auction of rock memorabilia.
31 Mar 1964
Filming for A Hard Day's Night,
The Beatles
played a 'live television performance' in front of a studio of screaming fans (one of those fans was
Phil Collins
). The four songs used in the film were 'Tell Me Why', 'I Should Have Known Better', 'And I Love Her', and 'She Loves You'.
31 Mar 1962
The Beatles
played their first gig in the South of England when they appeared at The Subscription Rooms, Stroud, on the same bill as The Rebel Rousers, tickets cost 5 shillings, ($0.70).
31 Mar 1960
Lonnie Donegan was at No.1 on the UK singles chart with 'My Old Man's A Dustman', his third No.1. Donegan became the first British artist to enter the UK chart at No.1, the only other artist to achieve this feat at this time was
Elvis Presley
. The song which was recorded live at the Gaumont cinema in Doncaster was a music hall novelty song.
31 Mar 1958
Chuck Berry
's rock 'n' roll classic 'Johnny B. Goode' single was released. It entered the US charts six weeks later and peaked at No.8 on the chart. The song's original lyrics referred to Johnny as a 'colored boy', but Berry later acknowledged that he changed it to 'country boy' to ensure radio play.
31 Mar 1957
Billed as the nation's only atomic powered singer,
Elvis Presley
played two shows (2pm and 6pm), at the Olympia in Detroit, Michigan in front of 24,000 fans.
31 Mar 1949
RCA Victor introduced the 45rpm single record, which had been in development since 1940. The 7-inch disc was designed to compete with the Long Playing record introduced by Columbia a year earlier. Both formats offered better fidelity and longer playing time than the 78rpm record that was currently in use. Advertisements for new record players boasted that with 45rpm records, the listener could hear up to ten records with speedy, silent, hardly noticeable changes.
Born on this day in music
31 Mar 1984
Jack Antonoff, American singer, musician of the indie pop band Fun who scored the 2012 US No.1 single 'We Are Young'. Antonoff worked with
Taylor Swift
on her album 1989 and has also worked with Lorde, St. Vincent, Florence and the Machine and Lana Del Rey.
31 Mar 1978
Tony Yayo, (Marvin Bernard), American rapper with G-Unit and solo who had the 2005 single 'So Seductive' feat. 50 Cent'. His stage name is derived from the 1983 film Scarface, referencing the main character Tony Montana, and Yayo, the slang word for cocaine.
31 Mar 1974
Stefan Olsdal, bassist with alternative rock band Placebo who had the 1997 UK No. 6 single 'Nancy Boy'.
31 Mar 1971
Julian Deane, from British alternative rock band, Toploader who had the 2000 UK No.7 single with of 'Dancing In The Moonlight' a cover of the French-American rock group King Harvest.
31 Mar 1958
Paul Ferguson, drummer from the British post-punk group Killing Joke who had the 1985 UK No.16 single 'Love Like Blood'.
31 Mar 1955
Angus Young, Scottish-born Australian guitarist with
AC/DC
, known for his energetic performances and schoolboy-uniform stage outfits. 1980 UK No.36 single 'Whole Lotta Rosie' and 1980 UK No.1 & US No.14 album Back In Black.
AC/DC
are the fifth-best-selling band in US history with over 70 million albums sold.
31 Mar 1954
British rock drummer Tony Brock, The Babys who had two hits on the US chart, 'Isn't It Time' (1977) and 'Everytime I Think of You' (1979). Brock has also worked with Rod Stewart,
Roy Orbison
, Jimmy Barnes and
Elton John
.
31 Mar 1953
Sean Hopper, keyboards with Huey Lewis and the News who had the 1985 UK No.11 & US No.1 single 'The Power Of Love'. Their third, and best-selling, album was the 1983 Sports, and they contributed to the soundtrack of the 1985 feature film Back to the Future.
31 Mar 1948
Thiis Van Leer, organ, flute, with Dutch rock band Focus who had the 1973 UK No.4 single 'Sylvia', and the 1973 US No. 9 single 'Hocus Pocus'.
31 Mar 1947
American singer Al Goodman from The Moments who had the 1970 US No. 3 single ' 'Love on a Two-Way Street'. For contractual reasons they changed their name to Ray, Goodman & Brown and had further hits, including 'Special Lady'.
31 Mar 1947
Jon Poulos, drummer with American Sunshine pop group The Buckinghams who had the 1967 US No.1 single 'Kind Of A Drag' and became one of the top selling US acts of 1967.
31 Mar 1946
Al Nichol, from the American rock The Turtles who had the US 1967 No.1 single 'Happy Together' and the 1967 hit 'She'd Rather Be with Me'.
31 Mar 1944
Rodney Bainbridge, bassist, from English harmony beat group The Fortunes, who had the 1965 UK No.2 & US No.7 single 'You've Got Your Troubles' and the hits 'Here It Comes Again and 'Storm in a Teacup'.
31 Mar 1944
English guitarist Mick Ralphs from
Mott The Hoople
, who had the 1972 UK No.3 & US No.37 single 'All The Young Dudes' which was written for them by
David Bowie
. Other hits include, 'All the Way from Memphis' and 'Roll Away the Stone'. He joined Bad Company who had the 1974 UK No.15 & US No.5 single 'Can't Get Enough'.
31 Mar 1942
American guitarist and session musician Hugh McCracken. He appeared on many recordings by Steely Dan, Donald Fagen,
Billy Joel
, Roland Kirk, Roberta Flack, B. B. King,
John Lennon
,
Paul McCartney
, The
Monkees
,
Paul Simon
,
Art Garfunkel
, James Taylor, Phoebe Snow,
Bob Dylan
, Carly Simon, Graham Parker, Eric Carmen, Loudon Wainwright III,
Aretha Franklin
, Van Morrison, The Four Seasons,
Hall and Oates
, Gary Wright and Andy Gibb. Because of such high demand for his work, McCracken declined
Paul McCartney
's invitation to help form his new band, Wings after appearing on his 1971 album Ram. McCracken died on 28 March 2013 of leukemia in New York City at the age of 70
31 Mar 1937
American jazz musician Herb Alpert, most associated with the group Herb Alpert & the Tijuana Brass. Alpert had the 1968 US No.1 & UK No.3 single 'This Guy's In Love With You' written by Burt Bacharach and Hal David. Alpert formed A&M Records with Jerry Moss, at first operating from his garage at home. Alpert and Moss sold A&M in 1987, to PolyGram Records for a reported $500 million.
31 Mar 1934
American singer and actress Shirley Jones who appeared in the well-known musical films Oklahoma! (1955), Carousel (1956). She played the lead role of Shirley Partridge, the widowed mother of five children, in the musical situation-comedy TV series The Partridge Family (1970–74), which co-starred her real-life stepson David Cassidy. The Partridge Family had the 1970 US No.1 single 'I Think I Love You', and the 1972 UK No.3 single 'Breaking Up Is Hard To Do'.