March 8th: The Biggest Music Headlines
Scroll down the page to see all the music headlines, stories, and events for March 8 throughout music history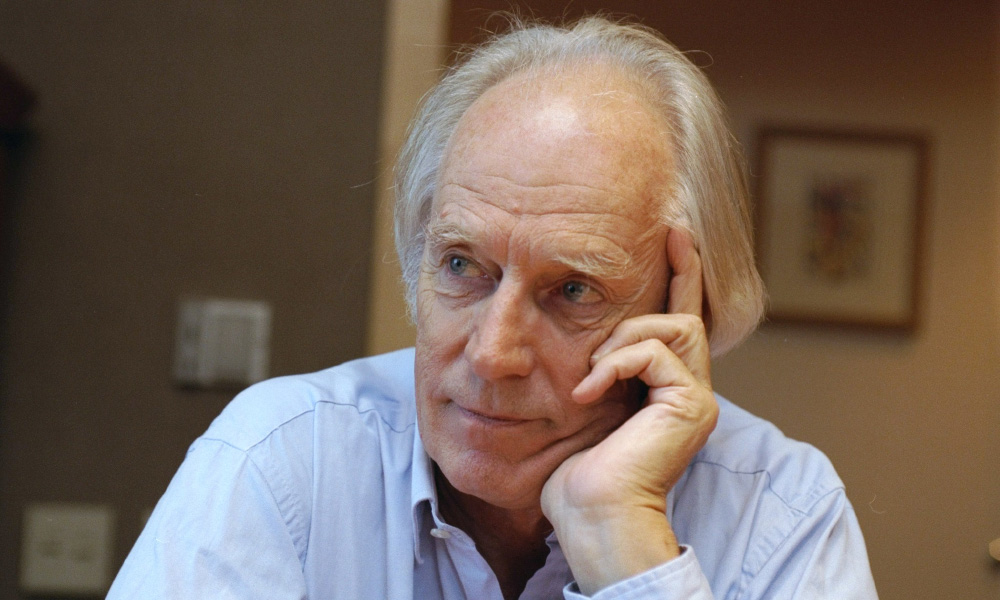 Sir George Martin Dies
In 2016, world-renowned record producer Sir George Martin died at the age of 90. In a career that spanned six decades, he worked with a variety of artists, from comedian Peter Sellers to country star Kenny Rogers, but is best remembered for his production work with The Beatles. Affectionately dubbed the "Fifth Beatle," he played a crucial role in helping the Liverpool group realize their aims in the recording studio, especially with sonically groundbreaking albums like Revolver and Sgt. Pepper's Lonely Hearts Club Band. Martin, who was knighted in 1996, also wrote movie scores, including the soundtrack to the 1973 James Bond movie, Live & Let Die (for which Paul McCartney wrote the title song, which Martin also produced and arranged).
In 1969, Small Faces split up when its co-founder, Steve Marriott, left to form the hard rock band Humble Pie. Responsible for co-writing Small Faces' 1966 chart-topper "All Or Nothing," Marriott left due to artistic differences but in 1976 joined a reformed version of the group with whom he recorded two further albums.
In 1986, Diana Ross topped the UK singles chart with "Chain Reaction," written by The Bee Gees. It was the former Supremes' second British No.1, coming fifteen years after her Motown single, "I'm Still Waiting," topped the hit parade.
In 1965, Bob Dylan scored his first Billboard Top 40 hit with "Subterranean Homesick Blues." One of his first electric recordings, the song was the lead track on the Minnesota singer/songwriter's fifth studio album, Bringing It All Back Home. It peaked at No.39 on the US Hot 100 but performed better in the UK, where it reached No.9. In 2021, Rolling Stone ranked it at 187 in their 500 Greatest Songs of All Time list.
In 2016, the long-running Australian rock band AC/DC postponed ten dates of their Rock Or Bust world tour to save singer Brian Johnson's hearing. The tour resumed in May 2016 with Guns N' Roses' Axl Rose as Johnson's replacement but the County Durham-born singer, who had taken over from the band's original singer Bon Scott in 1980, returned to the band in 2019.
In 1965, David Bowie made his debut TV performance with the blues band The Manish Boys, who took their name from a Muddy Waters song. The group performed their single "I Pity The Fool" on a BBC show called Gadzooks! It's All Happening.
Looking for more things that happened on this day in music?
Keep scrolling for all of the headlines for March 8.
BORN ON MARCH 8:
1945: Michael Dolenz (The Monkees)
1946: Randy Meisner (Poco, The Eagles)
1946: Carole Bayer Sager
1958: Gary Numan
1976: Gaz Coombes (Supergrass)
1979: Tom Chaplin (Keane)
1988: Eleanor Jackson (La Roux)
Looking for more artists born on this day?
Keep scrolling for all of our March 8 birthdays.
---
What to find another day?
---
March 8th
8 Mar 2021
American country music singer Morgan Wallen was at No.1 on the US album chart with his second studio album Dangerous: The Double Album. In March 2022, the album established the all-time record for the longest duration at the No.1 spot (98 weeks and counting) on Billboard's Country Albums chart.
8 Mar 2016
AC/DC
postponed the rest of their current US tour after singer Brian Johnson was warned he was going deaf. The band posted a statement on their website saying doctors had advised Johnson to stop touring immediately or risk total hearing loss.
8 Mar 2016
English record producer, arranger, composer, conductor, audio engineer and musician, Sir George Martin died aged 90. He worked as EMI records in-house record producer and became known as the so-called fifth Beatle. Martin produced all but one of
The Beatles
albums giving him 30 No.1 hit singles in the UK and 23 No.1 hits in the US. He also produced many other acts including: Matt Monro, Cilla Black, Gerry & The Pacemakers, Billy J. Kramer & the Dakotas, The Fourmost,
Jeff Beck
, Ultravox, Kenny Rogers, UFO, Cheap Trick,
Elton John
and
Celine Dion
. Martin received a Knighthood in 1996.
8 Mar 2009
A blue plaque in honour of
The Who
drummer
Keith Moon
was unveiled on the site of The
Marquee Club
in Soho, London, where in 1964 the band played the first of 29 gigs there. Fans on scooters turned up to pay tribute to Moon, who was 32 when he died of an accidental overdose in 1978. The blue plaque, which means the site is of historic importance, was awarded by the Heritage Foundation.
8 Mar 2008
China was set to impose stricter rules on foreign pop stars after Bjork caused controversy by shouting "Tibet, Tibet" at a Shanghai concert after a powerful performance of her song Declare Independence. Talk of Tibetan independence was considered taboo in China, which had ruled the territory since 1951. A spokesperson from the culture ministry said Bjork would be banned from performing in China if there was a repeat performance.
8 Mar 2003
Former
Dire Straits
frontman Mark Knopfler was injured when the Honda motorbike he was riding was involved in a collision with a Fiat Punto car. The 53-year-old singer and guitarist suffered a broken collar bone and six broken ribs in the accident which happened in London's smart Belgravia district in mid-morning traffic.
8 Mar 2003
Singer and actor Adam Faith died. He had the 1959 UK No.1 single 'What Do You Want', plus over 20 other UK Top 40 singles, and acting roles include the TV series 'Love Hurts.'
8 Mar 2001
It was reported that US manufactures Art Asylum planned to send over 100,000
Eminem
dolls to shops in the UK. The lifelike figure had the rapper's tattoos recreated in detail including the words 'Cut Here' on his neck.
8 Mar 1990
Cher won the worst dressed female, and worst video for 'If I Could Turn Back Time', in The Rolling Stone Magazine's awards, Donny Osmond won the most unwelcome comeback award.
8 Mar 1986
Diana Ross was at No.1 on the UK singles chart with the 'Chain Reaction.' Written and produced by The
Bee Gees
(who also provided the backing vocals for the single). The single became her first No.1 single in the UK since 'I'm Still Waiting' in 1971.
8 Mar 1973
Paul McCartney
was fined £100 ($170) for growing cannabis at his farm in Campbeltown, Scotland. McCartney claimed some fans gave the seeds to him and that he didn't know what they would grow.
8 Mar 1973
American singer and musician Ron McKernan died aged 27 from liver failure brought on by alcohol poisoning. He was a founding member and keyboard player with the
Grateful Dead
and played in the group from 1965 to 1972. Unlike the other members of the Grateful Dead, McKernan avoided psychedelic drugs, preferring to drink alcohol (namely whiskey and flavored fortified wine). By 1971, his health had been affected by alcoholism and liver damage and doctors advised him to stop touring.
8 Mar 1969
Small Faces
split up after singer Steve Marriott announced he was leaving the band to form Humble Pie. Small Faces scored the hit songs 'Itchycoo Park', 'Lazy Sunday', 'All or Nothing', and 'Tin Soldier', as well as their concept album Ogdens' Nut Gone Flake. Members Ronnie Lane, Ian McLagan and Kenny Jones linked up with
Ronnie Wood
and
Rod Stewart
and formed the
Faces
.
8 Mar 1968
Cream
played the first of two nights at at Winterland Ballroom, San Francisco, California. The concert was recorded with some tracks ending up on their 'Wheels Of Fire' double album.
8 Mar 1965
Bob Dylan
's single
Subterranean Homesick Blues
was released in the US. The lead track from his Bringing It All Back Home album, gave Dylan his first top 40 hit. Subterranean Homesick Blues is also noted for its innovative film clip, in what became one of the first 'modern' promotional film clips. The clip was shot in an alley behind the Savoy Hotel in London, the cue cards which Dylan holds were written by Donovan, Allen Ginsberg, and Dylan himself.
8 Mar 1965
David Bowie
made his TV debut with The Manish Boys on a UK program called 'Gadzooks! It's All Happening' when they performed their current single 'I Pity The Fool.'
8 Mar 1962
The Beatles
made their radio debut on the BBC's 'Teenagers Turn', (Here We Go), singing
Roy Orbison
's 'Dream Baby'. It was reportedly the first time The Beatles wore suits onstage.
Born on this day in music
8 Mar 1988
Eleanor Jackson, singer with La Roux who had the 2009 UK No.1 single 'Bulletproof'.
8 Mar 1979
Tom Chaplin singer, songwriter with UK group Keane who had the 2004 UK No.1 album 'Hopes And Fears' which was the second best-selling British album of the year.
8 Mar 1976
Gaz Coombes singer, songwriter with UK group Supergrass who had the 1995 UK No.2 single 'Alright'. Their 1995 UK No.1 album I Should Coco spent 35 weeks on the UK chart. He first entered the music scene aged sixteen as the lead singer of the band The Jennifers.
8 Mar 1968
Shawn Mullins, US male singer, songwriter who had the 1999 UK No.9 single 'Lullaby'.
8 Mar 1964
Peter Gill, drummer with Frankie Goes To Hollywood, the British band who formed in Liverpool and had the 1984 UK No.1 & US No.10 single 'Relax'. The single eventually sold 2 million copies in the UK alone, making it the seventh best-selling single in the UK Singles Chart's history. Their debut album, Welcome to the Pleasuredome, reached No.1 in the UK in 1984 with advanced sales of over one million.
8 Mar 1962
Steve Grantley from Eighth Wonder who had the 1988 UK No.7 single 'I'm Not Scared'.
8 Mar 1960
Richard Darbyshire, singer, songwriter from UK group Living In A Box, who had the 1987 UK No.5 single 'Living In A Box'.
8 Mar 1958
Gary Numan, singer with Tubeway Army who had the 1979 UK No.1 single 'Are Friends Electric'. As a solo artist had the 1979 UK No.1 & 1980 US No.9 single 'Cars' plus 18 other UK Top 40 singles.
8 Mar 1957
Clive Burr, drummer with UK Rock group
Iron Maiden
who had the 1982 UK No.1 album The Number Of The Beast, and the 1991 UK No.1 single 'Bring Your Daughter To The Slaughter'. Burr died on 13th March 2013 at the age of 56. He had been suffering from multiple sclerosis, and died in his sleep. Burr was a member of up-and-coming British metal band, Samson, before joining Maiden in 1979.
8 Mar 1954
Cheryl Baker,singer with British pop group Bucks Fizz who had the UK hits 'Making Your Mind Up' (1981), 'The Land of Make Believe' (1981) and 'My Camera Never Lies' (1982) and became one of the top-selling groups of the 1980s. Baker now works as a TV presenter.
8 Mar 1949
Dave Lambert with English folk rock group The Strawbs who scored the 1973 UK No.2 single with 'Part Of The Union'.
8 Mar 1948
Little Peggy March, (Margaret Battivio.) US singer who had the 1963 US No.1 single 'I Will Follow Him'.
8 Mar 1948
Mel Galley, guitarist with Whitesnake who had the 1987 US No.1 & UK No.9 single 'Here I Go Again'. Died of cancer on 1st July 2008.
8 Mar 1947
Mike Allsup, guitarist with US group Three Dog Night who had the 1970 UK No.3 & US No.1 single with their version of the Randy Newman song 'Mama Told Me Not To Come'.
8 Mar 1946
Carole Bayer Sager, singer, songwriter. Wrote 'Groovy Kind Of Love', hit for The Mindbenders and
Phil Collins
. Sinatra, Pitney and
Dolly Parton
have all recorded her songs. Married Burt Bacharach in 1982.
8 Mar 1946
American musician, singer, songwriter, and founding member of the Eagles Randy Meisner. He was a member of Poco and was a founding member of the
Eagles
who had the 1977 US No.1 & UK No.8 single 'Hotel California'. He co-wrote and sang lead vocal on the Eagles hit 'Take It to the Limit.' He quit The Eagles in 1977 and went on to release solo albums in 1978 (Randy Meisner) and 1980 (One More Song). Meisner died due to complications associated with chronic obstructive pulmonary disease in Los Angeles, on 26 July 2023, at the age of 77.
8 Mar 1945
Michael Dolenz, singer and drummer with The
Monkees
who had the 1967 UK & US No.1 single 'I'm A Believer' plus 10 US & 8 UK Top 40 singles. Dolenz is now a actor, television director, radio personality and theatre director.
8 Mar 1943
Andrew Semple, guitarist and singer from English harmony beat group The Fortunes, who had the 1965 UK No.2 & US No.7 single 'You've Got Your Troubles' and the hits 'Here It Comes Again and 'Storm in a Teacup'.
8 Mar 1942
Ralph Ellis from British group The Swinging Blue Jeans who had the 1964 UK No.2 & US No.24 single 'Hippy Hippy Shake'.